Top Gear Guide To Watches
How to blag a drive in a posh car... by wearing a posh watch
Will an expensive watch get you into London's posher dealerships? We find out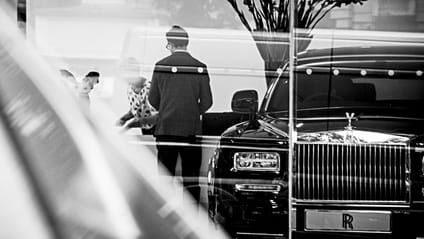 You know that marvellous dream where you win the EuroMillions? And those few blessed seconds after waking when it still seems real? Welcome to right now. I'm standing in one of London's more rarified showrooms, surrounded by cars that cost more than my house, supping a free coffee and speccing my dream Rolls-Royce Phantom (extended wheelbase, obviously).

The charming salesperson agrees with me: the £11,000 drinks cabinet is a must, and anything less than a walnut veneer would be a crying shame. This is going awfully well, even if I do seem to be checking the time more than is strictly necessary...

Photos: Rowan Horncastle

Advertisement - Page continues below

Yes, today I'm another victim of one of those TG conversations that start with a laugh and end with someone in an improbable situation. In this case, it's the fault of esteemed watch journalist Ken Kessler.

Ken once had an acquaintance who made a habit of dressing up, slipping on a very expensive watch and cruising the car showrooms of Seventies Boston borrowing supercars for the weekend. Very successful he was too - despite being a self-confessed 'scruffy hippy' - counting a Porsche 911 S, Lamborghini Espada and various iconic muscle cars among his temporary acquisitions.

Urban myths abound, and we've always been curious about how easy it actually is to walk up to a dealer and drive off in a supercar. With the aid of just a watch, is it still possible to drive someone else's priceless vehicle in today's world? Supercars, expensive timewear and the very real chance of humiliation and failure...

Our chosen accomplice is the flawless 1970 Breitling Navitimer. Quickly realising that trying to blag a £200,000-plus IWC would be another feature in itself, we opt for high impact and refined taste at a price - in this case, around £4,000 - that doesn't require a bodyguard to escort us.

Advertisement - Page continues below

The vintage Navitimer is perfect, ticking the beauty, function and rarity boxes. First made in 1952, it remains in production today as one of the key pieces in the Breitling family. It introduced the bezel slide rule to the market for the first time, and in the pre-computer age quickly became the practical tool of choice for pilots. In fact, the AOPA (Aircraft Owners and Pilots Association) adopted it as their official timepiece. One version - the Cosmonaute - was even one of the first watches in space.

Still, ostentatiously waving around a classic Breitling will help our undercover mission, but we may need more. So I also dig out the Ferragamo shirt I got married in, polish my brogues, and pull together a reasonably plausible backstory. Guessing 'TopGear.com bloke' won't cut it (current daily driver: a 'well-used' Clio 172), I practise a tech-based lie about selling the systems that power Instagram to Google. On the way, I rehearse my spiel with photographer Rowan until I actually start to believe (and heartily wish) it's true.

Thus prepped, we arrive at the heartland of London's expensive metal, shirt cuff hitched to keep our own expensive time-teller on show.

Two things quickly become clear. The front-of-house staff in supercar showrooms are the nicest people in the world. And I really love this watch.

Each appointment follows the same routine. Wander around showroom feeling an utter fraud. Make obscene gesture to Rowan out of floor-to-ceiling window to stop being so bloody obvious. Find member of staff. Chat to member of staff about particular model, nervously dropping in facts that only a hopeless car nerd would know. Check time every five minutes, and have the occasional fiddle with the watch. After decent interval, ask for a test drive.

At which point - every single time - I'm transparently elevated to 'potential sale' status, and ushered past the metaphorical velvet rope into the back room to give contact details, eat expensive confectionery and discuss future appointments for test drives. Then, having proved the point, we adopt the fine tradition of investigative journalism, make our guilty excuses and leave.

Exiting another showroom, the heavens open. So we take shelter in Bob Forstner's legendary showroom at the top of Park Lane. Proprietor Bob is away, but his small collection of cars are all in situ. Ogling a Zonda F Roadster, a gorgeous yellow Diablo Jota and a Ferrari 512 Berlinetta Boxer, we discuss possible test drives (not possible while Bob is on holiday, unfortunately).

One more try: this time a Porsche dealership. Again, it goes swimmingly, and after another delivery of my routine - plus a flash of wristwear and exchange of particulars - I'm offered a spin around the block in a lightly used Carrera 4 GTS. But not now. Come back tomorrow, says the nice man, when the roads have dried up. In the name of law and order, I then fessed up, but the offer still stood - the results of which are shown in the pic. So, MISSION ACCOMPLISHED.

Afterwards, we canvass opinions from a variety of showroom staff from around the country. They all ask to stay off the record, but there is a clear consensus. One: these days anyone could be rich, especially in central London. As long as you're not clearly deranged, you're worth taking seriously. Two: the fact I knew about the cars was key. It's rare that someone who knows nothing about a car will actually buy one.

And the watch? Was this just a complete waste of time? Not entirely.

As one pointed out: "You had the knowledge, and you looked good. The watch is part of that package, but it's an important part." Interestingly, most were able to identify the price and age of our Navitimer immediately. Professionals who deal with supercars definitely know their timepieces: after showing it off, we were proudly shown, among others, a diamond-set TAG Heuer Aquaracer and Rolex Submariner.

Advertisement - Page continues below

But, as another said: "I deal with sheikhs, hedge fund managers, people like that. To make an impact with a watch, you're going to need something worth a quarter of a million. Now that I would notice."

So that would appear to be our conclusion: these days, to make a real impression on a supercar dealer through the medium of horology, you need a watch worth more than the supercar itself. Oh, and staff in supercar dealerships are the nicest people in the world. Sorry, guys.