Hybrid
The track-only Rodin FZero wants to be the fastest car on planet earth
V10-engined hybrid hypercar will cost £1.8m and aims to blow Red Bull's RB17 out of the water
A couple of months ago Red Bull announced it would build the RB17 – a £5m (before taxes) track-only hypercar powered by a hybrid V8 with over 1,100bhp. Considering it comes from the brain of megaboffin Adrian Newey, it should be rather speedy…
But hang on, because it already has a new competitor in the form of the Rodin FZero. Yep, the New Zealand manufacturer is back with only its second ever car. You may remember its first – a rebadged and reworked Lotus T125 single seater – but the FZero has been designed "without restrictions of road laws or race series regulations" and its makers claim "the singular goal of the Rodin FZero is to be the fastest car around track, without exception". 
Advertisement - Page continues below
Big targets, but the stats are there to back it up. The FZero chassis will be made entirely from carbon fibre composite and the whole thing will weigh just 698kg with all fluids on board, despite being 5.5m long and 2.2m wide. That's 100kg lighter than this season's F1 cars. And then there's the powertrain. It'll use a bespoke 4.0-litre twin-turbo V10 built by Rodin and Neil Brown Engineering to make 986bhp with a bonkers 10,000rpm redline. Weighing just 132kg it's designed to be the lightest and most compact V10 ever, and it's connected to a further electric motor and batteries to create a hybridised total of 1,160bhp. Watch out RB17. 
As you can see from the renders and models, the FZero will be a wild-looking closed-cockpit thing and Rodin reckons the wings and aero-spec floor will combine to create around 4,000kg of downforce. Top speed will still be somewhere north of 224mph, though.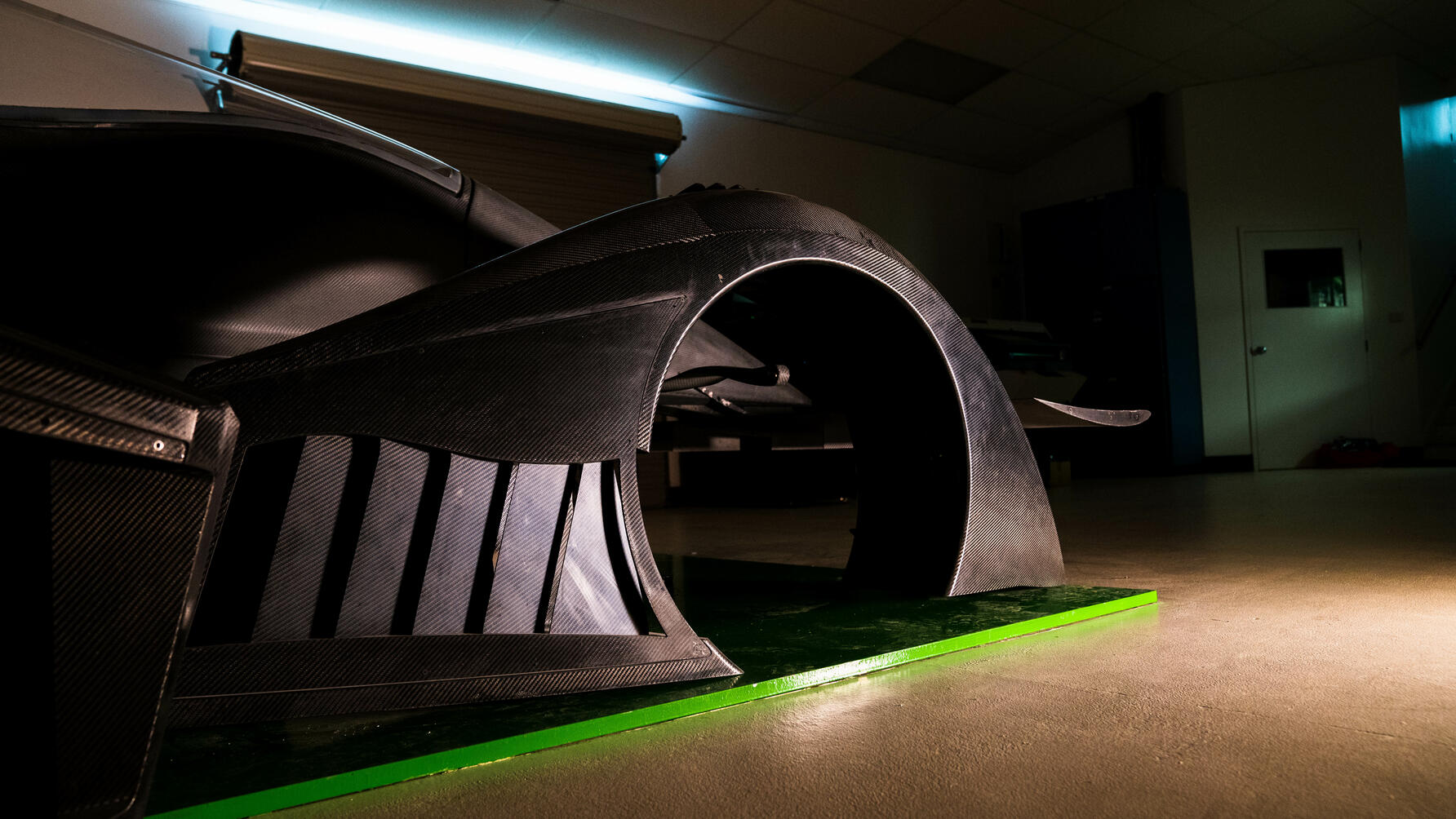 The eight-speed gearbox is also bespoke, lightweight (at just under 66kg) and manufactured in collaboration with Ricardo UK. The brakes are carbon with titanium calipers and there's regen to put electricity back into the small battery pack. ABS and traction control too. Phew. 
The wheels are bespoke (sensing a theme?) OZ Racing forged magnesium units shod in slick Avon tyres and Rodin Cars founder David Dicker says: "The only real restrictions we face are the laws of physics, and we have even pushed those to the absolute limit. We look forward to bringing the most intense driving experience conceivable to tracks around the world."
Advertisement - Page continues below
Oh, and it's not just on track where the FZero wants to outdo Red Bull's effort at a hybrid hypercar. The FZero will cost £1.8m – hardly chump change but a whole lot cheaper than the RB17. It'll be more exclusive too, with 27 FZeros planned compared to 50 RB17s. And somehow it continues to get even better for Rodin, because it reckons the first cars will roll off the assembly line 'in the summer of next year'.
Attention fast-moving billionaires of the world – that is not long to get your skills up to scratch…
Top Gear
Newsletter
Thank you for subscribing to our newsletter. Look out for your regular round-up of news, reviews and offers in your inbox.
Get all the latest news, reviews and exclusives, direct to your inbox.