News
"It's where the magic happens": inside the new Range Rover Sport
Exactly how much effort has gone into Land Rover's new Range Rover Sport? Quite a lot, as it turns out…
"There's no stone unturned, basically. I've got four years of stuff in my head." Those are the words of JLR interior design manager Lee Perry, contemplating the years of effort needed to get the new Range Rover Sport from an idea to the physical, three-dimensional thing it is now.
You can get the full lo-down on the new RRS by clicking this well-placed hyperlink, but here we're getting into the nitty gritty of car design. Specifically the interior. How on earth do you start building a car in the middle of one decade without knowing exactly what people will want at the beginning of the next?
Advertisement - Page continues below
"It's a bit of everything," explains Perry. "We get feedback after, say, 12 months. What do customers like? What do they not like? So we take all of that on board, but also what's happening in the world?" The team spends a lot of time studying trends, particularly in the fashion world, to gauge what direction the wind is blowing in. "You put it into a melting pot, and you stir it up and out come the design themes."
So where has that led the Mk3 Range Rover Sport? The interior is inspired by an aircraft cockpit, says Perry, with the cabin designed to drop drivers into their very own flight deck. Albeit one where getting airborne would be ill advised.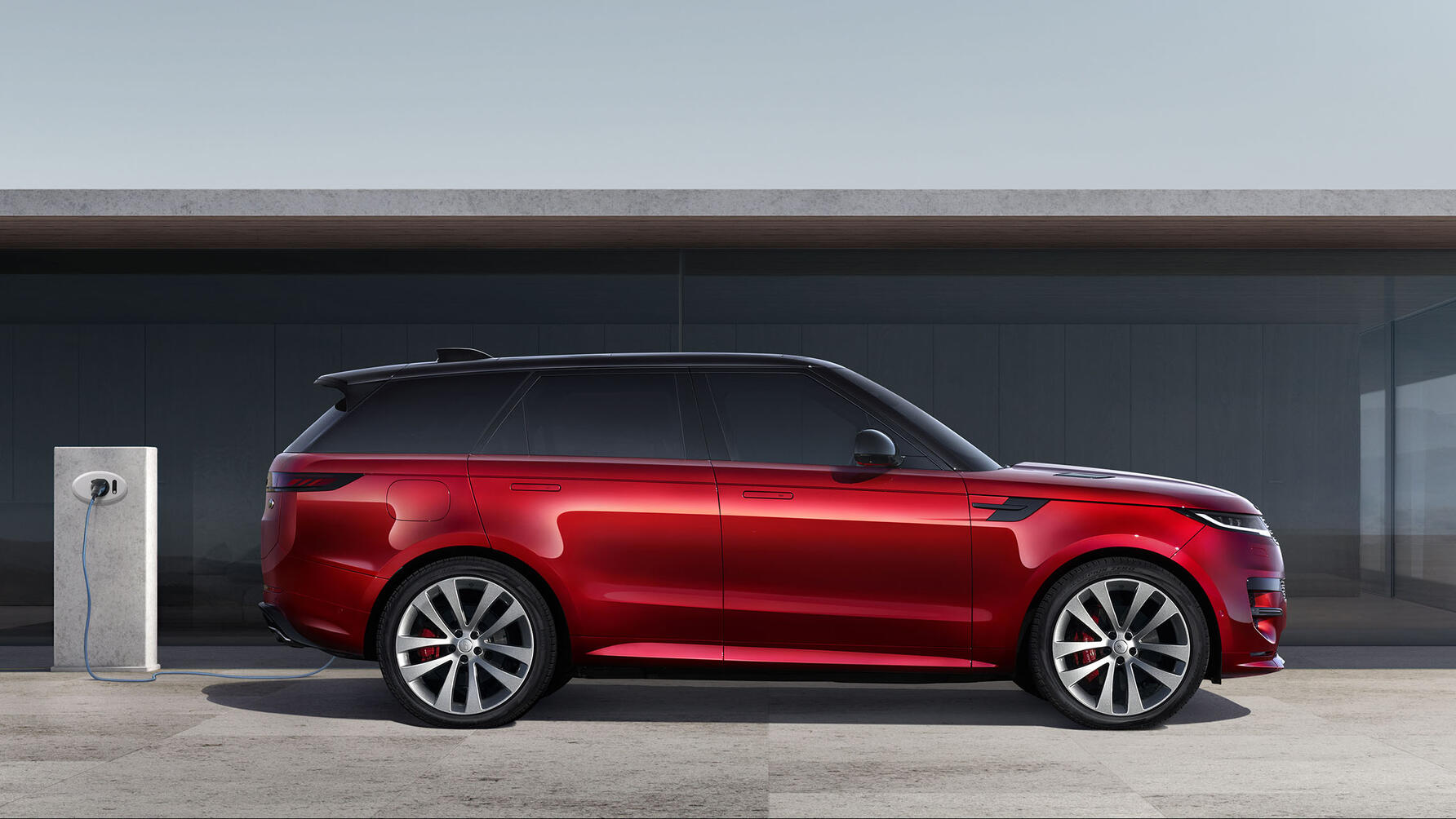 "In the aircraft industry, certain things are highlighted," he explains. "You have so many controls and buttons, whether they're lit differently or in different finishes." That's why items like the transmission paddles, gear selector, even the scroll wheel on the steering wheel, are finished in a different shade of chrome to the decorative pieces of trim. It's a visual cue to remind your brain what's functional and what isn't.
Inevitably there's still a touchscreen, which doesn't seem very Airbus. Nor the height of functionality, as anyone who's tried to use one on a twisty b-road will attest. Why is it that car manufacturers persist with this kind of technology?
Advertisement - Page continues below
Perry is adamant it's worthwhile. "It's twofold. People are living their lives these days with screens. I think a lot of companies - probably about 10 years ago - did try and put a lot more controls into their screens, and then people were frustrated that they couldn't go and immediately heat their seat. These days, people are more intuitively using their screens."
For what it's worth, Land Rover claims that the vast majority of the features on its latest Pivi Pro system can be accessed within two jabs of the screen. Perry also talks of 'balance', which is why you'll still find physical buttons for the climate settings and volume. Phew.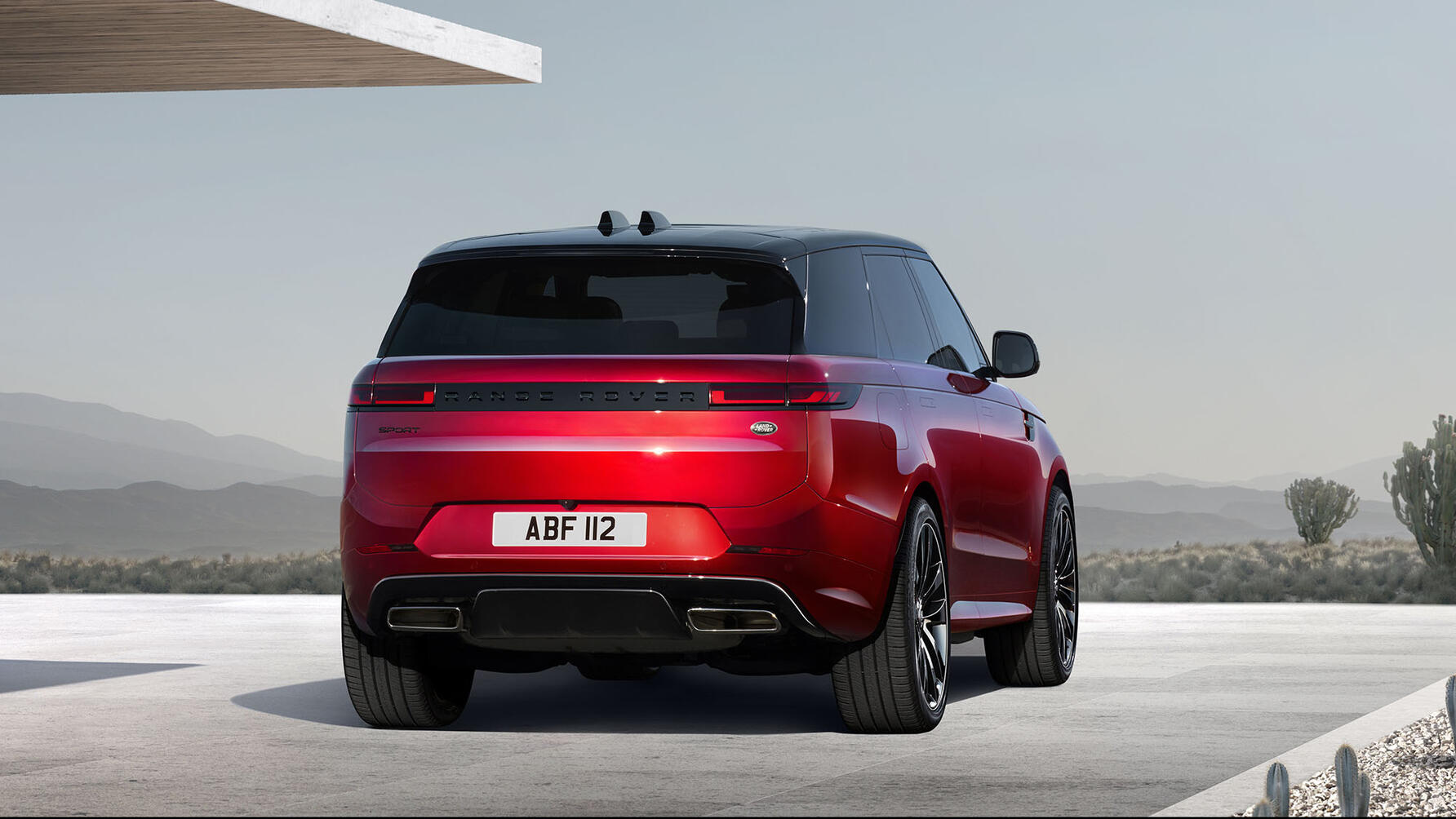 In terms of architecture the Sport is more closely related to the Range Rover than was the case with the previous generation, but that doesn't mean they can get away with a copy-and-paste job inside. The seating position is 20mm lower for that sportier feel, which means the dashboard had to be squeezed and pushed down. Meanwhile the windscreen has a faster angle (specialist speak for 'steeper'), which created the problem of glare from the driver display. 
The design team asked themselves: "Okay, how can we resolve this?" And after looking at a variety of sports cars they realised several were using a second visor to act as a shield. So too does the Sport, now. "It's good when things like this work out," says Perry.
Top Gear
Newsletter
Thank you for subscribing to our newsletter. Look out for your regular round-up of news, reviews and offers in your inbox.
Get all the latest news, reviews and exclusives, direct to your inbox.
In previewing the vehicle, chief creative officer Gerry McGovern spoke of 'breaking new ground' with the new Range Rover Sport. Sometimes it can be hard to tell if this is just marketing spiel or if such an approach really is carried throughout the design process. Is there an element that Perry would highlight as an example of that mantra?
He picks out a couple of things. "One of them is taking elements from the exterior design and putting them in to the interior," he says, gesturing to the line beneath the window that appears both inside and out. "I think it's the first time we consciously did that, and that was with the floating headliner and the door-top rolls."
Then there's "creating such a different interior feel compared to the sibling" with a console that's "completely different" to the Range Rover. "To get all of that functionality in, we had to reengineer all of that area. That itself is an achievement. I think every area of the interior, we have pushed the boundaries."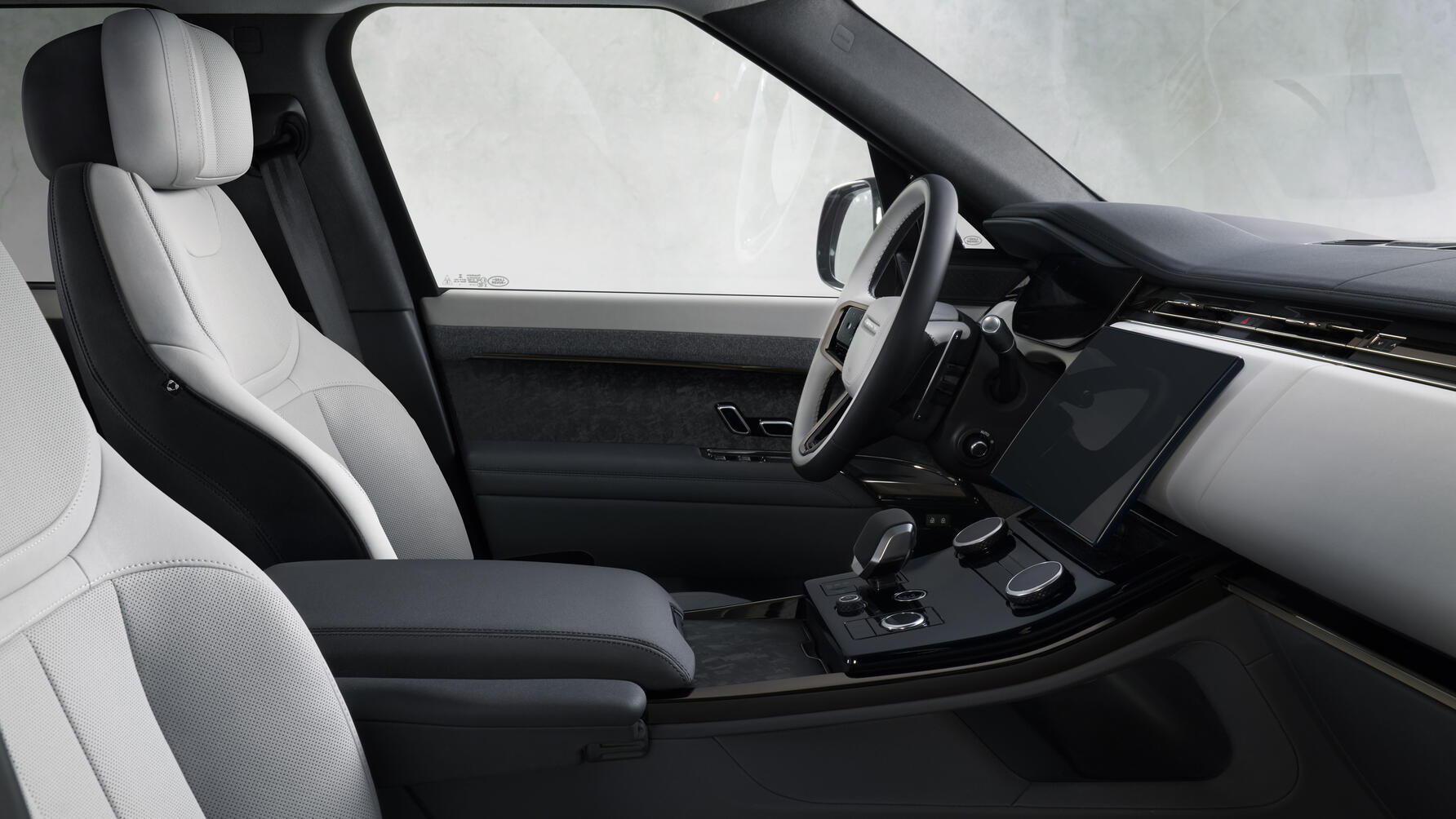 That includes the materials. Leather is standard in the new Range Rover Sport, although Land Rover has started offering a sustainable alternative. Signing up Ultrafabrics as its supplier, Polyurethane - colloquially known as PU - is offered as the greener, more eco option for those worried that their 4.4-litre V8 SUV doesn't show enough concern for the state of the climate.
"I could talk all day about PU, because it has so many good attributes," enthuses Kissia Alves de Siqueira, creative specialist in colour and materials at JLR. As well as being kinder on the planet in the way it's manufactured, PU is also more breathable (handy for sweaty days) and gripper (useful for spirited driving). "It's really a performance material," she explains. "It's not just sustainable, not just beautiful, but it really helps with the performance because it's lightweight."
At Land Rover's launch event in Gaydon, two cars are presented in the studio; one leather, the other not. "Which do you prefer?" she asks, to which TG suggests the latter feels the more premium. "A few years ago, maybe that would not be your choice," she replies. "I think it's this shift that's happening that is truly beautiful. You can see we're in the middle of a groundbreaking thing, and I'm really happy to be part of it. Seriously. It's really nice to see that."
Step by step, manufacturers - and that includes everyone from carpenters to fashionistas - are beginning to take sustainable materials more seriously. Partly because being seen to be responsible is good for business, but also because people are demanding alternatives.
Easier said than done though. Finding materials that are both environmentally friendly, cost effective and up to scratch for luxury-minded buyers is tough, and JLR's research team spends years hunting for stuff that fits the bill.
"To find a very conceptual material and put this into production is a massive piece of work," says de Siqueira. "We look everywhere for inspiration." And even when you've found something ideal and tested it to breaking point, you still need to fight for it to be included on the car at all.
She points to the speakers - wrapped in a special textile for a seamless finish - as a prime example. Four years ago, she presented the idea only to be met with scepticism. "They're like '...nah'." She shrugs, before countering: "Yes! Come and see… We had to show we could apply this beautiful material on big B&O speakers, and show having soft touchpoints is what you can expect in the future."
After "a lot of convincing" she eventually won that battle, and lo and behold the disguised speaker approach is very much in vogue. "It's hard, but it's the best part of the job. I really enjoy that. Seriously. Being a designer, our mindset is not the same as everybody else. We're always looking ahead."
Thank heavens someone is. Having previously worked at Renault ("a great school", she calls it), de Siqueira can now add the Sport to a scrapbook of Land Rover projects that started with the Evoque and was followed by the Range Rover. "It's where the magic happens, isn't it? That's really exciting. I love making cars, I love production."
So what's next? "I cannot tell you!" she laughs. "I'd have to kill you." In that case, no further questions.