News
Jon Olsson's 800bhp, ski-prepped camo Lambo is now up for grabs
For £215,000, this custom supercharged Huracan is all yours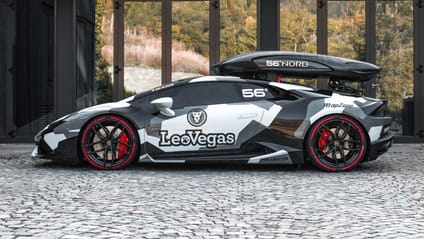 If you're a TopGear.com regular, you'll likely remember Jon Olsson's mildly mental 800bhp Lamborghini Huracan. And now it's up for grabs. 

Advertisement - Page continues below

If you're as much a fan of practicality as you are of sheer, relentless power, you'll probably have a thing for Olsson's designs. His custom Audi RS6 sported 1,000bhp, DTM-esque wheel arches, 18-karat gold-anodised turbochargers and… a roof pod to store your ski gear. Like we said, always practical.

The Swedish skier/social media star is no stranger to draping high-performance cars in camouflage, fitting them with roof-mounted pods or tuning them to reach absurd power levels – his back catalogue includes a 700bhp 1971 Camaro, E36 M3 GTR, a handful of Lamborghini Gallardos and Murcielagos, a custom-bodied Ultima GTR and more fast Audis than you can shake a ski pole at. 

Advertisement - Page continues below

The Huracan has less than 2,400 miles on the clock, which probably makes it the least-driven of any of Olson's cars – he's been known to do tens of thousands of miles in a single winter. Even so, this Huracan is built for longevity, with a comparatively low-stressed supercharger kit installed, as opposed to a more frenetic (and fragile) twin-turbo setup. 

Yep, that's right – this is an 800bhp, daily-driving Lambo, with enough storage for a run to the shops – or a cross-continental blast. But, being a mid-engined Lambo, there's only seating for two.

And there's the rub. Apparently, Olsson's selling his 800bhp Huracan because he needs a four-seater.

So, what do you think his next project should be? Should it be a four-seat coupe like the Ferrari GTC4Lusso, Bentley Continental Supersports or Mercedes S65 coupe? Or should he go down the family car route again, with a Giulia QV, Maserati Quattroporte or an exceptionally powerful German estate?