News
Life with Top Gear's Ariel Nomad: update 3
November brings ingenious bike-carrying solutions and new tyres...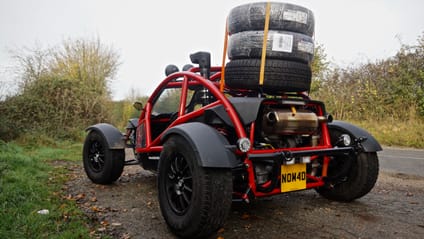 The other day I drove to Cornwall and back in the Nomad. 503 miles all told to go and spend a bit of time with the chaps from Bloodhound seeing just how fast their jet car will accelerate. Did 0-200mph in 7.6secs on its fastest run, about twice as fast as the Koenigsegg Agera RS did during its record breaking 0-400-0kmh run, if you're interested.

Anyway, 500 miles in the Nomad with a day's work sandwiched in the middle. You might think I'm mad. Half the people in the office think I'm mad. Up until the point they drive the Ariel. Because this is not a car like other lightweights. From Atom to BAC Mono to Caterham they're all sharp, darty and hyperactive. The Nomad is different. It has a different, way more relaxed gait, sits happily and calmly at speed, barely stresses the Fox dampers. It's languid. Chilled. 

I'm not saying no philosophical adjustment is needed, but I went in to the 5am start unconcerned and arrived home 17 hours later perfectly jolly. The five Ps: Perfect Preparation Prevents Pathetic Performance.

Advertisement - Page continues below

I have to give myself ten minutes in the kitchen at home to don the Zhik sailing gear and make sure everything is where it needs to be: Jabra earbuds, phone, work pass and wallet in chest pocket, work bag inside roll-top waterproof bag, two pairs of gloves (one thick, one thin to cover all eventualities) microfibre towel (to mop condensation off the inside of the windscreen) and then I'm set. It's a bit like being a scuba diver, you feel awkward and cumbersome until you're in the correct environment.

Waterproof bags are the answer to everything that's not taken care of by the Zhik waterproof gear. They're simple and useful. I feel properly smug arriving at work on a rainy day, stripping the outer layers off and being bone dry underneath, with a laptop that still works and non-soggy receipts in my wallet. I join the throng walking through BBC reception who have tubed or driven to work with no-one any the wiser, but I'm there knowing I've had a bit of an adventure.

Advertisement - Page continues below

I don't have any pictures of driving to Cornwall, so this will have to do. The distance comes easy. The Nomad is long geared (70mph is 2,700rpm), so it'll do 250 miles at 30mpg. Ariel have deliberately set the fuel warning light to trigger early to counteract the usual bloke tendency of playing fuel light chicken. The most I've got into the 52-litre tank is 42 litres… 

Noise isn't an issue (thanks Jabra earbuds), the headlights are decent, the plastic seats are well-shaped, and cabin bluster doesn't sweep things off the passenger seat. So yes, a normal car with door seals and speakers is less hassle, and you don't feel like every mile is a battle. They slip past easily. It's only feeding the car and yourself that takes a bit more time. And you have to walk across the Shell forecourt and queue up inside while dressed as a deep sea trawlerman. 

As you may have read, I went to drive the GT2 RS a few weeks back. Recalibration is the biggest problem when driving the Nomad. Whatever you drive after it – Alfa Stelvio, Seat Ibiza, BMW M2, McLaren 720S have all been recent motors as well – feels inert, firm-riding and silent. For someone whose job it is to know cars inside out, this is inconvenient. 

So you have to give yourself time and exposure to settle, remember that you can't clout speedbumps at 30mph in an M2, or take such a liberal approach to roundabouts in a 720S. There tend to be consequences. 

This is not the Nomad. This is a Light Strike Vehicle, a VW-engined machine that the British military had a handful of, performing the sort of role that I reckon the Nomad would excel at. I know about it because I bumped into a bloke driving one around town the other day. I mentioned this to another mate who used to be in the Marines and had experience of the LSV, 'piece of utter sh…' was his comment. 

Now, Ariel did tell me that a particular branch of the military has been in touch and been up to the Crewkerne factory to have a poke around, but that's as far as it's gone at the moment.

This is nothing short of revolutionary. I can now carry my mountain bike on the Nomad. The Thule rack is flexible enough to manage any type of bike, but a road bike wouldn't look quite right, would it? 

The rack is a £357 option, and – as with the aerial – you can have two (one either side). The front wheel bungees to the car's spare, and if you're driving off-road, Ariel recommends you use the brace bar. Another bungee stops the pedals spinning. 

Advertisement - Page continues below

Getting the bike on and off is the work of a moment but, as with the car cover I've written about before, fitting the rack itself is a fiddle. Ariel has manufactured its own brackets that clamp around the tubular frame, one at the top, and another on the rear 'bumper'. They fit very nicely, but putting it all together, then sliding the Thule rack on to it, requires a bit of jiggling about. 

But the feeling of turning up at a bike park – or better still when you come back to the car filthy dirty, and can basically jump in and head off without a care while your mates have to hose off bikes, get changed and so on – is nothing short of brilliant. Ariel Nomad and Orange Five, basically two peas in a pod. 

I did something the other day that made the Nomad very muddy indeed. You'll see the results of that in the not too distant future. All I'll say at the moment that is was one of the best days out ever.

Advertisement - Page continues below

That day out also tore the tyres to bits. I've never seen tyre wear like this before. Smokey skids at Dunsfold wear tyres very evenly, even rallying has a consistent wear pattern, but a flinty field… There were chunks missing, slashes, cuts. 

It was the rear wheels that took almost all the abuse, but aside from reducing grip levels, the Nomad drove home afterwards.

But new tyres were obviously called for. A pair of fresh Yokohama Geolander G012's were delivered to my house. How best to carry them to the nearest ATS? Couple of ratchet straps and job done.

Here it is getting its new rubber fitted. I always think the brake discs look small (the fronts aren't much better) and yet am blown away by the stopping power these upgraded Alcons deliver. They're an expensive option at £2,388 (you can opt to have fronts and rears separately at £1194 each), and although I haven't driven a Nomad with the standard brakes, I'm not sure I need these. 

I never drive the Nomad in a last-of-the-late-brakers style because that's not what it's about for me. It's light weight and massive drag means I can often slow it down just by downshifting through the gearbox – a gearbox that is an utter delight to use. It's so light and easy, it's almost as effortless as an auto. Really close gate, super short throw, perfect pedals for heel'n'toe, no matter what footwear you're wearing. Wellies work surprisingly well, I've found.