List
Gallery: these are the world's best police cars
All the world's weird and wonderful cop cars, from Teslas to Caparos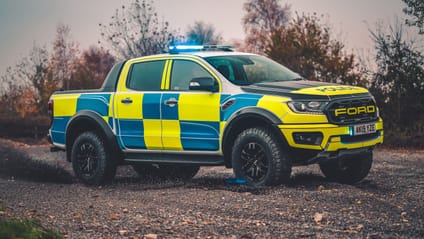 Italian Polizia Ferrari 250 GTE

The story goes that back in the Sixties Italian crims were pretty handy. To keep up the Polizia graduated from Alfa 1900s to Giulia 1600 Saloons, but they still weren't fast enough. Policeman Armando Spatafora was asked by the top brass what he needed to keep pace. "What could be better than a Ferrari?" he replied. 

And a Ferrari he got. Finished in black with a hard-wearing tan leatherette interior, chassis #3999 was in active service from 1963 to late-1968. Spatafora was one of only four officers allowed to drive it, having travelled to Maranello for high-speed training. 

Advertisement - Page continues below

In a move not unlike ditching a big scary police Alsatian in favour of a basket of puppies, the Carabinieri seem intent on melting miscreants' hearts and saving all that tiresome bother of actually having to chase them down.

"Carabinieri chose Suzuki to give mobility to women and men engaged in the territory to the defence of respect and correctness, both on road and off road," reads a not at all terribly translated statement, while another adorably describes the Jimny as "the small one of Suzuki's house".

Yep, our heart just went all fuzzy too, and we've immediately handed ourselves in despite the fact we've committed no crime. The Suzuki Jimny police car is working already.

Victoria police Tesla Model X

"There is great environmental benefit to electric vehicles and considering our state highway patrol vehicles travel thousands of kilometres on the road per year, we should always be looking at ways we can lessen our impact on the environment."

So say Aussie police about the implentation of a trial Model X. We suspect there's also great benefit to a ginormous, crim-swallowing capsule that can hit 60mph from a standstill in sub three seconds. Those fleeing utes surely stand no chance.

Advertisement - Page continues below

BMW's M2 police car might be little more than a marketing stunt, but we don't care. Decked out in BMW's own US-inspired 'M Town' police livery, it has a full set of lights and, brilliantly, some bull bars. Superb.

How to make a Lexus LC500 look even more like it's escaped from the world of manga? Stick a black and white uniform (and a load or red lights) on it. It's not just for show, either - this V8 super-coupe is going to be chasing down wrong-doers as a traffic enforcement car. Be warned, speeders of Japan.

Abu Dhabi police Lykan Hypersport

When was the last time you saw one of these? If you live in Abu Dhabi, it may be the last time you fell foul of the law. There's nothing specific to learn about what's been done to this Lykan barring what your eyes can see – a new livery, some blues and twos – so let's stick to what we do know.

It's a Lykan Hypersport, which means it's one of only seven such cars to exist. Each one costs around £2m, and features a 3.7-litre twin-turbo flat-six with 750bhp. W Motors reckons on 0-62mph in 2.8secs and a top speed of 242mph. So, y'know, fast.

New South Wales police Honda Civic Type R

The police of New South Wales, Australia would catch everyone escaping via backroads in this Type R. If it wasn't merely a publicity tool for the force. Oops.

Advertisement - Page continues below

Welcome to a BMW i8 dressed up as a German police car. Cool, no? If a little impractical. Make your escape when it's only just been plugged in, for maxiumum head start.

Not a surprise: US police use a big, scary looking SUV to aggressively chase down baddies. Surprise: it's not a V8, but an actual hybrid. Yikes.

Advertisement - Page continues below

Carabinieri Jeep Grand Cherokee

We're used to seeing the Italian police roll around in Alfa Romeos or Lamborghinis. This Jeep is only slightly less glamorous. 

 

UK police Rolls-Royce Ghost (kinda...)

No, the Dubai Police Force hasn't been shopping again. The police-liveried Rolls-Royce Ghost up top is in fact the work of Rolls-Royce itself, which fitted this Black Badge with flashy lights and a Sussex Police livery to raise money for local children's hospice Chestnut Tree House. 

Rolls displayed the car at an open day held by its local police station in Chichester, not far from its Goodwood HQ. Unfortunately it wasn't then pressed into active service – Rolls has since turned it back into a 'standard' Ghost Black Badge. Shame. 

Queensland police Kia Stinger GT S

Behold, the first non-Australian car to police Queensland streets. It's a Kia Stinger GT S, and it probably couldn't be much better suited to the job.

The Australian car industry has dwindled in recent years, and its two big home-grown saloons – the Ford Falcon and Holden Commodore – are no longer produced. Which is a pain for police forces who've relied entirely on these slightly overpowered rear-wheel-drive saloons for the past few decades.

Happily, Kia's bombastic new Stinger GT S just so happens to be a slightly overpowered rear-wheel-drive saloon, too, making it the perfect substitute. Its twin-turbo V6 produces 365bhp and hits 62mph in sub five seconds, enough to catch most miscreants, we'd think. The Queensland Police Service has initially bought 50, but up to 200 could be put into service.

Italian State police Lamborghini Huracan

Lamborghini has donated a second Huracan to the country's Highway Patrol. Like the first, it will be used for "normal police operations", as well as the urgent transport of blood and organs. Naturally, it isn't entirely standard. There's the same 610bhp N/A V10 and all-wheel drive system, sure, and all the normal stuff you'll find in any regular police car. Lights, sirens, radios, a video camera and gun rack - it's all there. The tyres even have special blue sidewalls to match the 'Police Medium Blue' bodywork.

UK police Ford Mustang V8

This is a picture of a Ford Mustang decked out in police livery. You'll agree, it looks fantastic.

It was - apparently - a pre-production model, displayed at the National Association of Police Fleet Managers trade show a little while ago. We can't claim to have seen one policing the streets of the UK.

But, as cop cars go, it's certainly up there amongst the coolest around. Or is it?

Carabinieri Alfa Giulia QV

Italy's smart-suited Carabinieri – the harder, military arm of the Italian police – had some amazing company cars.

Being suave, sophisticated types, they didn't just slap some stickers and two-tones on a bunch of Fiat 500s. Oh no. See, the Carabinieri have form when selecting patrol cars. Previous fleets include Lamborghini Gallardos, Huracans and Lotus Evoras. But this time they stayed on home turf and went for Alfa's new M3-rivaling saloon, the 503bhp Giulia QV.

The quote is brief, but clarifies what we've wanted to know: that Dubai's police fleet is the coolest police fleet in the world. "The Dubai Police Force has always sought, through the introduction of sports leagues within its vehicle fleet, to enhance the security presence for the police, and to keep up with the highest international standards of technical and scientific developments."

They've got a Lamborghini, a Bentley, an Aston Martin, a Ferrari, a McLaren and others, but they also have a nice sensible hybrid. If that's what you can call a BMW i8. It looks straight out of a science fiction comic has landed in the Middle East, and has added yet another astonishing motor to a collection of cars that is fast becoming, well, fast.

Announced on Twitter, Dubai's police force admitted that yes, they had bought a V12-engined pursuit vehicle in the shape of the four-seat Ferrari FF. The four-wheel drive will doubtless prove vital for all those snow-and-ice police chases across the UAE.

Dubai police Lamborghini Aventador

That FF was preceded by a Lamborghini Aventador cop car, handy for pursuing criminals driving Lamborghini Aventadors.

Ah yes, the Evora S. Though this time, used by the Carabinieri - surely the world's hardest and most scariest police force (they're trained as soldiers for crying out loud) - for expediting the transfer of essential human organs. They're even equipped with fridges to keep said organs fresh. Don't get on the wrong side of the Italian rozzers, mind, or you'll find your own offal-parts in there too...

Another 'safety-message' stunt saw this Caparo T1 liveried up as a police car. But just imagine if it really was a police pursuit vehicle.

Italian police Lamborghini Gallardo

203mph, 0-62mph in 3.7 seconds, 560bhp and four-wheel-drive: this is how the Italians do law enforcement. Well, did anyway. Though replaced by the new Huracan, this Lamborghini Gallardo LP560 was donated by Lambo to the Italian State Police to help 'accident and crime prevention and sustain security on Italian roads'. Yikes.

US police Chevrolet Corvette

Not a Real Thing, unfortunately, instead drawn by former GM man Bob Lutz as a flight of fancy. Quite a good flight of fancy.

Dubai police Brabus G63 AMG

This 690bhp 'Widestar' can accelerate from 0-62mph in 4.9 seconds and on to an official top speed of 149mph. Unofficially, you'd have to be clinically bonkers to attempt to outrun any police force that ultimately decides on a four-wheel-drive, modified off-roader as a suitable police vehicle.

Humberside police Lexus IS-F

Yes please. You can keep your Astras and Insignias and Hyundais thanks; we'd much rather see UK cops behind the wheel of a 416bhp Lexus IS-F. Although mainly used as a deterrent, it could be used to chase crims on the run: the IS-F packed an onboard computer to allow officers to access the national police database while on the move. Wonder where it is now?

Dubai police Aston Martin One-77

Oh dear god, they just won't stop, will they? Not content with stickering up an Aventador, FF and G63 to police duty, Dubai's offices pressed one of the world's most beautiful, rarest and fastest cars into service: the Aston Martin One-77. For the love of all that's sacred in your life, please, do not speed in Dubai.

German police Brabus CLS V12 S 'Rocket'

Be very thankful that this isn't actually a real life, working-dog police car. It was built way back in 2006 to promote safe tuning in Germany, though there's nothing safe inside here. Underneath sits a twin-turbo V12 produced 730bhp, enough to haul the CLS 'Rocket' to a top speed of 225mph. Schnell!

Replacing the ageing Crown Vic, this Charger was built with feedback from actual police officers in the States, and is a working, badge-holding, real-life police car. In fact, Chrysler claims it to be the fastest American police car in the history of ever: the RWD version clocked the fastest lap time ever recorded for a cop car around Michigan State Police's Vehicle Evaluation Race.

Australian police HSV GTS

This HSV is a tyre-shredding, police-liveried loon, delivered to the officers of the New South Wales police department, and funded by the NSW Centre for Road Safety. Though - as with many of the cars on this list - it's more of a 'message car' than an actual highway patrol/pursuit vehicle. Though if you see it on the road, don't be mistaken: there are still REAL POLICE OFFICERS hiding it inside, who won't hesitate to floor it if you break the law...

You're looking at a police-liveried Evora S, donated by the fine chaps over at Lotus to officers from Norfolk, Sussex, Essex, Bedfordshire, Hertfordshire and Cambridgeshire, to help spread the message that speeding, drink driving, not wearing a seatbelt, or driving while using a mobile phone simply isn't cricket.

The idea is that an Evora S will engage younger drivers better than, say a diesel Astra, thus allowing the rozzers to deliver their important safety messages. And also look well cool, innit.

US police undercover Nissan GT-R

Years back, EVI - run by a former secret service agent - told TG.com that it had been tasked with building a police car for an undisclosed US police department for undercover duty. Based on a Nissan GT-R. Judging by the picture above, it is possibly the most terrifying thing we have ever seen.

Those planning a retirement holiday in Marbella after that 'one last job' should probably thank the heavens that the image above is not representative of an actual police car. It is a McLaren 12C Spider dressed up as a police car.

The 12C Spider was loaned by McLaren to the West Midlands Police for the Autosport International show at Birmingham's NEC as a demonstrator. BMW also got in on the act and offered up an i3 too, free of charge, for display purposes only.

No doubt it was to encourage a greater discourse between police and motorists, but you have to admit, a 12C Spider in police livery looks quite cool. And a bit scary, not least because underneath the stripes sits a twin-turbo 3.8-litre V8 with 616bhp, and the ability to accelerate from 0-62mph in 3.1 seconds (the same as the coupe) and top out at 204mph. So, bloody fast, then.

Australian police Volvo S60 Polestar

OK, so it's not the fire-spitting, 501bhp concept Polestar S60 we drove a while back, but remains plenty quick for... well, community fetes, actually. It's another cool cop car that didn't operate as a first response type vehicle, rather it was used as a support car and as a festival Thing to show off at events such as the Australian Open (Volvo was a major partner).

Polestar Racing drivers Scott McLaughlin and Robert Dahlgren handed over the S60 to NSW Police, the second high-performance Volvo to be used by the force - they had an S60 T5 previously too.

Not only does it look properly terrifying - monster front bull-bars, sinister projector-beam headlights and a streamlined silhouette - but, as a true American cop car should, it comes with a socking great V8.

Fast enough to give the majority of road-bound crims food for thought. Then there's the reinforced RWD chassis, featuring performance suspension, load-levelling shocks, heavy duty brakes, stabiliser bars all round, 18-inch performance tyres, and - officially the Best Thing Ever - steel wheels. Inside you get, officer, a new seven-inch full-colour (sorry, color) instrument cluster, police-spec front seats (to better hold officers' belt-mounted gear and felon-absorbing waistlines) and the ability to customise your ride with the help of Mopar.

Sadly customisations don't include multi-coloured grenade racks or machine guns in the headlights or oil slicks on the rear or revolving numberplates. Partly because it's not 1964, and partly because Mopar isn't run by five-year olds or Top Gear. Rather, you get the option of bolstering the electrical performance of the car, add new graphics, ballistic door panels for the driver and passenger, and steel seat back inserts for the driver in case perps in the back become... agitated.

Welsh police Ford Ranger Raptor

South Wales Police are the first force to try Ford's baby Raptor. Might not be great at catching fleeing crims on roads (it takes 10 seconds to hit 62mph), but ought to be pretty much unbeatable everywhere else. 

UK police Ford Focus ST Estate

Hot hatches make great Police cars. Especially ones that are actually estates. Strip the livery and go undercover for best results. 

UK police Skoda Octavia vRS

Indeed, while we can expect a few to be out there operating undercover, this is what the fourth-gen Skoda Octavia vRS looks fully clad in crime-fighting garms. If it doesn't have you instinctively flicking your eyes down towards your keyboard, the muscle memory of checking your speedometer springing into action, then you've no pulse.

German police AC Schnitzer BMW M850i

Sadly, this AC Schnitzer-tuned BMW M850i is not about to enter service with the German police. It's a show car, built for an Association of German Automobile Tuners and Federal Ministry of Transport and Digital Infrastructure campaign to show "that tuning from Germany can make the hearts of car fans beat faster and still be safe".

UK police Ford Mustang Mach-E

Anything its V8 namesake can do (see above), the Mach-E can do too. At the request of several UK police forces, Ford kitted its electric SUV out in high specification, maximum visibility livery, plus all the usual lights, sirens and other police gubbins.

To ensure minimal impact on range, power for the extra gear was sourced from the Mach-E's 12V battery, rather than the drive battery. While concept only for now, it'll likely not be too long before we see these patrolling our streets very soon. 

Read the full story here...
 

US police Ford Mustang Mach-E

Not wanting to miss out on the action, the US police - specifically Michigan State Police - have been evaluating the Mach-E for cop car duties. The conclusion? It's a big fat 'YES'. It's the first all-electric car to pass Michigan's gruelling test procedures, too, we're told...

From one EV to another, quite different one...

Citroen has shown us this Ami police car from the Greek island of Chalki and it's all we want.

How cute is that? Apparently Chalki is aiming to become the first Greek-Eco island and Citroen is helping out by gifting six EVs to be used by the public authorities. There's even a coastguard Ami.

German police AC Schnitzer BMW i4

Sadly, the modified BMW i4 by AC Schnitzer that you see here will not be silently hunting down crims at any point soon. That's because although it's wearing a full Polizei livery, like the i8 and M8 above it's actually another concept car for Germany's snappily-titled TUNE IT! SAFE! initiative.