List
The ten fastest roadsters you can buy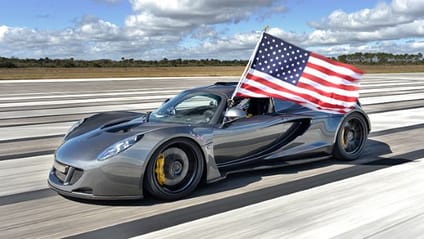 Hennessey Venom GT Spider: VMAX 275mph

The fastest car... in the world. Unofficially, anyway. Guinness stipulate that to get the title the car must do two runs in opposite directions of the same bit of tarmac, and Hennessey only managed one. Never mind, the Venom is mind-bogglingly fast; it's loud, it's raw and it's the anti-Veyron. No complex quad-turbo configurations, no fancy four wheel drive, just a big engine, light body and the steady roar of your adrenalin in your ears.

Advertisement - Page continues below

Bugatti Veyron Grand Sport Vitesse: VMAX 255mph

Lamborghini Aventador Roadster: VMAX 217mph

Other than actually being in a Lamborghini, there is no better way to attract attention than slicing off sections of your fingers on a fiendishly fiddly removable roof. But, once removed - with fingers intact - you can relish an old-school 6.5-litre V12 crescendo in the gloriously barmy Lambo tradition. 

Advertisement - Page continues below

Porsche 918 Spyder: VMAX 214mph

The only member of the hybrid hypercar trio (along with the LaFerrari and P1) whose roof comes off. While the maximum speed stat isn't as wildly impressive as the 2.8 second sprint to 62 or the monumental cornering performance, let's face it. 214mph with no roof is still going to be a trifle blowy.

McLaren 650S Spider: VMAX 204mph

The new 'baby' McLaren has managed to be both faster and more inspiring to drive than the 12C it replaced. And while that twin-turbo, 3.8-litre, V8 might not please the purists' ears as much as Ferrari's 458, the speed will.

Bentley Continental GT Speed Convertible: VMAX 203mph

Ah, a refined slice of British class (via Wolfsburg). 203mph with the roof down might be a trifle excessive for the sporting gentlemen who traditionally buy Bentleys, but at TG we're perfectly fine with a 200mph+ stately home with no roof.

Aston Martin V12 Vantage S Convertible: VMAX 201mph

The drop-top version of the V12 Vantage S is the fastest convertible ever to come out of Gaydon, featuring a 565bhp 'AM28' 6.0-litre V12. What it would do to Daniel Craig's immaculate coiffure doesn't bear thinking about

Advertisement - Page continues below

Mercedes-Benz SLS AMG Roadster: VMAX 199mph

The SLS Roadster sacrifices the gullwing doors of its coupe brother, but for those that actually like to get in and out of their cars without being ridiculed, this is not really a bad thing. Ever better: losing the roof gives your eardrums full access to the naughty, dirty, burbling 6.3-litre V8. 

Ferrari 458 Spider: VMAX 198mph

No turbos here: the 458 Spider retains the screaming 4.5-litre V8 from the coupe, revving all the way to a stratospheric 9,000rpm redline. James May bought one (with a roof), and it's fair to say he likes it. 

Advertisement - Page continues below

Porsche 911 Turbo S Cabriolet: VMAX 197mph

The oft-heralded "fastest car in the real world". The 3.8-litre flat-six pushes out 560bhp and 552ft lb through its impressively complex four wheel drive system, and Porsche claim 0-62mph happens in 3.1 seconds. Most people who time it claim its even quicker.