List
These are ten of the best royal cars from around the globe
What are the world's sovereign-state monarchs driving?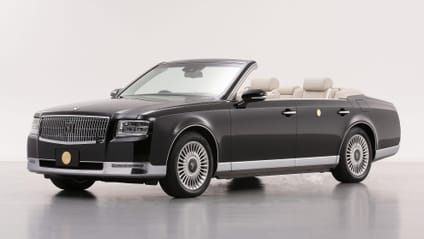 King Charles's coronation saw the newly-crowned monarch arrive and depart not in a car, but in a gilded horse-drawn carriage.

Which, though unquestionably fulfilling the 'pomp and ceremony' aspect of the brief, is, in TopGear.com's humble opinion, a bit lacking in the nought-to-sixty department.

So, as we recover from the disappointment that the powers-that-be have chosen actual horses over brake horsepower for the King's coronation, enjoy this gallery of the finest cars of the world's monarchs.

Here's how our planet's kings and queens like to royally roll.

Advertisement - Page continues below

Carl XVI has reigned as King of Sweden for nearly 50 years. He is, according to this page on the internet we just found, a fan of outdoor activities including hunting, fishing, skiing and sailing.

He's also, clearly, a proper car guy. King Carl's collection includes a Ferrari 456M (good), an AC Cobra (very good) and several Porsche 911s (severally good).

And in 2020, C-16 treated himself to a new BMW M8, all 616bhp and £130,000 of it. Which, fair to say, is not the go-to runabout choice for your average northern European monarch, not least because that low roofline makes it a pig to exit while wearing a crown.

Nonetheless, TopGear.com deeply respects C-16 for this bold choice. Not least because it helps solve that knotty issue of who the M8 is actually for.

It's never quite been a grand tourer. It's never quite been a supercar. But now we have our answer: the BMW M8 is a car for septuagenarian Scandinavian royals to whang round the gravel roads of their kingdom. A niche but crucial market.

Even by the standards of 'royals with large and excellent car collections', Prince Albert II of Monaco has a particularly large and excellent car collection, including a beautiful 1956 Mercedes 300SL, a bunch of F1 racers, and a very natty 1986 Lamborghini Countach.

But pick of Big Al's sovereign stable, for us, is Sébastien Loeb's Citroen DS3, the very car that won the Monte Carlo round of the 2013 World Rally Championship.

No word on whether the Monagasque prince has taken his souped-up supermini for a quick blast up the nearby Col de Turini. But come on, if you were a Mediterranean monarch with a full-fat WRC car at your disposal – and, we suspect, the ability to get a road closed at a click of your princely fingers and the depositing of a small handful of jewels into the pocket of a local gendarme – you would, wouldn't you?

Advertisement - Page continues below

George Tupou V reigned as king of Tonga from 2006 until his death in 2012. Tonga is a group of islands in the South Pacific, and about as far from London as you can get while remaining on planet Earth.

It's also about as far from London as you can get, vibes-wise, what with being an archipelago of tropical islands and not a grey, perma-jammed, northern European capital city featuring a confusing array of bus lanes.

But, despite the distinct non-London-ness of his kingdom, the eccentric Tupou V's chariot of choice was a traditional black London cab. And with good reason.

"A London taxi has the right proportions to make it easy for you to get in and out whilst wearing spurs and a sword," he reportedly explained.

TopGear.com hereby vows to include this vital category in all future new car reviews.

We know what you're wondering. What kind of magnificent royal would treat themselves to a Pantera, the Italian (and slightly American) slice of mid-engined exotica that billed itself as a 'practical supercar' but was really nothing of the sort?

Only the best royal of the whole damn bunch: the king himself, Elvis Presley!

And Elvis, being Elvis, didn't merely own a Pantera. Following an argument with his girlfriend, he shot his Pantera, with an actual gun, when it failed to start. Not a maintenance strategy you'll find in the Haynes manual.

Want a little less conversation, a little more action? Then don't buy a temperamental Italian two-seater.

The current king of Spain, Felipe VI, is most famous for owning a 1986 Seat Ibiza.

Which is (slightly) less tragic than it sounds: a few years back, Seat tracked down King Felipe's very first car, and painstakingly restored it to its former glory, if indeed 'glory' is a term that can be applied to a budget Spanish supermini of mid-Eighties vintage.

A heartwarming tale, but if you're looking for a Spanish king with a serious set of wheels – and who isn't? – you'll be wanting Felipe VI's father and predecessor, Juan Carlos I.

Who, in 2010 or thereabouts, secured himself a murdered-out Audi RS6. Black-on-black, replete with screaming 5.0-litre V10 and discreet crown motif in place of the front numberplate. Old JC was, clearly, an absolute baller.

Forget Sandringham. That's a proper royal estate.

TOYOTA CENTURY CONVERTIBLE

What's cooler than a Toyota Century, the timeless, V12, oh-so-elegant Japanese limo?

If your answer was, 'nothing, nothing is cooler than a Toyota Century', you're very nearly right. But not quite.

Because the only thing cooler than a Toyota Century…. is a one-off Toyota Century convertible, as created for Japan's Emperor Naruhito in 2019.

Look at it! Just look at it! If that's the company car, TopGear.com can imagine nothing greater than being the sovereign of a major Asian island nation.

No, even better, being the chauffeur to the sovereign of a major Asian island nation, and thus getting the chance to actually drive this slice of magnificence, rather than merely sit in the back.

Speaking of back seats, Toyota says that, for this unique royal creation, it raised the Century's rear chairs by precisely four centimetres, because nothing says 'respected emperor' better than a teeny-tiny booster seat.

We're just making mean jokes cos we're jealous.

Advertisement - Page continues below

The Sierra XR4x4 was the all-wheel drive version of the faster version of Ford's big family car of the Eighties, with a 150bhp V6 under that  'jellymould' bodywork.

Feeding all four wheels through a sturdy Ferguson four-wheel drive system, it was considered grippier and less crashable than, say, the BMW M3 of the same era.

Not that this deterred King Willem-Alexander of the Netherlands, who, in his younger days as a mere prince, crashed his XR4x4 in the city of Leiden where he was a student.

We've all been there, Willem-Alexander. Only most of us haven't then had to make the embarrassing phone call to our mother, who was also the actual Queen.

Come on, we had to get a 600 in there somewhere, right?

For many decades, Merc's vast, opulent limo was the chariot of choice for any self-respecting monarch/president/warlord. But in recent years, the 600 seems to have fallen out of favour, or sometimes into the hands of rebel groups.

So it's good to see at least one ruler still flying the flag for the old 600: Morocco's King Mohammed VI.

And not only does King Mohammed own a 600. He uses it to personally collect distinguished guests from the local airport. That's the sort of king we want as a mate.

Advertisement - Page continues below

Here's something TopGear.com didn't know until a furious bout of Googling this morning, in a bid to get this gallery written before the coronation.

The Pope – y'know, supreme pontiff, head of the Catholic church, that guy – is also a monarch. Who knew?

Specifically, he's monarch of the Vatican, which, as sovereign territories to rule go, at least has the advantage of being easy to keep clean.

So, yeah, Pope Francis, he's a monarch. And he's also got a banging array of cars, mostly because he's always being given them by car companies presumably keen to atone for unspecified sins.

Obviously we could have picked the Huracan LP580-2 donated to his holiness by Lamborghini in 2017 – complete with nat-asp V10, rear-wheel drive and natty Vatican-themed paintjob – but, because you'd obviously rather see a photo of a yellowing old French runabout than a gleaming Italian supercar, we're picking his magnificently understated Renault 4.

It's reported that the Pope uses the modest, off-white French runabout to drive himself around the Vatican. Has his Popefulness ever been known to engage in a cheeky handbrake turn while the Swiss Guards are looking the other way? Not for us to say. But we have our suspicions.

We couldn't end this searing slice of investigative journalism without a shout out to the leading lady.

Queen Elizabeth may be sadly departed, but she's not forgotten, and nor is her excellent taste in cars.

Her Majesty was, of course, a Land Rover superfan, owning a bunch of Defenders and Range Rovers over the years, but never sullying her driveways with anything so nouveau as an Evoque or Velar.

And if we're picking a QEII favourite, it's got to be her Defender 110, lightly upgraded with sovereign spec luxuries such as heated seats, electric windows and packing a realm-defending 4.2-litre V8.

No nonsense, timeless, quintessentially British, gets the job done. Just the message for a modern monarchy, no?

Charles, there's still time to change your ride. Ditch the gilded carriage, arrive at Westminster Abbey in a well-worn Defender instead? It's what the public deserves.