News
Mercedes G-Class vs Range Rover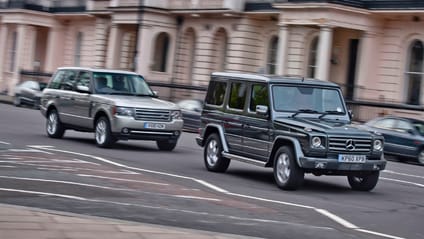 Introducing the new G-Wagen. Only it's not – either new, or called the G-Wagen. It's now the G-Class, and although this is the third-gen W463 model, it's hardly in the first flush of youth. Mercedes's iconic off-roader first arrived in 1979, and this version came along 10 years later. So it's now 22 years old. But that doesn't seem to have put Merc off, because in the same way you crate up a zoo rhino and release it back into the Serengeti, it's reintroducing the G to the UK. Just at the right time and right price to go head-to-head with the latest Range Rover. How thoughtful.

Words: Oliver Marriage
Photos: James Lipman

This feature was originally published in the May issue of Top Gear magazine

Advertisement - Page continues below

Now it's well-known that the Range Rover is the darling of the landed gentry, a car as comfortable slugging across fields on Lord Rathbone's pheasant shoot as gliding around Belgravia. It is, in other words, the essence of town and country. Nothing, but nothing, has yet arrived to match its peerless duality.

Until now? There can't be any doubt that Mercedes's G-Class is a dyed-in-the-wool four-by-four. No Porsche-Cayenne-style delusions of sporting ability are contained within the castellations and fortifications of the G-Class's battle-hardened flanks. And we do mean battle-hardened. In its career, it's seen service with 63 armies, while Mercedes has had to promise NATO it will carry on building the G-Class until at least 2025. 

This thing has earned its stripes and looks damn cool rumbling around the urban jungle. So these two are a class apart, and if you're not convinced about that, try this easy test: say 'SUV' while looking at either of them. See? Feel how incongruous the term seems? It doesn't fit. But enough of labels - for the purposes of this test, we'll ignore what they stand for and concentrate on what they do.

Advertisement - Page continues below

And first what they cost. Before attaching options, the Mercedes G350 Bluetec is £81,665 and the Range Rover TDV8 Autobiography is £83,145. Scary money, huh? Now you don't need to add much to the big Brit, since it comes with everything from electric heated and cooled rear seats to a leather headlining as standard. Not so the G-Class. This one wears £14,195 of wood, floormats, TVs, alloys and illuminated door sills, the overall effect of which is akin to kitting out a prison in Laura Ashley soft furnishings. It might enhance the overall effect, but it can't disguise the fact you're still in a cell.

The trouble is that behind these fripperies, the Geländewagen still has the look and feel of a proper utilitarian vehicle. It's right there in the slabby trim and square-edged plastics, the lack of ergonomic friendliness, the way the doors have to be hurled shut, the roof guttering and dado rails round the flanks, and the careless width of the panel gaps. The overall suggestion is that passenger satisfaction and comfort weren't primary objectives.

Luxury is a term that only applies to the Range Rover's cabin here. Everything is bang up-to-date; there's harmonious use of the best materials, design and technology; and the result is a truly superb place to spend time. It's also far more spacious - not so much for luggage, as both have giant boots - but after the G-Class's narrow rear doors and knees-up seating position, the Range Rover's Bentley-esque rear compartment provides its occupants a chance to stretch out and relax.

Maybe that's not so surprising, as the Range Rover is substantially bigger: a whopping 350mm longer and, including wing mirrors, 209mm wider. Remove those from the equation, and the Merc is only 1760mm wide, and although it seems laughable for a car of this type, that does allow it to be threaded through some surprisingly small spaces. The view out helps here. From your lofty perch, you look down on the bonnet, the far corners of which are handily marked by bulky indicator housings. The Range Rover provides the driver with an equally fine panorama, but it simply will not squeeze through the same gaps.

Oddly, you get this outsize impression from the driving position. In the Range Rover, you're greeted by a handsome, expansive dashboard and wide centre console, your hands gripping a gargantuan steering wheel. It all makes you feel a bit on the miniature side. Given what we were saying about the design and ergonomics earlier, expectations are lower on entering the G-Class, but you find yourself getting comfortable quickly and easily, legs stretched out into the footwell, smaller-diameter steering wheel nicely placed.

However, surviving cities is rarely about darting down alleyways, and we're not about to pretend that a G-Class can follow in the footsteps of a G-Wiz. No, in urban areas, it's all about isolating yourself from the hubbub outside - and the height and stature of these two help no end with that.

Advertisement - Page continues below

The Range Rover is so urbane and detached that things happening the other side of the glass seem as if they're being viewed on TV. And the G-Wagen? Well, people just don't come too close. Whether that's the devil-may-care impression created by its air of military toughness is debatable. More likely is that onlookers imagine the driver is quite handy with a baseball bat.

Bigger it may be, but the Range Rover is the easier car to pilot. Just twist the gearknob to D, and you won't be aware of another gearchange for the duration of your journey - the eight-speed ZF has to be the world's best auto, and it's matched in excellence by the latest 4.4-litre TDV8 engine. In fact, so well do they work together, it's hard to tell where one ends and the other begins - the transfer of torque is effortless, and it pulls away immaculately from standstill. And you can't ignore the air suspension's beautifully calm ride. Well, you can, because there's nothing distracting about it.

Advertisement - Page continues below

This ease of use contrasts with the Merc's more cumbersome mechanicals. The auto gearbox may have seven speeds, but it's slower to choose between them, plus the engine is more raucous and less keen to respond quickly and accurately. The 3.0-litre single turbo diesel also gives away 102bhp and 118lb ft to the twin-turbo V8 Range Rover, and while you don't notice this lack of thrust around town, you do elsewhere. 

The G is thrashier and busier; gas it, and you hear a gusty roar from somewhere over your left shoulder that blends with wind noise coming off the A-pillars and reminds you that the exhaust exits under the left sill. But the noise is far less of a distraction than the ride. Around town, the G felt firm, but beyond city limits, it's properly hard. You can see why this is - Merc has sought to improve body control by fitting stronger springs to limit roll and improve cornering ability. They work alright, but the trade-off is that the G hops and skips where the Land Rover flows. OK, so the two-and-a-half tonne Rangey doesn't like tight roads and quick direction changes, but it barrels round sweepers majestically, engine purring and powering through.

The Mercedes is cruder, if not quite as archaic as you might imagine. The steering needs a lot of lock before the G starts to tack, at which point it weights up considerably, and soon after the nose gets rather vague as the front tyres yield to physics - often before the stability control has got a sniff of what's going on. But even so, it does speed and grip in a way that lets it keep pace with modern stuff without too much effort.

Part of this difference is down to the way the two cars are constructed. The British machine has a bespoke integrated chassis design that melds the strength of a traditional ladder frame with the refinement of a monocoque construction - which also explains why it weighs so much. The German uses the traditional ladder frame design with the body mounted separately on top. This makes it very tough (look underneath, and it's like a construction site - all RSJs and scaffolding), but this design has fallen out of favour for road cars, due to its susceptibility to torsional flex.

Nonetheless, it's a strong platform from which to hang other clanking, oily bits - which the G-Class has in the shape of rigid axles front and rear, three 100 per cent lockable diffs, and a low-ratio gearbox. Using these is straightforward - you push the buttons on the dash - but you have to know when you need to engage which one... there's a level of assumed knowledge when driving the Merc off-road.

The Range Rover can be driven by the off-road novice. Instead of stabbing hopefully at buttons, you just use the Terrain Response system toselect the type of ground you're on, and the car's electronics do the rest - it shows you what's happening on the dash display and will even ask to be put into low range if it deems it necessary.

Both are incredible off-road (it's doubtful we actually needed to fiddle with the 4WD set-up at all), but have very, very different mannerisms. The Rangey flows and glides over terrain - thick parallel logs felt no bigger than twigs, while ruts, slopes, craters, boulders, wading pools and everything else that wasn't tarmac was imperiously dealt with. Everything except mud. And that was purely down to the tyres, as the RR's Pirelli Scorpion Zeros had less bite and traction than its rival's Dunlop Winter Sports.

The inevitable consequence is that you soon get to feel rather cocksure in the Range Rover, and it's about then, when you're axle-deep in prehistoric scenery, that realisation dawns. Realisation of how you're treating this £80,000 off-roader, realisation that although it can perform incredible feats, it also feels rather precious, too special to treat like this.

Now, if you'd spent a similar amount on a G-Class, then doubtless it would also be pretty precious, but it goes about off-roading in a very different way. To put it bluntly, the G attacks. It's not subtle or sophisticated, but by heck is it effective. It charges at obstacles, and you never feel held back by its lower ground clearance or inferior turning circle. The G is unstoppably pugnacious, belly flops into mud like a hippo, and generally feels pretty impregnable. It's not a comfortable experience because of those tight springs, but you get masses of feel, a real sense of connection, and- just like driving an Elise on a B-road - there's a sense that the car is in its element. In extreme conditions, I don't think it's any better than the RR - possibly the opposite - but it feels more up for it.

So for off-road amusement, the G-Class has it, but it's too one-dimensional, and simply doesn't have the breadth of ability that the Range offers. That's not to say it's bad, because it isn't - in fact, aside from the ride and sleepy steering, the ageing 4x4 (the longest-serving passenger car in Merc's history, incidentally) is better than we expected - provided your expectations, like ours, were that the G-Class is closer in ethos and execution to a Defender than a Range Rover. It's about midway, but I honestly think that if Mercedes can persuade people to drive one, they'll pick up more sales than they expect. It's one of those cars that, if assessed objectively, is deeply flawed and bobs uneasily in the Range Rover's wake, and yet you find yourself warming to its infectious nature. It's the real deal, a genuine scenery-smashing tough nut clad in a thin sheen of civility. Still loses this test, though.

The Range Rover is better in every way and so steamrollers the G-Class. But there's something about the Merc's honesty that makes us want one. Quite badly.