Modified
50 highlights from Worthersee, a car event like no other
Austria's annual VW festival boasts odd cars and odder people. Join TG's tour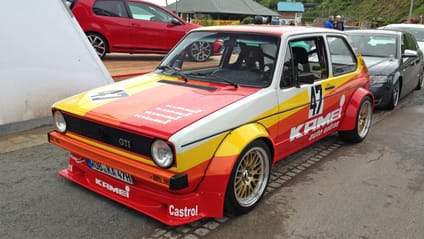 The annual Worthersee Treffen is a car event like no other. What started 35 years ago at a small gathering of VW Golf GTIs at an Austrian hotel has grown into a week-long event that encompasses cars old and new from across the VW Group, with over 100,000 visitors regularly attending each year.

The official, VW-backed part of the festival is a small fan of cars on the lawn at the picturesque shore of Lake Worthersee. But that's the mere tip of a large, erratic iceberg: streams of cars – in various states of tune, and accommodating all points on the crap to classy spectrum – fill the surrounding streets and fields, raucous exhaust systems only drowned out by ludicrously loud stereo setups.

"We come here for the cars, and the people!" exclaims Nicole, one half of Nicole and Ben, the couple which owns the curious Golf-and-a-half you see above. "We go to many tuning events but this is the best by far. We're staying here all week."

If you think her statement is a bit, well, obvious, then there's another side to Worthersee. One that feels like it's stuck several decades in the past. Girls dance in a negligible amount of clothing in the middle of the day before starring in wet t-shirt competitions, while groups of men stagger around drunk well before 11am.

The event deliberately coincides with Germany's equivalent of Father's Day, dubbed 'man's day'; instead of a last-minute dash to the card shop and a cursory pint with your pa on a Sunday, it's a four-day, drink-fuelled bank holiday, often celebrated by groups of mates on a camping trip. Or a trip over the Austrian border in their Vee-Dubs to Worthersee.

Naturally, we behaved well, and kept away from its less salubrious side. So instead, join us on a non-exhaustive trip through some of the quirkier four-wheeled sights of Worthersee as it celebrated the 40th birthday of the Golf GTI, the car that kicked the whole thing off in the first place.

Advertisement - Page continues below

If you've always considered the VW Golf GTI a paragon of subtle performance, then you have never been to Worthersee.

This is a VW Golf R with a 2.5-litre five-cylinder engine producing over 500bhp. Because Worthersee.

Advertisement - Page continues below

The Volkswagen Karmann Ghia, a very pretty rear-engined sports car. A poor man's 911, if you're keen on a cliché.

Guilty pleasure alert! It's a slammed VW Phaeton.

No guilt at all here. This Golf racer is probably perfect.

"Yes darling, we can get a sensible people carrier, but I have a few conditions…"

Advertisement - Page continues below

The modifications to this Lamborghini Gallardo may not be numerous, but they are major. And yellow.

The VW Type 181 had a number of names, depending on the country it was sold in, but it's most commonly known as the Volkswagen Thing. Really.

Advertisement - Page continues below

This little VW Transporter has an engine in it. And thanks to this picture, our face has a smile on it.

It's pretty easy being green if you're a Worthersee-goer.

Something this literally Superb Skoda is only too happy to demonstrate.

If you must hold up traffic with your caravan, this is the way to defuse the tension of your fellow road users.

The Volkswagen Golf Harlequin, the hideous ski jacket of the automotive world.

The VW Beetle, known for its infamous Jaegerbomb mixing station option.

One is a scary world in which unsuspecting visitors must evade hideous, scary beasts. The other is a film about dinosaurs.

Concerned about the dwindling number of unmolested Sciroccos available on the used market, Cesar the dog wore a melancholy expression at Worthersee 2016.

Yeah, if 'Bosslife' equates to shaving value off a V10-engined estate and parking it at an event for four-cylinder hatchbacks.

A 1:18 scale model of the owner's car in its original state helpfully demonstrates how much of it he's thrown away since.

We're going to momentarily pause the sarcasm to admire this classy, green'n'gold mk1 Golf GTI. If we could have brought one car home with us…

An anxious mk5 Golf tries to make its escape from the drunken debauchery.

Not everything at Worthersee is from the VW Group. Everything is crazy, though.

Now, the pirate world's favourite VW, the Golf ARRR.

Here is its interior. Massive anchor not perched inside at this point.

This, boys and girls, is a Volkswagen Passat. Or rather it used it to be.

There are some words to describe what's going on here. Sadly, they're not in TG's vocabulary.

Seemingly setting such records gives you carte blanche to graffiti the boot lid of said car.

VW spends years of its engineers' lives and millions of its own pounds making a Golf ride and handle properly. And then this happens.

This was taken before 11am. It's not cool, kids.

It's the mighty Volkswagen Lamando GTS. What do you mean you don't know what a VW Lamando is?

Whisper it, but we quite like this definitely-not-a-VW Mini.

Worried your old R8 is being upstaged by the new one? Rieger will sort you out.

Rieger also makes things like this happen.

We struggling to muster an opinion on this TT. So tell us yours below.

Is it just us, or are racing drivers getting younger and younger these days?

There didn't seem to be a huge amount of Seats at Worthersee. But this one was quite cute.

An Avant of hipsters leaves Worthersee in disgust at the lack of quinoa stalls and unicycle racks.

Lithe, light mk1 Golf gets heavy, powerful R32 engine. Expect understeer. Of the catastrophic kind.

Being a convertible, this Golf makes it easier for passers-by to share their constructive criticism of its appearance.

There was a lot of tucking and poking at Worthersee. This Scirocco shows us how best to tuck.

For the uninitiated, tucking is when the tops of your cambered alloy wheels are tucked behind the wheel arch. Poking sees them stand proud.

Surely turning up to an event centred around tuned up four-cylinders with a massive V8 is just rude?

"Yeah, I'll be there to fix your plumbing. Just as soon as I'm airlifted in to avoid the speedbumps."

If you're pining to drive this A4, then don't. The handling's a bit wooden. And anyway, it's beeched on the pavement.

Away from the bare flesh, Worthersee is a classy, family-friendly event.