Modified
Check out some of Brabus' craziest cars
With the unfortunate passing of its founder, we celebrate some of the tuner's greatest hits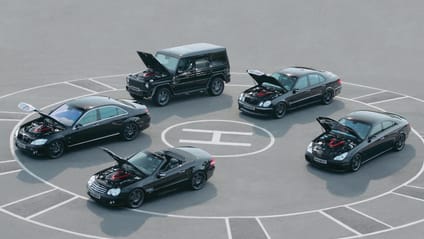 Last week, we lost one of the tuning world's finest: Bodo Buschmann. For over four decades, the enigmatic and driven CEO and founder of Brabus turned the act of shoehorning silly-big engines into Mercedes from a boutique industry into an artform, and the world's largest independent tuning company in the process. 

Mentioning some tuners induces aneurysms and an unhealthy amount of dry-heaving, but Brabus has become a classy synonym for the words "tuned Mercedes".

As a celebration of Bodo's work, we've gone through the archives and picked out some of his pottiest creations to come out of the factory in Bottrop, Western Germany.

Advertisement - Page continues below

Back in the late Seventies and early Eighties, speed wasn't synonymous with Mercedes. They were largely soft and luxurious. But Bodo Buschmann wanted to change that. So he set up shop from the back of his Dad's Daimler garage and added what he termed 'refinement'. This was an all-encompassing word as Bodo's refinement came in different ways, partly through more luxury and increased technology, but mostly via bludgeoning power and performance. There was an obvious appetite for this behaviour, as people from all over the world would come over and bite Bodo's hand off for his latest offering. Here's the man himself in 1984 using his 'refined' Mercedes 500 SEL as a big-engined barstool.

Engine swaps are Brabus' bread and butter. It's old-school hot-rod philosophy at its finest; find the biggest engine you can and shove it in the smallest car. Take for example the 190E from 1984, where Bodo and his boys threw a 276bhp V8 from an S-Class down the neck of a 190 'baby Benz'.

Advertisement - Page continues below

Being an understanding individual, Bodo was aware that there's more than one school of thought in making a car go faster. Yes, simply shoving a monster engine under the bonnet is one way, but Brabus was also au fait with the notion of light-weighting. And when these two things come together you get great things.

Things like the 3.6 S Lightweight. See, in 1988 Brabus came up with its sniper rifle against the popular 323i. Where Mercedes dropped a 2.6-litre engine in it, AMG went for a 3.4 but Brabus went all in and lobbed in a 3.6.

With 268bhp and 269lb ft of torque, the 12-valve 3.6 S was positively rapido for the time; 62 mph was served up from a standstill in 6.3 seconds and on to 162 mph (with the shorter sprint rear diff) or a 177mph top speed with the taller one.

When a V8 is too small, Brabus reaches for its stash of Mercedes V12s. Then goes to town on them to make crazy power and incredible torque by boring them out while beefing them up.

The 1996 Brabus V12 was the first car to start a run of world-record cars. A Merc SL's 12-cylinder was enlarged to 7.3-litres, producing a hefty 582bhp and 570 lb ft of torque. This coaxed the E V12 to a top speed of 206 mph, and the title of "Fastest Four-Door Sedan in the World" in the Guinness Book of Records while also blasting the likes of the Lamborghini Diablo and Dodge Viper out of the water.

Barely two years after getting his name stamped in the Guinness Book of World Records, Bodo wanted more. First off he took an E wagon and hit 199 mph for the world's fastest wagon. Then, using another hefty 12-cylinder, he fired an M-Class to 162 mph to claim the record for the fastest SUV in the world. Right around the time the public was trying to get their head around this new concept of a 'Sports Utility Vehicle.'

Just like how Mercedes saw AMG's work and got all pally with them, Daimler has done the same with Brabus and Smart. Largely through Bodo's family ties. But it all began back in 1999, where they boosted the city car to a monstrous 69bhp. Sixty-nine! 

Advertisement - Page continues below

The Black Baron might be the best car name ever. Imagine being able to say, "I drive a Black Baron."

It was a V12 E-Class with plastic bits over the rear wheels that, we believe, are called 'spats'.

Underneath all the spatish mayhem, is an E-Class with 788bhp. Thanks to that sort of power, it can touch 230mph and keep going until it carves its own orbit through space. Only ten of these monsters were produced, priced at £530,000

Brabus doesn't just deal in unsettling amounts of torque, but also luxury. Over the years, it's taken Merc's commercial vehicles and turned them into mobile Bond villain lairs. Or the ultimate crèche for a teenager with attention deficit disorder.

Inside, they're decked out with leather-covered, ergonomically adapted and air-conditioned seats. Normally within easy reach of the bar and refreshments centre. There's also full connectivity so you can order in pizza to your van, before settling into a night of 3D gaming or films on a 32-inch LCD TV. The electronics are controlled by an iPad, and the whole thing is soundproofed so you can turn your rolling slumber party up to 11. Plus, if you have a tendency to be shot at, you can also get them armoured.

Advertisement - Page continues below

From the subtlety of the early Seventies to the madness of the present day, we give you the Brabus G63 6x6. The car it's based on has a 5.5-litre 536bhp twin-turbo V8, with 560lb ft of torque. This, plainly, was not enough, so Brabus fitted two bigger turbochargers, upgraded the ECU, wrapped gold around the intakes to keep them cool, and popped on a new, rumblier exhaust. This boosts output by 154bhp and 130lb ft to 690bhp, and 708lb ft. So roughly a 1.2-litre Golf's worth. That means the three-and-a-bit tonne 6x6 now gets to 62mph in 4.4 seconds.

Nowadays, it's not just gazillion horsepower Mega-Mercs that Brabus deal in. There's the sister company, Startech, that modifies other manufacturers like Land Rover Defenders and pimped out Rangies. But there's also the arm of Brabus that painstakingly restores vintage cars from the Stuttgart brand with three-pointed stars on the front.

We're told around 4,000 man hours are required to completely revamp the old cars, giving them more reliable engines and electric and gorgeous interiors and paint jobs.

As you'd imagine, it starts with a complete teardown of the original car, right down to the last nut and bolt. All parts are then inspected and catalogued, and worn parts are thrown in the bin.

The paint is stripped from the shell, which in turn is reconditioned with corrosion protection, and then repainted using the original colour. While this is going on, the engine technicians completely strip down the unit, grind the cylinders and overhaul the cylinder head. The automatic gearbox, driveshaft and diff are also given the once-over. Suspension and brakes are brand new, though.

Brabus experts then recondition the interior, using the same colour materials as the ones in series production. Even the cockpit wood inlays are reworked, and then everything is bolted back together again and given a two-year warranty.

They're gorgeous. Simply gorgeous.