Modified
SEMA 2016: the best of the OEMs
Here's your definitive list of the maddest manufacturer SEMA concepts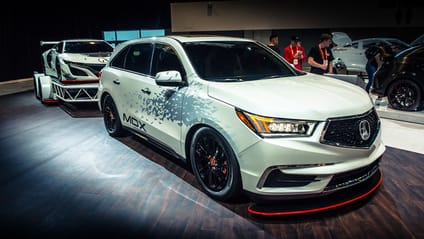 Acura MDX/GT3 Concept

As you'll see over the next few days, towing seems to be the 'in' thing at this year's SEMA show. All matter of cars/trucks/bikes have decided to hitch a ride into the Vegas convention centre, on the back of equally disparate things. Case in point, Acura's new NSX GT3 racer that's been dragged to the party on a custom trailer by a matching Acura MDX.

We're easing you into things gently here, because this MDX/GT3 combo is actually one of the tamest transformations at the show.

Unfortunately, the 3.5-litre, twin-turbo V6 from the race car (all the NSX's hybrid electrical gubbins are binned to go racing) hasn't magically made its way under the bonnet. There are actually no engine modifications whatsoever. None. However, it has been lowered by nearly two inches, had its suspension painted black and calipers painted orange – which must be worth at least 16bhp.

The 20in rims it's riding on have also been slung onto the trailer, and it's been painted in the same livery and adopted the same massive chin spoiler – so the squad goals are strong with this one.

But, Acura, think a bit more outside the box. SEMA gives the licence to execute your wildest, most stupidly drunken automotive dreams, so grab the opportunity with two hands next year.

Advertisement - Page continues below

Toyota Land Cruiser

Ah, this is more like it – a 2,000bhp Land Cruiser by Toyota. It's a car easier to explain with numbers than words, so chew on these: 2,000bhp and 220mph. That's thanks to a "volleyball-sized Garrett turbocharger" on each bank of the Land Cruiser's 5.7-litre V8.

And that quote isn't hyperbole. You can see the turbo for yourself as it's been shoved into the front bumper. With it removed, even Nikolai Valuev would be able to fit his head in that gaping hole.

From the outside, it doesn't look too different to normal. Yes, it has been slammed to the ground but this Land Speed Cruiser appears quite subtle. Every single system and component has been reworked to generate more power, aero, or efficiency in pursuit of speed, mind. Barring the lowered stance, the roll cage, the aero inlets in the body and a small lip spoiler, it does indeed look like a slightly hotted-up Land Cruiser. We're sure a few people in the UAE are currently attaching their chequebooks to carrier falcons and sending them Toyota's way.

Kia Sorento Ski Gondola

At a show where everyone is vying for attention to desperately carve out a new direction for car customisation, Kia came in with something completely new for the enthusiast-based tuning market: driverless technology.

Yep, it took the current flavour of the month from the big corporate production car world and threw it in the SEMA mixer, with not one, but four concepts. This is the first, the Sorento Ski Gondola.

See, not having the need for a driver frees up a load of space inside of cars – especially an SUV. Perfect for filling with sweaty skiers and snowboarders in bulbous ski gear then. The Sorento makes this even easier by having suicide doors to make getting in easier when your jelly ski legs kick in and an interior covered in durable, waterproof black and orange Line-X so you don't have to worry about getting things wet or making a mess.

Outside, Lux Motorwerks went to work by adding a set of orange powder coated Dominator rubber tracks, a custom ski rack and LED light bars. This means in the future you can just hop in, programme the car to the top of the run and let it ferry you up the mountain without having to deal with the social awkwardness of a ski lift.

Advertisement - Page continues below

Kia Niro Triathlete

Kia's second concept is for lifestyle-y people – a section of society major motoring manufacturers are seemingly obsessed with. This time they've targeted triathletes, because everyone has at least 12 mates who are serious triathletes, right?

Anyway, as you'll see from the interior, this Niro has been stripped out to make the car into a driverless support car for one. LGE-CTS Motorsports has ripped out the B-pillar, added suicide doors and decked its innards out with chaise lounge seating for one, a portable shower built into the front door, and plenty of storage to put energy gels, nipple tape and whatever other detritus triathletes may have. But, given the occupants will probably be incredibly sweaty and smelly after a triathlon, it could probably still do with a Little Tree air freshener swung off the rear view mirror.

External visual changes include a two-inch suspension drop, 265/35R-18 Dunlop Direzza sport tyres wrapped in 18-inch Method Rally wheels and a half pick-up bed complete with a custom bike rack holding a Felt IA 2 race bike, workstation and tablet holder.

Kia School of Rock Sedona

Finally, this is Kia's 'School of Rock' Sedona. LGE-CTS Motorsports' idea on how to get child musicians on the road.

Because of the lack of any kind of seating, there's a monstrous amount of space inside. Enough for two massive stack amps in the boot, and a full-on recording studio in the cabin. There's a digital mixing board, dual flat-screen monitors, boom mic hanging from the ceiling and studio-quality acoustic panels and a "recording" light atop the roof.

Unfortunately, there's no word about Jack Black being included to keep this school of rock rocking. But there is a set of drums on the roof, and 20-inch Vossen VFS6 wheels wrapped in Toyo Proxes 255/45R-20 tyres at all four corners. 

Ford Focus RS

The Ford Focus RS is big news for the American tuning scene. It's the first RS to be available in the Land of the Free, but, better than that, because the 2.3-litre four-cylinder is turbocharged, it opens up a stack of options for crazy power. As Arizona-based Full-Race Motorsports has demonstrated.

It rocked up with this lairy BASF grey and orange RS with 450bhp thanks to a BorgWarner EFR twin-scroll turbo, three-inch turbo-back exhaust, cold-air intake, and upgraded intercooler.

To make sure the Focus doesn't combust at the first turn of the key, the hot hatch has been fitted with upgraded CV axles and a one-piece carbonfibre driveshaft, gifting less rotational mass but also being a mighty bit of ammo in any 'My Car is Better Than Your Car' debate.

But to make sure the RS can make the most of that extra oomph, a Wavetrac front diff, KW Variant 3 coilovers, and Whiteline sway bars with adjustable end-links were all fitted.

Looks sweet too, doesn't it? Those 19in wheels come from Finspeed and are wrapped with Toyo Proxes R888 rubber while the rear diffuser, front and side splitters are from Velox Motorsports.

On the inside, there's a four-point, bolt-in roll bar from Watson Racing and five-point Quick Fit racing harnesses from Schroth to make sure you're pinned to the seat under accelerative duress.

Ford Fiesta ST

We've been howling at the moon for a Fiesta RS for years. But because of apparent low demand and high costs, Ford is still stubbornly not coming around to the idea. Luckily, Tucci Hot Rods has shown us what a hardcore Fiesta could look like.

Verging on a baby Rallycross car for the road, this feisty Fiesta has been lowered, stiffened and widened but retains the 1.6-litre turbocharged four-cylinder engine. But it's by no means stock. It now features an upgraded race turbo, custom exhaust system, as well as a Cobb Accessport V3 ECU upgrade. There's also a Borla muffler so you can hear it coming from out of space and Mountune limited-slip differential. To make sure the whiff of clutch smoke doesn't constantly tail behind you, it's been uprated to a Spec Stage 4 kit.

Advertisement - Page continues below

Ford F350 police truck

Team America, your new rapid response vehicle has arrived. It's a Ford F350 with lots of lights. And it's bloody massive. Primarily because the suspension has turned less suspension-y and more scaffold-y.

It's fitted with Skyjacker Suspension's 8.5-inch four-link lift kit, LeDuc series coilover front shocks, M95 rear shocks and a silver dual-steering stabiliser.

Designed for tactical operations, the MBX350 Matchbox (to give it its full name) has a truck vault to store tactical gear like guns, shields and ram-raiders. Alternatively, you can just blind assailants with the 54-inch super LED light bar, legacy lights, or Rigid Industries 30-inch and 50-inch radiance back-lit light kit.

Toyota Extreme Sienna

Ladies and Gentlemen, we give you the "swagger wagon." Well, that's what Toyota is calling it. In reality, it's a Toyota Sienna minivan for a couple who love Max Power but accidentally had kids.

It's the work of Real Time Automotive's hot rod builder, Rick Leos. He took a cocktail of body kits and made them one, fitted dual exhaust, zingy wheels, TRD brakes, plenty of carbonfibre, and then slammed it to the ground. Then slammed it some more.

Nothing has been done to the powertrain, it's still the stock, dreary 3.5-litre V6 engine mated to an eight-speed auto. But the kids will appreciate the work on the inside as it's a bit more pimp than standard. There's a cinema system, reclining seats with custom leatherwork, a refrigerator, Wi-Fi connectivity and Bluetooth speakers. The school run will never be the same again. 

Advertisement - Page continues below

Jeep CJ66

Don't worry if you're a bit confused trying to identify this Jeep, as it's a bit of a FrankenJeep.

For SEMA, Mopar decided to take three generations of Jeep, chuck them in a blender, set it to 'pulse' and see what would happen. This, the Jeep CJ66, is the result. It's a Jeep TJ Wrangler, '66 Jeep CJ Tuxedo Park, and a JK Wrangler all in one. And we have to say we're digging the tri-generational concoction.

Under the bonnet is the new, 345 crate engine kit for the 5.7-litre Hemi. That bumps horsepower to 383 and torque to 425 lb ft and features an air intake and cat-back exhaust system, helping to feed more power into the six-speed manual transmission. Sitting on Dana 44 Crate axles, a two-inch suspension lift allows the 35-inch BFGoodrich all-terrain tyres (wrapped around Jeep Performance Parts 17in beadlock wheels) crawl up anything.

And don't worry about the lack of doors, there's a pair of Viper seats with racing harnesses to make sure you don't tumble out. 

Chevrolet Colorado ZH2

What you're looking at is the Chevrolet Colorado ZH2, a hydrogen-powered SUV for the military that could bring zero emissions to a warzone near you.

Based off a standard Colorado truck – though beefed up, stretched and decked out – it's a monster, standing at over six feet tall and more than seven feet wide. The whole truck has been reinforced (inside and out) and sits on 37in rubber and trick suspension that allows it to scale pretty much anything that falls in front of it.

It's also camo. And a slightly more effective camouflage paint job than the Ssangyong DMZ at that. Meaning if it can't climb over something, the ZH2 can just hide in the bushes for a while before the baddies come.

Unfortunately, there are no specs on the hydrogen fuel cell or electric motors that make it move. But we know it is powered by one as under the bonnet there are plaits and plaits of scary-looking orange electrical wires cascading out of a silver box. There's also a sci-fi looking box in the truck bed. That's the Exportable Power Take-Off unit (EPTO), a fuel-cell powered battery pack that can be removed from the car to power things in locations where there are no plugs. The modular cell provides up to 25kW of continuous electricity, but for how long we don't know. Either way, handy if your iPod runs out of juice mid-shelling.

Chevrolet Camaro COPO

Yep, that's a Camaro with a wheelie bar. It's the '2017 COPO Camaro show car' an amalgamation of drag-racing know-how, condensed into a run of 69 brutish cars just gagging to be taken to your nearest strip, the only place they'll be legal.

And if you're wondering "why 69?", halt your imagination. It's because 1969 was the year the original COPO Camaro launched, obviously.

The car you see here uses a supercharged '350' 5.7-litre engine, sending its power through custom Weld racing wheels, adjustable coilover suspension front and rear, some drag-spec unassisted brakes and a three-speed automatic gearbox.

Each of the 69 COPOs that make production will be built by hand with your choice of Chevy LS and LT engines, though, so the choice of supercharging or natural aspiration is yours, while over 600bhp will be a doddle. As should ten-second quarter miles.

Hyundai Santa-Fast

It's safe to say, a Hyundai Santa Fe's Top Trump isn't normally its horsepower. Unless, you have this Santa Fe in your pack, that is.

Known as the 'Santa-Fast', it's the work of Bisimoto engineering and has lots of horsepower. 1,040bhp to be precise. And they're all sent to the rear wheels. Yep, we thought your ears would prick up at that fact.

Bisi swapped out the front-drive drivetrain for a rear-drive setup featuring an Equus-sourced rear diff. Then, a fairly substantial twin-turbo kit was bolted onto the 3.8-litre V6, which, when put on to the dyno spewed out 1,040bhp at 39 psi of boost. What's even crazier is that it's bolted to a six-speed manual transmission (from a Genesis R-Spec), so it could be one hell of a ride. There's also other hardcore-driver goodies in the shape of KW suspension, Fifteen52 Tarmac R40 wheels, Toyo R888 competition tires, and a Buddy Club brake kit. 

Hyundai Gurnade Veloster

We don't get the Hyundai Veloster anymore in the UK, but fans of the oddly-doored coupe got a treat at SEMA. Hyundai teamed up with Gurnade Inc. to produce this "race-ready" Veloster Concept.

There's a custom (enormous) rear wing, wider track, side skirts from Lightner Motorsports and slick (slick) tyres wrapped around lightweight forged wheels. Based off the faster, turbo model, it's got a new snail that features a bigger intercooler, cold-air intake, and tune from 845 Motorsports. There's also an ARK Performance cat-back exhaust, while NEO Motorsports provided the coilovers and brake kit.

Inside, there are new racing seats complete with harnesses, as well as a full roll cage and a carbonfibre steering wheel. Maybe if we got this Veloster, we wouldn't have banished the squiffy-doored coupe from our shores. 

Bisimoto 4x4 Hyundai Santa Fe

Not content with one mad Santa Fe, Hyundai decided to bring a second one, too. But this humble SUV has been turned into a not-so-humble off-road monster, packing a modified 3.3-litre V6, a new cold air intake, a Mishimoto cooling system, and, um, nitrous. Cue your finest Fast and Furious lines.

There's more; a custom Magnaflow exhaust system, the brakes are now much, much more powerful (six piston calipers up front, four on the back), it's got KING coilovers on the front, and 2.5 KING shocks at the back. The whole suspension is, predictably, a custom setup. It's four-wheel-drive, too. So you can do a four-wheel-burnout all the way up the side of a mountain.

Mazda MX-5 Speedster Evo

The Mazda MX-5 Speedster made its debut at last year's show, but it's back again for this year, only with even more weight stripped out of it. The windscreen-less Speedster Evolution weighs 159kg less than a conventional soft-top MX-5, and 45kg less than last year's concept, putting its total kerb weight way south of a tonne. It's painted 'White Ether', in case you were wondering, and it's excellent because all speedsters are. This is a fact.

Mazda MX-5 RF Kuro

The MX-5 Speedster brought its brother – the new RF Kuro – along to SEMA for company.

It's based on the retractable hard-top variant of the MX-5, and possesses 17in Rays alloys on sticky 215-section rubber, and the suspension from the MX-5 Cup car. The normal MX-5 (we've not driven the RF) is quite softly sprung – we think this is part of what makes it so entertaining to drive, but others disagree and yearn for something stiffer. Hence, the Kuro. Oh, and 'Kuro' is Japanese for charcoal, a nod to this RF's semi-matte grey paint finish. 

Which one would you choose?

Lexus LC500

This, apparently, is the world's first modified Lexus LC500. And it's very yellow.

The body was prepared by Signature Autobody, who wrapped the LC500 in an 'Avery Dennison Gloss yellow' wrap. Added to this yellow-ness we find customised flared arches, a new front diffuser, new side skirts, a new rear diffuser and the all-important rear wing. Only a little one, mind. Aww.

To get it closer to the ground, a new KW suspension with a hydraulic lift system, and height adjustable springs all round was fitted. Then, no doubt utilising methods of insertion outlawed by many countries, massive 22in satin charcoal alloys were fitted, shrouding Brembo brakes featuring custom calipers.

Inside, though you can't see it from these early pictures, you will find carbonfibre Sparco race seats and a GT3-spec race interior and roll cage. Yup, this is a racing LC500 concept car. Good.

Now here's the good news: MORE POWER. The 'regular' Lexus LC500 comes with a naturally aspirated V8 engine (remember them?) with 5 litres of capacity and 467bhp. This concept car's V8 has swelled to 5.6 litres, with an increase in cylinder bore to 99.5mm, to produce a nice, round, 525bhp.

It gets custom CP pistons and Carrillo connecting rods, good - says Lexus - for a rev limit of 9,000rpm. Can you imagine the noise? Take a second to imagine the noise.

BMW M3 'M' Performance

Where some manufacturers use SEMA to reach out to the tuning community and allow them to go wild with their products, others, like BMW, use it to wheel out its optional parts. The M3 you see above is exactly that.

There's the white and M tricolour paint scheme, for starters. On top of that, there are some decidedly unsubtle carbon additions. At the front, a sculptured spoiler juts out, while atop the boot lid there's a fairly notable fixed rear spoiler. Together, they improve the aerodynamics (no actual stats have yet been given), though we suspect most people ticking the box might be doing so for aesthetic reasons.

The alloy wheels, meanwhile, are a new 'M Performance' design. They measure 19 inches at the front and 20 at the rear, are lighter than standard and come wearing some fairly serious Michelin Pilot Sport Cup 2 tyres.

Inside, once you've got over the shock of the manual gearstick protruding from the transmission tunnel of this display car, you'll see a snazzy new steering wheel. It's only part Alcantara, but the suede is in the correct places – the quarter-to-three position you ought to be holding the wheel in – while there's a motorsport-style centre marker and some tricolor stitching.

Dodge Challenger Shakedown

Meet the rather excellent Dodge Shakedown Challenger concept. It's a 1971 Dodge Challenger tarted up with mod cons and new-age niceties, plus a pleasingly overpowered and reliable powertrain.  

Dodge sourced a 1971 chassis and then went to town on it, in order to retain the charm and undiluted badass-ness of one of the most iconic American muscle cars of all time, while making sure it doesn't blow a head gasket in traffic.

Instead of being the classic unibody construction, the Shakedown is a body-on-frame job with a new, completely bespoke fabricated chassis. It comes complete with custom front and rear independent suspension that's also been lowered to make it suitable for track use.

Under that stunning and fully functioning shaker hood is a 392, 6.4-litre HEMI V8, giving this old boy the heart of a teenager. A fighty teenager with anger issues, as it likes to shout through custom Mopar exhausts with black powder-coated exhaust tips.

All 485bhp is sent to the tarmac via a Dodge Viper's six-speed manual transmission and Hellcat wheels (19in front, 20in rear) wrapped in super sticky Viper ACR rubber. 

And doesn't it look menacing? You may have also noticed some Seventies details have collided head-on with the 2017 Challenger parts catalogue. The satin black front and rear lights have been stripped from a current Challenger and made to fit the '71 Challenger's face. They're also complemented by the modern Challenger grille, spoiler, fog lamp bezels and mirror caps. The Shakedown also has two red Mopar 392 HEMI Engine logo tattoos on the front fenders so everyone knows you mean business.  

Inside, it's as serious and manly as a Hell's Angels pub quiz. The front seats have been ripped out of the soon-to-be-axed Dodge Viper, this time re-trimmed in black 'Katzkin' leather (cat skin? Sounds like something Dartz would spec) and contrasted with black Alcantara inserts and red stitching. This theme also goes with the steering wheel, again pinched from a Viper. There's also an SRT Hellcat gear knob, new instrument panel gauges in black, and lots of carbon fibre. We want it in our garage. NOW.