Modified
Six things you need to know: 1,000bhp 'Vicious' Ford Mustang
Timeless Kustoms unveils 'Vicious', one of the most extreme Mustangs ever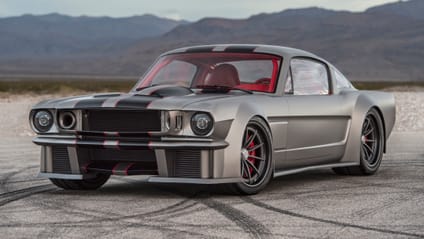 It started life as a regular 1965 Ford Mustang Coupe. And was promptly butchered

The roof was removed instantly, and the fastback rear was grafted on by sheet metal specialists Dynacorn. It's got a Ferrari F430-inspired rear diffuser to complement those new body panels, a mini-tub with 2in flared arches, and billet bonnet hinges from the good folks over at Ringbrothers.

Advertisement - Page continues below

The engine is nuts. Just plain nuts

You've read the headline, you want to know the details. Fine. Underneath that rather lovely body sits a 5.1-litre Ford 'Aluminator' V8, here boosted by a pair of Twin Precision turbos and a Magnuson TVS supercharger.

It also features GT350 ported cylinder heads, a Ford Performance 302 crankshaft, custom cams, custom pistons and connecting rods, new valve springs and retainers, new oil lines, better intercoolers and fuel pumps, a dry sump, and a custom exhaust. All this is fed through a six-speed sequential gearbox and custom clutch.

Phew. The end result is really all you need to know, though: a full-blooded 1,000bhp running on 93 octane petrol. Though, still not as powerful as Ken Block's new Hoonicorn…

It's got Corvette suspension

'Vicious' gets Ridetech adjustable coilvers and a front end Corvette C7 'clip' built by Art Morrison. It's a multilink setup for the rear, and there are – thankfully – huge Brembo carbon ceramic brakes all round, featuring six-piston calipers up front, and four-piston calipers at the rear. Senior.

Advertisement - Page continues below

The wheels are quite lovely, too

Forgeline has supplied its GT3C centrelock 19in alloys for this modified Mustang, running on Kumho tyres. The same tyres as fitted to the new Dodge Viper ACR.

Elsewhere you'll find a Motec ECU and data acquisition system, a rear-mounted Optima battery and even an onboard camera system.

It's got the appropriate safety equipment

Just makes sense, really, with 1,000 horses charging through those rear wheels. There are Sparco seats with safety harnesses and a fire suppression system (read: EXTINGUISHER). For your fevered brow, there is air conditioning too.

Also, the interior is quite red

As you can see, the interior is quite red. Not much more we can add to that really.

So where does this 'Stang rank on your list of ultimate modified 'Stangs? Should Ken Block's team be worried?