Modified
The Tokyo Auto Salon was wilder than ever
Check out the great, the good and the WTF of Japan's annual tuning convention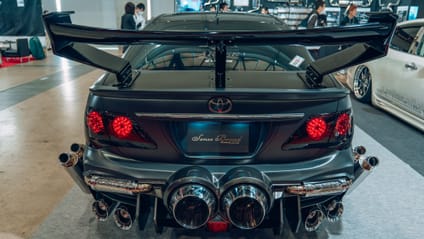 SEMA is America's monolithic tuning convention where the great, the good and those people looking to wash illegitimate money go to show off their modified wares to the world. Well, each January the same thing happens in Japan. It's called the Tokyo Auto Salon and is like SEMA... just with less of the crowd perusing the show floor via electric scooters with oxygen tanks on the back, but more creepy photographers blinding female booth workers with high-intensity flashes, relentlessly gunning them down, in order to commit the moment to memory cards for their 'alone time'. Oh how we shudder.

Even so, you can't deny that the cars are pretty wild. Actually, they're probably a bit pottier than their American equivalent, mainly because they've come from the brain of a Japanese person, where the boundary for what's socially acceptable and clinically insane is increasingly blurred. But you can't fault their creativity/madness. So click on and prepare for all kinds of modified GT-Rs, Jimnys and every kind of Supra (new and old) you can imagine. Oh, and that thing above: a car with afterburners and exhausts. Lots of exhausts. You have been warned. 

Photography: Mark Riccioni

Advertisement - Page continues below

If you've ever wondered what Tony the Tiger's dream two-car garage looks like, wonder no more. It's no surprise he thinks they're grrrrreat!

This is not a screenshot from the new Gran Turismo game. It's just a full carbon R32 GT-R basking in the morning sun of Tokyo R246. Oh yes. You have permission to ask Alexa to play Feeder – Just A Day. 

Advertisement - Page continues below

Fed up of hearing your kids scream and shout on the school run? No worries! Just drown them out with a boot full of subs or the sound of your MPV's undercarriage scraping against speedbumps. Or, in this case, both. 

The Ferrari F50 is well known for having two banks of six cylinders arranged in a V. It was a V12 Ferrari based on Alain Prost's F1 car, made 500bhp and a very, very good sound. This yellow version still does all that, but has a bodykit and rear wing assembly similar to something that's come out of Maranello's XX programme. What's that we hear? Enzo spinning in his grave? Or cheering from the heavens? We can't really work it out.

The late Paul Walker had a lot to do with boosting the profile of the MkIV Supra. Having driven a bright orange convertible version in the first The Fast and The Furious film, he was a human PR machine for the 2JZ'd Toyota. Now there's a new Toyota Supra, and here's one with a scalped roof, orange paint, nitrous and those all-important tribal javelin tattoo-thing decals. 

Having to conform to strict regulations (being within 3490mm in length, 1490mm wide, a maximum engine size of 660cc and no more than 64 horsepower), by their very nature kei cars are small. But look! You can make them bigger! Just sling a roof tent on the roof and live in that.

Advertisement - Page continues below

The Toyota Century is the height of Japanese luxury. Century clientele include Japan's imperial family, the prime minister… and the Yakuza, Japan's Mafia – the largest organised crime syndicate in the world. It's renowned for its plush ride. Which has now been ruined thanks to the hunt for Instagram gratification. 

Depending on how your brain is wired, the image above will either fill you with a warm fuzziness of deep joy or short-term paralysis from deep-seated anger. Yes, that really is a Ferrari low-low. 

Advertisement - Page continues below

What happens when you load a 1997 EK9 Civic Type R into a cyberpunk's musket and fire it into the future? This! The Cyber Night Japan Cruiser 2020, a factory-funded refresh from Honda that smooths the old car's bodywork, fills in some holes, adds some LEDs but keeps its same running gear. Basically, it's the equivalent of outfitting your granny with a futuristic suit of armour. 

Japan loves Lambos. They love them modified too. The shopping list goes a little something like this: anti-social exhaust (check), loud Tron-inspired paintwork (check) and scores of flashing LED and neon lights (check).

How do you like your speakers? To look a bit like Mickey Mouse mixed with a crab? Then this is your car. 

The original dorifto kingu: the Toyota AE86. Just with ritzy carbon bits and a set of trumpets. The induction noise must be off-the-scale. 

Godzilla in HKS warpaint. F-yeah. 

The original NSX was the supercar that proved supercars don't have to be painful to drive, painful to own, and boast the all-round visibility of a Morphsuit. Take it easy in the NSX, and it was as comfy as a boggo Civic. Not when you chop the springs, though. 

You thought it was just Singer making mad 964s? Think again.

We're not going to get all crystal ball on you, but this is the future of TAS. Only joking, obviously Supras and Jimnys will fill the halls for years to come. But there will be more EVs. 

On a nondescript main street somewhere on the outskirts of Tokyo that's a highlight of incongruous, there's Anjia – a tuner that specialises in the exotic. Blingy exotic. See, they luuuuurve diamonds. So slap them everywhere. Even on Aventadors. 

As far as one-make racing series go, Jaguar Sport's 1991 'Intercontinental Challenge' surely ranks as one of the coolest. The short-lived series was a support act for three races on the Formula One calendar. And not just any three races, but the marquee events held at Monaco, Silverstone and Spa. To race here, you need something fast. And cool. Step forward the XJR 15. The most underrated Jags ever?

The Rolls-Royce Cullinan is the company's belated and controversial response to the boom in SUVs. Even if you struggle with the concept of the big, fast, heavy SUV, its catnip for tuners. 

Good lord. How heavy must those tyres be on the roof to make the suspension do that?

Remember when Subaru was cool? No. Well, keep looking at this image for a bit longer. Then Google 'Subaru XV'.

Don't worry, it's not broken. We promise. But that rear arch is quite something. 

We literally have no idea what's going on here. Anyone care to explain? Should we call the police? Maybe we should call the police.

No car is safe from the itchy imagination of Tokyo tuners. Not even this little Daihatsu. 

The S2000 seems to be ageing like Paul Rudd: well. 

Ha! You didn't think we'd leave you going cold turkey and not put in a MkIV Supra, did you? 

Japan loves a Lotus. They also love modifying cars. This is what happens when their two hobbies headbutt each other. 

Smokey Nagata – he of 200mph A1M fame – and his company Top Secret brought this C110 Skyline along to TAS. This isn't any old Skyline though, look under the bonnet. Yep, that's an RB26 block with RB30 heads, octopus leg manifolds and ITBs; a combination of acronyms and numbers that equal very, very good things. Especially for your ears.

Want to see more widebodied racing Porsches? No worries. Just click these blue words and check out RWB's crazy race shop, RWB Republik.

What flavour would you like your race car in? Old, Japanese and awesome? Or old, European and awesome? Answers below.