Motorsport
Take a look inside this secret lair of Le Mans cars
Le Mans ace Nic Minassian is helping bring the Peugeot 908 HDI back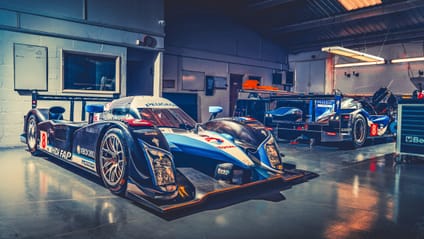 "You never switch off. You're always a racing driver in your head. The busier you are the better you feel, because you miss it, driving stuff like this."

The words of Nicolas Minassian, a competitor in 17 Le Mans 24 Hour races, five of those driving for Peugeot with whom he finished on the podium twice. While his full-time racing career has wound down, he's finding plenty of projects to fill his time. Some, like this, being especially close to the heart.

Photography: Mark Riccioni

Advertisement - Page continues below

His task is to help get seven of Peugeot's LMP1 prototypes back up and running, ready to be sold to those who wish to run them in post-historic series such as Masters Endurance Legends, which sees Le Mans heroes from the last couple of decades return to the racetrack in private hands.

He's working alongside long-time friend Bob Berridge at BBM Sport, a Northamptonshire company running a workshop that specialises – somewhat glamorously – in maintaining sports prototypes made between the madcap Group C era and now, to keep them active in classic motorsport.

In the case of these Peugeot 908 HDIs, Bob has bought seven from Peugeot, who were having a clear out as they moved between museums, and has spent two years alongside Nic working out how the heck you run one without a full factory budget behind it.

Peugeot sold him a bunch of spares, too, and Nic shows me around the world's most head-scrambling store cupboard, with shiny V12 engine blocks sitting idly on shelves and impossibly expensive-looking clams stacked nonchalantly atop each other. Rather painfully, though, some important pieces of equipment didn't arrive in that job lot.

Advertisement - Page continues below

"There's a hydraulic gearbox and hydraulic steering system," says Nic, "and they link together so you need a special machine to do the bleeding of the system, a unique machine which is handmade by Peugeot Sport. So we've had to fabricate one new, the same as Peugeot's original.

"The hydraulics run at ridiculously high pressures and you need to bleed the system all the time. We dealt with a small company in France to help machine something just like Peugeot's. It cost a fortune. Even all the jacks that lift the car are bespoke to each 908, and we've had to have them all remade."

"That's where I come into play," Nic continues. "I get help from Peugeot Sport to help us make those parts, to give us the knowledge with their original drawings. I have been the link to buying the cars and to help with the technical running of the car.

"Without Bob we wouldn't have bought the cars and without me, running them would be very difficult. The language barrier, the translation stuff… everything is in French, every manual and sticker."

In return, Nic gets to drive the stuff he made some indelible memories in. And some stuff he didn't actually get to drive first time around…

See, at the beginning of 2012 Nic and his teammates found themselves at Sebring in the US, ready to test Peugeot's almost complete 908 LMP1 car ahead of another gruelling season. Just as they were installed at the circuit, ready to go, a call came through from France. Peugeot had pulled the plug. Not just on testing, but its whole endurance racing programme.

"They pulled the programme because they were making redundancies in their factory," says Nic. "It was silly to carry on racing while people didn't have a job. But when I knew Peugeot was going to stop Le Mans I nearly had tears in my eyes knowing I wasn't going to put my ass in that car again."

Now that BBM Sport has bought it, though, that final car is back in operation. To Nic's delight.

"Sometimes I do a shakedown with this car. I love it. When you finish driving something like this in your career, in your head it's the last time you drive that car. When you were told you couldn't drive it, and then you do drive it…

"When we took it to Peugeot Sport to check everything over, all the guys gathered round were like 'wow!' They just wanted to see it run."

Advertisement - Page continues below

Peugeot had plans to turn its 908 into a hybrid, to keep up with – and take down – Audi's diesel-electric LMP1 cars. "It became all about beating Audi," says Nic. "If you beat Audi, you won. That was the main focus."

So while the 2011/12 car in BBM Sport's collection is pure diesel, one of the few bits of LMP1 history Peugeot chose to retain is its hybrid test car. The non-hybrid cars you see here are among the last bunch of 'historics' that Bob and Nic reckon privateers can feasibly run.

As top-tier motorsport goes almost exclusively hybrid, they both reckon it'll be impossible to retrospectively run more recent prototypes and F1 cars, owing not only to their complication, but the secrecy surrounding the electrification they use.

"In sports cars it was up to the manufacturers, each hybrid used their own system," says Nic. "Because of that they don't want to share anything. So you won't get the car. You have to respect that."

While Peugeot have been free and easy with information to help BBM Sport get the 908 HDI population back to its best, they've kept their own hybrid prototype back at base. Audi, meanwhile, simply won't entertain the idea of selling anything to Bob's company.

Advertisement - Page continues below

We ask what it's like driving diesel, given Nic's a man whose career possessed plenty of highlights before he was posting himself into the cramped cockpit of these 908s.

"What I like about the diesel is the kick up the ass from the torque. You change gear and the thing is just punching you. The first time you come out in the pitlane, you think you're driving a diesel van - wrgh wrgh wrgh wrgh – but then you take off the speed limiter and it's brilliant."

"It's not as loud as a petrol car, but because it's a closed cockpit you hear it better. The torque was what impressed me most. It revs to 4,600rpm – you can pull 5,500 if you want but you lose power.

"Back in the late 2000s it was a monster thing. Diesel was new in racing. You can produce so much more power than with a petrol engine. And it's more reliable! It goes forever, you can do 20,000km with a race engine."

None of the 908s claim the honour of being Nic's favourite car in BBM Sport's current collection, though. That's bestowed upon the Silk Cut-liveried Jaguar XJR-14, a Group C prototype from 1991.

"That is unbelievable. The downforce is incredible. It's very stable to drive yet it's very light, only 750kg. It was way ahead of its time, it obliterated everything."

While it won the 1991 endurance championship, it didn't even compete at the Le Mans 24 Hours owing to Jaguar's lack of confidence it could go the full race distance.

Then there's the Sauber C11, comfortably the most valuable motor car in BBM Sport's lock-up. Wearing 'M. Schumacher' on its flanks and good for 920bhp (not to mention 800bhp from a paltry 2000rpm), it's the one that Bob covets most.

"It's the quickest car on the grid in Group C historics," one of its mechanics tells us. "It wins every race. The light goes green and within three car lengths it just disappears. It was a test chassis in period but it didn't actually race. There are two other C11s in private hands and we've only seen another one out."

With invites to drive these cars, both in testing and historic racing, Nic has no plan to make his more organisational roles full-time. "I will never say 'I'm retiring' because I'm not a retired racing driver, I'm still racing when I want to," he assures us. "If I can race I will, apart from if I'm starting to be s***ting myself in racing cars!

"I love it. The historic scene is great, you meet nice people and everyone's in the same boat – to have fun – so there's no pressure. It's a different kind of racing. But we still push the cars really hard! I give them a good hammering."

It'd be rude not to let him reminisce about Le Mans, too. "The morning is great: 4.30 when it's just getting light and the sun is just starting to rise. It's the fastest time for the car and there are different smells, like the grass and the trees from Mulsanne to Indianapolis.

"The track is rubbered up, the car has done quite a bit of running and the engine is starting to breathe even more, and you are so sharp.

"You brake late every lap, you're using more of the track… by the morning the track is at its best and the car is really part of you. That's when you do the fastest lap of the race. Several people will have retired so there's less traffic and you have clear laps sometimes, so your visibility is better."

Then there's the ago old question of how to deal with the tiredness. "Sometimes I never slept at all in the 24 hours. You're so tired physically sometimes, so you rest rather than sleep. You have a massage, something to eat, go to the toilet, relax a bit. It can be good to listen to the radio so you know what's happening with the car before your next stint.

"Sometimes you force yourself to sleep and you can't, and then you start feeling tired because you're thinking you're tired, and then it might be hard to pull yourself round. As soon as you go back in the car and come out of the pits you're on the back straight doing 355kmh, you've got to be on it straight away. A one or two second loss? You sometimes don't get it back."

"Peugeot Sport was one of the best teams I've ever driven for, such a family, a big team but a family team," Nic concludes. "We all had fun together. It was beautifully run. When we had failure it made everybody very sad and it was a very emotional place to race for. But they were some of the best years of my career. I loved it."

Like what you hear? This weekend's Goodwood Members' Meeting will see a bunch of Le Mans prototypes partake in a high-speed parade. If they really do end up representing the final era of cars suitable for historic racing, as Nic and Bob ponder, then what a way to bow out.

Keep clicking for more highlights from BBM Sport's stash...

That doomed 2012 season Peugeot 908, stripped almost bare. Oh what could have been...

Remember Peugeot's 208 T16 Pikes Peak record breaker? This is the 908 prototype it nicked most of its components from.

We think they removed it to ensure our idle button-pushing didn't make any life-changing alterations to the car.

Henry the vacuum cleaner meets Sauber the endurance racer. They get along famously.

Before Schumacher's name was emblazoned on F1 cars, it was stickered onto sports car prototypes. Might help explain why this Sauber C11's worth much.

"Good for 900bhp," the mechanics say. BBM's workshop isn't big enough to store all the brave pills required to deploy 900bhp, however.

A diverse bunch of sportscars share BBM's work space, from those highly complex LMP1 Peugeots to comparitively simple LMP2 privateer cars.

The more advanced the aero, the more difficult the cars were to drive, reckons Nic.

The world's greatest store cupboard? If you're a Le Mans nerd like us, yes.

Five years of competing in endurance racing, compacted into boxes and then distributed across shelves.

Mark Riccioni enjoyed photographing this room so much, he's taken up residence on one of the shelves. We've not actually seen him since.

As you might expect, an LMP1 car can be heinously complex to run.

But owing to the even more complex hybrid era that followed Peugeot's departure from sports cars, these may be among the last top-tier racers mere mortals can dare take into historic racing.