Movies
Behind-the-scenes on Quantum of Solace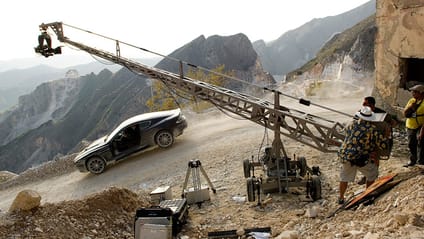 Reality can get a bit slippery on a film set. An Italian with the kind of face you'd find on a Roman bust, has just emerged from a Portaloo, adjusted his brown tailored suit, climbed into the passenger seat of a black Alfa Romeo 159 and picked up a sub-machine-gun from the footwell. Parked in front is an Aston Martin DBS with eight bullet-holes in the rear windscreen. Next to me, a bruiser in a hi-vis jacket pours himself a coffee from a huge plastic urn and complains about the late arrival of some Bourbon biscuits. "It's a bloody disgrace," he says, shaking his head and lighting a cigarette. For a backdrop, there are mountains with precipitous cliff-hugging roads, a vast iron-grey lake and dark clouds rolling by like a funeral procession.

The set is actually a real location, Lake Garda in northern Italy. The Aston Martin DBS is also real, as is the Alfa, the Italian stuntman, the Portaloo and the coffee. If the Bourbon biscuits finally turn up, they'll be real too. What aren't real are the bulletsin the sub-machine gun and the bullet-holes inthe Aston's rear windscreen. They're both props in the opening chase sequence of the new James Bond escapade, Quantum of Solace, which kicks off with the 'hero cars' - Bond in his DBS, gunmen in three black 159s - involved in a pursuit along narrow roads and through tunnels around the lake, dodging 'ordinary' traffic as they go.

Words: Rob Bright

This article was first published in issue 184 of Top Gear magazine, 2008

Advertisement - Page continues below

The Second Unit film crew (the 400-odd people responsible for the action sequences in the film) has nine days to get the scene in the can before falling behind schedule. The Italian authorities have been hugely accommodating, closing a two-mile stretch of the road around the lake from 8am to 6pm. Nine days might seem like plenty of time to get six minutes of screen time, but given the unpredictability of the weather (it's April) and the fact that the process of shooting fast-paced action sequences is a slow business, the heat is on.

There will be other, as yet unforeseen, problems over the next few days; highly publicised accidents, only too real, like an Aston Martin, being delivered for promotional purposes, spinning out on a bend and ending up in the lake, and an Alfa 159 crashing and injuring two stuntmen, one of them seriously. These incidents, and others, would have the media talking about 'the curse of Bond'.

I was on set before any of these incidents took place, and commented on an ambulance parked up at the side of the road, asking if it was real or part of the shot. It was real, I was told. One of the crew members also pointed out a boat bobbing on the lake and said, "That's an ambulance too." "You really expect any cars to end up in the lake?" I asked incredulously. "Just look at the thickness of that stone barrier!"

We all had a bit of a laugh at that one...

What the accidents actually reveal is how tough a shoot this was. Bond films pride themselves on creating real stunts not CGI, and what that translates as here are roads about seven metres in width, just wide enough to get three cars abreast, those cars being driven at perilous speeds in the wet. "There really is no margin for error," says stunt driver Ben. He explains how there was no practical way the stunt team could recreate the environment they're in now, so the drivers practised beforehand on airstrips, using cones to mark out the width and shape of the roads. Get a car a tad out of shape, and cones tend to be a bit more forgiving than limestone.

Advertisement - Page continues below

Gary Powell, stunt co-ordinator on the film, doesn't need me to point that out. He knows that even the most meticulous planning isn't fool-proof, that a calculated risk is still a risk. But having come from a family of stuntmen, Powell was being thrown off horses and out of vans from the age of 11. For him and the stuntmen he's in charge of, working on Bond films is the high point in their career. They're employed precisely because they're not the kind of guys to hold back, to bottle it on the big take.

Quantum of Solace opens right at the point where Casino Royale ended, making it the only one of 22 Bond films that's a genuine sequel (this is what caused the hex, no doubt). Bond, as in Daniel Craig, isn't here but back at Pinewood Studios working on another scene - the close-ups will be done at another time. At either end of the set are base camps, one where Second Unit Director, a huge bear of an American called Dan Bradley, will pour over the rushes, the other - known as the Action Vehicles Base - where Graham Kelly is in charge of a team of crack commando mechanics responsible for looking after the seven Aston Martin DBSs on set.

Didn't I mention that there were seven of them? And that's only the half of it, or just over half, because a total of 12 DBSs will be used during filming, amounting to nearly two million pounds' worth. What's more, the seven of them here will, as Gary Powell puts it, "get smashed to bloody pieces". That is, in fact, the point - at the end of the car chase, Bond's DBS is supposed to be a write-off, hence the scope for things getting out of control. But to film the car's gradual destruction requires more than one Aston, because even if it drives after a serious knock, it'll drive badly, so you need spares that look damaged but function perfectly underneath.

This leads to some surreal moments. During one take in which the cars drive off into a tunnel, we hear the sound of gunfire, tyre squeals, a loud, ominous thud and then silence. A few moments later, the two-way radio crackles into life telling someone to call the recovery vehicle. Eyes roll. Air is sucked through teeth. The DBS has taken a knock on the front wing and this has put the steering and suspension out, meaning it has to go back to the mechanics. But Dan Bradley is happy with the damage - beaming about it, in fact. So before a new Aston can be brought in, a photo of the prang is sent to the mechanics at the Action Vehicles Base, who take hammers and angle-grinders to the front wing of a pristine DBS, all in the name of continuity.

As his CV reveals, Bradley's no stranger to smashing things up, what with The Bourne Supremacy, The Bourne Ultimatum, Spiderman 2 and 3, and the latest Indiana Jones film among the choreographed chaos credited to him. But for car chases, his blue-print is one of the classics.

"I always return to The French Connection. It's a simple sequence, a few trash cans and so on. But it's Popeye Doyle's behaviour that gives us the emotional connection to the character. And it's the characters as well as the action that give the chase its tension."

Character is something Bond was missing in the twilight of the Brosnan tenure, action and plot having reached a level so farcical it would have ruptured the eyebrows of a safari-suited Roger Moore. Such was the mish-mash of gadgets, explosions and chases, you could have watched a film like Die Another Day backwards and it would have had the same emotional impact.

So it was back to basics, then, back to the story - the first Bond story Fleming ever wrote in Casino Royale. And there was a new Bond in Daniel Craig. The tabloids went to town, naturally. He was deemed too 'RADA', too intellectual, too blonde and therefore too much of a poof to be a proper Bond, somehow missing the irony that Fleming's creation had started out life as a public schoolboy in the 1920s, meaning he'd have had his fair share of fagging.

Craig ended up being nominated for a BAFTA, and critics and movie-goers agreed the franchise had found its mojo again. It is now the biggest-grossing Bond film of all time.

The influence of Jason Bourne on this success is difficult to avoid. It's a name you're jokingly told to whisper around here, but Dan Bradley is just one of many on the crew to have worked on the Bourne films and brought with them some of the gritty, taut atmosphere of the blockbuster trilogy. Bradley points out the differences, though.

Advertisement - Page continues below

"We're not going hand-held, like with the Bourne films. We want a different effect with Bond. But we want to be close, see the tension in the eyes." So more polished, then, but not the high gloss of a film like GoldenEye. Some Bond fans remain uncomfortable with this, believing that being unflappable is part of 007's job description, that the Martini should be the only thing feeling shaken after another brush with death. Yet Craig captures the more morally complex qualities in Bond's character. He comes closest to fitting Fleming's description of the man as someone who is vulnerable yet has 'something cold and ruthless in the eyes'.

But enough of that, it's time to talk about a bit of kit that makes all the difference when filming car chases - the Ultimate Arm. It's a carbon-fibre crane from which hangs a gyro-stabilising camera, all of which is attached to the roof of a Mercedes ML55, painted matt black to minimise reflection. It looks stealthy, like a bit of military hardware - an apt coincidence, given the crane's inventor is Lev Yevstratov, a man who honed his engineering expertise making nuclear guidance systems for the Soviet Union.

Incidentally, chatting with the crew at the bar that evening, I discovered that quite a few were from ex-military backgrounds. One of them even argued that film companies could save a lot of time and money if the crew were organised like a military unit and subject to operational discipline. Given that he was quite drunk and in the process of ordering a round of sambucas, I doubted his level of commitment and suspected his opinion would mellow if faced with a drill sergeant screaming in his ear at five the next morning.

If nothing else, renting an Ultimate Arm of your own demands a military-size budget. But then this is a highly technical bit of kit, able to keep the camera stable at speeds of over 100mph, while coping with wind resistance and uneven surfaces. Watching a monitor inside the car, the operator uses a joystick to guide the camera and crane, able to send it through a 360° rotation in six seconds, while the Arm's stunt driver weaves in and out of the traffic being filmed. For evidence of its effect, watch the sequence in Batman Begins, where the Batmobile is pursued by the police through Gotham City. No doubt the final cut from Quantum of Solace will be just as heart-thumping, if a bit more 'real-world'.

Ah, we're back with that slippery idea of the 'real' on a film set, and specifically how realistic a Bond film needs to be. Getting the balance right has seen the pendulum swing back and forth more than once during its 22 incarnations.

That this is the second biggest grossing film franchise of all time speaks volumes for how frequently they've got it right in a history that now spans nearly 50 years.

Advertisement - Page continues below

So let's finish with Frank, the best illustration of what such longevity means. Frank's job on set goes under the unofficial title of a 'grip's bitch'. He's a leather-faced geezer well into his sixties who sounds like he's sucked the entire contents of a Philip Morris factory dry. At the hotel bar that night, a relatively sozzled Frank spills half a glass of beer over the bar, but before the barman can notice, it's mopped up by one of his colleagues, who puts another pint in front of him with a slap on the back. Such deference stems in part from the fact that Frank has just about seen it all where Bond films are concerned. The first one he worked on was Goldfinger, and he's been knocking around ever since, watching Bonds come and go with the same frequency that the Queen has entertained Prime Ministers.

"I've had a lot of fun," says Frank, as we stand outside smoking, the hotel pool casting us in a ghostly blue light. "Most of us grew up with James Bond as the sort of bloke we'd all want to be, but I got to live a bit of it myself." At which point he grins, stubs out his cigarette and heads back in. And when I'm stumbling off to bed an hour later, he's still going strong at the bar.