Movies
Exclusive: the cars of Mad Max Fury Road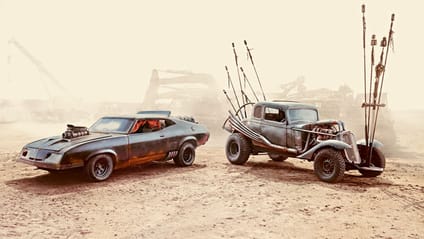 Mad Max's faithful Ford Falcon XB. Typecast in the Eighties as fiercely as Marty McFly's De Lorean, it's the Pursuit Special, the Interceptor, rolled to oblivion and incinerated part-way through Mad Max 2.

And it's back. Out of the Outback, and skulking around deepest Lincolnshire, with a hellish rat-rod enemy on its heels. Mad Max is returning. And its post-apocalyptic muscle car supporting cast is back too.

Pictures: Wilson Hennessey

This feature was originally published in the May 2015 issue of Top Gear magazine

Advertisement - Page continues below

"We call it Mad Max Two and a Half," laughs Fury Road's effortlessly affable production designer Colin Gibson (no relation to Mel), who prefers to be known as a 'salvage artist'. "We're all too young to have worked on the first Mad Max, but a few of us worked on 2 and even on 3, though they won't admit it. We don't talk about 3."

The 2015 feature is a Tina Turner-free zone, and is set between the second and third instalments. Brit Tom Hardy assumes the title role, and you can thank Gibson's salvage artists for the fiendish machines that roam Australia's parched deserts in search of food, fuel and blood.

Naturally, Max's Interceptor is scarred. Its moleskin-like bodywork is tacky to the touch where rust hasn't yet chewed through the steel. Both yellowed headlight lenses are punctured and have long since been robbed of illumination. The raggedy fabric pinned to the ceiling is flapping in the breeze permitted by the total absence of glass.

Inside, atop the remaining squashy chair, it's not the al fresco feel, shell casings littering the gritted dash or butch shift lever that dominate your view. That supercharger punching clean out of the bonnet is the headline act: it towers above the Concorde nose, still spins, and still is nothing more than a dummy, driven from the fanbelt. It's one of the few concessions to fakery in a movie car that's otherwise ready to roll. Gibson explains how the location caused more issues than the rugged, reliable Falcon.

Advertisement - Page continues below

"In Namibia, the biggest problem they had was building a road to get it to the set! Unfortunately I chose a location that had a beautiful view, but there were no roads to the mountain top. I could've shot it in a car park in Essex and had CGI put the background in, but it was much more fun to do it for real. I drove up it the first morning, and it was, er, quite exciting. But the stuntman who drove it down the cliffs and rolled it eleven times had the most fun."

Yeah, eleven times. Got to be a record, right? "Stuntmen always think it's a record", says Gibson. "But I reserve judgment. My mum was a pretty bad driver: she got about seven rolls once, so she probably held the record." Mrs Gibson probably didn't have the benefit of a nitrogen cannon to catapult the car over, however. Gibson glumly admits the Fury Road Interceptor's one is a relatively new addition. "In the old days, we used to put a telegraph pole in and detonate it with gunpowder to force the car to flip. It tended to leave the stuntmen full of splinters."

Though unassisted by forced induction, the Interceptor's original 5.75-litre V8 has been bored out to offset sand ingestion sullying its paltry 280bhp. It sounds like ten times that. The crackling, industrial idle is pure Funny Car, and not only can you just about hear every cylinder firing, but all eight upswept exhausts sputter an individual puff of fume in rhythmic time. Blip the throttle pedal's remaining metal carcass, and the organ pipes' downdraft tries to wrench the tarnished assembly free of the rocking chassis. Forget Cars' Lightning McQueen - this is a movie car that appears to be coming to life. And it's woken up angry.

Its movie nemesis was once a 1932 Chevy five-window coupe, now driven by Nicholas Hoult's demonic teenage character, Nux. As a young'un ignorant of a world before fuel wars, Nux revels in the hopeless brutality. "His car is his church," says Colin. "We wanted the ultimate hot rodder's car. Once I found one in the US that had bullet holes in the windscreen, I knew we'd found it."

Advertisement - Page continues below

Four were made for the movie - two with fully finished, hand-built interiors festooned with macabre trinkets like a baby's mobile fashioned from human ears, an eyeball-topped gearlever and a gas mask-equipped doll's head strapped to the steering wheel. Unlike Max's Interceptor, Nux's car isn't littered with spent ammo or battleworn. The flame-embossed exhaust trumpets are immaculate; the stretched chassis rails rust-free. And the exposed engine - with fully functional supercharger this time - is exquisitely finished. Why? "Apocalyptic cars have to be tough, but also worth saving," says Colin. "Nobody wants to save a Corolla. Human beings fetishise things."

That motor is a small-block Chevy V8 running two Holley carbs that cloud its local atmosphere with acrid petrol. Gibson estimates its output is north of 520bhp. Its soundtrack is unique too - with the microwave-sized Weiand blower shrieking manically over the furious V8, bellowing out of eight unsilenced pipes. What a monster.

It's so powerful that, in rehearsal, a stunt driver lauded by Colin as "one of the world's best drifters" lost control of the Nux car in reverse and flipped it. "We'd decided roll cages were for wimps, but the stunt guys like them so we rebuilt the cars. We ended up setting one car specifically to go in reverse." Small wonder the salvage artists had to build 150 cars in total for the movie.

Advertisement - Page continues below

With Fury Road wrapped, Gibson's mind is already concocting ideas for its sequels. "I'd like to do something with a Tesla Roadster," he says. "It's 90 per cent battery, six per cent carbon and four per cent terror." Not tempted by more V8 ferocity? "I drive a Citroen CX 2400 Estate - I wasn't a hot rodder until I started this job. Having my perfect workshop was like being 17 again."