Movies
How does it feel to drive 007's gadget-laden Aston DB5?
We get behind the wheel of the greatest-ever Bond car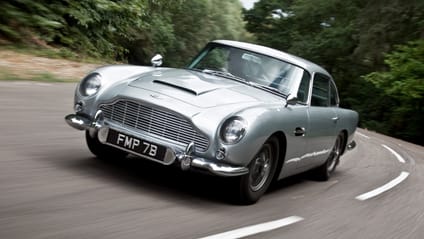 Aston Martin plans on building 25 continuation models of the Goldfinger DB5 - here's the time we drove the original, and most famous - Bond car of them all

Drive a decent 'classic' car and the odds are you'll be confronted by an enormous, wood-rimmed wheel, through which you can sense everything. Forget the faddish modern item, with its over-nourished rim and fancy electro-hydraulic gubbins: this is what steering feel really means.

An Aston Martin DB5 is unquestionably a decent classic. It's also a truly beautiful object. This is actually the second one I've driven. It rained the first time I tried one, and every greasy roundabout redefined the meaning of the word fear.

This feature was originally published in issue 208 of Top Gear magazine

Advertisement - Page continues below

But this DB5 is the DB5, the very one that Sean Connery drove while essaying the role of Ian Fleming's famous fictional spy (the name eludes me right now, it's James something or other), the one with all the gadgets including the ejector seat, the bulletproof shield, and the machine guns, the car that Corgi immortalised with its brilliant, huge-selling scale model, the car that renders all men of a certain age babbling, dribbling fools, inarguably the most famous film car of all time and therefore probably the most famous car of all time, full stop. Yes, that one. And, with hands hovering apprehensively over the enormous, wood-rimmed wheel, I'm about to drive it.

The tale of the Bond DB5 is as densely plotted as one of Fleming's novels. Fleming, famously, was more of a Bentley man, so Bond mainly drove a Bentley in the books, though he did end up in an Aston Martin DBIII in the Goldfinger novel. For the film series, producer Cubby Broccoli apparently wanted Bond to drive an E-Type, but Jaguar just wouldn't play ball. Idiots. Fortunately, the guys at Aston Martin recognised a copper-bottomed PR opportunity when they saw one, and two cars were supplied to Broccoli's Eon Productions.

Advertisement - Page continues below

Legendary Bond production designer Ken Adam reworked one of the original two DB5s with an ingenious suite of gadgets, while the other, unmodified car was used for long shots and driving sequences. The 'gadget' car was subsequently stripped of all its unique refinements, and sold to an American who promptly had them reinstalled. It was sold a few more times before being bought by a Florida property developer called Anthony Pugliese, who stored in it an airport hangar until it was stolen in 1997. It hasn't been seen since.

The other car, meanwhile, was fitted with gadgets for promotional purposes, had them removed again by Aston Martin for some ridiculous reason, and was sold in 1969 for $12,000 to a US DJ called Jerry Lee. Apparently, Lee had them all retro-fitted in the late-Seventies, and after one final public display has kept the car firmly under wraps ever since. Until now.

Something of a philanthropist, and now in his 70s, Lee has decided to sell the car to raise funds for his charitable foundation. It's the star lot in RM Auctions' London sale*, which takes place on October 27. RM, which has lately achieved some outstanding figures for cars in its worldwide auctions and handled the recent sale of a 250 GTO, reckons that the Goldfinger DB5 should make around £3.5m, and will appeal to collectors beyond the automotive sphere. Think John Lennon's Imagine piano, or the guitar Jimi Hendrix set fire to at Monterey in 1967... "If it comes down to a battle between two very dedicated and wealthy individuals," says RM's Peter Wallman, "who knows what could happen?"

*The car fetched £2,912,000 at RM's London sale on October 27 2010

This most celebrated of cars has clearly been used and enjoyed, and frankly is all the better for it. It feels beautifully solid, the doors shut with a well-engineered thump, and the seats are as beautifully patinated as you'd expect in a 46-year-old car. Turn the key, and there's barely a beat before the triple-carb-fed 4.0-litre straight six erupts into life and settles immediately into a well-mannered idle.

This car makes the most gorgeous noise as the revs climb past 3,000rpm, the gearbox is terrific and though it heaves a bit in the corners, you can feel everything that's going on.

Advertisement - Page continues below

And then you think, Sean Connery drove this car in Goldfinger. It's the car he stopped in the forest, after being pursued by a horde of minions in Mercs, when his beautiful doomed companion was offed by Oddjob's deadly bowler hat. It has a prototype satnav (home counties on the display, naturally), a lever in the driver's footwell that raises the rear brake-light, an armrest full of buttons for all of Q's various devices, and a little red button secreted under the top of the gear-lever for the ejector seat.

Yes, it's that car. And I've just driven it.