Movies
The secrets behind the cars and stunts in 'The Italian Job'
We pick the brains of stunt driver-turned-actor David Salamone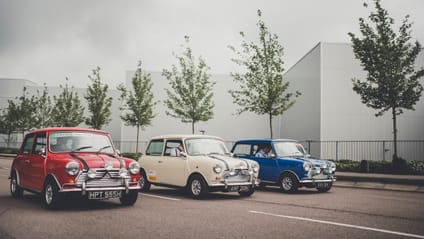 As the 1969 classic 'The Italian Job' turns 50 years old, TG.com caught up with David Salamone, the man who piloted the red Mini in that iconic chase scene...

TG: David, how did you first find out that you were going to be in The Italian Job?

DS: I had done a movie called Robbery where I'd supplied all the cars. It was a sort of quasi-documentary so I had to find the exact vehicles that were used in the Great Train Robbery. I went to police stations and got photos, all that nonsense. But the producer of that was Michael Deeley, who then happened to produce The Italian Job. 

Originally I was taken on as a stunt coordinator in addition to supplying all the cars, but while I was running around finding them, they found Rémy Julienne. He was the king of all the stunt men and frankly was in a different league to us. So, I kind of got semi-sidelined after all of that. I was a little disappointed, but they gave me the part in the movie instead because I was already under contract. 

I'll probably get told off for saying this, but the general kind of English stunt man, I could say to him 'get in that car and drive through that wall' and he'd just say 'how much?' Rémy was different. He was a scientist. Everything was calculated to one mile an hour. It was practiced and worked at first, then he'd modify things if it wasn't quite right. 

I remember I'd obviously done a load of handbrake turns in my time, but suddenly Rémy was telling me to get it in reverse halfway through and to roar out of them. It was all learning on the job, it was fantastic.

Advertisement - Page continues below

So you sourced all of the cars for the film, then how did you get them down to Italy?

My mother drove one of the E-Types, my girlfriend drove one of the Minis, everything in the film was driven down from the UK. We had no transporters. And then we drove them all back again afterwards. 

The three Mini drivers in the film – myself, Barry Cox and Richard Essame – drove three Minis back from Turin, all in a line, all racing along, all 20-year-old boys being stupid. Just before we got to the Swiss border some guy was annoying us in a big Citroen, and I think we might have edged him off the road a little bit. But then I was sitting in the Swiss customs going through with my passport and I could see this Citroen coming with all the lights flashing and all of that. I thought we've gotta get out of here, and we just made it.

Then, when we got back to London it was Saturday afternoon, but we didn't have to get the cars to the studio until Monday morning. So we've got them in our homes – this is mad. Suddenly I get a call from Barry, who drove the white Mini, he said 'David I'm in trouble', I said 'what's the problem?' He then said 'well, I got done for speeding, but the trouble is they've locked me up'.

The problem was that when they opened the boot it was full of gold bars. Then they checked the registration number, which was completely fake. Then they looked at the tax disc and that's fake as well, so they just carted him off. Of course there was no movie at the time or nothing to show for it, so they couldn't work it out.

And how were the Minis adapted for the stunts?

When Rémy Julienne was taken on he mainly wanted everything stripped out of the inside so that nothing would fly about.

Then I had these huge magnesium sump guards made and we had roll bars inside the car. The engines were absolutely standard though, no modifications at all. People keep telling me this tuner did it and that tuner did it. Well they didn't, they were standard cars.

They were great to drive, as a teenager you dreamed of having a Mini Cooper S. They were like a go-kart. They were the most fun little car to drive. They were maneuverable. You could get in and out of spaces. It was a great car for the movie.

Advertisement - Page continues below

What was your favourite stunt to be involved in?

There's an odd bit, it doesn't seem like much, but when we go up on top of the Aircraft Museum we had to drive right to the very edge and it was a good hundred feet off the ground. We were at a crazy angle, in a Mini with a dodgy handbrake and we had to stay there and hide until the police car came up. That was pretty scary. 

I didn't do the river crossing, which I was pleased about because I can't swim. And I certainly didn't do the main jump – Rémy did that with his team.

What was public reaction like at the time to seeing all those beautiful cars being destroyed? It kills us to watch it even now.

I mean, immediately, there wasn't a great reaction. But for instance, the DB4 was blown up on the side of the road and left there. We had to carry on shooting and it wasn't worth it. I bought that car for under £1,000, but 45 years later I drove it at the Villa d'Este concours and it was valued at £700,000. 

That was a car we abandoned on the side of the road.

And how did you as stunt drivers get on with the big-name actors that you were working alongside? 

There was very much an 'us and them' attitude. There was a whole gang of young lads on that movie. You know, the ones that are the gang and then us the drivers. So we all hung together. 

We were given a living allowance. So beforehand none of us had any money, but then suddenly we had all of this money and we're in Turin – we had a ball. We were allowed to rent Fiat 500s at a very good price, I think they were 1,000 Lira per day, so instead of being sensible and renting a couple of them for the gang, we got 10 of them – one each. 

We drove everywhere in a train of these 10 cars. We could go round roundabouts and not let anyone on, just by going round and round. If you stopped at a traffic light the guy behind would push you forward. It was complete madness.

Until that is, when we went to get our living allowance from the production office and Barry decided he had to win. The production office was in a big square, but he went screaming by, couldn't stop and smashed into a big Fiat 130 saloon.

Then, when we get into the office we realise the man who owns the 130 saloon also owns all of our Fiat 500s and has come to complain about us. That was the end of that.

Blimey. Are there any other stories from filming that have stuck in your brain all this time? 

Every day there was a story, my worst memory would be with the Aston Martin though. We were up a mountain and had to film the three cars being wrecked and thrown over the cliff. So, the Aston Martin was supposed to be thrown over and explode as it went down. Unfortunately, the special effects went off before it was thrown over the cliff and it blew up in front of us. 

So, we were on a tight schedule and had to reshoot the scene, but we didn't have a DB4. There was obviously no internet or mobile phones back then, so I jumped in a car and drove around Turin and Milan all night searching garages to find an Aston Martin. Nobody's got one, especially a silver one for 8am the next morning. 

Eventually I found this Lancia Flaminia 3C, which happened to be silver with a black roof, and at this stage of the game there was no choice. So I bought the car, drove back up to the mountains and got there about 20 minutes before we were supposed to shoot.

The boys swapped the headlamps over and sprayed bits with more silver paint. It was a quick, quick bodge, but that's the car that went over the cliff. That was a nightmare.

Advertisement - Page continues below

So, it seems apt to end on this one, how was that final cliffhanger scene filmed?

Well, the interior shots were filmed in Twickenham Studios in a coach that wasn't moving. It was the last day of shooting, but I think we shot that 50 or 60 times. It just wasn't working. There was a case of real beer in the shot though, and gradually as the day went on everyone was getting drunk and falling about so that probably helped with the sense that we were on the edge of the cliff.