Pioneers
Here are 20 cars that changed the world
From Beetle to Defender to Veyron, these cars shaped our automotive landscape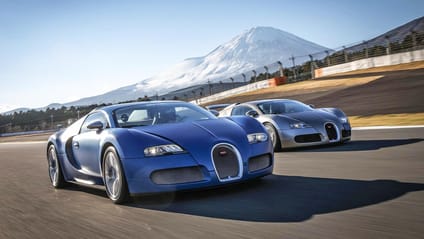 Land Rover Defender

For going anywhere

No matter where it goes, the Defender feels at home. On a farm, in the jungle, or outside a country pile. It is - or rather, was - as advanced as a wellington boot, which is exactly what you'd wear while driving it.

Advertisement - Page continues below

Audi R10 TDI

For bringing diesel power to racing

When a top Audi exec first heard the R10 he thought something was terribly wrong. In fact its diesel engine was so quiet, the sound he heard was actually the tyres slapping the road. Since its 2006 debut and up until Porsche returned to La Sarthe, only diesels have won Le Mans.

Toyota Prius

For starting the hybrid thing

Technically the Honda Insight came first, but it never caught on like the Prius did. From the moment Cameron Diaz - or was it DiCaprio? - was papped in one, it became the most fashionable way to save the world. Even though it actually won't.

Advertisement - Page continues below

Little Tykes Cozy Coupe

For being everyone's first wheels

You might think the world's best-selling car is some bland Toyota or a hillbilly pickup truck. But nope, it's actually the Cozy Coupe - the plastic contraption that gave a billion kids their first fix of driving, and most likely their very first crash.

Thrust SSC

For going faster than sound

It might look a bit shonky compared to its successor, Bloodhound, but in 1997 it travelled at 763mph, becoming the first car to break the sound barrier. It's held the record ever since, which tells you just how incredible that number actually was.

VW Beetle

For being Europe's Model T

It put millions of ordinary citizens on the road, and inspired the rear-engine layout of Porsche's later 911.

Bugatti Veyron

For being the Concorde of cars

Was a 253mph road car really necessary? Of course not. You could ask similar questions of the moon landings, or of the Taj Mahal. But this wasn't about meeting a practical demand - it was about mankind showing off to the universe. And it worked.

Advertisement - Page continues below

Nissan Qashqai

For inventing crossovers

There was a much simpler time when a saloon was a saloon and a hatchback a hatchback. Then the Qashqai came along and suddenly everything borrowed a bit of everything else, and the global carscape changed forever. Probably for the better.

Audi Quattro

For bringing 4WD to rallying

Before this thing came along, rally cars had been joyously swinging their arses around every corner until the rear wheels found enough grip to push onwards. Arses still swayed when four-wheel-drive arrived, just at much higher speeds...

Advertisement - Page continues below

Toyota Hilux

For being indestructible

Car manufacturers spend millions of pounds making sure their cars don't fall apart or break down. But all they really need is to take a good look at a Hilux, which is the toughest vehicle this side of a Chieftain.

Tesla Model S

For making electric cars good

Before the Model S arrived you'd have to fill your battery-powered car with fresh electricity every three miles or so. What the world needed was a plug-in machine that could do a proper journey of, say, 250 miles or more. The S is that thing.

Google Streetview Cars

For mapping Planet Earth

They've covered more than five million miles and collected over 20 petabytes of imagery. They've revolutionised route planning and helped us find some of the best roads in the world. And yet traditionalists say you can't beat a map. Nonsense.

Jeep Cherokee

For being the first proper SUV

The SUV had existed as a loose concept since the Thirties - then there was the Ford Bronco - but the 1984 Cherokee was the first to really nail the recipe of off-road toughness, pooch-in-the-back practicality plus an important dose of leathery poshness.

Austin Mini

For being tiny and good

Small cars were nothing new when the Mini came out, but none were as cleverly designed - think transversely mounted engine and front-wheel-drive for max cabin space - and none had the little Brit's charisma. And it won the Monte Carlo Rally...

G-Wiz

Because we must learn from our mistakes...

While the Mini demonstrated all that was good about small cars, the G-Wiz did precisely the opposite. Ugly, poorly made and badly designed.

Ford Mustang

For bringing power to the people

It bought style and performance to the people. In the first six months it became the fastest-selling car in history, and by 18 months over a million had been built. That was in 1964... and now, it's in the UK in right-hand-drive. Good.

Lunar Rover

For driving on the Moon

It changed the world by leaving it on a rocket. Some 250,000 miles later it landed on the Moon aboard the Lunar Module - on three separate missions - and began exploring the surface, helping astronauts cover more miles and collect more rocks.

Cooper T43

For shaping modern F1

When the T43 finished the 1958 Argentine GP - with Stirling Moss in charge - it became the first ever mid-engined car to win an F1 race. It might have had the physical presence of a housefly, but it was the inspiration for the cars we have today.

Ford GT40

For beating Ferrari with muscle

After Enzo blocked a deal for Ford to buy Ferrari, Henry Ford II ordered his racing division to build a car that could destroy the Italians at Le Mans. In 1966 he got his wish, when three GT40s crossed the line in flying formation... in first, second and third.

1886 Benz Patent Motorwagen

For getting us off our horses

It was little more than a carriage with three wheels and tiller. But it had an engine - a single-cylinder petrol - and its maker, Karl Benz, went on to run a fairly successful car company. If it weren't for his invention we wouldn't be making this list at all.