News
Quick twin test: Caterham 270R vs Caterham 270S
Should you spec your 135bhp lightweight for the track, or for comfort?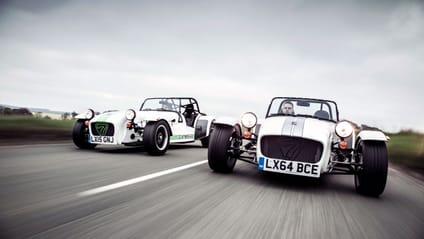 Right, what's the difference between these Sevens?

Caterham has simplified its range, filling the gaps between base 160 and bonkers 620 with 270, 360 and 420 models. Each is named after its power-to-weight figure, so given they all weigh around 500kg, just divide those numbers in half for the bhp figures. 

Each is available with either the £2,995 road-trim 'S' or £3,995 track-focused 'R' packs. The S has an open diff and a gentler approach to life, while the R has uprated brakes and suspension, a lightweight flywheel, harnesses and bare seats. This S also has the, er, more commodious (OK, wider), SV chassis.

Advertisement - Page continues below

Let's talk engines

Both use the same 1.6-litre Ford-sourced motor, but it sounds much better and feels more lively in the R. If you're new to lightweight cars, it's plenty fast enough, but once you get used to it, the R chassis is good enough to make you want more.

A different flywheel means the S doesn't feel as snappy and alert as the R. Both have the optional £1,495 six-speed gearbox – you need it in the R, but I'm not sure it transforms the S to the same extent. Stubby lever is a delight to use.

How do they drive?

The R (green stripes) has the reactions of a mongoose. Yes, it's stiff and the moulded seats and harnesses are unforgiving, but strap yourself into it and you forget all that. It snaps about the place, terrifically small, massless and impossibly agile. No, the ride isn't comfortable, but the damping is exceptional. 

If you value ride comfort, the S (grey stripes) is the one to have. But you don't, because this is a car without functioning doors and roof. The S isn't as well controlled or as enjoyable. It bounces about and feels a little ill at ease going faster. In fact, it doesn't drive with the panache of our own office-built 160.

Advertisement - Page continues below

What else should I know?

Seven 270 prices start at £19,995, but once you add S or R packs, let Caterham build it (£3,000) and add a few options (£1,250 for windscreen, hood and doors, £300 for a heater), costs have a habit of spiralling. Worth it for the way it drives, though.

You can option the £2,500 SV chassis of this 270S on any Caterham bar the 620 and 160, and it is usefully more spacious if you are broader of beam – or simply have big feet. Oh, and avoid these 15in Orcus wheels – they give the Seven a kit-car vibe. 

Verdict

The R has the full A-list of fun stuff: manic gearing, zesty engine, hair-trigger responses, ideal size, sharp handling and steering. Okay, the S has a usefully bigger cabin (if you need it), plusher ride, and it is still pretty neat on a good road. But driving is what Caterhams are all about, and to drive, the 270R is the clear winner here.