Retro
10 of the best cars for £5k: a Top Gear guide
Five grand doesn't buy anything new these days. But a bit of bravery can get you something chunky second-hand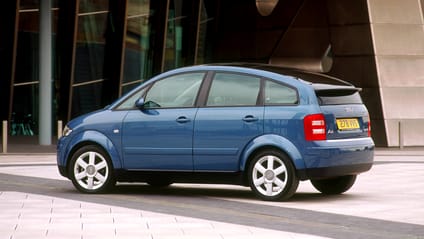 Five grand equates roughly to 12 months of lease payments on the current – and final – generation of Renaultsport Megane. With another two years of your monthly wage being wiped clean before you then have to give the car back. What a kerfuffle.

Instead, fire that five grand straight at one of these – arguably the very best Renault hot hatch of the last 20 years. With not a turbo nor shift paddle in sight, you need revs and gumption if you're to squeeze out its full 197bhp. But you'll be grinning from ear to ear every time you do. Dinky FWD cars don't get much more fun and frisky than this.

Your £5k should be able to secure you a 2010 car with around 80,000 miles. Open up your search to its slightly less brilliant (but still damn good) Clio 197 predecessor and your choice is significantly greater. The TG buying guide is here...

Advertisement - Page continues below

Like your hot hatches to ride with more suppleness, to sip less fuel and simply be easier and cheaper to run? Why, Suzuki's little half pint hero is here to save the day.

The Swift's circa-130bhp output basically hasn't changed across its three generations, even now it's a £20k+ mild hybrid that's slower than most SUVs.

Thus the lightest, simplest first-gen SSS is the purest to drive and naturally the easiest to attain. Prices start below £2k if you want something truly disposable, but spend more and its age, owner count and miles will fall accordingly.

And now for something completely different, though we're staying in Japan. You probably expected to find a Mazda MX-5 somewhere on this list. To be honest, we could compress a whole 'what to buy for £5k' guide into the sentence 'the nicest MX-5 you can find'. It is affordable performance car Route One.

So let's go Route Two. Route MR2, and specifically the third-gen car produced between 1999 and 2007. A mid-engine, rear-drive roadster, it is a purer proposition than even its arch-rival Mazda. Purer also translating as 'much more likely to scare the living bejeezuz out of you on a wet roundabout'.

Three to four grand is the going rate, so if you've £5k to spend then something clean, mid-Noughties and with low mileage should be within grasp.

Advertisement - Page continues below

Another mainstay of the 'affordable performance car' guide is some kind of bargain 6cyl BMW 3 Series. But in the words of the other Who Wants to be a Millionaire? presenter, 'we don't want to give you that!'

Nope. What you really need is a V8-powered barge, right? At this sort of budget, the bangle-era E65 – produced between 2001 and 2008 – is in plentiful supply in 740 and 750 form. If our eyes don't deceive us, it's even aged pretty well too. Most of Chris Bangle's designs have.

Patience you must have, young car buyer, if it's the clean, crisp, Bond-esque E38 generation you crave for £5k. But it's possible…

It used to be that a Porsche 924 was 'the cheap Porsche'. Then mildly ratty mk1 Boxsters muscled in on the act. But as both suddenly gain a more iconic sheen, the true bargain Porsche is one of these.

Yep, we had to tap into the SUV zeitgeist at some point, but we're doing it on our terms: with early Mk1 examples of one of the first 4x4s with genuinely smart handling.

Easiest to attain is a 4.5-litre Cayenne S, with a nat-asp V8 producing 340bhp or thereabouts. Enough to make decent progress, but a more meticulous search (and a sprinkling of luck) may just get you a slightly ragged Cayenne Turbo – with 450bhp – just on budget. Be sure to leave a sliver of cash aside for many brave pills, though.

Of course, the usual petrolhead buying advice when it comes to quick SUVs is 'don't'. It's to buy a lower, lighter and downright thriftier sports saloon instead.

And right on cue, here's a Honda Accord. It's easy to forget this was given the Type R treatment in the late Nineties and early Noughties – it's something Honda did once and never again.

But if the high miles and questionable histories of any Civic Type Rs found below five grand are troubling you, solace – and a Type R alternative – comes with back doors and a big wing. Get in quick, though, because prices are creeping up. Many revs and a spectacular manual gearchange await...

Vehemently not an SUV, this is a 4x4 passenger car back from when they lived up to such prosaic description. It's a hulking great mass that'll traverse any terrain it's reasonably presented with, while ensconcing up to five people in leather-lined luxury. And we'd argue it looks as authentic and gimmick-free as a jeep – lower or upper-case J – possibly can.

Mind, you'll be best squirreling away some of your £5k for the inevitably chunky fuel bills. The 4.0-litre 6cyl version will return mpg somewhere in the teens, the 2.5-litre turbodiesel claiming 31mpg new but likely returning something south of that in reality 20-plus years on.

Advertisement - Page continues below

If fuel bills are a serious worry, then let us present you with something the world desperately craves right now: a supremely aerodynamic, fuel sipping hatchback that squeezes much passenger room and minimalist interior design into a titchy footprint. Stick a premium badge on it and people will flock to that in their droves, right?

Not if you launch it 20 years ahead of its time. Every element of the quirky A2 is utterly relevant right now (never mind in 2000), save perhaps for its antiquated satnav display that'll ignore the existence of every new-build estate that's sprung up outside your formerly quaint town.

It's a simple car from a simpler time, but one that finally seems to be accruing the following it always deserved. Buy the 1.4 3cyl diesel for full thriftiness.

A list of things you should buy below five grand wouldn't be complete without the car of the Nineties and Noughties – the people carrier. It's a breed almost entirely steamrollered by the SUV these days, but it deserves to die with a bit more dignity.

The S-Max packs seven seats into something a little swoopier than the minivan norm, and drives with genuine pizzazz when the kids are dropped off and you fancy reliving your youth on the way home. Especially if you limit your classified browsing to the 2.5-litre version – it's essentially the same 5cyl turbo engine found in contemporary Focus STs and RSs, and is similarly tuneable if you so wish…

Advertisement - Page continues below

And now for the car you'll actually lob your £5k towards. Almost any 'which car should I buy?' query can be answered with 'a Golf'. They do them with three, four and five doors… as estates, crossovers, convertibles and even a two-door track toy. Need to carry seven people? Buy two Golfs and tow one behind the other!

It just so happens that perhaps the most finely judged Golf of them all slips into our budget. Never mind 'slips'; there are tonnes of the things between two and five grand, allowing you to be fussy with mileage, condition and how questionably any aftermarket gubbins have been applied.

The Mk5 GTI isn't the most exciting hot hatch ever, nor even the most exciting hot Golf. But for an affordable everyday hero that'll make you giggle on a good road, there's little else that walks the tightrope between work and play with quite as much grace. Read the TG buying guide here...