Retro
The Giocattolo is the 1980s supercar of your Radwood dreams
Faster than a Ferrari, engineered by a McLaren F1 alumnus, powered by a Holden V8
In the pantheon of supercar-building nations, a few stand out – Italy, Germany, Britain. France too, if you include the Veyron and Chiron. America has its moments – SSCs, Glickenhauses, Ford GTs and Hennesseys. But what about Australia? Well, yes. Just... rarely.
To explain, we're going to have to go back to the 1980s and the Giocattolo: a mid-engined, Alfa Romeo Sprint-bodied, Australian-built amalgam officially called the Group B. But, just like the DMC-12 is never called anything but the DeLorean, the Group B will always be known as the Giocattolo. And, with just 15 built, even the DeLorean seems common by comparison.
Advertisement - Page continues below
But the Giocattolo was pretty much the antithesis of the DeLorean's all-mouth-and-no-trousers approach. Power didn't come from a weedy PRV V6, rather a home-grown Holden 5.0-litre V8 developed for Group A racing by bona fide racing legend Tom Walkinshaw. There was an entirely excellent ZF five-speed transaxle, too, and the rear suspension was designed by a former McLaren engineer who'd worked with James Hunt. High-tech materials like Kevlar (remember, this was the Eighties) were used in the Giocattolo's construction, inside and out. And it was built in Caloundra, a sleepy holiday destination on Queensland's Sunshine Coast.
If this all seems like a meat pie in the sky, it very much was. And yet it somehow still produced a car that had the measure of serious European contenders of the day. But to find out how this came together – and then fell apart – we're going to need to look at the man behind the madness: Paul Halstead.
Halstead's resumé reads as if his formative years were stepping stones, laid out on a direct path to building the Giocattolo. During his time with an IT recruitment business in London in the Seventies, he was successful enough to strike a deal with his employer: sign on for three years and get a car. And not just any car, either – his boss, presumably overcome with largesse, offered a Rolls-Royce. Halstead turned down a Roller and instead asked for a De Tomaso Mangusta, one of the most beautiful cars that has ever existed. For this alone, TG makes a solemn vow to shake his hand in the future – y'know, once we're allowed to.
From there, Halstead returned to Australia and continued working in the burgeoning IT consultancy industry. But the siren song of muscle-car-powered exotica proved irresistible; Halstead sold his firm and bought De Tomaso Australia, which – to very much oversimplify things, mostly so we don't have to talk about export credits – sent Australian-built Ford V8 engines to Italy for De Tomaso to plumb into their Panteras and Longchamps and imported De Tomaso bodies to Australia, where they could be fitted with un-exported Ford V8s and have their doorhandles driven off.
Advertisement - Page continues below
But, as Halstead has said, the "beautiful Panteras and Longchamps were being sold by dealers on Parramatta Road", a Sydney thoroughfare renowned for its... well, let's say disingenuous operators. So he opened his own dealership – The Toy Shop – which sold his beloved De Tomasos, as well as Alfa Romeos, Ferraris, Lamborghinis, Porsches and roughly anything interesting and exotic. Oh, and built a Pantera race car in the workshop.
So Halstead knew his way around Italian supercars, Australian-built V8s and the German ZF transaxles used to great effect in the Pantera. He also knew Barry Lock, an ex-McLaren F1 and Can Am engineer who – as well as helping him build the Pantera race car – was building successful open wheel and Group A racers. Finally, he knew that, with a falling Australian dollar, the time had come to move away from imports and start making something local.
The story goes that Halstead found out about the Alfasud Sprint 6C prototype that Alfa Romeo was working on for Group B rallying. It had an Alfasud Sprint body, a mid-mounted Busso V6 and a five-speed ZF transaxle delivering power to the rear wheels. It was, in point of fact, a car that Alfa very much should have made. But it didn't.
Undeterred by Alfa's decision not to proceed with the Sprint 6C, Halstead decided to build the car the 6C could always have been – with Sprint bodies, Busso V6s and ZF transaxles.
Top Gear
Newsletter
Thank you for subscribing to our newsletter. Look out for your regular round-up of news, reviews and offers in your inbox.
Get all the latest news, reviews and exclusives, direct to your inbox.
And here's where things get a bit seat-of-the-pants. As the story goes, Alfa decided that it really didn't want to be upstaged by an Australian IT impresario / sports car dealer, and promptly refused to supply Sprint body shells or indeed Alfa V6s. Undeterred, Halstead decided to buy fully finished Sprints – from New Zealand, no less – strip them down to their barest bones and, using the expertise of Barry Lock, build them up into his vision of the mid-engined Sprint. Why keep using the Sprint? That's due to supremely strict Australian design regulations, that would have bankrupted the project just getting sign-offs for things like door handles, locks and windows. So the already-approved Sprint, even in road-ready spec, was a more cost-effective option. But with Alfa not playing ball and Busso V6s not exactly blooming from the ground, the Giocattolo needed a better source for its engines.
A Giocattolo owner could get from nought to 60 miles an hour in less than five seconds. A Ferrari 348 owner could only think of other ways to brag down at the pub
Enter Holden Special Vehicles, a joint venture between Tom Walkinshaw and Holden. HSV got its start in 1987 after Holden cut ties with the Peter Brock-led HDT Special Vehicles thanks to Brock going rogue with HDT's then-upcoming car, the Director, and also thanks to a little device called an Energy Polariser. That's worth an entire story of its own, but suffice it to say that Mr Walkinshaw believed that camshafts were probably a better source of power than crystals.
And, to that end, the Walkinshaw-tuned, Giocattolo-fettled Holden 5.0-litre V8 was good for an official 300bhp but really put out more like 335bhp, thanks in no small part to gorgeously symmetrical dual throttle bodies and a custom plenum. Oh, and the small fact that it was a Group A racing engine, developed by Holden and Walkinshaw to contest the Australian Touring Car Championship. In case you need context, 300bhp is about what you got in a Ferrari 348, but Maranello's mid-engined V8 supercar was an easy 300kg heavier. A Giocattolo owner could get from nought to 60 miles an hour in less than five seconds. A Ferrari 348 owner could only think of other ways to brag down at the pub.
Holden's engine division was looking to get into exports, and the race-bred Giocattolo was the perfect vanguard to introduce the potential of Australian muscle to the world. Holden even allowed Halstead and Lock to test the Giocattolo at its Lang Lang proving grounds in Victoria. As far as we understand it, Holden never allowed another manufacturer besides Giocattolo to use its engines or test facilities before or since.
The bodywork was equally race-spec. See that almost hovering rear wing? That's not just for show, like in the Countach. That's to combat the lift generated above 120mph, as the Giocattolo punched its way to the white-knuckled side of 160mph. Yep, as Gordon Gekko as the Giocattolo might look, this was a proper road-going racer, with every part designed and engineered in pursuit of performance. Well, except for the toolkit, perhaps – being a Queensland-built car, the kit came with the usual car-maintenance bits, like spanners and screwdrivers – and a flask of Bundaberg Rum, fresh from Bundy's distillery among the sugarcane plantations of south-east Queensland.
So, the ingredients for automotive brilliance were definitely there. But how to launch it? In the most 1980s IT millionaire way possible, of course: get on the horn to 1980 F1 world champion Alan Jones, who you just happen to know, and charter a helicopter to fly him up to Lakeside Raceway in Queensland for a public shakedown in front of Australian media.
As the story goes, Alan Jones jumped behind the wheel and asked what the lap record around Lakeside was – it stood at around 1min 5secs. Jones said he'd beat that in the Giocattolo, then returned one minute and four seconds later. The Giocattolo was, in the right hands, about as quick as you could go in something with numberplates and Australian Design Regulation approval. That's right – this isn't some kind of kit car; Giocattolo is a fully fledged Australian manufacturer. Or, y'know, was.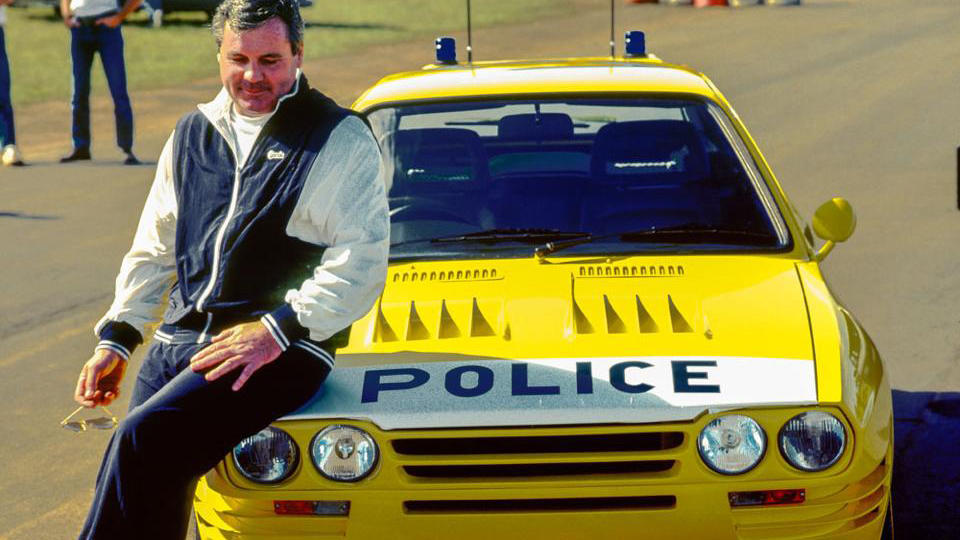 And there's the rub: how did everything go so wrong when all the ingredients were so right? Well, we can point a few fingers. Australia in the 1980s was pretty protectionist – anything automotive and imported had huge taxes levied against it, to try to keep the local car brands afloat. And while that worked to an extent for the volume manufacturers like Ford and Holden, the bluntness and inflexibility of the system meant that the Giocattolo's ZF transaxle, being German... you see where we're going with this. Even though it was for an Australian car, built in Australia, using Australian engines and engineering, there was no concession to import the vital ZF transaxle. And where else could Halstead and Lock look to? They were the only Australian supercar manufacturer in a time when regular passenger saloons and estates were front-engined and rear-drive, running live rear axles and MacPherson struts up front. So they had to wear the tax and spend $30,000 per transaxle – and that's in 1980s dollars, which is something like $65,000 in today's money.
Then there was the expense of importing road-ready Alfa Sprints, only to strip them to the bone and rebuild them with race-spec V8s, Kevlar bodywork and cripplingly expensive transaxles. And then came "the recession Australia had to have". In the late 1980s, a falling Australian dollar, rising interest rates and a tanking stock market – engendered by the Black Monday stock market crash – precipitated a freefall in Australia not repeated until... um, this month.
The Giocattolo was meant to be an affordable sports car with a Busso V6 and a gearbox that didn't cost as much as two cars. But by the time Giocattolos left the factory in Caloundra, they were expensive, V8-powered supercars. And, almost needless to say, the market for expensive V8 supercars tends to take a dip when no one has any money.
Halstead blew through millions of his own money and eventually bankrupted himself doing everything he could to prop up Giocattolo. But Queensland's Industry Development Commission, which had lent Halstead $300,000 to set up the Giocattolo factory in Caloundra (at 17.75 per cent interest, because interest rates in the 1980s were completely insane), called time after a couple of missed repayments. They went to the Caloundra factory on the 6th of July, 1989, taking possession of it and everything inside. Halstead took the matter to Queensland's Supreme Court, but Justice William Carter dismissed the motion to stop the QIDC from selling off the contents of Giocattolo's factory, adding, "it is clear that the level of performance of the business since its inception would not give one reason for optimism".
And that, really, was that. A perfectly 1980s story of ambition and passion with predictably 1980s results, and the net result of a closed factory, a ruined dream and the kind of debt that'd keep you up at night. And just 15 cars – among current Giocattolo owners, each knows their car, and each other's, by the build number. But maybe that suits the Giocattolo, too – when a car is as singular as the Giocattolo truly was, crafted with such a single-minded vision, could it ever be properly special without also being painfully rare?
With thanks to Jason Overland