Retro
Here are eight reasons to remember the forgotten Lamborghini: the Jalpa
Don't know the 40-year old Jalpa? Allow us to explain, by way of Rocky movies, fine wine and Bolivian coups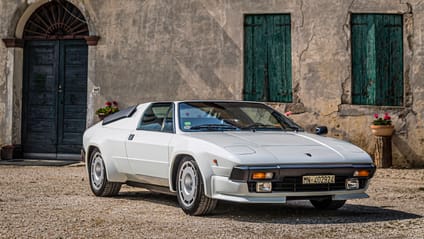 It had a spot in a Rocky montage

And not just any Rocky montage – it was the montagiest of montages from the Rockiest of Rockies: Rocky IV. Not to be confused with the rockiest of Rockies, which is undoubtedly Rocky V. The climax is... a street brawl with Tommy Gun? Really? Then again, Burgess Meredith's final turn as Mickey Goldmill... try to get through that without blubbing.

But we digress. The point is that the comparatively humble little Jalpa had star billing in Rocky IV, and featured as a totem of his success – complete with 'SOTHPAW' licence plate. Maybe Rocky's success didn't extend as far as a Countach, maybe he blew his money on that 'Happy Birthday Paulie' robot; we don't know. What we do know is a jet-black Jalpa was there when he needed to cruise and mull things over.

Advertisement - Page continues below

Lambo hardly sold any

When you think about success in motor vehicle sales, there's something of a rule: unless you're talking about a hysterically expensive hypercar, the build run had better extend beyond triple digits. And yet Lamborghini sold just over 400 Jalpas over its entire model run.

Then again, it did better than the Silhouette it was based on, of which Lamborghini sold a dismal 53.

Even so, it saved the company

At the end of the 1970s, Lamborghini was... well, to put it in the local tongue, essere fino al collo in esso. The mid-Seventies recession, the 1973 Oil Crisis, the fact that Lambo's two-car line-up wasn't officially sold in America (the biggest market at the time) and the failure of the Cheetah military vehicle to win a supply contract with US Armed Forces drove Lamborghini to the wall. And then plastered it there.

In receivership and under new management, the plan was clear: rework the Silhouette into something people would actually buy, sell as many as possible, and keep the wolves from the door. And, even with just over 400 Jalpas finding owners, it was enough.

From there, Lambo used the money to update the Countach, finally getting approval for sales in the US with the LP500S. Another update to the Countach – the LP 5000 Quattrovalvole – and a reworking of the Cheetah as the ultimate vanity vehicle, the LM002, brought Lamborghini from a company on the brink to one that sold to Chrysler for $25m in 1987 money. That's more than $61m in today's money, or about £50m.

Oh, and AM General won the US Armed Forces contract with the Humvee, in case you're curious on that score.

Advertisement - Page continues below

It's actually an evolution of the Urraco

Well, technically, it's an evolution of the drop-top version of the Urraco. So it's an evolution of the evolution of the Urraco. But that's something of a dense heading, so we kept it simpler.

So, the Urraco. For most of us, it's that black supercar that didn't work a whole bunch for James May way back in the old days of Top Gear TV. But, if you found one that actually worked, it was a proper thing. Gian Paolo Dallara designed the engine, Marcello Gandini designed the shape, and the car itself was designed to take on the Ferrari Dino 308 and Maserati Merak. Which, curiously enough, were the two other cars in TG telly's film.

It lived in the Countach's shadow, but was actually a better daily driver

It's hardly a secret that the Countach could be a bit difficult to live with on a day-to-day basis. It was as loud as a My Bloody Valentine concert, using the clutch actually counted as a leg press, it was wider than the road you were driving down and visibility was as good as your average blizzard.

The Jalpa, on the other hand, had a fairly light clutch, decent visibility, a comfy, quiet interior and – even with the bolt-on arches – was still narrow enough to fit in one lane. Of course, compared to a modern car, the steering – and, somehow, the throttle pedal – are as heavy as an episode of Black Mirror.

Ferruccio wasn't even at the helm by that stage

By the early Seventies, Lamborghini was in a bit of strife. Ferruccio's tractor business was the first to suffer, due to a series of events that you'd likely argue wasn't really Lambo's fault. You know the drill: export business, cancelled orders, a coup in Bolivia – that sort of thing. So he sold it to another tractor business. As for Lamborghini cars, Ferruccio sold a 51 per cent controlling share to a Swiss investor in 1972, then the remaining 49 per cent to another investor in the wake of the 1973 Oil Crisis. The Jalpa didn't come along until these investors had taken Lamborghini to the wall and the administrators had stepped in.

Ferruccio, on the other hand, had already given the entire game away, retiring to a villa next to Lake Trasimeno to make wine – apparently it's properly delicious. Stay tuned for a Top Gear wine review, perhaps? Our pitch for a sister publication – Top Beer – didn't really go anywhere, but hope springs eternal.

It was the last Lambo V8 until the Urus

And the Urus, while popular, is not exactly what first springs to mind when you think 'Lamborghini'. Even the engine is more of a VW-Audi V8 than a proper Lambo one, and it's certainly not an oversquare, all-aluminium V8 designed by Gian Paolo Dallara. Yeah, that Gian Paolo Dallara.

As can happen with engines, the best was saved for last. Stroked to 3.5 litres from the Urraco P300's 3.0-litre, with quad cams as opposed to the Urraco and Silhouette's single cam per bank, the 255bhp V8 in the back of the Jalpa could launch it to 60 from a standing start in... well, somewhere around six seconds.

Yeah, really. Contemporary reports put it anywhere between 5.8 and 6.8 seconds; these days, it's probably more towards the latter than the former.

Advertisement - Page continues below

It actually had a decent boot

Yes, it's the practical supercar, brought to you by a bankrupt Lamborghini. Because that makes sense.

But if a few decades on this planet has taught us anything, it's that humanity doesn't operate under such boring restrictions as sense, logic or even self-preservation. We must have evolved past that, or something. But we digress.

The point is that if you manage to track down a Jalpa, then manage to find parts for a 40-year-old, limited-run supercar from an Italian manufacturer, then somehow convince those parts to play nicely enough to produce a working machine, you could easily convince yourself that a Jalpa is a practical supercar. Your better half, on the other hand? Well, that's your job, not ours.