Retro
Here's every generation of the Mercedes SL
Includes: quite possibly the prettiest Mercedes ever made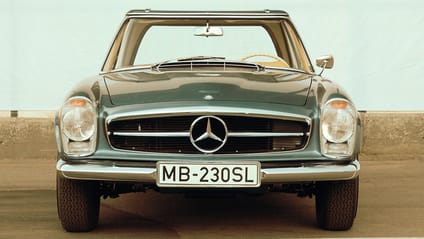 "There are around 900 million cars in the world, and thousands of models," former Mercedes boss Dr Zetsche once remarked. "But there are only a handful of automotive icons.

"Our SL is one of them."

You'd be hard pressed to disagree with the good Doctor, because there's no denying the place Mercedes-Benz's iconic GT holds in the history of, well, iconic GTs.

The SL was forged – as with so many of the finest road-going sports cars – in the crucible of motorsport way back in the early 1950s, and remains an integral part of the Mercedes story. So much so that, despite Merc's ever-confusing nomenclature, the SL has retained its badge.

So, after TG's first drive in the new, AMG-fettled 'R232' generation SL, we decided to trace its history all the way back to a little known sports car called the 300 SL, and beyond...

Advertisement - Page continues below

We start in 1951, when Merc's bosses unilaterally agreed the firm needed a race car. They commissioned the '300 Super Light', later shortened to just 'SL'. Yes, long before Colin Chapman and his adding of lightness, Merc had the very same idea.

Step forward Rudy Uhlenhaut – head of Merc's passenger cars at the time – who constructed a lightweight, tubular shell from aluminium and magnesium. It was so light, in fact, the frame weighed just 50kg.

To this, Uhlenhaut added the 3.0-litre straight-six engine from Merc's new-age saloon of the day – the 300 'Adenauer Mercedes' – and ramped up the power to a heady 170bhp. In 1952, Merc set the 300 SL loose. And it was good.

It scored second and fourth in the Mille Miglia, a triple victory in the Prix de Berne, double victory at the Le Mans 24hrs, a quadruple victory in the Nürburgring Anniversary Sport Car GP, and a double victory in the third Carrera Panamericana in Mexico. Not a bad start.

No, it wasn't the first road-going SL, but the 300 was the very first Mercedes SL. And anyway, with a shape like that, who cares? The 300 SL remains hugely significant not only for kickstarting the SL road-car line, but also for reintroducing Mercedes-Benz into motor racing after WWII.

Mercedes-Benz 300 SL Gullwing (W198) - 1954

Max Hoffman, Merc's official USA importer, suggested that a road-going version of the 300 SL racer would be a hit. Merc agreed, and in 1954 at the NY motor show, we saw the very first road-going SL models: the 300 SL 'Gullwing' Coupe, and the 190 SL roadster.

The Gullwing, of course, needs no introduction. Arguably the world's first 'supercar' – it was the fastest production car of its day – it featured a 3.0-litre straight-six, those fantastic doors, and looks that still mark it out as the prettiest Benz in history.

Advertisement - Page continues below

Mercedes-Benz 190 SL (W121) - 1954

This, the first roadster version of the SL, debuted at the same 1954 NY show, but did without the Gullwing's 215bhp six-pot engine, plumping for a 105bhp 1.9-litre four-cylinder engine. No matter, as it carried all the looks and grace of its coupe brother. Minus the doors, naturally.

Mercedes-Benz 300 SL Roadster (W198 II) - 1957

The open-topped 300 SL replaced the Gullwing after just three years in production, with the same 3.0-litre straight-six engine, but in this instance producing a smidge more power (225bhp). Merc built both the 190 and 300 SL roadsters together.

Mercedes-Benz SL (W113) - 1963

In 1963, the SL was revamped for the W113 generation, complete with a new design penned by Paul Bracq. The SL's straight-six engine line-up ranged from 2.3 litres right up to 2.8 in the 280 SL.

Oh, and that detachable hardtop? It looked, reckoned observers of the time, a bit like an east Asian temple, hence the nickname this SL carried. Pagoda.

Mercedes-Benz SL (R107) - 1971

Introduced in 1971, the R107 was significant as not only was it in production for a whopping 18 years, it also achieved the highest production volume of all SL models to date. Merc tells us exactly 231,287 Roadsters were built between 1971 and 1989. That's… a lot.

This being a Benz, there were numerous technological achievements – most notably in the area of safety (crumple zones, deformable switches and levels, stronger A-pillars) – as well as bigger, more powerful engines.

The V8-powered 350 SL came first, with 200bhp, followed by the V8 450 SL (225bhp). Later, the we'd see the very first 500 SL – with 240bhp – and though the USA, Australia and Japan would see a 560 SL, it wasn't as powerful as the 500, because of emissions controls.

The R107 also spawned a coupe version, in the shape of the SLC.

Advertisement - Page continues below

Mercedes-Benz SL (R129) - 1989

Using the underpinnings of the W124 E-Class (sort of), this R129-series SL again featured a raft of technological updates over its predecessor: things like a sensor-controlled roll-over bar and optional adaptive damping.

But the engines took it to another level. You got your standard fare of inline- and V-6 engines, along with a handful of big V8s. However, it was also the first SL that AMG got its hands on after the company was incorporated into Mercedes proper.

So, step forward, SLs 55 AMG, 60 AMG, and the banzai, 7.3-litre SL73 AMG. That last car used an early version of the engine Pagani stuffed into the Zonda, and with 518bhp, became the then most powerful SL ever. That would change, naturally…

Mercedes-Benz SL (R230) - 2001

First presented to the media in July 2001 in Hamburg, this was the very first SL to feature a folding hard-top roof, which opened or closed in 16 seconds.

Along with plenty of obligatory safety tech, it also featured active suspension, and a raft of engines that included the similarly familiar AMG offerings.

First came the SL 500 with 306bhp, and the SL 350. AMG rolled out the SL 55 – with a 5.5-litre supercharged V8 – that produced 470bhp and became the most powerful Benz on offer at the time.

Merc itself built the SL 600 flagship, with a twin-turbo V12 and 500bhp, and enough torque to help recalibrate your understanding of the relationship between rain and tarmac.

Advertisement - Page continues below

Mercedes-Benz SL (R230 facelift) - 2008

Different enough to warrant its own slide, the R230 series was updated first in 2006, and then again more significantly in 2008. It had a new front design, which accompanied other stuff like direct-steer, 'airscarf' heating, and a new lighting system.

Oh, and it also saw the SL65 AMG Black Series, above: a V12-engined goliath based on the 'standard' SL65 AMG, which was 250kg lighter (thanks to carbon fibre parts) and significantly more powerful. Like, 670bhp. Exercise caution.

Mercedes-Benz SL (R231) - 2012

This car, officially the sixth generation of SL, came with a variety of engines including the 400 and 500 cars - V6 and V8 - and of course the wild AMG versions.

"Mercedes's new SL is one of those cars that immediately feels right. Nothing to assimilate, or acclimatise to, simply an immediacy that speaks of engineers looking pleased with themselves and a hell of a lot of boxes ticked. The art of the unobtrusively useful," said Top Gear's Tom Ford back in 2012.

Mercedes-Benz SL (R232) - 2022

AMG returns the SL to its competition roots with this clean-sheet design and spec. The seventh generation SL is an Affalterbach product, one that has "successfully recaptured its stylish essence, while tapping into Mercedes' universe of connectivity and tech," TG's Jason Barlow reported back after a first drive.