Retro
Restomod of the week: Emory Motorsport's Porsche 356
Yeah, everyone restomods 911s. But 356s? You have our attention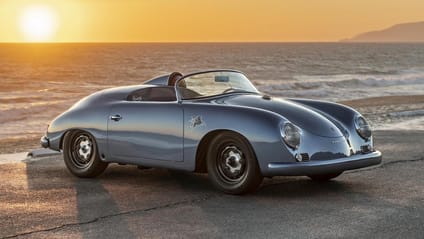 What is it?

It's very much exactly what it looks like – a Porsche 356, taken to the nth degree. This isn't one of those kit car 356 Speedster or 550 Spyder knock-offs, either – it's a genuine Porsche, just with performance and attitude that'd shock the stockings off the men who built the original article.

The original 356 was about doing more with less. Thanks to clever packaging, light weight, slippery aero, fastidious attention to detail and a complete allergy to extraneous luxuries, the little clockwork mouse could land outsize punches on its heavyweight competition.

These 356s, though, are if you gave that scrawny scrapper a hit of that Captain America go-juice and let it loose on the street.

Advertisement - Page continues below

Who builds it?

That'd be Emory Motorsport, a car-tweaking concern from up the left-hand side of America. And yes, the West Coast of the USA is pretty solid when it comes to hand-crafted love letters to air-cooled Porsches. We've noticed too, thanks.

What's been done to it?

First, the car is stripped back to bare metal, before being repaired, restored and strengthened for the decidedly improved power it's about to enjoy. Paintwork is done to frankly concours levels and the interior is refitted in whichever way induces the maximum amount of hygge in the buyer. Or if the buyer's not into hygge, whatever that particular buyer is into. Is it very obvious that we're writing this on a cold and rainy day, or just a little?

Anywhos, the body is obviously just one part of what makes an Emory-built 356 a truly special bit of kit. Updated suspension, brakes and a proper motorsport-ready engine (golly, where have we heard that recipe for rear-engined Porsches before?) and before too long a classic relic is causing upset on the nearest bit of twisty road.

Advertisement - Page continues below

How many are being built?

As many as there's demand for. Not much in the way of a definitive answer, we're afraid, but that's sometimes the way things go. Each 356 built by Emory and his team is the result of working out exactly what the client wants, sourcing a car that will suit the build and going from there.

We suppose that, as they're built from original 356s, there's a theoretical limit to the number Rod can restomod. Porsche built about 76,000 356s between 1948 and 1965, and about half that number survive today. So it's possible that there'll be as many as 30,000 of these things, in much the same way that it's possible that we'll give up this car-writing lark and take on a new career in magpie husbandry.

Is it fast?

That depends. Is it fast compared to an original 356? Absolutely. Is it fast compared to a Blackbird SR-71? Not so much.

The 'Outlaw-4' engine, fitted as standard to every Emory 356, is kind of like a greatest hits version of Porsche engines. It's a four-cylinder, as befits a 356, but it's a completely new engine – custom-designed and made by Emory and Rothsports – based on the dry-sump flat-six from the 964.

Yep, we're talking about a proper custom engine, designed specifically for the car it's going in. There's Porsche heritage in its design, and the custom case, crank and cams fit Porsche parts, so it behaves (and sounds) like a Porsche should. It also has the small added benefit of being more than three times as powerful as the engine the car originally came with. When the finished car weighs comfortably less than a tonne and the engine makes more than 200bhp, it really does feel that an Emory-built 356 would be very much fast enough.

How much does it cost?

That depends on the kit out and so on, of course, but you're going to need to find hundreds of thousands of American dollars. And that's before you delve into the one-off Emory Specials.

And yes, it's time to cue the defenses, where we say it's handbuilt with the keenest eyes and finest parts to impossibly high standards and so on. And, yeah, it absolutely is. But the fact is that short of some form of felonious action, most of us won't be buying one.

Why should I care about it?

Because when every man, his dog, his dog's most annoying flea and the flea's maternal grandfather are restomodding 911s, Emory is a company that's celebrating, restoring and reengineering the original article. It's something different, of course, but also something important.

Without the 356, there is no Porsche. And this isn't the modern titan that we know Porsche as today; it's a tiny company from a part of the world that was desperately unpopular at the time. A company that didn't race to prove its greatness but to make a name for itself and hopefully sell a few cars. A company that hand-built everything that wore its crest.

And now, its very first foray into raid cars is being handbuilt a second time by a third-generation craftsman and customiser. Gives you the warm and fuzzies, don't it?

Advertisement - Page continues below

Can you tell me one interesting fact about it?

Well, like we just said, this isn't the first time a member of the Emory family has handmade a perfect custom build. Rod's grandfather built hotrods (and a land speed record car called the SoCal Streamliner) in the 1940s and 50s, and his dad worked at a Porsche dealership before inventing the Baja Bug. So there's a bit of form here – about three generations' worth, so far.