Retro
Restomod of the week: the 'Gone in 60 Seconds' Mustang
An officially licensed 'Eleanor' 'Stang with a go faster button, this one's a proper giggle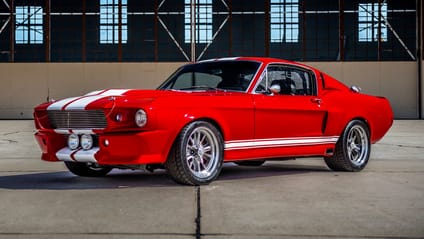 A restomod semi-production series of a famous custom movie car from an even more famous re-make. Yeah, it all gets a bit meta fairly quickly on this one. But basically, it's 'Eleanor' from Gone in 60 Seconds - a '67 Ford Mustang with extra bite and distinctive stripes'n'lights. But in this iteration, improved further and in receipt of official licensing. It's as close to the real deal as you can get for less money than your children are worth.

Advertisement - Page continues below

Fusion Motor Company of Los Angeles, purveyors of… well… pretty much anything that looks cool and/or goes fast. The story goes like this, albeit horrendously abbreviated: back in '74 Toby Halicki produced and starred in a film called Gone in 60 seconds which starred a tidy custom 1973 Mustang called 'Eleanor'. The car passed into Denice Halicki's collection, and gained copyrighted status when Jerry Bruckheimer re-made the film in 2000, this time starring Nicolas Cage and a 1967 'Stang. You know the one: centre-mounted extra spotlights, grey paintwork and ghosted stripes. It's one of the most recognised movie cars this side of the Batmobile. Fusion owns the rights to produce restomodded replicas/recreations. So they're legit. Have a look at www.fusionmotorco.com.

It's a full house operation - this isn't supposed to be some sort of faithful replica - more an homage. So you can have any colour you want, really. Then you can have standard or tubbed rear arches (tubs if you want the optional 315/35/17 rear tyres). Then it's any Roush Performance motor that'll fit, from a standard-ish 430bhp Coyote that slides into the modern Mustang, through 427 SRXE with 480bhp, the supercharged 5.0-litre with 600, a 427 'IRN 8-stack' with 560bhp, right up to a monster 750bhp supercharged set-up. And a choice of manuals and auto, too. The interior is variations on a theme, but you can have low-buckets with lap belts or high-backs with racing harnesses. Different guages, air-con, electric everything - you get the idea. You can choose gear ratios, driveshaft material (steel or aluminium), differentials, coilover set-ups, brake packages - the list goes on, from mild to wild.

Advertisement - Page continues below

How many are being built?

This is not limited, so as long as there's demand, the cars will be built.

That obviously depends on the package you go for. But seeing as even the 430bhp car won't be exactly slow, the 750bhp version will probably be a handful. And it's Eleanor - it's the fastest car of the lot, right?

Again, this depends entirely how you spec it. But the basic price is $249,000 (£178,815). After that, you add on, so the biggest motor is another $20k, a six-speed manual (instead of the included five-speed) another $4.5k, deluxe leather $12k, Recaro high back seats $4,900. To be fair, the options prices are not ludicrous - it's just that you could add on a lot of options if you went silly. There's also a right-hand drive option for $11,500. An idly-specced one wobbled well over $300k. Without much effort.

Why should I care about it?

We all love a good Eleanor. And this is one built with official sanction, and upgraded. It's a fun restomod that makes people smile.

Advertisement - Page continues below

Can you tell me one interesting fact about it?

You can option the gearstick top-mounted 'Go, Baby, Go' nitrous oxide button for authenticity, although it isn't hooked up to anything. The thing with that is, it's still a functioning switch, so if you did happen to have a sniff of faster-gas for the engine to snort, you could live out your fantasies for real. Although the likelihood of you ending up exiting stage left through a hedge increases exponentially.