Retro
Take a look inside the incredible Alfa Romeo museum
TG gets a guided tour to discover the Italian brand's historic collection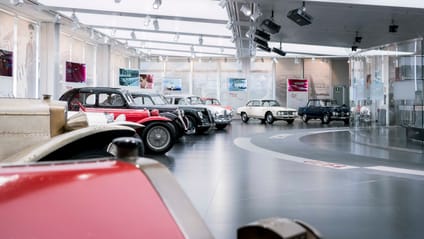 Milan. Home to the Duomo Cathedral, Le Scala opera house, Sforza Castle, and arguably one of the greatest automotive museums in the world: Museo Storico Alfa Romeo.

First opened back in 1976 and then renovated in 2014-2015, it houses some of the most famous Alfa Romeos from time gone by across six floors, ranging from the Italian brand's very first automobile to famous coachbuilt cars and historic Mille Miglia winners.

So when we were invited on a guided tour with Lorenzo Ardizio, Alfa Romeo aficionado and museum boss, we weren't going to turn the opportunity down. Here's what we found…

Advertisement - Page continues below

Where else to start than with the car that started Alfa? The Italian brand's story officially begins on 24 June 1910 when A.L.F.A was founded (it wouldn't become Alfa Romeo until 1919), with a car ready in waiting. No procrastinating here.

That car was the 24 HP, with development having started the previous year. Its name came from its taxable horsepower rating, with its 4.1-litre four-cylinder engine producing just over 40bhp and capable of a top speed of 100km/h (62mph). It would go on to spawn four series, A, B, C and D, before it was replaced by the 20-30 HP in 1914.

Alfa's story may have started with the 24HP, but the Giulietta is arguably the car that made Alfa. First introduced in coupe form at the 1954 Turin Motor Show and designed by Franco Scaglione at Bertone, a year later it was joined by the four-door saloon pictured here.

Attractive looks and a practical, roomy interior were complemented by a 1.3-litre four-cylinder 53bhp engine, and over its decade-long production run it would go on to transform the Italian brand into a mainstream manufacturer. It was so popular, in fact, that it earned the nickname "Italy's sweetheart", with over 177,000 sold. Bless.

Advertisement - Page continues below

In 1967, Alfa Romeo was asked to build a car for the upcoming Universal Exposition in Montreal, Canada. With the show just nine months away, the brand decided on a 2+2 coupe that used the 1.6-litre engine of the Alfa Romeo Giulia TI and the short wheelbase chassis of the Alfa Romeo Giulia Sprint GT. A hybrid, in other words.

Next stop was the bodywork, which ended up in the hands of a 29-year-old Marcello Gandini at Bertone. Little surprise it was a hit, attracting so much interest that a production version as seen here followed, only with the V8 engine from the 33 Stradale. Obviously.

Once described by Clarkson as "the best-looking car ever made", the 8C Competizione was first revealed as a concept at the 2003 Frankfurt Motor Show. It proved such a hit that in 2006 Alfa announced it was to sell 500 models for real, and within weeks the brand had received 1,400 orders, with Joe Public seemingly agreeing with Jezza.

It boasted a 4.7-litre V8 engine, carbon-fibre body and rear-wheel drive, with 8C referencing the eight-cylinder cars developed by engineer Vittorio Jano in the 1930s, and Competizione the 6C 2500 that Juan Manuel Fangio drove in the 1950 Mille Miglia. Nice touch.

Turns out, Alfa Romeo builds spacecraft too. At least, that's what this 40/60HP Aerodinamica looks like at first glance. Commissioned by a Milanese count and designed by Italian coachbuilders Castagna back in 1914, it's easily the, er, oddest car in the museum.

Looks highly impractical too, we must say – check out how far back the steering wheel and driver's seat are. But we jest; it was based on the 40/60HP's chassis complete with 6.1-litre engine, with its slippery teardrop shape (hence the name) and aluminium body resulting in a heady top speed of 86mph. It remained a prototype only, to absolutely nobody's surprise.

What's a Lamborghini Countach doing in an Alfa Romeo Museum? This, in fact, is the Alfa Romeo Carabo, and its name comes – obviously – from the Carabidae beetle, as illustrated by the luminescent green and orange paintjob. Whatever floats your boat, etc.

Revealed at the 1968 Paris Motor Show, you won't be surprised to hear that its wedgy design – complete with scissor doors – comes from Marcello Gandini. Under the beetle bodywork lies the chassis of the Alfa Romeo 33 Stradale, complete with mid-mounted 2.0-litre V8 engine, but only a single concept was ever made. A crying shame.

Advertisement - Page continues below

Alfa Romeos don't come much more desirable than the 8C 2900 B, designed by Italian coachbuilders Touring Superleggera – heck, two of them feature on the top 20 most expensive cars ever sold at auction list, costing nearly $20million a pop. 

Sporting Alfa's 2.9-litre eight-cylinder supercharged engine – the clue's in the name – the 8C 2900 was introduced in 1935 and saw action in the 1936 and 1937 Mille Miglia. The 2900 B, as pictured here, entered the fold in 1937 with improved comfort and reliability, plus Corto (short) or Lungo (long) wheelbases. If only we had deeper pockets…

Alfa has a rich and illustrious history when it comes to motor racing, with the 158/159 "Alfetta" (Little Alfa in Italian) enjoying notable success in Formula One. With the 158 having dominated the inaugural World Championship in 1950, the latter, which can be seen in both skeleton and complete form at the museum, picked up the baton for 1951.

With Juan Manuel Fangio at the wheel it would go on to win again that year. Alfa announced its withdrawal at the season close to focus its efforts on mass production cars, making the GP 159 "Alfetta" the last Alfa Romeo to win an F1 World Championship.

Advertisement - Page continues below

Alfa wasn't quite done with motorsport completely, though, and enjoyed considerable success in partnership with racing outfit Autodelta during the mid-Seventies thanks to this, the Tipo 33 TT 12, complete with a 3.0-litre 12-cylinder engine with 500bhp. Wowsers.

With its name derived from its tubular chassis ("Telaio Tubolare" in Italian) and, er, 12 cylinders, in 1974 victory at the 1,000km of Monza was secured. A year later it took the World Championship for Makes title, with the TT 12 winning seven of the eight races it competed in. To top it off, the TT 12 then triumphed in the Targa Florio the following year. Not bad.

The Italian manufacturer returned to Formula One in 1976, when it agreed to supply its 3.0-litre 12-cylinder engine from the TT 12 to Brabham for use in the Gordon Murray-designed BT45, complete with Martini livery.

BT45B, as pictured here, entered the fold a year later, initially with Brazilian driver Carlos Pace behind the wheel. Sadly, tragedy was to follow, with Carlos dying in a plane crash three races into the season. Hans-Joachim Stuck picked up the reins, but look closely and in the right-hand corner of the rear spoiler you'll spot a small Brazilian flag, in tribute to Pace.