Retro
Ten gorgeous classic cars with modern hearts
Want the best of the old school with the convenience of the new? Step this way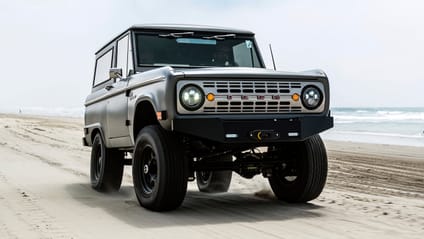 Land Rover Defender Works

Bit of a weird one, this, seeing as it's produced by the manufacturer itself, but the recent 'Works' V8 Defender counts because the car is out of production. The last V8 Defender was 20 years ago, and this time, the £150k special gets a 400bhp 5.0-litre n/a V8 from a Jag, plus an ultra-modern eight-speed auto to go with it. Scarily, that's 60mph in 5.6, and a possible 106mph, limited because of the Land Rover's barn-door/breeze block aerodynamics. Ok, so it gets thoroughly uprated suspension, but still. And best of all, it still just looks like the Defender we all know and love… and your elbows will still be forced out of the side window by ergonomics designed by someone with very strange proportions.

Obviously there's an entire cottage industry devoted to the Defender, so if you want something marginally cheaper, you could also take a look at the JE Engineering Zulu or Twisted Automotive and the like.

But if you want something even older…

Advertisement - Page continues below

Congleton Service Range Rover Classic

Strange to talk about a company from Vermont when it comes to Range Rover Classics, but by all accounts Congleton Service do impeccable work. Rather than re-working or hot-rodding, Congleton strip a Rangie down to its component atoms and re-build it ready for the next 50-years of service. Subtle improvements are the key here - and usually down to specific customer request - but generally they address the weaknesses of the original icon and make it ready for another half century. It's not cheap, mind - a full re-work will set you back getting on for $185,000, and the exchange rate isn't that good. The UK version is probably Kingsley Cars of Witney, who do a very similar thing without the travel costs.

Rather than specialising in one marque, Ring Brothers (Jim and Mike Ring), of Wisconsin USA, consistently build top quality resto mods from across the automotive spectrum. Built mainly as advertising for their parts and engineering business, their various antics have included a De Tomaso Pantera called 'Adrnln', the 'Recoil' Chevelle, a '69 Camaro called 'G-Code', a similarly '69 Dodge Charger called 'Defector' and even an AMX Javelin from 1972 called 'Defiant' (pictured above). But despite the company's fondness for a decent name, the cars are all famous for one thing: being very modern interpretations of gorgeous older vehicles, executed with the very best modern engineering possible.

Advertisement - Page continues below

Probably the most recognised of the resto-mod crowd these days, SVD has a rabid set of lawyerish rules that mean that you have to be very careful as to how you describe them, lest Porsche HQ releases the hounds of brand.

But that doesn't take away from the product: 964-designation air-cooled 911s 'restored, reimagined, reborn'. All the beauty and timeless elegance of the old stuff, with rampantly modern bits finagled into the cracks. So you get a seam-welded chassis, composite body panels, sophisticated modern springs and dampers, and engines blueprinted/enhanced by Ed Pink Racing. There's even a super-lightweight, mega-power version developed in conjunction with Williams (they of the F1). These are, without doubt, some of the most desirable Porsche 911s on the planet. The only catch being that you get what you pay for - even a basic resto by Singer will cost you several hundred thousand dollars...

Probably the best way of describing it came from TG Magazine some years ago*:

"The Tao of Singer is simple. Strip it bare, and remake it better. Identify the weak spots and eliminate them. Improve, elasticate the remit, but don't Disneyfy the experience and asset-strip the soul. This is an early Nineties 964 Porsche 911, and there's a confusing aesthetic tangle of earlier 911 design cues littered around the body and interior, and yet - as a whole - it's pretty enough to be a visual punch in the guts. It's as easy to drive as a VW Golf GTI, but as challenging to drive fast as anything you care to mention. The most exciting car ever built by Porsche… isn't."

*full disclosure, this was me.

Run by possibly one of the nicest men TG has ever come across (his name is Paul), Eagle restores Jaguar E-Types to what it calls 'zero miles' specification. But better than that, if you so require, Eagle also takes an E-Type and improves it without losing the character that defines the car. So you can specify, if you want, a 4.7-litre motor with throttle bodies, a completely upgraded chassis, modern brakes, cooling, air-con, power-steering, brakes, electrics and multimedia (hidden, of course). The interpretations of the Low Drag GT and Spyder GT are worth selling your least favourite child for, and in terms of impact, you could turn up in the most outrageous Lamborghini ever created and still not be as cool as this. They say you can't buy class, but Eagle begs to differ.

A wealth of heart-but-not-soul transplants are available from LA-based American restorer Icon. Run by the irrepressible Jonathan Ward, Icon first became noted for their re-workings of Toyota FJ products, later moving into bespoke Ford Broncos (Icon BR, above) with contemporary Mustang engines. Now they re-birth everything from Chevy stepside pickups - the Icon TR - to 'Derelict' semi-rat patina rods. As ever with the best of the resto-mod movement, Icon's products are seriously high-end in terms of engineering, but sympathetic to the point of perfection. All of the cool, none of the drool from the engine bay.

Bristol based Alfa Romeo specialists (who knew?) Alfaholics produce a car that Chris Harris described as "driving at its very best, essential driving" - the GTA-R 290. An Alfa Romeo GTA so thoroughly re-worked as to be unrecognisable to drive and yet completely familiar to even the most hardened Alfisti. A 2.0-litre Twin Spark motor tuned to perfection. Suspension developed to both ride and handle - and featuring things like titanium wishbones if you so wish - this is a car that now performs as brilliantly as its gorgeous (and largely untouched) styling would suggest.

Advertisement - Page continues below

If big-body 'Benzes are your thing, then you can't go far wrong with a re-worked W111 Coupe or convertible from German engineering firm Mechatronik. Restored and improved with a 5.5-litre V8 AMG motor and modern suspension, these cars not only feature modern safety systems, but the kind of attention to detail that makes them really very expensive indeed. Mechatronik says that it 'keeps the appearance of this icon as unaffected as possible' while equipping it with 'unexpected performance'. The kind of thing we can get behind.

Based in Peterborough, UK, Spydercars take old Lotuses (Lotii?) and bring them back to life with a reliable, modern heart. Automotive CPR is provided on ancient, pre-broken Elans via the medium of the reliable - and common - Ford Zetec, meaning you get a car that is effectively upcycled into something you can actually drive without immediately breaking down. You can even upgrade to modern, fully-independent suspension and a spaceframe chassis if you're particularly committed. The usual re-trims and upgrades can also be applied, which means that you get all the efficiency and usefulness of a modern small sportscar, without the oily hands. Although it has to be said, you probably don't want to crash one.

Advertisement - Page continues below

Frontline Developments MG

Twenty five years of taking various MG products and making them good is no mean feat, but Frontline have managed it. Everything from upgrades and tweaks to MGCs and Midgets, to full, bespoke builds of classic MGBs that include 290bhp and 160mph capability. That also equates to zero to 60mph in under four seconds. Phew. Mind you, even though the performance figures are unimaginable for an owner from back in the day, so are the prices; the 'Abingdon Edition' car will set you back some £86,475.