Retro
These are the cars that inspired the lovely new Ferrari Daytona SP3
The new Daytona stands on the shoulders of racing giants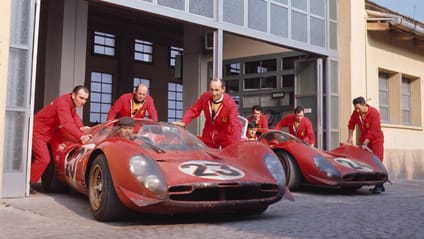 330 P3

Stylistic references to the Daytona-winning Ferrari 330 was pretty much guaranteed by the name, so to find the new Daytona has the same wraparound windscreen and targa roof as its racing forebear is hardly a shock. The same rear-mid-engine layout means the sinuous lines of the wheel arches rise above the height of the bonnet and door line. Perfectly functional, yes, but also flipping pretty.

Advertisement - Page continues below

330 P4

To say the 330 P3 and P4 looked alike would be like saying identical twins look alike. But when you have a shape like the P3, would you really rush to change it? Small changes included a slightly shorter chassis, better suspension and a more powerful engine. Just to confuse the issue, Ferrari ran cars with P4 engines in P3 chassis, which is how we get a 330 P3/4 winning Daytona.

312 P

Similar visual cues here – high haunches, low nose and wraparound canopy. But the 312 P's most successful cars were coupes, not targas. And Porsche pretty comprehensively blew the 312 P out of the water with the 908. But that doesn't mean you can't reference the spectacular styling – we're thinking the front vents do a fine homage to the 312 P Berlinetta's NACA ducts.

Advertisement - Page continues below

512 S

Ferrari's insistence on open-top endurance racers is... well, 'admirable' is the closest word to what we're thinking. Nevertheless, the 512 S Spyder – as driven by John Surtees in the 1000km of Nurburgring – is a captivating thing and a fine piece of Ferrari to reference.

512 M

For those not already familiar, a capital M at the end of a Ferrari stands for Modificata, or that it's been modified. It could be argued that it's also a tacit admission that the original car wasn't good enough, but we'll leave that where it is. In any case, the 512 M got better brakes, better suspension, better fuel economy and more power. As for the shape, it's very much still a gorgeous 512, just lower and more aerodynamic. The Daytona's long-deck tail has to have at least some basis in the 512 M's delectable derriere, no?

350 Can-Am

The 350 Can-Am is actually a 330 P4 that's been rejigged and press-ganged into service in the Canadian-American Challenge Cup. But, ironically enough for Ferrari, the 4.2-litre V12 – as far as the 330's engine could go and still hold together – just wasn't big or powerful enough to compete with the big-displacement Can-Am cars. If only there was a second competition for prettiest on the parc ferme, no?

... and, surely, the Testarossa?

Ferrari hasn't mentioned it, but surely, surely, there's more than a little of the glorious Eighties Testarossa about the new Daytona, no? You can't just put strakes on a Ferrari and not give us flashbacks to fleeing the cops in the original Need for Speed in... well, what else?

And yes, fine – it's more likely a nod to Pininfarina's 250 P5 concept. But it's like the old saying: if you hear hooves, you think Ferrari Testarossas. Or something like that.

Advertisement - Page continues below

No love for the original Daytona?

Well, nothing official, anyways. Which is likely because what you, we and most everyone knows as the Daytona was never christened as such by Ferrari – the official nomenclature is Ferrari 365 GTB/4. Then there's the inescapable fact that the not-Daytona was front-engined and the new, official Daytona is mid-engined. And, as our man Barlow puts it, "Ferrari is pathologically opposed to retro".