Review
BMW 5 Series vs Merc E-Class vs Volvo S90 vs Jag XF
It's the battle of the executive saloon, as Germany takes on Sweden and Britain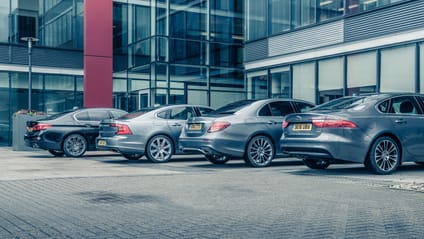 How does BMW get it so wrong? It was more blessed than most when the great toy box of car-styling cues was being shared out: it scored a snouty shark-nose, kidney grilles, the Hofmeister kink in the side windows and the classically correct proportions of front-engined, rear-wheel drive. The new 5 Series M Sport mixes up the toolkit with its jutting underbite, piggy headlights, squashed exhausts and fussy side vents. But will you even notice the new stalwart of UK business expressways?

Images: Rowan Horncastle

With thanks to Green Park Business Park Reading

Advertisement - Page continues below

The 520d has earned a place as modern motoring furniture, among smart motorway gantries, bitter services coffee and an Uber Prius upside down in a pedestrian precinct. Its combination of 65.7mpg and 114g/km CO2 potential economy, an ability to out-accelerate a pinned Toyota GT86 and a bulletproof veneer of image makes this new Five another Swiss army knife. This 520d has xDrive four-wheel drive, reducing economy to 60.1mpg and 124g/km CO2, and a tax bill up from £30 to £110 on the outgoing rules, and no penalty at all on the new rate. Rear-drive or xDrive, it'll be £160, please.

Diesel is well under the cosh in small cars right now, but it'll rule the big exec heartland for a while longer yet, much to the relief of Mercedes, which invested €2.1 billion in its new family of aluminium-blocked, steel-piston diesels that borrow cylinder liners from Lewis's champ-winning F1 V6. This vast investment and weapons-grade componentry hands the E220d the strongest claimed economy of our 4cyl, 2.0-litre TD quartet – it's the only car here that reckons on over 70mpg, and nothing can match its 112g/km CO2 output either. The Merc's torque ties the BMW and Volvo S90 D4, with the Jaguar XF 20d the brawniest here by 22lb ft, but also the least powerful by 9bhp. That's numberwang.

Advertisement - Page continues below

What I'm getting at is these engines, despite their disparate development budgets and positions under the bonnet (the 5 Series is practically mid-engined, while Jaguar apparently borrows Range Rover mounts and the motor almost burst through the hood like Dom Toretto's V8), these nondescript workhorses are all built to nail the same targets. The Merc was indeed the least thirsty on test, the Volvo the most profligate, and despite being the lightest and most torquey, the Jaguar XF was easily the slowest. So, sensible engine semantics box checked. Now we can get on with seeing what's actually best.

A clean-flanked, Russian-doll effect defines the E-Class on approach, but behind its reassuringly thickset door the architecture is all S-Class, in its (optional) twin 12-inch screens, the undulating sweep of elegant dashboard and sculpted doors presenting stylised chair adjustment fillets. It oozes expensive attention to detail. 

It's a successful effect BMW has shamelessly copied. From the driver's seat the new 5 Series is almost indistinguishable from the latest 7 Series. A few plastic buttons scattered where the Seven enjoys metal perhaps, but refreshed iDrive with touch-sensitive screen and gimmicky gesture control is present, joining the aerospace gear selector and glossy buttons for toggling the car's moods, which in this car also toughen up £985 of adaptive dampers, and unlock one of the new Five's party tricks: an 'Adaptive' model that configures the car's control weights, gearbox behaviour and so on using GPS data to suit your route. Tight bends incoming? It'll dial out the body roll and hold onto a gear. A spooky trick that cuts its teeth in the latest Rolls-Royces – but one that's so subtle you'll probably just leave the car to its own devices in Comfort mode. 

Left at Defcon 1, the 520d acquits itself beautifully. The first thing you notice is how the steering has lost that vague stickiness, after which you'll forgive it keeping an overstuffed M sport steering wheel. It's not too sharp off-centre either, unlike the Merc, which is intent to execute a pseudo-sporty turn-in the moment its captain of industry prods the starter and departs reserved parking.  

Advertisement - Page continues below

Whereas you uncover niggles with the immediately impressive E-Class as the miles pass, distance reveals brilliance in the 5 Series. Somehow, despite growing in length and girth over the last car, it's shed its bargey heft. The old car never shrank around you, though the chassis was talented and the engines peachy. This one is agile and lithe and makes every one of the near-100kg it's mislaid apparent in direction changes. The Five is still a driver's car.

The Volvo, presented here in what you've got to say is a pretty arresting spec, is not a driver's car. It's not a technocrat's boudoir, either. It's possibly the most inviting to ride in the back of, thanks to its slim front seats that offer greater legroom than the raked rear bench of the Jaguar, but on (admittedly stunning) 20-inch wheels wrapped in a slither of rubber and with none of the XC90's get-the-ride-out-of-jail-for-£2,000 air suspension, it's a fiddly-riding limo that struggles to smother pimples as eloquently as the BMW, or relax like the floaty Benz. It's not bad-old-days sporty Volvo, but it gives the car a tinny, brittle quality. It occupies the middle ground instead of attacking the Germans. How classically Swedish.

Advertisement - Page continues below

There is a car here that's got the measure of the BMW's handling, and it's the oldest machine, albeit one that we first clapped eyes on just 18 months ago. The Jaguar XF brandishes a quite extraordinary chassis balance, packing more dynamic nuance into an exec mobile diesel chariot than several professional ultra-saloons. This one's running £1,020 of Adaptive Dynamics (what's wrong with just marketing 'adjustable suspension'?), but it adds little to an already stellar set-up. The Jaguar isn't as cosseting as the BMW – not as isolating in how it deals with surfaces changes – but it's even lighter on its feet, deft down the road and linear and clean in its steering. The Jaguar is easily the best car to drive, the happiest to involve its driver, not embarrassed to be hustled when you could let the radar cruise and sensors take over, which the Mercedes would probably prefer. Just as well, because the XF offers the least clever self-driving package of the four.

The 520d claws it back by being much more refined than the XF – and every other rival. Its engine delivers the fewest vibrations through the pedals and the bulkhead. The Jaguar clears its throat roughly on a stone-cold start, and revs are added with a whine, not a hum. Supposedly, it takes its eight-speed ZF gearbox off the same shelf as the smoother-shifting, less indecisive BMW, but you'd struggle to tell. The Jag's powertrain simply doesn't feel like it's had huge amounts of time and money lavished on it. It's capable, but a poor relation to the sweetly judged handling. 

Whereas the BMW and Jaguar aren't averse to being manhandled, the Volvo never for a moment encourages any of that behaviour (despite the promise of its thoughtfully knurled Drive Mode roller). The Merc shoots for thrills but misses, and cocks up its limousine pretensions in the process. Supplied on 20in AMG alloys and £1,495 of Air Body Control, it handles big undulations really competently but doesn't like at all smaller, nadgety imperfections that litter a British road. 

Given that the Mercedes can't waft like the BMW, it's worth dialling it into Sport mode to tie down those body movements and sharpen up its mid-corner wallow, but there's still nothing like the information in the steering its compatriot or the Brit offers. It's futile. 

The gadget set will fawn over the Merc. Sub-menu upon sub-menu, input device literally upon input device. Click-wheels and touchpads abound in a wonderfully imaginative but schizophrenic environment. The BMW has superior ergonomics and renders the same functions easier to operate, but it's still overtly businesslike. Just as you can't be left at the bar while your mates nip to the loo without scrolling purposefully through your phone, every red light in the German cars is an invitation to fiddle, to interfere. Off you go, down the infotainment rabbit hole.

This is where the Volvo stakes its claim. It's ultra-minimalist, and blessed with light woods and hides, a beguiling decompression chamber that bathes occupants in a comforting glow of wellbeing. Its seats weightlessly cradle your boardroom-weary frame better than any ergonomic office furniture. Of course, there's tech, and – sorry, Tesla – this is the best touchscreen interface out there right now, with peerless Apple CarPlay integration – a helpful, logical interface, that puts you at ease. 

In this zone of Zen, it's right that the steering should have a detached, twirly sensation, that the D4 engine delivers its torque ripe and early in the rev band before the eight-speeder politely shuffles up the ratios to quieten the din. No paddleshifters here. No blood-red ambient lighting or faux-drilled pedals. The S90, quite simply, isn't trying to be all things to all people, so it'll alienate a few, but deserves to please plenty. 

Against this onslaught of interior design, the Jag apes minimalism but comes off as being cheap. This XF has no excuses – the widescreen InControl touchscreen and virtual dials are the peak of contemporary Jaguar cabin gubbins (until the I-Pace arrives). Yes, though they're much improved on the standard systems, they're not as snappy, or as logical, as the Germans. Surrounded by a cabin that lacks flair in its finish, and has the least comfy seats to spend two hours in, it's not as rich as a Jag ought to be. BMW and Mercedes have plagiarised their flagships inside. The S90 itself is Volvo's big gun. But the velvety cocoon of an XJ's art deco welcome doesn't register in the XF.

There isn't a bad car here, but like all worthwhile business meetings we need to conclude with a quantified ranking, and for only bringing remarkable handling to a party it already feels dated attending, the XF is fourth. The E-Class might have fared better with a more bijou spec (let's face it, how may £55k E220ds are you ever going to spot?), but kitted-out, it struggles to convince as a sports saloon, and ape the soothing luxo-limo it would love to be. 

The Volvo is the least dynamically talented car here, but that feels utterly deliberate – and refreshing. The Swedes have focused on making life more bearable in a traffic-choked, heavily policed, technology-obsessed world. It's a clever car that's not overbearing in its functionality. It's easy to pilot, but never frustrating to rein in. And it could have won this test, where it not for the astoundingly accomplished new 5 Series. Meet the new boss, et cetera. Everything BMW knows about building a saloon car, wrapped up in a form it's forgotten how to style.