Review
Diesel triple test: Jaguar XE vs Mercedes C-Class vs BMW 3-Series
Can Jag's new compact exec stick to to the Germans? Only Wales has the answer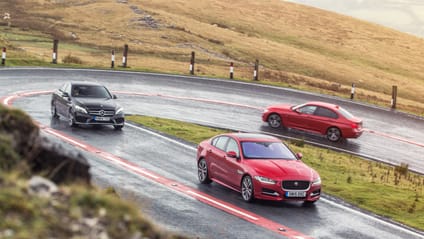 We're going to clear the air around the absent Audi first. The brand-new A4 ought to be headlining this grudge match between the latest compact executive saloons, but unfortunately it's actually so new that Audi, try as it might, couldn't get hold of an available car. So from here on in, this is a rear-wheel-drive-only zone.

Photography: Richard Pardon

This feature was originally published in the November 2015 issue of Top Gear magazine

Advertisement - Page continues below

Not that we'll be gunning for throttle-adjustable larking about – these are the workaday 2.0-litre, four-cylinder turbodiesels. The cars we actually buy. Sure, Jaguar's XE S and its beating F-Type V6 heart looks good in the promo shots, but it's this Ingenium-engined R-Sport (because everyone needs a line in sporty-initialled bodykits these days) that really takes the fight to the apparently facelifted BMW 320d M Sport (see what I mean?) and Mercedes-Benz C250 AMG-line – S-Class notwithstanding, the best non-AMG Benz around.

I'm setting off in the Jaguar as it's the newest, least familiar car here, charging into a blazing watercolour sunset toward the Welsh border. It's a slightly odd sensation to be tacking along unnoticed among the traffic in one of the most important cars of 2015, hyped to the gunwales yet attracting no attention.

The XE is so critical not only for Jaguar volume sales, but how it's perceived as a mainstream BMW and Mercedes rival (or beater), it feels like it should have a police escort to announce its progress. I'm not entirely convinced it is a game changer, as an object. For me, the chopped-tail styling is smartly conservative but a missed opportunity to create something properly pretty, which the hand-gnawingly gorgeous Alfa Romeo Giulia can capitalise on.

Others in the TopGear office reckon the inclusion of F-Type cues in an ultra-moderate class is Ian Callum's Sistine Chapel.

Advertisement - Page continues below

Likewise the cabin – it's ultra-clean and minimalist, and the low-set driving position is crucially spot on, but most functions depend solely on a touchscreen system that, although graphically attractive, isn't as intuitive or responsive as it ought to be. Granted, the austere 320d is still about as inviting as public transport in comparison.

Then again, a 3-Series or C-Class owner would contort into the XE's rear seats horrified at its cramped headroom and kneeroom and mutter about that taut tail's appetite for rear visibility. Jag can rightly counter that these cars spend the vast majority of their lives one-up, and children don't give a monkey's about the C-Class's beautifully appointed door trims and intricate, acid-dipped speaker grilles.

There's no argument about the XE's ability to imperiously cover huge miles. This evening dash to Cardiff to rendezvous with the Germans is perhaps one of the most crucial strings to its bow – the BMW-matching ability to cruise at 70mph, maintain a steady 50mpg and soothe your brow.

I was stressed and tired when I left London, miffed about the weather and mid-afternoon traffic. If the Audi had been here I'd have been magnetised to the central reservation in the outside lane. In the Jag, there's a sense of well-being that transcends nitpicking over its insensitive touchscreen and naff-looking instruments.

The Jaguar is marginally ahead on official running costs, too, but the differences are infinitesimal and just speccing 19-inch wheels or the automatic gearboxes present on these three can make or break your fleet manager's budget. The XE's 67.4mpg claim is a scant (perhaps cynical) 0.1mpg superior to the revised 320d, which it ties with on 111g/km.

The Mercedes loses the CO2 game at 113g/km – not enough to fall into a pricier tax band, mind. In this company, its on-paper 65.7mpg is the thirstiest (hah!) here, yet it proved the most economical on test, or rather, the easiest to extract high-fifties mpg from.

The BMW's Eco Pro mode, which puts a chock beneath the throttle and tells you when to lift off it to enhance coasting karma approaching a junction, is undeniably effective in stretching your economy, but the Mercedes feels less obstructed in its crusade for a 500-mile-plus range. If that sort of stat really appeals, all of these cars offer manual-gearbox, lesser-engine alternatives with promises of north of 70mpg.

Advertisement - Page continues below

The Jag and BMW can even do you a 99g/km tax dodge. In the current climate, no pun intended, of scepticism over official emissions, it's easy to get snotty about the arithmetic, but the brass tacks are these: BMW, Jaguar et al have the same regulations to comply with, and the same test hoops to jump through. All three are as a result exceedingly cheap to run.

The BMW is cheapest, but Jaguar will offer you a competitive lease deal. Which one of these you spend 100,000 miles in really will come down to which one you like the best. Trying to split them definitively via the statistics is futile – the level of talent across the board is sky-high.

So, where are the flies in the ointment? Bumbling around night-time Cardiff in the C250, the 2.1-litre diesel is the main offender, simply because it's the most vocal powerplant here, and even with its power advantage, it doesn't muster the mid-range punch of the clean-revving 320d. It's endemic of the entire car, which is a cracking moocher, but doesn't raise its game to the level of the other two if you fancy making a spot of brisk progress.

Mercedes-Benz is at pains to broadcast that the C is the only car in its class to brandish air suspension (it's an £895 option), but its ample suppleness in Comfort mode is sullied by a slight rocking, wallowy sensation that the more composed BMW irons out.

Advertisement - Page continues below

The XE is even more impressive, given this particular car is the only machine here not riding on adaptive dampers. As such, it's marginally the stiffest car here at low speed, but flows so beautifully as you accelerate you can feel every ounce of UK-specific development Jag has lavished upon it.

The Merc is one of those rare cars preferable in Sport mode, where the body movements are better damped and the throttle less narcoleptic. But I adore simply bumbling in the C-Class, because its interior is utterly fabulous: cocooning, tactile and expensive-looking.

It's the best cockpit here, despite Merc's strong attempt at ruining the COMAND system with a slab of plastic like a melted iPhone obscuring the clickwheel. This is Mercedes properly on the attack, letting the C-Class grow some styling teeth and then garnishing it with the essence of its unimpeachable, market-defining flagship.

It's the best C ever. And if you accept that a Benz's raison d'être is to waft, where a BMW's is to involve the driver, the two German cars nail their briefs.

As the sun elbows its way through autumn showers the following morning, we're off into the Black Mountains. This is where the BMW has to succeed. We know it's astute on the motorway, but it lacks showroom theatre. BMW's revised, facelifted 320d has gained a handful of horsepower and raised the economy bar to meet Jaguar's Ingenium swot, but besides that, what's fresh? The reinterpreted angel-eye LEDs and glossy trim around the dashboard's button bank. That's it. Not exactly Christmas, is it?

Could the BMW's main issue be its sheer familiarity breeding contempt? It's practically a cliché, that car for all occasions. "Don't hate me because I'm spacious, user-friendly, tasteful and sweet to drive." I could moan about the steering feeling gloopy and vague unless you're really piling into a corner, but I won't.

The gearbox is worth a mention, if only for the fact that BMW uses the same ZF eight-speed automatic as Jaguar, but its algorithms are brainier. On heavy throttle upshifts, the Jag takes a quick breath before slotting the cog. The head-nod is so momentary you might barely note it, had you not just jumped from a BMW 320d that can saunter from first to eighth without showing its working at all.

That's the nub – the BMW is just a bit more polished than the Jaguar. You'd expect that, given how much longer BMW has been established in this particular battlefield. I happen to get along brilliantly with iDrive, whereas this particular XE's satnav had a reboot meltdown in Wales.

Maybe it was consonant overload. Jaguar says it's not a known fault. But it's something to watch, as this Italian Racing Red XE is the newest member of our long-term fleet.

What Jaguar has cannily managed is to manoeuvre its way into the green grass between the 3-Series's involvement and the C-Class's supple maturity. The BMW 320d remains objectively the best car in this class. Is it the one I'd have? It's the first one I'd recommend, if that isn't too much of a cop-out, the car with the fewest weaknesses.

But both the Merc and Jag are cooler objects, sleeker of line and image, strong enough to challenge all comers, and with their own distinct attributes. The same, it seems, applies to the new Audi A4 as well. Wow, where would that slot into a final line-up that reads BMW, Jaguar then Mercedes?