Review
Everything we learned in one weekend with the new Porsche 911 GT3
We've been living with the 9,000rpm winged 911. Spoiler: it ain't terrible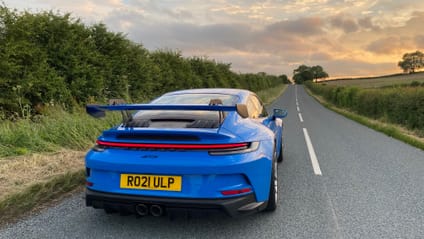 Acquiring a Porsche 911 GT3 to keep for a weekend is a right old faff. You have to trek all the way to the stunning Anglesey racetrack in north-west Wales.

(Left at Mordor, keep going for a thousand miles, then hook a right. Fall off the edge of the world and you've gone too far.) 

Before they let you take it and be on your way, the people from Porsche insist you don an unflattering hair-net/helmet combo, then chase one of their professional racing drivers around the 2.1-mile circuit, while the weather is being extremely Welsh. If we must.

Advertisement - Page continues below

What you learn, as you splash around with the wipers on the redline, is that the 992's traction control is exceptionally clever in how much throttle it lets you apply without swapping ends and firing you into the Irish Sea.

You also learn that everyone who scoffs 'oh, the 911 doesn't feel rear-engined any more' is talking cobblers, and needs to try one on Michelin Pilot Sport Cup 2s in the p***ing wet. 

Then, my friends, it feels very rear-engined. But, get a trailbrake right to keep weight on the front tyres as you turn in, and be patient in picking up the throttle to maximise that arse-balanced traction, and it's addictive. 

This is the longest place name in Britain. In Europe in fact. Llanfairpwllgwyngyllgogerychwyrndrobwllllantysiliogogogoch is a stone's throw from Anglesey, so it seemed appropriate to pop in and grab a photo under the sign.

What you can't see is the crowd behind the camera taking photos not of the place name, but of the first new GT3 in the UK. People get that this isn't just some Porsche with a body kit. They know it's special.

You will be asked questions. You need to know all the figures off by heart, but I don't mind that.

Since you ask, the literal translation of Llanfair-etc is 'St. Mary's Church in the hollow of white hazel near a rapid whirlpool and the Church of St. Tysilio near the red cave'.

After directing me here I had to give the sat-nav lady a throat sweet.

Advertisement - Page continues below

Now, I had planned to bring the GT3 home from Wales The Long Way, via every hill, dip, brow, crest and great corner in Cymru. But the weather had other, much more sadistic ideas.

It was howling down with rain within a few miles of leaving Longnameplace, and the devil on my left shoulder whispering 'this is a very rare opportunity to drive a GT3 on some of the world's best roads, you wuss' was overrruled by my conscience reminding my other ear 'this is the first GT3 in the UK, these tyres aren't especially clever in standing water, and there's not much mobile signal at the best of times'.

Still, we've got all weekend to get to know one-another.

Having decided not to risk using an upended 911 as an emergency overnight tent, I took the motorways home. Had a cracking run too, despite Friday evening rush hour. The GT3 dodged the snarl-ups and traffic lights seemed to greet it by turning themselves green as it arrived. 

This particular GT3 had the six-speed manual gearbox, not the seven-speed PDK. With that – and a surfboard on the back – I wasn't expecting healthy fuel economy, but almost 27 miles per gallon isn't too shabby for a 500bhp supercar without the word 'hybrid' in sight.

Will you want to 'cruise' in a GT3? Interesting question. 

911s usually suffer with road noise: they've got phat rear tyres and they're made of aluminium, which is the second-best material sound conductor after a terraced house's bedroom walls. But the GT3, with its rolling-pin rubber and absent soundproofing is bloody loud. I recorded an average of 74 decibels at a 70-ish miles-per-hour cruise.

According to Several Official Looking Medical Journals I Found On Google, prolonged exposure to a noise level greater than 70 decibels can lead to hearing damage. Can't say I've suffered any tinnitus yet, but I needed the hi-fi pretty much maxed to hear a podcast.

I also recorded the interior noise level at 9,000rpm. Several times, just to be sure. It was 86 decibels. I can't think of a better way to go deaf. 

I'd think very carefully before trying to traverse a steep driveway entrance in your new GT3. Parking it on the lawn? Have the gardener give the grass a trim first. There's a lot of aero hanging off the car's underbelly.

The diffuser is the most serious one ever fitted to a road-going 911, and behind the front wheels live a multitude of vanes guiding airflow out of the wheelarches.

Happily, help is at hand…

Advertisement - Page continues below

… thanks to the GPS-enabled nose-lift. Yours for £2,214, the nose-lift system pumps 40mm of extra ground clearance under the GT3's chin at speeds up to 21.7mph. If you're going faster than that in a car park or drive-thru, grow up.
 

The GT3's nose-lift talks to the car's GPS, so it can remember where you regularly ask for the chin-up, and suggests saving that into the car's memory so it happens automatically. I'm aware cars like the Corvette C8 offer the same function, but it's the first time I've experienced it in action, so I'm going to give Porsche the props.

It's a brilliant, ego-saving feature. Whatever it adds in weight, it's worth it. 

Advertisement - Page continues below

Cool new feature for the 992 GT3 here. Rotate the Drive Mode knob into Track Mode and the digital dashboard shuffles itself to a more focused readout. The outer screens (obscured by the steering wheel anyway) are ignored, and your vital temperatures are brought into focus. Plus, the shift-up lights are highlighted. 

I ended up fiddling with the settings so this was displayed in Sport Mode as well. Less is more.

Bit of an unfair picture this, as this lane near my house is so narrow if you cycled along it, the grasses would tickle both your knees. But it illustrates a point: the GT3 feels wide in the UK these days.

Those hips measure 1,852mm across, and there are a whole host of Lambos, Ferraris and McLarens that are girthier, so why does the 911 feel so big? Perhaps it's because they used to be conspicuously little – even a 997 felt relatively bonsai when going banzai on a B-road. 

The GT3's naturally aspirated 4.0-litre flat-six is very possibly the greatest engine fitted to any production road car right now. Ferrari's big-bad-lad V12 would argue otherwise, and the Lambo Huracan STO's V10 ought to be pretty spectacular. But for a mere six-cylinder, it doesn't get better than this. 

Just don't expect to show it off.

This is the extent of what you can open in the GT3's business end. A plastic flap, which flips up to reveal where to top up the engine oil and coolant. And as you've seen, the GT3's aerodynamic undergussets cover the engine's perineum. This isn't a car for show-offs who like to park up and open every hatch.

Good: exactly how a GT3 should be. 

Okay we're getting serious here now, folks. It's cupholdergate. 

In the old 911, twin pop-out cupholders lurked behind a sprung panel on the passenger side of the dash. It was a typically over-engineered German answer to a simple problem. The 992 has ditched this set-up, moved to a single hidden cupholder for the passenger, and stuck a receptacle recess at the foot of the centre console. 

Not only does it look a tad naff, but anything taller than a can of Coke interferes with your gear-changing hand if you've righteously gone for the manual. And no car – no matter how sonorous its engine – should come between an Englishman, a world-class manual gearbox, and his cup of tea.

So, for that reason alone I'm afraid I won't be buying one. 

While we're on the subject of 'petty gripes about stuff I miss from the old GT3', where are the fabric door pulls? I mean sure, they were actually more difficult to use than a hard-cast door handle. And they could get gunked up with hand detritus and mung after a few thousand miles. And they saved approximately 0.0001 grammes of weight. 

But they were a GT3 trademark, and they're gone now. I missed them... for about ten minutes.

I forgot to take a picture of the door handles in the blue GT3, so here's a shot from a Touring I borrowed a couple of weeks later. It's been a truly awful month.

On Sunday, as required by law in the United Kingdom, I had a public house roast dinner. And as luck would have it, the only parking space available was slap bag next to a 996 GT3 – the earliest Porsche to wear the famed badge. Lord, it looked tiny, and so rounded, while the new car has edges you could slice vegetables on. 

The owner turned out to be a friendly enthusiast who owned a few Porsches, and was rather bowled over to see the latest, greatest 911 rock up while he and wife were waiting for their dessert.

He did what anyone would do when presented with a flash new car, and text his Porsche mates from the local owners' club WhatsApp group.

Within minutes the car park was awash with Boxsters and 911s coming to cop a look at the new GT3. And a man who asked if the car was for sale. See you, I'm off to my private island. 

Should you have the opportunity to buy a new GT3, your major quandary will surely be 'to Touring, or not to Touring?'

This might help. Not a very good photo, I grant you: I was stopped at a railway crossing at the time, and it's a tricky shot to capture. Here's the view in the rear-view mirror, bisected by that hulking wing.

When a car is about ten lengths behind, it's blocked almost entirely. Which might be a tad inconvenient if it's got blue flashing lights on top. 

Another Top Gear top tip when you're speccing your GT3: don't spend £842 having your silver alloys painted 'satin darksilver'.

Get the silver rims 'for free', save £6,498 keeping the standard steel brakes instead of upgrading to carbon-ceramics, then hit the middle pedal hard.

In no time at all you'll have a thick, rich coating of brake dust all over your spindly wheels, giving your GT3 the moody, greyed-out look on a budget. 

Facetiousness aside, the main thing we learned spending a long weekend – and around 660 miles – in the new GT3, is that it's an exceptionally talented sports car with an incredible engine and a delightful gearbox. 

It's also hard work on the road – on British roads, at least.

You need to be as committed and focused as it is to really enjoy it, or you'll be pining for a 911 that doesn't analyse every microscopic road imperfection and mainline the data into your hands whether you'd like it to or not. 

It feels like there's a touch of a reaction about this car, of Porsche's GT department having its noses put out of joint by people calling the last GT3 habitable and easy-to-live with, and deciding this one should bite back a little more. And given there are umpteen other 911 versions and variables to choose from, that's fine, by me. 

Sorry if this sounds a bit mushy, but there's a poignancy about this sort of car (and this powertrain) now. An ever-present sense they aren't going to make 'em like this for much longer. 

There are cars with better cupholders. But otherwise, for me, sports cars just don't come much better than this.