Review
Maserati Ghibli takes on Tesla Model S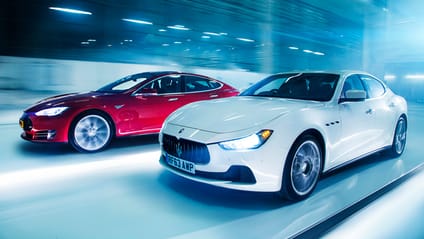 The Tesla Model S is the most important car Top Gear has tested. Let's just throw that out there. A handsome if generic-looking exec hatch, it threatens to do to the traditional car industry what Amazon did for retailing and Apple's iTunes infrastructure did to the music business - utterly rewire it.

The mainstream media loves Tesla's CEO, Elon Musk, a man who is two-parts real-life Tony Stark to one-part Steve Jobs. The guy made a billion from Paypal, has his own space exploration company, and recently proposed the Hyperloop high-speed transportation system. He also used to own a McLaren F1, so rest easy - he 'gets' cars the way we do. But, rather than build a ridiculous vanity supercar, he decided to apply 21st-century Silicon Valley thinking to a technology model and industry that epitomises the 20th century. Following the slightly tentative Tesla Roadster, the results are game-changing.

Pictures: Mark Bramley

This feature first appeared in Top Gear magazine

Advertisement - Page continues below

So you've got to feel for the Maserati Ghibli. In the context of this issue's Europe versus America contest, the new upper-medium contender from Italy's second-most glamorous car brand would, ordinarily, have walked it. Effectively an abbreviated Quattroporte, with a form language that gets less awkward the longer you look at it, and bolstered by 100 years of priceless back-story, the charismatic Ghibli is tasked with gate-crashing the German hegemony. Against Tesla, though, heritage counts for less than zero, and the Maserati may have turned up to a gunfight with a water pistol.

Interestingly, though, the Ghibli is a thing of immediate substance, with a perceived quality that's every bit as impressive as its A6/5-Series/E-Class rivals. It has frameless glass, but the doors shut with a hefty thunk. The wheel is ugly but feels great in your hands, there's stitched leather about the place and the electric seats motor into position with a reassuringly glossy action. The graphics on the central touchscreen are unpretty, but the system is easy to use. In a showroom context, it makes a convincing case for itself. And it's a Maserati.

There are no Tesla showrooms. Instead, its retail outlets mimic Tim Kobe's revolutionary work on Apple's stores. The Tesla also turns heads. More than anything I've driven in ages, in fact. And that's just on the outside, where former Mazda concept design man Franz von Holzhausen elected not to go self-consciously Blade Runner on us, in favour of encoding the Model S with Callum-esque stance and proportion. Keep the Tesla-shaped key lozenge in your pocket, and the recessed doorhandles glide out to meet you with a vaguely Star Trek "shhhuckkk". The sills are high, the driving position and seats actually one of the few conspicuous weak spots inside. It's far from Audi-impregnable in here, and the Ghibli has more character, but the Tesla still impresses.

Not least because, liberated from conventional packaging constraints, it instantly feels like the future. The central 17in touchscreen interface is effectively an enlarged iPad, and houses the controls for almost everything - from the air-conditioning, audio and satnav, to the calibration of the car's steering, suspension and the amount of brake regeneration you prefer. The Model S is a model of minimised cabin real estate and, beyond the Mercedes-sourced drive controller, there is simply no switchgear. It's extremely refreshing. It also has 1,795 litres of luggage space, and there's so much room you can order an extra row of seats, bizarrely.

Advertisement - Page continues below

Naturally, it's futureproofed, and although it takes some familiarisation, it's hardly a leap into the unknown if you've ever used a smartphone. There's full internet access, at least where the still frustratingly intermittent 3G connection allows it. (The system froze while we had the Model S; a check on Tesla's online forums suggested that holding down the steering wheel rotary control buttons simultaneously would reboot it. It worked.)

Tesla offers the Model S with various lithium-ion battery packs: there's a 60kWh set-up that's good for a claimed 208-mile range and an 85kWh one that'll theoretically run to 265 miles. Add the Performance Pack, whose higher-capacity inverter boosts torque to 443lb ft and power to the equivalent of 416bhp (probably more, in fact), and you've got an all-electric car with the same step-off and start-line grunt as a Porsche Turbo. Specify Performance Plus and the suspension is uprated to match.

Everything about the Model S is reassuringly familiar and utterly bewildering at the same time. You get in, select D and go. You don't even turn it on. There's no handbrake, no paddleshift and, wind and tyre rush apart, no noise. A tentative squeeze on the accelerator pedal is like dipping your toe in a reservoir of torque, but better to build up to it gradually. Back off and there's a hearty slug of regenerative braking. Pretty soon, you'll only be using the brakes to come to a complete halt in traffic.

The physics of the Tesla driving experience aren't so different from normal. Its body is all-aluminium so it's light and rigid, while the suspension has hollow castings at the front and lightweight links at the rear. Tesla assembles the car's battery pack itself, and it sits under the floor. But it also acts as a stressed member, which further helps structural rigidity and gives the Model S a usefully low centre of gravity.

It's not a sports car, though. Yes, it'll warp like a spaceship to 62mph in just over four seconds, and it keeps rolling out great gobbets of torque until you're well past 100mph. Its reduction gearing means that peak power and torque are right on the money, so overtaking is supercar easy, and motorway work utterly seamless. It also handles pretty well, too, despite its two-tonne plus weight (blame those batteries). Fundamentally, it's a languid cruiser, rather than a thriller.

It's also an EV, so inevitably you begin thinking about the available energy and what you're doing with it in a completely different way. Responsibility becomes less of a chore. The 85kWh Model S will deliver a range of up to 265 miles, 220 without requiring you to drive like your family is strapped to the bonnet. It takes 15 hours to fully charge it from a standard 32-amp UK street or supermarket charging point, half that using Tesla's home charging apparatus. (Tesla's 'Supercharger' stations are being rolled out in Europe and the US). Range anxiety isn't really on the radar.

At 1,835kg, the Ghibli is not much lighter than the XL QP, and while its body is a mix of steel and aluminium, it feels unexpectedly solid. Picking our way across country while weathering yet more apocalyptic rain, this instills a welcome sense of security. The electric steering set-up is surprisingly beefy, and the eight-speed paddle-shift ZF 'box slips as imperceptibly through the gears as ever. Its chassis is largely unflappable, certainly more than a match for the 272bhp, 3.0-litre turbodiesel that will power most UK-bound Ghiblis. Rather inert at low revs, it's fine at motorway speeds, though outpointed by the latest-generation Germans.

Maserati claims 47mpg overall; I managed 31, and wasn't exactly pressing on. But as ever with these things, it's in trying to live up to its sporty remit that the Ghibli comes unstuck. With double wishbones at the front, a multi-link rear, and passively damped with the option of a Skyhook adaptive set-up, it sounds state-of-the-art, but pretty much falls apart on UK roads.

Advertisement - Page continues below

It patters and jostles, and generally refuses to settle down, whether it's on a pockmarked B-road or thrummy motorway. The 20in alloy wheels on the car you see here, by the way, are a £1,960 option. What price vanity?

Maserati says the Ghibli is a left-field choice aimed at people bored with the usual suspects. It's far from perfect, but a perfectly credible contender in the hard-nosed fleet world. The Tesla Model S is incredible. At £68,700, the most powerful Performance spec version doesn't actually cost much more than a well-specced Ghibli. This isn't the America of old Detroit. The Silicon Valley interloper has changed everything.