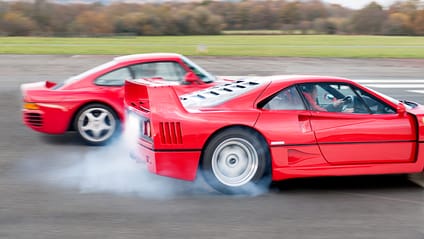 How do I explain what this photoshoot represents? To some – maybe you – it's just two red cars, fairly old ones, on what could be the TopGear track. To others – again, maybe you – it's an image so full of potency, testosterone, glamour and power that you've taken your copy straight to the lavatory for a bit of privacy and you are most emphatically not going to be reading the words, just looking at the pictures. It's a knotty one.

Words: Richard Hammond
Photos: Justin Leighton

This feature was originally published in the February issue of Top Gear magazine

Advertisement - Page continues below

You see, to encounter the Porsche 959 and Ferrari F40, together, making their wondrous music on our humble little track at the same time, is like walking into your local to find Jimi Hendrix and Eric Clapton ripped off their respective tits on tequila, locked in a guitar battle over Gemma Arterton. OK, well that's a bit weird, but you take my point: to those who remember them, this is the most significant pairing of cars imaginable. 

Let me try one last time to paint a picture for you that will convey the significance of this moment. If in 25 years' time you were presented with a magazine feature showing the Pagani Huayra and the Bugatti Veyron Super Sport, then you would hop up and down, waving the pages in your kids' faces and telling them what the cars meant to you. These two are the Veyron and Huayra of their time. The ultimates. No doubt about it.

Let me take them individually, 'cos talking about them both at the same time is a bit too trouser-tinglingly tricky. The Porsche 959 was first born in 1983 as a race car, and what you see here is a homologation special - one of those road cars that only exists so that a manufacturer can qualify to enter their race car in a particular series. The series in question was Group B Rallying, and by the time the race car was ready, it was a) too heavy compared to the Lancia Delta Integrale, and b) the series had been closed down. Nonetheless, Porsche had committed to producing the 959 road car to get through the FIA regulations. It did rally in the end: Porsche put it in the Paris-Dakar in 1986, which it promptly failed to finish before going on to claim first, second and sixth the next year.

Advertisement - Page continues below

This, then, should have been viewed as something I can't write here, but that rhymes with fluster-cluck. The only thing is, the road car Porsche had designed to get homologation was immediately reckoned to be the most technologically advanced road-going car ever produced. It introduced technology that has gone on to define the 911 through the decades. Twin turbos boosted the 2.9-litre flat six to 444bhp.

Like modern supercars, the body was made from exotic, cutting-edge materials to keep weight down: aluminium, Aramid - a hugely strong synthetic-fibre material most often used in body armour at the time - Kevlar composites and Nomex. These components, and the fact that the wheels were made from magnesium, kept the weight at just 1,450kg, allowing the car a 0-62 time of 3.9 seconds and a massive top speed of 197mph. The gearbox contained six gears, and the four-wheel-drive system - since introduced on all 911 turbos - used a torque-split system still reckoned to be pretty advanced today.

And, speaking of today, it really does feel, sound and drive like a modern supercar. Despite being the product of an era dominated by images of crass bankers with 911s and aggression issues, it's creamy smooth and feels planted and confident. I anticipated a terrifying surge of acceleration as the turbos spooled up and deposited all 444bhp in my lap in one big lump. But no, the power comes on insistently and quickly but not in a panic. The four-wheel-drive system splits the power between the wheels according not only to grip but also to steering angle, throttle position, cornering g-force and how much boost the turbos are throwing into the mix. And, despite the outrageous performance, the result is a civilised, very grown-up, very sophisticated drive, even by today's standards. What must this have felt like in 1987, when it arrived as the fastest production car in the world?

Well, owners didn't have long to savour the moment, because just eight months after the 959 arrived, the Ferrari F40 rocked up and stole its crown. To celebrate Ferrari's 40th birthday, here was a 200mph car built not to gain race homologation, but seemingly for the pure, unadulterated joy of creating the fastest, sharpest road car in the world. It was razor-edged and stripped of everything but the absolute bare essentials: a 2.9-litre twin turbo V8 and a steering wheel.

Advertisement - Page continues below

The original concept versions had non-opening plastic windows and bits of string to open the doors. This degree of self-flagellation was ultimately compromised when it went into production, but only as far as fitting manual-winding windows and straps in place of string. And remember, this was no homologation special. It was loosely based on the 288GTO Evoluzione Group B prototype competition car. As that never actually raced, Ferrari spoke to Pininfarina and got them to fit the race car's underpinnings with a body and seats, and so, for my money, one of the most classically beautiful, aggressively styled supercars ever built was born.

Many credit the F40 with being the last modern Ferrari overseen and commissioned by old man Enzo before he died in 1988, and no doubt about it, there is a romance, a wonderful sense of specialness that pervades the F40. Enzo's legacy. Prowling about the TopGear car park, it has all the presence of a quietly furious lion at a wildebeests' watering hole.

Advertisement - Page continues below

And, just as it was in 1989 when it first hit the track at Laguna Seca for a round of the IMSA, it is awesome. Back then, it was driven by Jean Alesi as an 'LM' model, finishing third behind a pair of Audi 90 spaceframed specialist racers and beating a field full of mental machinery in relatively modest modified trim. But here, evenin 'normal' road-going spec, the noise, the feeling of mechanical purity and precision, the lack of anything in the way of a techy 'interface' between the driver and that magnificent 474bhp V8, makes this as visceral and edgy an experience as the 959 is refined and sophisticated.

The reasons are many, and not just because you pull the doors shut with that sliver of red fabric. The F40 is just as obsessed with materials-science as the 959, but in the pursuit of lightness more than anything else. The panels are - just like the clever bits of the über-Porsche - made from aluminium, carbon and Kevlar for strength and rigidity. The 'glass' is actually plastic, and the lack of carpet, significant trim or entertainment system mean that you are exposed - raw and quivering - to that guttural V8 and its twin IHI blowers.

It is, as you'd expect, pretty hardcore to drive. Heavy steering at slow speeds translates into something mind-reading when you go faster; the gearbox is hugely mechanical, clanging between gears like you're slamming a bolt home on a particularly massive rifle. Something loaded for bear. Or perhaps mammoth. The F40 weighs just 1,100kg - less than half the mass of a Veyron - and has nearly 500bhp, produced at 7,000rpm. So it's vicious and a bit silly, but childishly thrilling: 0-62mph in less than four seconds, 0-120mph in 11 seconds (faster than that 959) and the first road-legal production car to break 200mph.

It sounds like it. After a bit, my ears were cringing. It may be a piece of Italian exotica, it may have cost more than the average house when new, and it may have sentimental links with the maestro himself, old man Enzo, but it is brutal. And wonderful.

And so there they are: the sophisticated, techy Porsche that cost twice as much to build as Porsche sold it for, is the Bugatti Veyron; the Ferrari F40, a turbo-charged razor fight, is the Pagani Huayra. Legends both. Don't you forget it.