Secret Stash
Toyota's incredible motorsport secret stash
The crazy WRC, GT, F1 and concept cars hidden under Toyota's wind tunnel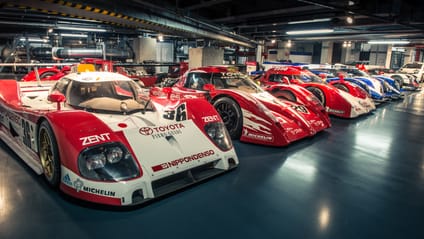 You know that useful pocket of space under the stairs where you shove the hoover, your mucky boots or spare Harry Potter? Well, this Toyota's version of that. Albeit, what's thrown in there is a lot, lot cooler than a knackered old Dyson and some speccy kid with a squiggly scar on his head.

It's the cavernous and dimly-lit cave under Toyota Motorsport's ginormous and top secret wind tunnel in Cologne that's used as a dumping ground for Toyota's redundant motorsport products.

From WRC poster cars to potty 1,000bhp Group S oddballs, all the way to Le Mans legends and Toyota's complete Formula One portfolio, we recently scampered around slack-jawed at some of the Japanese firm's finest competition cars. So grab a drink, take five and allow us to be your guide. 

Advertisement - Page continues below

Before we get to the metal, some clarity. See, how Toyota splits up its departments is quite complex – especially when it comes to motorsport. Over the years there's been a fair bit of re-naming, many acronyms, and more than a little bit of politics involved.

The collection outlined here belongs to Toyota Motorsport GmbH (TMG), a strand of Toyota's businesses portfolio that's based in Germany. Until the 1990s it was known as Team Toyota Europe (TTE), and was set up by rally ace Ove Andersson in order to spearhead Toyota's efforts in the World Rally Championship.

It later adopted the duties of GT racing, then Formula One, before going back into endurance racing under the WEC. But TMG is also responsible for developing bespoke race-inspired road cars and SEMA show concepts, as well as being a standalone engineering company for people who require its go-faster services. 

Let me guess, you thought Toyota's in-house motorsport preparation and road car tuning department was Toyota Racing Development (TRD)? Well, it is. And that's where it gets complex, as TRD, formally known as Toyota Sports Corner (or Tosco) was the first to get the Japanese brand racing back in 1976 and is responsible for Toyota's – deep breath – NASCAR, IndyCar, Champ Car, Toyota Racing Series, Formula Nippon, Formula Three, NHRA, Grand Am, USAC and Super GT entries.

We admit it, the whole two-brand thing is confusing (you can check out TRD's secret stash here to see all its good stuff) but ultimately TMG and TRD have one goal: to make Toyotas go fast and win races.

Advertisement - Page continues below

It comes off the back of Toyota's founder, Kiichiro Toyoda. He believed that motorsport was vital to whet the appetite of potential customers while also developing a product for efficiency and reliability gains.

In 1952, he wrote that "with competition comes progress" and that the aim of racing is "not just to satisfy our curiosity, but rather to enable the development of the Japanese passenger vehicle industry." How Japanese. 

Either way, with his coffers lined fruitfully thanks to the economic boom after World War II, Toyota's first official dip in the choppy waters of competitive motorsport was the brutal Round Australia Rally in 1957 – 19 years before officially setting up a motorsport department.

The 19-day, 17,000km rally round Australia (the name kind of gives it away) was completed by a production Toyopet Crown Deluxe, just modified to take spare parts and extra fuel. With just 48bhp, the little Toyopet completed the route without any major mechanical problems, and drivers Kunio Kaminomura and Koujiro Kondo crossed the finish line in 47th position (86 started, 34 failed to finish).

Fittingly, years later, rallying was the baton that TTE (now TMG) picked up to take Toyota's motorsport campaign into the big time. 

TTE was conceived in 1972 when Toyota bosses and Ove Andersson – who won the Monte Carlo Rally in 1971 – decided that he should drive a Toyota Celica in the RAC Rally. He came ninth, beating other Japanese top teams who mostly worked with the Datsun 240Z.

But then the Celica had to travel from Japan to the European events all the time, which was not good for the car, so Andersson set up a workshop of his own – Toyota Team Anderson – which became Toyota's first European team. Founded in 1973, it initially set up shop in Sweden before changing names to TTE and moving to Belgium and then on to Germany.

Unfortunately, TMG's archive is a bit, erm, holey. Without a winning lottery ticket, it can't afford to have a copy of each of its cars. For example, just in the rally section, it's missing eleven notable models of car.

So this is the earliest car in the collection, an original 1979 TA22 Celica 1600 GT rally car. Ove Andersson competed in the Ivory Coast rally with it. And doesn't it looks wonderfully mean for a lightly-fettled car? Proper stance, deep chin spoiler, and rubber mud flaps. Heck yeah. 

During the Eighties, TTE had to be selective with the rallies it entered. With a shoestring budget, the races it could enter was largely dependent on marketing requirements and what part of the world they needed to sell more cars. Well, that and the suitability of each event to the RA40 Celica 2000 GT, as there's no point in campaigning a car in the top Group 4 category if it's set to come dead last. But then Group B came along.

Unlike the likes of Audi or Lancia, Toyota couldn't take advantage of the lawless regulation by developing a rip-snorting bazillion-horsepower turbocharged all-wheel-drive monster like the S1 and 037. Instead, it had the 380bhp front-engined, rear-wheel-drive TA63 Toyota Celica Twincam Turbo. It's the car closest in the pic above, with that exact car being from 1984. One that never, ever raced. Why? Because it's chassis number thirteen. Unlucky for some, and all that.

Being down on power and grip, it sucked in European events. But being light and rear-wheel drive, it turned out to be an absolute demon in Africa. Bjorn Waldegard won with it in the Ivory Coast rally, the first of six significant wins for Toyota with this car – three times in the Safari Rally in Kenya and another three in the Ivory Coast – which earned the plucky Group B fighter the title 'King of Africa'. 

Advertisement - Page continues below

But that didn't stop Toyota preparing for a battle with the big boys with the upcoming Group S regulations. Group S was basically Group B on steroids; unrestricted technology, lots of power and a disregard for safety in pursuit of outright speed.

This, the '222D', was Toyota's rocket that it was going to shove up the ass of its competitors in order to reignite its WRC campaign. But, awkwardly, it never turned a wheel in anger.

Ditching the tried and tested, rear-wheel-drive, front-engined platform of the Celica, the 222D favoured a drastic new mid-engine, four-wheel-drive architecture utilizing the then-new first-generation Toyota MR2 chassis. 

The mid-mounted 1.6-litre engine went in the bin, replaced by a 2.0-litre engine and all-wheel-drive running gear from the forthcoming ST165 Celica GT-Four 2.

Then, double wishbone front suspension, five-link independent rear suspension and a manual transmission were chucked in the mix as well as a torque-split mechanism that would allow the car to switch between two and four-wheel drive.

Advertisement - Page continues below

It cost a bomb to develop. With lots of the testing done in England and not one, but two different engine versions; one transverse, the other longitudinal.

At least eleven cars were built, including a road-going car variant (remember Group B cars had to a have a homologation run of road cars) with the engine coming out of Toyota's IMSA and Le Mans cars that could be wound up to 1,000bhp. But, for rally duties, only 600bhp was needed. But it took nearly three seconds for the turbo to spool up so you basically had to drive it using a crystal ball. 

Unfortunately – though quite rightly, due to safety concerns – the liberal Group S rule book that Toyota used to comply the car was thrown in the shredder in 1986 and the championship scrapped. Apparently, only three prototypes are still in existence, with Toyota owning two; a white one – in Japan – and this moody matte black one in Germany.

Two Supras then acted as a Group A stopgap; one naturally aspirated, the other turbocharged. But then came the ST165 Celica GT-Four, the first all-wheel-drive Celica to go rallying.

And, bagging 13 outright WRC wins, it was successful. Which also started the snowball rolling for Toyota's golden era in rallying. But it wasn't the most mechanically reliable car, suffering from cooling and heat management issues.

Notice how the bonnet is slightly ajar on Sainz's Corsica winning car above? That's to force cool air into the engine bay. Same reason its pop-up headlights are constantly standing to attention.

The sump guards also had to be re-engineered to help extract hot air away from the car, and if that wasn't enough, when the electronically-controlled diff got a bit hot, it'd frazzle and get disorientated – switching from four-wheel drive to rear-wheel drive whenever it felt like it. Not the greatest attribute for a rally car, that. 

Its successor was the ST185 Celica GT-Four. An any avid Gran Turismo fan favourite. Being Toyota's most successful rally car, having swept up 15 WRC wins in its years of service between '92 and '94, it belongs to its maker.

It wasn't quick straight out the box, though. Lancia trounced it in the first rallies, with the Celica rolling past the chequered flag over two minutes behind the Italians.

The eureka moment came when the team decided to bin the ST185's electronics that nannied the centre diff, instead running it fully locked permanently. This set it up to understeer like sin, but the handling became more predictable than before and the wins started to come, with Carlos Sainz winning his second and final world driver's title with Toyota before leaving.

The car above is furnished with a carbon snorkel, bull bars and bulbous lamps, as it's in big-boy Safari spec. Aka 'the right spec'. This was another Celica that was formidable in Africa, notching up Toyota's fifth overall win in Kenya and the first Safari win with a four-wheel-drive car. It was so good, the Celica GT-Fours took five of the top seven places in the event.

It's replacement, the ST205 was equally dominant. But also the perpetrator of one the most elaborate, sneakiest cheats in motorsport history thanks to a cleverly designed turbo restrictor that gave it an unfair advantage. Leaving Toyota banned from competing in the WRC for 12 months. 

Its wrist still sore from being slapped a year earlier, Toyota returned to the WRC in 1998 with a new toy – the eighth-generation (E110 chassis) Corolla. It'd do battle against the hardest stages in the world until 2000.

By no means was it the most successful car (it won just one WRC event in 1999) but it was reliable. And consistency sometimes counts for more, as Toyota won the manufacturers' championship thanks to gaining points in 13 of the 14 qualifying rounds that year. 

The Corolla saw rallying enter a new techy age. With trick diffs, a bang-through-the-box sequential transmission, hydraulic discs and even a bulletproof Nokia phone, it was bleeding edge stuff.

That old Nokia was useful for its immortal battery. But also to play Snake when you break down in the Australian bush, presumably.

TMG pulled the plug on its WRC programme in 2000 – a year earlier than expected – in order to concentrate on new motorsport projects, Formula 1 and Le Mans. But it returned to WRC in 2017, with on the left is the current WRC Yaris.

It's by far the coolest Yaris to ever grace the planet. But its parents are tricky to define. See, TMG make the engine, and it's classed as a Toyota entry (Toyota Gazoo Racing WRC), but it's run by four-time WRC champ Tommi Mäkinen (the same legend Mitsubishi christened an Evo after) and his team Tommi Mäkinen Racing in Finland.

Toyota's comeback was paired with a new WRC rulebook, one that came with relaxations in the regulations, allowing for big turbo pressures and even bigger wings. In essence, it meant that manufacturers were finally free to push the boat out with seriously outlandish aerodynamic mods and enough boost to have the engines reclassified.

So this teeny Toyota employs a 1.6-litre turbo four, good for 375bhp and 314lb ft, running through a sequential six-speed 'box. While an active differential shunts the power back and forth between the axles, relying on proper mechanical diffs on each to get the power to the road/dirt/ice.

Now, welcome to the endurance end of the closet. Cool, isn't it? The beginning is always a good place to start, so let's start all the way on the far left. 

This is actually a defector, as it's not officially a TMG project, rather a TRD product produced in Japan.

Christened 'TS10', it's the 1993 Le Mans car and was used in Toyota's second stab at the legendary French endurance race. This particular car finished fourth that year and held the outright lap record until 1997.

With a 3.5-litre, naturally aspirated V10 engine with five valves per cylinder, it's good for around 700bhp but would be turned down to 640bhp to aid reliability.

But thanks to lax regulations at the time, the diffuser starts by the bum of the driver, goes all the way to the rear and is quite high throughout, creating monstrous downforce. It's also got a blown diffuser. Remember those? That's what the F1 circus got all excited about a few years ago as 'innovative' tech. This had it in 1992. Oh, and it only weighs 750 kilos. Serious bit of kit, then. 

*Sound of 'Feeder – Buck Rogers' intensifies*

Yep, just like the Celica GT-Four rally cars, any millennial PlayStation gamer will be weak-kneed with admiration for these Toyota GT-Ones.

The GT-One was built to take on the Mercedes-Benz CLK GTR and Porsche 911 GT1 in GT1 racing. But it was then later developed to compete at Le Mans. However, to go racing, Toyota used a loophole to get around those pesky homologation rules.

The wise old engineers realised it had to actually build only one production car in order to meet the regulations. Therefore allowing Toyota to have a car that would never actually be sold to a customer, meaning that any driver luxuries could be left out.

To get it approved, Toyota learned about a hack Mercedes-Benz exploited. All GT-based cars were required to have storage space capable of holding a standard sized suitcase, in order for the car to be considered not only production based, but usable by the public.

Mercedes exploited this by putting a small cubby hole into an unused area underneath the rear bodywork. Toyota went one better. 

In their clever interpretation of the rules, the engineers were able to convince the officials that the car's 35-litre fuel tank (normally empty when the car is scrutineered before a race) was luggage space since it could, theoretically, hold a suitcase. Genius. 

Powered by the same crazy 3.6-litre R36V twin-turbocharged V8 as the race car, but featuring glass windows, different brakes, different emissions unit, a new interior and reworked exhaust system, it's fully road-legal. A daily-driver if there ever was one. 

The GT-One on the left is the 1998 car, the first to enter Le Mans. Tussling with Porsche throughout, and leading for 213 laps out of an eventual 351, it looked like Toyota was going to have the dream year.

But, with less than 90 minutes to go, the final Toyota of three stopped just after Arnage with terminal transmission failure and it was game over. One of the cars (#27) managed to finish 9th overall, but for Toyota that wasn't good enough. So they sent three more cars the next year. 

The 1999 car (closest to the camera) had some changes from its predecessor. ABS and traction control were out, the fuel tank was 10 litres smaller and the sequential gearchange was backed up with a manual gear lever system to counter transmission issues from the previous year.

Once again, a GT-One started Le Mans on pole, but during the race, two of the three cars crashed out in huge accidents during the night (Martin Brundle escaped unhurt but Thierry Boutsen's career ended as he sustained damage to his second vertebra) so, like the previous year, it was down to one car. And that was pipped at the post by the BMW, so Toyota had to settle for second.  

TRIVIA BREAK. Wondering what the tennis balls are for? It's so the pit crew didn't forget to take the plugs out of the cooling scoop. There you go, a bit of knowledge you probably didn't need to know but now do. Thank us later.

Now, Toyota's F1 career isn't the company's defining moment. Well, it might be for failure. In 1999 when Hiroshi Okuda, then president of Toyota, announced the bold decision to enter the FIA Formula 1 World Championship, people's ears pricked up. Especially as it was to be started from scratch, with TMG being base camp and told to build the magic, highly strung engines. 

In 2001, Mika Salo joined the fledgling team and developed Toyota's first Formula 1 prototype, the TF101. That's the simple car on the right. It wasn't completely following F1 regulations – and can be filed under the category 'rushed homework'.

But when the car on the left – the TF102 – made its race debut at the 2002 Australian Grand Prix, it was an unexpected success – earning sixth place and an impressive point in Toyota's very first Grand Prix start. 'Bonza!' people thought. But it wasn't a feeling that would live on. 

Toyota's F1 efforts were disappointing at best. TMG's first pole and podium positions came in 2005, while an all-Toyota front-row lockout in Bahrain 2009 was probably its halo moment. Plagued with failure and the expense of playing the F1 game, Toyota announced its immediate withdrawal from F1 at the end of 2009, with 13 podiums, three pole positions, three fastest laps and 278.5 points.

But TMG's archive also has some oddities stored away like this Corolla TS Compressor. Feisty looking thing, isn't it?

Yeah, you're right. It's not. But this was TMG's attempt at putting its rally nous on the road. It was lower, stiffer and came with a supercharger. That saw performance boost from previously 189bhp to 215bhp. Which is what a Fiesta Mountune has these days…

Naffed off with F1, when Toyota went and produced this, the TMG EV P001 electric car.

Based on a Radical, it used the zappy stuff that comes out of a plug socket to set an electric vehicle lap record at the Nürburgring Nordschleife in 2011.

A 7m47.794s lap, in case you were wondering. After that, TMG flew it over to the US where it won the electric class at the Pikes Peak International Hill Climb.

Finally, there are TMG's deranged engine swaps and tuner cars like this supercharged iQ. See, when it pulled out of F1 and wasn't rallying, the blokes back at the factory had some spare time. So Toyota's board wanted to know if they had the technology to take on the likes of AMG and Brabus. 

Intrigued, the head office gave TMG an old LS, a pot full of money and a bit of time. This is what they produced. It's called the TS650 because it has 650 horsepower. But it can actually be turned up to 750 horsepower. The engine is from an IS-F, just with two turbochargers handily bolted on.

It's no concept either, as it's a proper runner. As proof, in 2013 the engineers drove from Cologne to south Italy, specifically Nardo. Yeah, Nardo. The big 12km high-speed proving ground. It did 200mph, making it the fastest Toyota (even faster than an LFA) before driving back home again.

Behind it? That's its older brother, an IS200 with a new heart. Normally it'd come with a piddly 2.0-litre engine. This thing's got a 4.2 litre LS V8 in it with 400bhp and looks bog stock. Sleeper points times ten.