Speed Week 2016
Top Gear Speed Week 2016: the hot hatch test
Mad Renault Clio RS16 takes on Focus RS, Fiesta ST200 and VW Golf GTI Clubsport S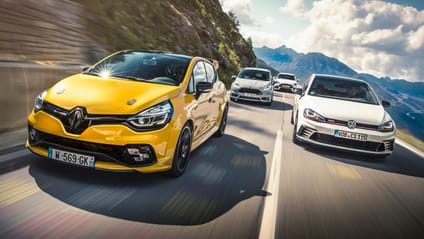 Putting together a hot hatchback. Easy, right? Take something small and sensible, and an engine that's a bit too big and powerful for it. One ginormous shoehorn later, you have a pent-up little performance car that's able to bloody the noses of things rarer and more exotic on a tight piece of road.

At least that's how it used to be, back when VW was first signing off the original Golf GTI in the Seventies. But things have changed, and each of the diverse bunch that's qualified for Top Gear's 2016 Speed Week – three of which we're driving down to Austria's Red Bull Ring the elongated, 1,200-mile way – goes about its business quite differently. The fourth? We'll get to that in a bit.

Photography: Mark Fagelson

This feature was originally published in issue 288 of Top Gear magazine

Advertisement - Page continues below

Our newest contender is a modern-day GTI. This Clubsport S is the hardest, fastest, most powerful factory Golf yet, which should help place it among the seven versions of fast Golf you can currently buy. Its 306bhp peak may be almost 90bhp more than a basic GTI's, yet it's still channelled through the front wheels only.

So far, so traditional, but VW hasn't just given it a power boost. On top of tuned suspension and there's been vast weight-saving (down to just 1,285kg), with the rear seats the most practical things to be thrown into the bins behind Wolfsburg HQ.

Each tweak has been in the name of securing a 7m49s Nürburgring lap time. That's a record for FWD cars, and an achievement that's helped sell all 150 of the UK's intake almost immediately, justifying its £33,995 price.

A couple of grand cheaper, at £31,000, is the Ford Focus RS, our most familiar, yet complex contender.

Its 2.3-litre 4cyl engine seems especially oversized, and it sends 345bhp to all four wheels via a plethora of electronics that favour flinging power at the rear, especially when you've cycled through its increasingly yobbish driving modes. The antithesis to all of that is its near-1.6-tonne kerbweight and plush seating for five.

Advertisement - Page continues below

Far simpler to process is its little brother, the Fiesta ST200. Effectively an end-of-line special, it sees the ST at its sharpest and most powerful, with its turbo four wound up to 197bhp (or 212bhp on overboost).

With three doors, a full complement of seats and simple FWD, it appears to follow ye olde hot hatch recipe perfectly, until you find its engine, a peskily downsized 1.6-litre that's lounging with room to spare. It costs a whisker under £23k.

Aiming for the Austrian GP circuit via the roads spooling from the superbly named Obergurgl, just north of the alpine border with Italy, there's plenty of time to get to know them.

The Focus RS is immediately striking for being blooming fast. At launch, I was surprised Ford had given a Focus nearly 350bhp; now, I'd be surprised if this example has only that. Its lungs are huge and it thunders along the road, shrugging off large distances without a worry. It relishes passing the 'Bundesrepublik Deutschland' signs and hits the trip's autobahn high score, 157mph being just 8mph shy of its claimed vmax.

The Golf is very nearly as quick, and its engine is rawer and notably more exciting at high revs. Yet it's completely habitable too, as easy to use as any other GTI. There are even heated seats and a reversing camera, the particularly audible whirr of which is the only telltale sign some sound deadening has been ripped out.

The Fiesta ST200, meanwhile, feels the buzziest and most boisterous of our three-car convoy, and thus the least natural motorway car, though it's still completely at ease cruising at 110mph. All of our cars have terrific Recaro seats, though each is different, with the Fiesta's the most embracing here, if not the best positioned.

Our three takes on the hot hatch all prove capable at dispatching five countries in one day, proving practicality doesn't necessarily come with seat count, nor speed with oversized engines.

And their toughest challenge ought to be over, as we wake up the next day to the brain-mashing scenery of the Timmelsjoch Pass. Beginning just up the hill from Obergurgl, it heads to its 2,509m peak – and Italian soil – through an extremely sweet pick'n'mix of every corner type. It feels like hot-hatch heaven.

Advertisement - Page continues below

There's a plot twist, though, one with a genuine spoiler. Awaiting us the other side of the road's entry toll is a bright yellow cat, ready to maul our monochrome pigeons.

The Clio RS16 is the wildest of wild cards, RenaultSport's 40th birthday concept having had numberplates tacked onto it just the day before in anticipation of this world-exclusive drive. It disgorges from its transporter, about to taste a public road for the first time.

It's a car we've already driven, albeit incarcerated on a small French circuit. In short, it's all the mechanicals from the mad Megane Trophy R – a Speed Week 2015 finalist and former 'Ring record holder – squeezed beneath the smaller Clio body.

That means a 271bhp 2.0-litre turbo engine, a 6spd manual 'box, gargantuan brake discs and a mechanical differential on the driven front axle. Senior components, squeezed beneath a junior car. And no electronic safety nets in sight. It's like we've stepped back to the hot hatchback's conception.

Advertisement - Page continues below

Except none has ever felt so raucous. I opt to take the RS16 out first, and it feels untamed, a proper racetrack refugee. A few days from now it's off to meet Carlos Ghosn – big boss of Renault – to decide if it actually gets made or not. If I take it tumbling down the side of the Timmelsjoch, I'll have unwittingly made the decision on his behalf.

After the others, my bum feels like it's at ground level, and I'm harnessed into its deeply scalloped Recaro bucket with barely enough visibility. I'm like a toddler strapped into a pushchair, desperate for a better look at the world.

Instantly, it feels hyper-alert. While it's significantly down on power compared with the Focus and Golf, it's also much, much lighter, and it moves about with an alacrity they can't match.

It's a little manic, the RS16 cocking its inside rear wheel through tight corners, before the diff hooks the front two up to brutally spit you out of the other side on a wayward surge of acceleration.

It's an all-consuming experience that exponentially rewards your concentration with thrills. I arrive back sweating, though partially because of the duff air-conditioning, one of the few tangible signs this isn't yet a production car, along with its rather lively ride quality away from the smooth surface of a track.

Concept car status means it can't morally compete for victory here, but we'll see it again at the Red Bull Ring. For now, it's time to head back up the pass in an effort to split the other three.

Tough life, I know. It's a glorious era for hot hatches, and by virtue of being here, each of this trio already rubs shoulders with the all-time greats. Worth noting they all come with manual gearboxes only, too, and are all the more satisfying for it.

The Fiesta does a good impression of the raucous little Renault. Its brakes feel the size of beermats in comparison, but then you don't necessarily use the ST's middle pedal all that much. It's all about bounding into corners and making the most of its uncanny agility. If you've ever wondered how a slightly lairy old French hot hatch handles, Ford appears to have bottled up the feeling, but made it forgiving and friendly. And available at very sane speeds.

While small-capacity turbo engines struggle to delight quite like higher-revving naturally aspirated units, the Fiesta's wee 1.6 is so strong, and mated to such wonderfully short gears (one of the few tweaks over a standard ST), that its eagerness matches the chassis perfectly. Only Ford's rivals will take delight in this cohesive little ST200 signalling the end of current Fiesta production.

Its bigger brother has proved a bit of an enigma so far: the Focus RS's seats may look lovely and support expertly, but they're cranked so high (with no adjustment) and point at such a plain dashboard, you'd be forgiven for not expecting too many fireworks beneath. It's a car whose best tricks are kept locked away, a few wise button presses – drive select into Sport, ESP loosened – freeing it to show off. On these smaller roads it's outrageously fast, and as choreographed as they seem, the rude histrionics from its exhaust on a downshift or trailing throttle sound pure rally car.

As the only car in this group with AWD, it feels a bit like one too. Its agility through the road's faster esses is untouchable, and when tucked into a hairpin and driven out under power, it slides like no mere front-driven car can. For the hatch that least raises your pulse when you first clamber into it, it's the most exhilarating when you unlock its potential. But it does take some speed and commitment to do so, and I wonder how well that reflects the fun-for-all remit of a hot hatch.

Which brings me to the Golf. From its subtle spoiler and negatively cambered wheels to its low-slung, oh-so-right seating position, everything points to the most precisely honed machine for having a great time. Even more so, the Alcantara wheel, complete with nerd-pleasing centre marker, which operates the best steering here. It's brilliantly judged, even with the artificial weight that comes by selecting Race mode, which also frees the exhaust to emit a cacophony of sound effects far more natural than the Focus's.

Grip and composure have always been Golf GTI fortes, but the Clubsport S takes things to another level. It's simply unfazed by bumps and cambers, and it resists understeer in a way no FWD hatch has the right to, giving you supreme confidence to really grab it by the scruff. Balanced on its throttle mid-corner, the tailpipe's uneven crackles echoing through the minimalist rear quarters, it delivers a high the burlier Focus would get an ASBO trying to match.

I stop short of complimenting it out loud. Just. But this GTI's combination of fun and functionality is truly rare, as long as you don't need those back seats. And there's a standard Clubsport for that anyway. This may be the most thrilling Golf ever, but it's still a Golf, regardless of its wandering from that original Seventies blueprint.

And let this be the bursting of the myth that cars developed at the Nürburgring are no use on the road. The Clubsport S's composure is very much a by-product of its dampers being honed for shrugging off the 'Ring's vicious kerbing. It's a fantastic road car. I bet it's sensational on circuit.