Speed Week 2016
Top Gear Speed Week 2016: Porsche 911 R v Honda NSX
We kick off TG's annual Speed Week with a battle between digital and analogue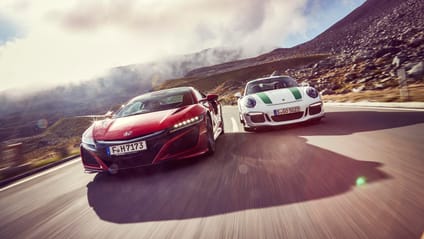 Of course we went over the Alps. Because if you have to drive a couple of sports cars from a factory in southern Germany to the Red Bull Ring in deepest Austria and fail to take in at least one Alpine pass, well, that's a dereliction of duty. That two museums dedicated to one of those marques lie at either side of the Grossglockner Pass is nothing more than a happy coincidence.

Photography: John Wycherley

This feature was originally published in issue 288 of Top Gear magazine

Advertisement - Page continues below

Actually, when I say either side, what I actually mean is "Stuttgart" and "Gmund". They're 354 miles apart. I wouldn't claim the Grossglockner is the quickest route between them, or the shortest, but having done it, I can categorically say it is the best. I measured the pleasure, so to speak. This is what we often forget to do, isn't it? To spurn an hour here, sacrifice a gallon there, just to give ourselves better memories or a greater buzz. Or, a better story and pictures.

Ah yes, the story. Well this isn't just an artful way of exploring the 911R's retro-ism by following the timeline back from the modernist wonder that is the Stuttgart Museum to the marque's birthplace in a wooden hut. Those geographical points simply give us neat places to start and finish before the track mayhem gets underway later on.

Advertisement - Page continues below

No, first and foremost, my intention here, via the medium of the Porsche 911R and Honda NSX, is to show how disparate the performance car has become in 2016, to demonstrate how broad the church is with just two cars involved, let alone the 16 extras Speed Week will eventually incorporate. Right now, they're all homing in on the Red Bull Ring, some by delivery truck, but others demanded more. Which is why Stephen Dobie is currently 140 miles to my west on another alpine pass with a cracking quartet of hot hatches, while Jack's eyes are probably on stalks as the F-Type SVR homes in on 200mph. I have the Grossglockner. Ergo, I win.

If you were to ignorantly jot down the raw facts of these two, you'd assume they were rivals – they're similar money, have similar power and performance, carry similar amounts of people and luggage. But we know different. The NSX is a forward-looking supercar, it's the brave new world of hybrid, an i8 with added oomph and fewer eco-tendencies – the electricity is here to improve driving, not economy. Plus it carries the badge that put the fear of God into Italy and Germany back in 1989. Which was a while back, admittedly.

But its rival does look back to a simpler era, doesn't it? I wouldn't say it does so wistfully because, well, it's a 911R and has 500bhp with which to dismiss wistfulness, but its message is clear: driving is better when it's simple, so let's strip the complexity out. However, it's now the start of day two and I'm already regretting my insistence that, to provide the biggest contrast to the NSX, we needed the most stripped-out R for this trip…

We have no aircon. The lack of satnav is no biggie for I have a road atlas and know how to use it, and when you can play tunes through a 4.0-litre naturally aspirated flat-six, you have no need of speakers and amps. But at 6am, when it's 12°C outside and the best the fan can do is roughly double that, or when it rains and the screen fogs up, I curse.

Advertisement - Page continues below

It wasn't so bad when we'd been Munich-bound on the autobahn yesterday evening. Open the window a crack and a blast of high-speed air would boost ventilation, even if it did send the empty crisp packets flying. If you are buying a 911R, then by all means forego the nav and tunes (you gain a handy self-ejecting storage compartment every time you bury it in second), but don't underestimate just how important it is to be able to regulate your temperature. It can get stifling in here.

Anyway, that aside, the 911R is perfectly autobahn-adept and habitable. With neither rollcage nor seats in the back, it's basically a 911 van-with-windows. The one-piece carbon buckets mean things have to be posted through, but hell, you've got to expect to make a sacrifice or two. Easy to drive, though – the controls aren't light, but everything operates with an impeccable heft and consistency. And you're the one responsible for everything. It feels simple, the cabin empty, the view out the back unimpeded by wings, the suspension taut, the powertrain brawny. There's nothing, apart from maybe your phone, to divert your attention.

I chuck mine into the passenger's footwell and concentrate on meshing gears, feeling the mechanicals thrash, the engine yowl. I see 275kph (171mph) and, boy, does it feel good. I'm fully occupied, caught up in the act of just driving. And this is on an autobahn – how good is the R going to be on the Grossglockner?

Advertisement - Page continues below

I go faster in the NSX, crack the magic 300kph (186mph) barrier as the evening sun, glowing like a poker tip behind, drops below the horizon. It's stable at speed, the V6 sings clear and hard at high revs, it feels accurate and uncomplicated. Until you back off. Then the twin-turbo V6 loses its tonal definition, you catch hints of turbo whoosh, of e-assistance and the car becomes no more demanding or eventful to drive than the CR-V that John Wycherley is thrashing along in the NSX's wake.

The trouble is that, aside from the usual supercar tropes of a suitably cramped cabin, a rear boot that smells like an old Lotus (honestly, the heat soak appears to be softening the glue) and low-slung seating position, the NSX's interior is, well, cheap. The plastics, the design, the graphics, the beeps, the sluggish infotainment – none of them belong in a car costing this much.

Because the NSX is modern and comfortable and everyday usable, it's hard to forgive these indiscretions, whereas the 911R doesn't have the kit to get frustrated by it in the first place. But the NSX is a simple car to operate. There's a mode dial that cycles through Quiet, Sport, Sport+ and Track settings, and apart from that, you have few choices to make. You can't choose to lock it into electric, or select noisy exhaust with comfort suspension – the car is in charge of the decision-making.

On the whole, the decisions it makes are good, and at dawn the next day as I chase NSX-mounted creative director Andy Franklin up the Grossglockner in the Porsche, it looks rapid and composed, and with twin electric motors vectoring front-wheel torque, it jets out of hairpins, leaving me working the balance, traction and grip to keep the 911R in touch. But that's the fun, isn't it? The Porsche acts on your inputs, requires you to manage the situation, to do the brainwork and master the car. And it does take some mastering. The rear-wheel steering is aggressive, a mid-corner lift will significantly change your trajectory, the ride is firm, the engine only does its best work above 5,000rpm. It takes effort, concentration and nerve to drive quickly. But the overall effect is magnified by the work you have to put in, so I get to the top, some 2,500 metres up, fizzing with energy and enthusiasm. My senses are on high alert, so even the scenery seems punchier, more magnificent in scale and grandeur after driving the 911R. And what scale, what grandeur. New vistas open, others close, it's like Stanley Kubrick has directed what I'm seeing through the windscreen. It's a visual bombardment, relentlessly stunning.

And yet. And yet I wonder whether I'd have had an even better time in a GT3 RS. There is something in that car's relentless focus and determination that I find utterly addictive. So while John and Andy start to talk photography, I go and drive the R some more. Not hard, just letting it flex itself, enjoying the flow. Now we're talking. The act of driving is compelling, you break it down into a process: braking, turning, accelerating, further dissecting each element, concentrating on what the car is doing, feeling it work. And at everyday speeds, it's delectable. Personally, although it runs narrower tyres than the RS (305, instead of 325-width rear rubber), I still reckon it has too much grip, but there's no faulting the gearchange, the response from chassis or engine, the chuntering, howling flat-six. It's sublime. I just bathe in the experience. And, later that day, in my own sweat, too.

Better than the GT3 RS? Nah, just even more hyped... to the extent that I firmly believed this would be the single greatest car I'd ever drive, the one-stop shop answer to fast driving. It's not, could never be, as good as the hype suggests, but Porsche has succeeded in making it feel substantially different, to perform a different role to the GT3 RS. The weird thing is that on road, where the R is targeted, I think I'd prefer the RS, while for track work, the R might well be the one. Maybe that's just me. Either way, what we're looking at here is a sensational piece of machinery.

There's a fair chance the Grossglockner is the smoothest, most varied, gobsmacking, best maintained and interesting pass in the entire Alps (but then so it should be when a day pass costs €35). It has tunnels, cobbles, lakes, branch lines, viewing platforms, cafes and, near one col, it unnecessarily loops a mountain just to give travellers another view. This is thoughtful, artful road building, designed not simply to provide a route across the mountains, but to give travellers an experience. Maybe that's why the Porsche feels so well matched to it. Anyway, as a result of all this it gets busy: coach parties, panting pedallers, car clubs – by 10am, the Grossglockner is a conveyor belt of swivel-headed gawping. It's not until 4pm that peace returns – the tourists descend by whatever wheeled contraption brought them up, and I nab the NSX for 45 minutes. I want to drive the southern flank of the pass, then branch west to see the Pasterze glacier and the Grossglockner mountain itself, the highest point in Austria. It's not as magnificent as I'd hoped – the road to it lacks the star quality of the main route and the glacier which must have once filled this valley is retreating, leaving a deep, dirty scar. It makes me feel a bit flat. The trouble is, so does the NSX.

The Honda doesn't have the Porsche's force of personality, that much is clear. It demands nothing of you and is too meek and benign at road speeds. And not just in comparison to the R. In Sport, the stability control constantly badgers me, so I up it to Sport+, which has the harder ride I don't really want. Plus it still understeers through steering that lacks bite and texture, while the engine note is dreary at medium revs. The trouble is that the NSX has been engineered to be everyday usable for 60-year-old American dentists. So it rides very well indeed in Sport, it's quiet and there's a consistency to its components and a cohesiveness to its behaviour that's rather becoming. It's very, very polished.

Perhaps too polished. This speaks of a car that's had a long gestation, is trying to be all things to all people, but doesn't have a particular specialism. It feels neither a product of Japan, nor America, but somewhere in-between. It doesn't have an eco mindset, but neither is it an out-and-out charger. It's too good-natured. The driving has more than a hint of Lexus about it – a Civic Type-R is notably more assertive and aggressive.

Then a couple of days later it would proceed to deeply impress and surprise us on track – but that's another story. Out here, the NSX is almost effete alongside the pumping testosterone of the 911R. It's not that the Porsche is macho – it's just precise and pure. And light. The NSX, over 400kg heavier, needs its two turbos and e-motors to accelerate slower and return the same 18.2mpg fuel economy. What does this tell us? Draw your own conclusions. But the Porsche is the car I chose for one last fang across the pass.

The following day, we roll up outside the Helmut Pfeifhofer Porsche museum in Gmund. It's quaint and personal, and we meet Helmut himself, who went to school with Wolfgang Porsche. But the real highlight is a couple of kilometres north of town. Helmut's son Christoph takes us to the original Porsche Werks building. Parking the NSX on the hallowed turf would have felt sacrilegious, so we leave it at the local football pitch opposite and take the R through the rickety wooden gates. Inside we learn that the original 356 was designed in this shed, on these drawing boards.

Outside, the 911R ticks gently. It looks settled, content, like it's come home, a car capable of linking arms with 1948 and 2016 and not missing a beat. The sense of time having passed and yet the focus remaining the same is powerful. But I can't help but think that old Ferry Porsche would find it puzzling that in a world capable of creating cars as advanced as the Honda NSX, we still want to drive a throwback, to drive simple. Maybe that says something about the cars; more likely it says something about the human condition. Welcome to Speed Week 2016.