Speed Week 2023
Speed Week 2023: Toyota GR86 vs Lotus Emira vs McLaren Artura
Three rear-drive sportscars with varying degrees of performance. Ready, player one?
You know when you're setting up a new console game and it asks for a rough skill level to decide whether you need a full suggested racing line, all of the traction control and assisted braking so that you don't punt yourself into a virtual wall at every opportunity? Well, now is the time for us all to admit that we overestimate our abilities every time, and then have to embarrassingly re-engage some of the assists after just a couple of corners. We see you.
There'll be none of that here though, not least because the barriers at the Gotlandring are distinctly real and very close to the edge of the track, particularly on this trickier older section of circuit. Plus, I'm going to do this properly and work myself up the sports car difficulty ladder in stages.
Advertisement - Page continues below
Our three skill levels have come to life as a Toyota GR86 (beginner), a Lotus Emira i4 (intermediate), and a McLaren Artura (advanced). With 231bhp, 360bhp and 671bhp respectively, each one represents a significant step up from the last. Unfortunately, it's the same when you look at the price tags. The Toyota is shockingly good value at £30,520, the Mercedes-engined Emira is more expensive than we expected it to be at a hefty £81,495 in this First Edition trim with the Black Pack added, and the plug-in hybrid McLaren starts at £189,200 but gets a fair few options for a £220,550 as tested price. Yikes.
Photography: Olgun Kordal
So, let's start with the beginner. You know the GR86's story by now – it's the second child to come from Toyota's sports car marriage with Subaru after the brilliant but underpowered and undertorqued GT86. Toyota made us wait for its return to the rear-drive sports car market and then limited the GR's numbers when it did eventually arrive, but if you can get one then it's probably the ultimate entry level sports car.
The power – 34bhp more than you got in the old GT – comes from a nat-asp 2.4-litre four-cylinder boxer engine and is sent to the rear wheels through a six-speed manual gearbox. Retro, but it's all the better for it. The 0–62mph dash takes 6.3 seconds so it's far from rapid, but that means there's time for you to work on your lines, your footwork and your racing driver excuses. It's essentially a brilliantly balanced training tool.
Advertisement - Page continues below
Gripes? Well, apart from the fact that you literally can't buy one, the interior is still full of rather cheap feeling plastics and screens with Sega Mega Drive graphics. Still, at least you get lots of proper buttons and pretty much everything is where you'd expect it to be. The GR86 does look remarkably plain in this company though.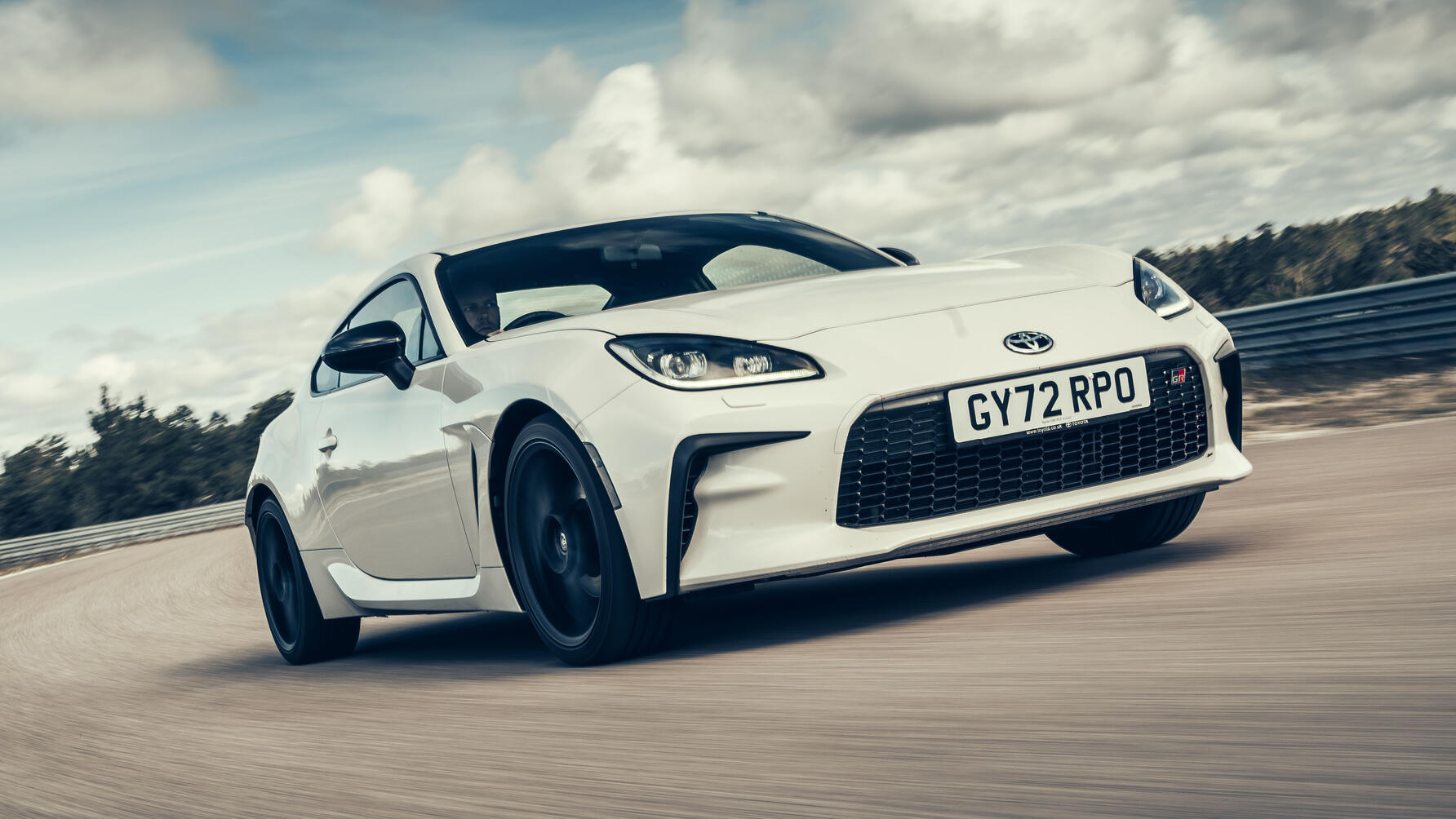 And while we're on the subject of styling, how expensive does the Emira look? Which is lucky, given how expensive it is, but it's a fantastic thing in the metal with its mid-engined stance, contrast colour roof and artistic exterior mirrors. The interior feels impressively affluent too, with plenty of Alcantara, real metal and some simple black and white graphics on the 10.25-inch touchscreen. Shame the steering wheel is a silly shape, the seats are too flabby and the gear selector is a nightmare to use.
Still, with the turbocharged 2.0-litre M139 engine from the AMG-ified A-Class and an 8spd DCT gearbox, this intermediate offering now houses a baby supercar powertrain too. It's 12kg lighter than the manual V6 combo and 0–62mph is despatched in 4.4secs. It'll run on to a top speed of 171mph too, and there's some excellent turbo whoosh as part of the soundtrack.
The hydraulic steering is much sharper and provides more feedback than the Toyota's, and there's a huge amount of grip plus an e-diff on the rear axle to carry bigger speeds through corners with some electronic assistance. The i4 suits the firmer sports suspension set-up. Although it has less power than the V6, the 4cyl engine is mounted closer to the centre of the car, so all of the Emira i4's movements are that little bit more direct. What a shame the engine isn't as mad as it is in the A45 S, where it's straining every sinew to pump out 415bhp and requires a straitjacket in place of engine mounts. In four-pot form and in this company the Emira is forgettable. A fantastic chassis let down by a powertrain oddly lacking in fizz.
Top Gear
Newsletter
Thank you for subscribing to our newsletter. Look out for your regular round-up of news, reviews and offers in your inbox.
Get all the latest news, reviews and exclusives, direct to your inbox.
And if it's direct you're after, the McLaren is where you'll end up. Despite the combination of a 3.0-litre twin-turbo V6, an electric motor, a 7.4kWh battery pack and adaptive dampers, the plug-in hybrid Artura weighs just 1,498kg with fluids and fuel onboard – less than 100kg more than the Emira. That's thanks to the fancy carbon tub of course, and when combined with 671bhp and 531lb ft of torque it provides a decent sense of urgency. Plus, with the electric motor filling in the turbo torque gaps there's huge power available all of the time.
If the powertrain is new age for McLaren though, the hydraulic steering is home turf. It offers true feedback and – combined with huge grip – inspires confidence even if you might think you're overstepping your skill level with a near-700bhp rear-wheel-drive supercar. The folk at Woking also decided against including any regenerative braking, and the standard carbon ceramic discs are mighty on track. Gearchanges from the 8spd twin-clutch gearbox are whip-crack quick as you might expect and the Artura's electronic rear diff helps to give it a surprisingly friendly nature.
In fact, it's the McLaren's ability to satisfy each of those beginner, intermediate and advanced levels all on its own that's perhaps the main takeaway from this mismatched test. It's willing to lend a helping hand. You get multiple modes for the chassis and powertrain that you can work up through, plus a separate 'dynamic' mode for the ESC that allows some more play with the electronic insurance policy still in play. While that's activated you can also use the variable drift control menu to select how much angle the car will let you have, or you can turn everything off completely once you've built up the confidence.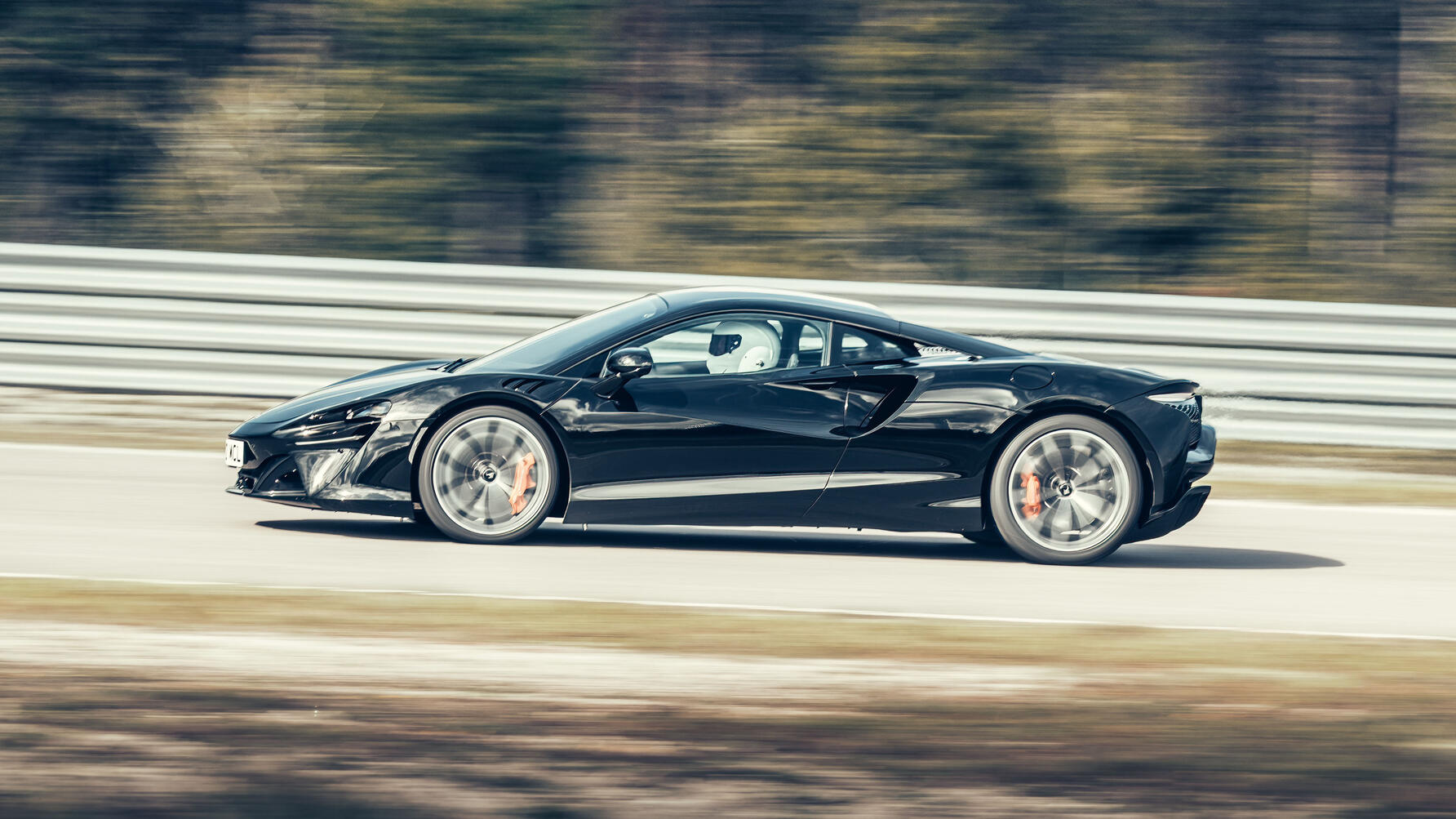 But why on earth did McLaren send this spec to the greatest gathering of supercars in 2023? In Onyx Black with an equally dull interior it lacks any visual drama. Yes, the doors open vertically and the chimney that chucks out heat from the engine bay is exciting for those left in your wake, but onlookers keep mistaking the Emira for the most expensive car in this trio. This is a supercar – paint it Papaya Orange and fit loads of carbon-fibre aero bits and we might just be able to forget that the Ferrari 296 GTB arrived over a year ahead of the Artura and will kick its arse on almost every front.
Still, despite the differences in price and performance, all three of these cars are genuinely engaging to drive on track, perhaps none more so than the little Toyota – the cheapest car at Speed Week 2023. Does anything here really stand out enough to win the overall gong though? I'm not so sure...