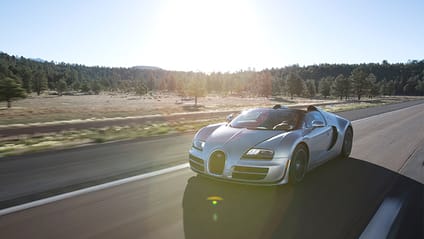 Day Six, and we're on the home straight of our enormous Veyron Route 66 adventure.

The penultimate leg of our Chicago-to-LA epic took us – and, more importantly, the 1200bhp Grand Sport Vitesse – from mountainous Flagstaff to the sweltering desert town of Needles, perched on the Arizona-California border.

Which means some of the hottest, wildest terrain anywhere on Route 66's 2400-mile length, and a true test of whether the Veyron can control the heat generated by its mammoth 8.0-litre W16.

And, of course, a test of whether two pasty blokes from England can survive 40-plus-degree heat in an defiantly roofless convertible. As you may have guessed, the Veyron coped with the broiling conditions rather better than we did.

Sure you've worked this one out by now, but tomorrow sees the release of the shiny new 'Adventures' issue of Top Gear magazine, in which you'll be able to read the full story of our massive Veyron road trip.

Make sure you check back to TopGear.com tomorrow for the final Veyron photo-diary instalment, but not before you've had a gander at Day Six. Warning: contains donkeys.

Bugatti on 66: Day One gallery

Bugatti on 66: Day Two gallery

Bugatti on 66: Day Three gallery

Bugatti on 66: Day Four gallery

Advertisement - Page continues below

Veyron's vast engine churns out so much thermal energy that it generates its own heat haze.

Much of 66 is well signposted. Some of it is not. Unfortunately the areas where it is not so well signposted are generally the areas where you'd least like to get lost.

Advertisement - Page continues below

A ghost gas station. Serving ghost fuel to ghost cars. Lotta ghost cars out this way.

And this is what happens if you break down out here.

Billy, Curtis and Joe enjoying a coffee at Lilo's Café in Seligman, AZ. Proper gents.

"Madam, I don't wish to be impolite, but you really need to shave your child."

Advertisement - Page continues below

"In 85 miles, make a slight left. Only kidding."

The Route 66 Motel in Kingman, AZ. Some of the very best CLEANROOMS in the state.

Advertisement - Page continues below

Eight litres, 16 cylinders, four turbos, 1200 glorious horses. The greatest production engine ever built?

Up into the Black Mountains of Mojave County, and the very twistiest section on the whole of Route 66. Tarmac quality could be accurately described as sub-German.

No guardrails. Missing the road would make a mess of your Veyron.

Ample run-off. Unfortunately it's vertical and made of rocks.

Rush hour on the road to Oatman.

All Veyrons should be silver. In fact, all cars should be silver Veyrons. The world would be a happier, faster place.

Catching up with the locals in the strange, kitschy mountain town of Oatman.

"What's a car like you doin' in a town like this, sweetcheeks?"

You could never accuse Route 66's roadside establishments of failing to remind you what road you're on.

And so to California, the last of our eight Route 66 states. You can almost smell the Pacific from here. Actually, you can't. That's a lie. It's still 300 miles away. Sand, that's what you can smell.