Classic
Classic gallery: the ultimate car graveyard
It's the spookiest day of the year, so here's one German's collection of 50 car corpses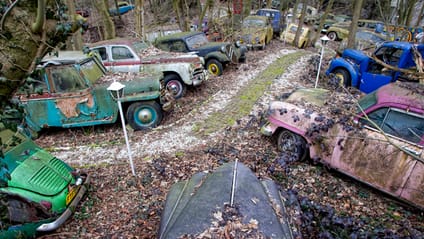 It's Halloween. A night upon which it's considered entirely acceptable to carve faces into vegetables and offer strange children sweets. But there are more unusual things afoot. Mainly in this German's back yard...

Most people think Michael Fröhlich, a classic car dealer from Dusseldorf, is a bit mental. Which is perfectly reasonable. He looks like a cross between Uri Geller and Arnold Schwarzenegger. Tanned, smiling and self-assured, he's in the classic car business for decades. 


The man's a collector himself too, but not as we know it. His daily driver gives a hint to his perversion - it' a fire-damaged Rolls-Royce Silver Shadow with a new drivetrain and suspension setup, but the body still wears its, umm, "patina".

Words: Jeroen Booij
Photography: Arno Lingerak

Advertisement - Page continues below

So far so spooky, but his real collection's even more frivolous. It is a collection of 50 cars from 1950 - his year of birth - that have been parked in his estate's garden as if it was an old style scrap yard. Fröhlich calls it his Auto Skulpturenpark - Car Sculpture Park.

But not everyone shares his opinion. "There have been people here from car clubs. Most are shocked when they see this place. I have had some very unfriendly comments."

Ironically, the garden's based in the middle of the German Neanderthal - about ten miles from his showroom and a place with an incredible historical provenance. The remains of 600,000-year old men were found here and a grand archaeological museum's just opposite his entrance.

His wife opens the gate. She's a former model that drives a Jaguar XKR with chrome wires and bodywork that's been completely covered by fake leopard skin. No, really...

Advertisement - Page continues below

But things get even weirder. When you walk along the drive towards their house, there's a Fiat Topolino and a Fuldamobil that look like they've been been parked up here - doors and roof open - for at least twenty years.

There's a Morris Minor split screen parked nose down against a big tree and a Goliath that even seems to have grown around one. Walking uphill over the drive there's one surprise after another. There's a rotten Porsche 356 with race numbers still on its doors and an equally sporting Jaguar XK120 that Fröhlich used to race himself.

He tells us that he even won the historic championship with it at the Nürburgring in 1984. The last time he drove it was 20 years ago. And he won't be piloting it again any time soon. He wanted it looking as knackered as possible - to make the paint degenerate quicker he brushed it with yoghurt. It helped speeding up the bacterial process of mould. Yummy.

As if it was even easy enough to locate, buy and transport 50 cars of his birth year to here, Fröhlich set himself to the task of collecting the cars from as many countries as possible.

There are number plates from Rio, Sweden, Austria, California, Australia...

The cars are just as varied. There's even a 1950s Holden. Fröhlich says, "I was eager to find an Australian car and remembered an old student mate who'd moved to Australia. So I rang him up and asked him to find a 1950 Australian car."

Advertisement - Page continues below

Each one of the cars has got its own story, too. Fröhlich was eager to add a Citroën 'Traction Avant' to his collection too. But it turned out to be difficult to find a 1950-car. When he finally found one, he offered the man the 1,500 Deutsche Mark asking price for it, sight unseen.

The vendor said he'd just had a better offer and was about to sell the car to the other bidder. Fröhlich raised his price considerably. The vendor thought there was something valuable hidden inside so totally dismantled it. Fröhlich still bought it, put it back together and parked it in the middle of his field.

There's also a one-of-386 Lagonda 2.6-Litre four-door saloon, which Fröhlich's draped a massive tree over.

Rarer still, there's a tiny three-wheeler that's been parked between a Ford Van and a tree. It's an AC Petite. Not quite so sought after as the Ace or Cobra but only six survive. Petite fans - if such people exist - wouldn't be best pleased.

Advertisement - Page continues below

Then there's ripple bonnet Citroën 2CV, which Fröhlich uses as a bottle bin whenever he has a party...

While most of the cars were bought in a sorry state, there is an exception. Next to a pretty fair looking Volkswagen, complete with all its Karmann-badges, there's a Buick Special. An American student had painstakingly restored it to an excellent standard. Fröhlich bought it, parked it and watched it rot.

So, is it sacrilege? Possibly...

Chances are these cars would have been used as a spares donor to restore others, or would have been scrapped anyway. But at list their current owner thoroughly enjoys them. Even if he's doing so in an entirely mental way.

Click on for more pics of this utterly ridiculous graveyard...