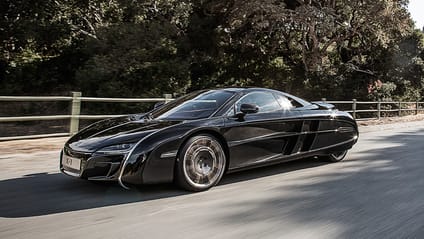 Pat Devereux: Someone at this year's Pebble Beach Concours d'Elegance estimated a well-placed bomb could have destroyed almost a trillion dollars worth of flesh and metal. While that would have been a major tragedy, it would also have prevented us from ever viewing the McLaren X-1. This, it was generally agreed, would have been A Good Thing. I wasn't at The Quail - a smaller, even more exclusive event than the Pebble Concours, designed to celebrate great racing cars past, present and future - when the X-1 was unveiled. But I didn't really need to be. Loads of people I know were, and they all had their phones with them. "WTF????" was the first text to land (from an MP4-12C owner); "Nooooooooo!" said the next one. "Tell me it's not a real Macca?!" the third pleaded.

Couldn't help with that, as, despite my own disbelief, when I later got to The Quail and had a word with the McLaren people, they confirmed the retrofuturistic X-1 was very real indeed. Seven million dollars of real, according to one commentator. What happened next, and continues here, was a huge debate over whether the X-1 is an utter travesty or a smart shop window into McLaren Special Ops' ability to render even the most unlikely wish list into reality. Or is it both and more besides?

Despite living in California, where we are supposed to be more open-minded about new ideas, I'm afraid the X-1 was a nasty shock to me. We'll go into the reasons why in a minute. Sam Philip, clearly a resident of a town called Idiot and with the mental age of a potato, thinks it's fantastic. He has his feeble-minded reasons for thinking that, which again we are going to hear more of as we sort this out. But before we get into it, I'll hand over to Sam to try to explain what the X-1 actually is.

Words: Sam Philip & Pat Devereux
Photography: Robert Kerian

This feature was originally published in the October 2012 issue of Top Gear magazine

Advertisement - Page continues below

Sam Philip: In simple potato-speak, it's an MP4-12C in drag. Magnificent, ridiculous drag. The X-1 keeps the carbon tub, mechanicals and 617bhp V8 twin-turbo of McLaren's 458 rival, but hides it under the most extraordinary bodywork to appear on a road-legal car since Ettore Bugatti hung up his quill. The 12C's suspension has been subtly reworked to cope with the X-1's unique aero demands - and the fact it'll never be driven on track - but, beyond that, this is a strictly aesthetic rather than engineering exercise.

And what an aesthetic exercise. McLaren Special Operations director Paul Mackenzie told Top Gear the process started three years ago, when an unnamed - though presumably deep-pocketed - McLaren regular started chatting to Ron Dennis about cooking up a one-off with Woking's Special Operations squad. The design phase took 18 months and left no exterior surface unaltered. Though the interior is carried over wholesale from the MP4-12C - albeit kitted out in red leather, nickel and titanium weave - on the outside, everything but the glasshouse is bespoke, from the carbon bodywork and aluminium garnishes to those enclosed rear arches. Proportionally, the X-1 barely resembles a 12C, measuring 11cm longer and 19cm wider. Oh, and it's entirely road-legal.

PD: Well, it couldn't be partially road-legal, could it? But, then again, maybe the front is and the rear isn't. The two halves do look like they were designed by people who never met each other and lived in different centuries. It's the automotive equivalent of a centaur. A hideous centaur.

SP: It isn't classically elegant - I'll give you that. Even Mackenzie described the X-1's design to me as "polarising". But it is brilliantly, daftly extravagant. To understand where it's coming from, we need to take a quick peek at the mood board that spawned the design.

Advertisement - Page continues below

PD: Polarising? People were fainting in shock at The Quail when they saw it. What kind of strange and eclectic list spawned the X-1?

SP: It's even weirder than you could possibly imagine. If you'll permit me to quote from McLaren's unintentionally hilarious bumf: "Inspirational cars included a 1961 Facel Vega, a 1953 Chrysler D'Elegance Ghia... and a 1971 Citroen SM. There were various examples of architecture - including the Guggenheim museums - plus a Jaeger-LeCoultre Art Deco clock, an Airstream trailer, a grand piano and an eggplant. 'The client liked the shiny texture,' notes [McLaren design director Frank] Stephenson. There was also a black-and-white photo of Audrey Hepburn."

PD: Seriously? It sounds like they ate a script of Poirot Does New York, and the X-1 is what came out the other end. It was always going to look like an exotic car crash when it had everything from Breakfast at Tiffany's to an aubergine in its DNA. Where's the design purity, the one line of thinking, the McLaren-ness in that lot?

SP: Come on. Picture Big Ron, sitting at his polished desk, staring in confusion at a piano, a rusty old French coupe and a large purple vegetable. Tell me that image doesn't make you happy?

PD: But what the hell is the car for? I really think McLaren should be concentrating on building better and better super-sleek supercars, not fat-thighed absurdities like this.

SP: I love its absurdity. I'm not being deliberately contrary here, but the X-1's differentness should be celebrated. Supercar design appears to be converging upon an aesthetic consensus - look how similar the shapes of the Ferrari 458 and MP4-12C are. No doubt this is a cluster around the most efficient aerodynamic solution, but it does mean we're losing diversity in the breed.

PD: I'm all for diversity when it's beautiful or functionally beautiful. The X-1 is neither. What was the question this thing is the answer to?

SP: There wasn't one overarching question, that's the point. Modern cars are shaped by engineers and aerodynamicists, with designers limited to fiddling in the margins. For better or worse, the X-1 harks back to the good ol' days of coachbuilding, where you had your ladder chassis and whatever sat atop that was down to the man with the pencils. Whether you like the end result or not, it's still good to see designers given, as the Pebble crowd would put it, a healthy chunk of real estate to work with.

Advertisement - Page continues below

PD: Look, I love brave new designs that make you rethink what a car or a supercar should - or could - look like. But the X-1 isn't brave; it's absurd. It looks like a 12C has crashed into the back of a Delahaye at high speed, both futuristic and dated all at the same time. Its design hasn't been explained as anything other than personal folly.

SP: Exactly. Even if you're not a fan - and I'm sensing that, on some level, you're not - can you really blame McLaren? The Special Ops team has made clear this was the vision of one man - one very rich, possibly lightly troubled man - not its own design department. If a billionaire had a faux-historic, Corinthian-columned, salmon-pink mansion constructed in the middle of the Peak District, we'd unquestionably have the right to be offended. But surely we'd be annoyed with the Premiership footballer who commissioned the house, not the builders that constructed it?

Advertisement - Page continues below

PD: Maybe, but there are town planners and other legal figures who can, and probably would, stop the Frankenhouse being built. There is no taste police for cars, except us. The X-1 stretches the existing McLaren design DNA too far. We all know Ferrari is not averse to massaging its designs to accommodate individual tastes, but everything the Special Projects division produces reinforces the existing design language and makes the brand more desirable. Look at the P4/5 Glickenhaus car, look at Eric Clapton's SP12 EC - both glorious and both making Ferrari a fortune, but also making the brand cooler. The clever bit is knowing how far you can push something. The X-1 doesn't say 'McLaren' in anything other than its badge. At what point would they say "no" to a design?

SP: I asked Mr Mackenzie exactly that. His response? "I'd guess there probably is a point at which we'd say no, but we haven't reached it yet." Which means, I'd guess, we can expect a few more extravagant creations from MSO. But, unlike Ferrari, McLaren doesn't have 60 years of road-car DNA to work with; it has only ever created three models - the F1, SLR and MP4-12C. By cooking up something at the oh-bloody-hell-that's-a-bit-out-there end of the scale, they've opened up a huge middle ground between the po-faced 12C and the daft X-1.

PD: From po-faced to daft? Not exactly aspirational goalposts, are they? McLaren might only have three road cars to draw design inspiration from, but it also has decades of fabulous F1 and Can-Am cars that could and should inform the road cars' designs. Those insane racecars are what made McLaren cool, and are the only reason you have to pay Ferrari money to own one. Not this vegetable on wheels. I agree disruption is a great way to get people's attention, but it should lead to something you want people to take notice of. McLaren is clearly not short of brains, so we must assume this was a deliberate attempt to shake up its image and set out its stall among the one-percenters. Good news if you have eleventy million bucks to spare, an active imagination and little taste...

SP: Quite. For a company renowned for a, er, somewhat-anal philosophy, McLaren has demonstrated itself as open-minded. Any billionaire who had been mentally constructing his dream McLaren - perhaps channelling the essence of pot pourri, Joan Rivers and a badger - but held off talking to MSO until now because he thought, "Nah, I'm sure Ron wouldn't let me do that," won't be so scared now.

PD: But it shreds the McLaren brand value. Everything the company does should make people feel better, closer to it, not alienate them and make them feel like they are part of something stupid. I've no idea how much profit McLaren made from this X-1 debacle, but I'd suggest it has lost several times that in future business. I know two people with big contemporary-car collections who told me they are cancelling their 12Cs because they are embarrassed by the X-1.

SP: Maybe I'm struggling to see the X-1 from the perspective of a multi-supercar owner rather than a 10-year-old. Divorce yourself from the world of brands and heritage, and imagine bumbling down the M4, between the Vectras and the Priuses. If the X-1 came past in the outside lane, you wouldn't snort in disgust. You wouldn't assess it with a rational, aesthetic eye, pondering whether the rear was overwrought or the design cues formed a coherent whole. You'd cheer in delight at the insouciance of the thing. And that's the fun of the X-1. It's a grim cliche to describe a supercar as 'the sort of thing a schoolboy would scribble in the back of his homework jotter', but the X-1 is precisely that: a fantastical pencil sketch created without regard for whether the design could ever actually work.

PD: Which, let's be 100 per cent clear, it doesn't. I might not be so harsh on it if it weren't a McLaren. But it is, so I'm going to continue to be surprised and bewildered by the X-1 ever seeing the light of day. Along with every other right-minded car fan in the world.

SP: This is the crux of it, for me. I'm intrigued by this idea that somehow the X-1's very existence is an insult to the car-geek community and wider world. I can see that, as an aesthetically sensitive road user, you might be dismayed if Ford designed its next Fiesta to resemble an enormous set of genitals, but you're never going to be affected by the X-1's apparently hideous design unless you actively seek it out, so why the affront?

PD: Because it's a McLAREN! The automotive company is almost brand new, and we've only just got used to the idea of it building clever, super-focused supercars. It needs to get a couple more of those under its belt before confusing us with this type of distraction. I also wouldn't have minded the guys doing it quite so much if they hadn't shouted about it quite so loudly. It all seems very un-British. Could have all been done privately and kept a deniable secret, like the Bentley estates the Sultan of Brunei ordered. Much cooler, much more reserved, much more tasteful.

SP: I'll give you that. McLaren is trying to have its cake and eat it here: unveiling the X-1 with grand ceremony at Pebble, then rapidly attributing the design to the anonymous owner when a section - OK, most - of the media started tutting. Still, the odds of stumbling upon an X-1 might be higher than you think. McLaren says its tooling will stretch to perhaps half a dozen more X-1s, given sufficient demand - and the owner's approval. And there are more bizarre MSO creations in the pipeline. Mackenzie confirmed there are other 'enquiries' underway, and said McLaren would like to "have at least one X-1-type project on the go at any one time". Be afraid.

PD: I'm starting to think we should stop now. We may have already fully justified the showing of the X-1 simply by devoting so much time in discussing it. We don't want to encourage McLaren SO to allow this type of thing to happen again, do we...?