Supercars
Road trip: Ferrari F12, Lambo Aventador and Aston Vanquish do Scotland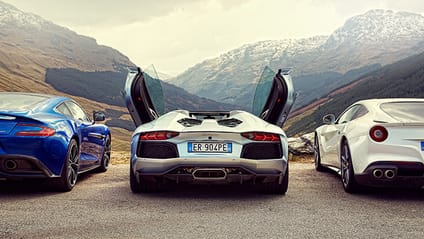 It started, as all the best road trips do, in a traffic jam on the M6 just outside Stoke. For when the Good Lord gives you three V12 supercars, a hunting lodge in the Highlands and the promise of decent weather for three days, he must also give you a monster logjam on a particularly unpicturesque section of Midlands motorway. A beauty, this one was: a two-hour, inch-by-inch crawl down the outside lane, after a dairy lorry had overturned, dumping thousands of gallons of milk across the road. As the Highways Agency dispatched a crack team of kittens in hi-vis jackets to lick the carriageway clean, this afforded much time to calculate exactly how much power and fastness were being stymied by a few spilt pints of semi-skimmed.

Ferrari F12 Berlinetta, Lamborghini Aventador Roadster and Aston Martin Vanquish, then: 36 cylinders and 20 litres of displacement, not a turbocharger between them, a combined value well north of £800,000. The last three naturally aspirated V12 supercars on the planet, stuck fast, the Ferrari and Aston quietly draining their tanks of super unleaded, the Lambo chuntering irascibly and occasionally pretending to mislay first gear. Nearly 2,000 horsepower on tap, and nowhere to use it. Alanis Morrissette would have declared it ironic.

Photography: John Wycherley

Advertisement - Page continues below

But, finally, the kittens were sated and we were free. Traffic clear, up through the Lake District and into Scotland on the near-empty M74, sky blue, sun falling to our left, the odd passing car honking and waving at the sight of three supercars sweeping north in formation. Somewhere near Moffat, I remember grinning like an idiot and deciding that, no matter how glorious the Highlands might prove to be, nothing could top right now. Not troubling the speed limit - because, let's be honest, in the best part of a million quid's worth of supercar, you're hardly going to sneak under the radar of any motorway traffic cops - just skimming easily along Britain's prettiest, quietest motorway on a spring afternoon on three dozen cylinders of atmospheric goodness. Couldn't be topped. Of course, it could.

About half an hour later, in fact. Glasgow dispatched, up Loch Lomond and then a cheeky left into the Highlands proper. Snow-dusted peaks, dark-heather glens and God's own driving roads. I was in the F12, and very quickly my face started to hurt a lot. You know how, under heavy acceleration, you clench your neck and jaw muscles to stop your head snapping back against the headrest? In even the very quickest cars - Zondas, Ageras, the lot - there's at least a momentary blip in that acceleration, as the gearbox flips ratios or the power spools up. Fast-blip-fast-blip-fast, a moment for your muscles to recover. But the F12, with its vast, free-breathing V12 and nanosecond double-clutch 'box, serves up the most extraordinary surge of savage, linear acceleration I have ever experienced, the relentless thrust of a jet fighter on take-off. You find yourself gurning like a weightlifter to keep your head from flopping back and your eyes snapping up towards the headrest, every sinew straining against the violence being unleashed around you. It feels... well, for very good reason I've never been permitted to drive one, but it feels as an F1 engine from the Nineties must feel, revving with dizzying, mass-free hunger to a distant, mad-eyed red line.

We'd been told to pitch up at Inveraray Castle, a great grey-green fortress perched on the banks of Loch Fyne, to grab the keys to the hunting lodge kindly lent to TG by the Scottish Tourist Board and the Duke of Argyll, on the promise we'd leave the guns well alone. Just rock up, and someone'll sort you the keys, they said. So we rocked up at the empty castle and knocked on the very large front door, and a man answered and said, "Hello, I'm the Duke." And he was the Duke, as it turns out, and an annoyingly amenable chap for a chap who owns a pretty significant chunk of western Scotland, lives in an actual castle and has twice been crowned elephant polo world champion. (Honest, elephant polo. How they get those massive pachyderms to fit through the tiny holes in the mints I have no idea.)

And the Duke handed over the keys to the lodge - just like a normal person! - and threw in a recommendation of a nice pub and a local taxi service. Bloody nice bloke. And a bloody nice hunting lodge, too, nestled on the banks of Loch Fyne, gazing out west towards grand rolling hills and a psychotropic mauve sunset. We sat on the edge of the loch with a beer, watched the evening sun bounce off our three supercars and thought, "Yeah, it's not going to get any better than this, is it?

Advertisement - Page continues below

It did. The next day, it rained. In fact, 'rain' doesn't really do justice to the atmospheric conditions in which west Scotland specialises, somehow packing more water into every droplet than rain manages in the rest of the world. In these situations, it is only polite to grab the keys to the Aventador, as it boasts 4WD, thus lowering the likelihood of ending up backwards and soggy in a loch from 'near certain' to just 'fairly probable'.

Though both range-topping V12s from flamboyant Italian companies, the F12 and Aventador are as different as fencing épée and five-foot claymore. For starters, just look at the Lambo. It's from Page One of the How to Draw a Supercar rulebook, all slashes and slats and furiously slanted screen. On the trip north, the Ferrari barely got a glance (you Luddites), while vans would veer across two lanes for a closer look at the Aventador.

You enter the Ferrari as you enter, well, a car, but getting into the Aventador - at least with roof panels in place, as they must be when the ambient conditions are 80 per cent liquid - involves a sort of deconstructed Fosbury Flop, flipping up the scissor door before rolling across the foot-wide carbon sill and down into a seat apparently located some inches below the tarmac.

The Aventador also, you discover within approximately three metres of setting off, rides one hell of a lot harder than the Ferrari. It's so utterly unforgiving over bumps that you wonder whether the Lambo suspension team simply ditched the notion of springs and dampers in favour of a couple of sturdy girders and four-inch bolts, the Aventador bouncing and thumping and snorting out every crack and camber in the tarmac. It is, I discovered as we swung north from Crianlarich - gunmetal clouds clinging to Britain's loftiest hills - a car that demands every inch of your concentration to keep it on the straightahead.

Which requires ignoring the aural insanity of the 6.5-litre V12 just behind your head, all fire and brimstone and testosterone-fuelled bluster to the F12's clinical, space-age precision. I'm not sure it's a beautiful noise as such. It's too functional for that - drop the dinky screen behind the headrests, and you can hear the whoosh of fuel pumps, the gurgle of liquid and graunch of significant chunks of metal - but it sounds like nothing else on Earth, a vast coal-fired power station jammed into a suitcase.

Previously, we've only driven Aventadors with the steering wheel on the left. This one had it in the right place, which proved a problem. If you ever had the misfortune to drive a RHD Citroen Saxo from the mid-Nineties, you'll remember the joy of its offset pedals, canted way to the left of the footwell, away from the wheelarch. In one of the few similarities between a budget French hatchback and £300,000 Lamborghini supercar, the Aventador's just the same. Worse, possibly. There's nothing where you'd expect the accelerator to be, and an accelerator where you'd expect the brake to be. More than once, I stabbed the throttle when trying to slow down, which is mildly unsettling in a 50bhp Saxo and entirely sphincter-rupturing in a 691bhp Lambo. Left-foot braking proved much safer.

But wonky pedals are all part of the Aventador's flawed-genius shtick, the same shtick that permits it to boast the all-round visibility of a tight-fitting burka, window toggles that appear to be wired back to front, and the gearbox that, when left in auto mode, will occasionally do precisely the opposite of what you want in a corner, just to keep you on your toes.

If you only used your Aventador to pout round Kensington, these foibles might turn you slowly deranged. But - as we hauled through Glencoe, surely the finest road in Britain, if not Europe - it became clear that, under the Lambo's pantomime exterior and equally pantomime vocals, lurks a proper, fast driver's car. The more you lean on the Aventador, the better it feels, revealing masses of grip, fabulous balance and - if not quite (quite) the jaw-cramping acceleration of the Ferrari - a simply ludicrous supply of speed. It's an assault on every sense, the sort of car that, after a determined blast, requires a quiet sit in a darkened room. 

Or the Aston Vanquish, which proved the relaxation pod of our trio. In truth, I didn't have high hopes for the Vanquish: the hardest, fastest iteration of the DB9, a car that, despite Aston's protestations to the contrary, isn't looking exactly short in the tooth nowadays. But the Vanquish doesn't feel like a relic. It feels like a properly lovely British GT. The old Vanquish was a hairy-arsed V12, but the new one is a big, chilled cruiser, the sort of country-crusher which would treat you to a bacon roll in Dover and an evening cocktail in Monaco. It rides sweetly, covers the ground at a disarming pace, and boasts one of the very best stereos we've ever heard. And Aston has even ditched the daft dot-matrix display of the rest of its range in favour of a some 21st-century infotainment stuff. What more do you need?

It got Scotland's vote, that's for sure. Though the Aventador set more eyes popping, it was the Aston that generated the warmest glow, the one that somehow sidestepped the whole "you don't have to be an arse to own one, but it helps" vibe that surrounds supercars. The shouty Italians generate loveand vitriol in equal measure, but there's nothing but deep, deep love for the Aston. "Proper class, that," said a bloke in a petrol station (we stopped for petrol a lot). He pointed at the Ferrari and Lambo. "Those two are a bit... Page 3, but you could give - what's her name? - Helen Mirren a lift in that."

Advertisement - Page continues below

A woman of such sophisticated taste as Ms Mirren might approve of the Aston's handling, too. Recent fast Astons have felt wayward near the limit, but the Vanquish, even on drenched, greasy roads, proved confidence-inspiring and - as 565bhp RWD supercars go - just about exploitable. As, surprisingly, was the F12. I'll be honest, I'd had a few sleepless nights at the prospect of driving a 730bhp, RWD Ferrari - especially one described by JC himself as "a bit frantic" - in the cold and wet, but the F12 was sublime in the McMonsoon. Yes, there's enough power that, should you exceed your talent envelope, you'd be artistically daubed across the Highlands before you knew it, but the F12 is so crisp and measured in its actions that you know exactly when you're approaching its very high, very fast limits. Either that, or the very clever traction control was doing its stuff even more cleverly than I realised. Whichever way, that thrash back to base, in the rain, was the most memorable drive of my life.

That evening, we sat on the edge of the loch with a beer and watched the rain fall off our three supercars, and thought, "Yeah, it's not going to get any better than that, is it?"

Of course, it did. The next day loomed sunny, and a chance to remove the Lambo's roof, an operation that took five well-educated, literate humans just 45 minutes and seven skinned fingers. The Aventador instantly makes at least a thousand per cent per cent more sense without a roof: more drama, more noise, more silliness. Most of all, more space for your head.

In typically glamorous TopGear fashion, breakfast was a burger from a van at the top of the Rest and Be Thankful Pass, unquestionably the most picturesque spot for a burger van anywhere in the world.

"Ya want a go on that road?" asked the gent in the burger van, pointing at a beautiful track snaking up the middle of the valley.

"Love to, but... it's closed, isn't it?" we replied. At either end was a set of solid, clearly locked gates with the usual array of KEEP OUT, PRIVATE, BUGGER OFF signs.

"Nae worries. I know the owner..."

Advertisement - Page continues below

So five minutes later, the owner - a freakishly friendly lady named Diane, possibly the biggest petrolhead I've ever met in my life - turned up and explained the closed road was actually Scotland's most venerable hillclimb course, the very track on which Jackie Stewart honed his skills. And then she said, go for it, do your worst, but watch out for the cow at the bottom, and she opened the gates and we had a happy few hours blasting up and down the Glen Croe course, discovering which supercar copes best with cowpat-coated braking zones (Aventador). If there's a better way to spend a day than whanging up your own private hillclimb in a trio of glorious V12s in the Scottish sunshine, I can't imagine what that would be.

This was never meant to be one of those triple tests in which we declare a cast-iron winner, not least because the three cars pitch to rather different briefs. Instead, I tried to figure, if you'd blown your hard-earned on any one of these three cars, what you might find less than optimal about your purchase.

The Vanquish? You wouldn't, I suspect, be too keen on the upholstery of our test car, which resembled nothing so much as the skinned hides of JD Sports's most lurid shelf of fashion trainers. Nor its grotty 'quartic' steering wheel, which always feels like it's upside down. Luckily, you don't have to option either: exercise a little restraint and the Aston's cabin is as classy as any in the business. You might share my suspicion that, with its carbon implants, the Vanquish isn't quite so elegant as the standard DB9, but Scotland disagreed with us on that. Most of all, you might notice that, for the hardest, fastest car Aston makes, the Vanquish doesn't actually feel especially hard or fast, at least not in the company of this pair of Italian nutjobs. But don't forget that the Vanquish checks in more than £50k cheaper than either the F12 or the Aventador. With options loaded, this car's £110,000 lighter on the wallet than our Ferrari.

The Aventador? There's much that would irk you - the pedals, the gearbox, the hourly stops for fuel - but that's what you're buying into. The big Lambo is a supercar in the most traditional sense, a cantankerous, histrionic drama queen, but one with some proper talent beneath all the shouting.

The F12? Tough one. You probably wouldn't be hugely taken with the cheap click-wheel buttons to control the info screens, nor the even-cheaper key fob. And, if you were of the slenderer persuasion, you might desire a bit more lateral support from the seats. But if you had the money to buy an F12, and the time to get to grips with it, I suspect you might soon be the happiest human on the planet. After driving the Ferrari for a day or so, I wondered if - impressive technical achievement though it unquestionably was - the F12 might fall between two stools: not shouty or flamboyant enough to attract the supercar crowd, but too sharp-edged for those who want a continent-cruising GT. A couple of days later, I'd decided it might just be the finest car on the planet, an entirely bewitching blend of GT and hypercar. And, oh, that V12. Forget variable-geometry turbocharging, forget hybrid modules. The F12's vast, unencumbered engine is the greatest powerplant on the planet.

Top Gear, as you'll know, prides itself on its sensible consumer advice. So I've been racking my brains to come up with a useful conclusion, and, I think, if anything, it is this. Blasting around wildest Scotland in a trio of fearsomely expensive, hilariously quick V12 supercars will not reverse the onset of your male pattern baldness. It will not cure your many social flaws, nor make beautiful women wish to sleep with you (at least not once they learn you don't actually own the cars). It will not assuage your fears that life is ultimately futile. But it is bloody good fun, a Technicolor confirmation that, while we're pretty good at screwing most things up, every now and again the human race can get its act together and make amazing stuff happen.

But for how long? Call me pessimistic, but I fear we'll look back on these as the last days of the huge-engined, naturally aspirated supercar. Yes, there'll always be fast cars and, yes, there'll always be expensive cars, but emissions regulations are close to rendering the big, free-breathing V12 extinct. After all, even Ferrari has already embraced both hybrid power and turbocharging. Aston's getting into bed with Merc's AMG department, which has already conceded defeat to forced aspiration. Lambo? Lambo soldiers on, but I'd put a shiny pound on the Aventador being its last turbo-free V12.

But whatever happens to our big V12s - unless it all goes truly tits-up in the Crimea - at least Scotland will still be there: Scotland, with its brilliant roads and its brilliant scenery and its brilliant haggis burgers. Because, as it turned out, the best bit, as it always is, was the last bit, sun sinking out over the Western Isles, sky violently pink-purple, our three great, thirsty supercars howling their way back through the glens, twisting and snaking over the hillside, the world's finest driving roads ours and ours alone. If that was it, the final, incandescent flash, the supernova before the glorious V12 supercar fades into oblivion... well, it was one hell of a privilege to be there.