Supercars
LaFerrari vs McLaren P1 vs Porsche 918: the verdict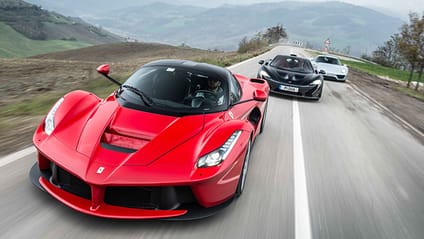 So here we are at last. After 48 hours of intensive/gruelling/pinch-me-is-this-actually-happening road-testing, we've come to the end of the ultimate hypercar showdown: LaFerrari vs McLaren P1 vs Porsche 918 Spyder. Three hypercars that define this era, tested in a whole range of road conditions over two days.

And now it's decision time. If you followed our live road-test here, you'll know that each of the three contenders shone in its own unique way at different points over our two days of hard driving.

Truth is, if you're one of the absurdly lucky millionaires preparing to take delivery of any one of these hypercars in your titanium-skinned underground lair, you'll be delighted with your purchase. Each of these cars fulfils a subtly different brief, and each does its own thing in utterly superlative fashion.

But which is best? Depends who you ask, and when. As Italy's weather and roads changed, we veered from car to car, and so the conclusions that follow represent each tester's personal verdict.

Disclaimers over. Without further ado, click on for Charlie Turner, Ollie Marriage and Tom Ford's verdicts.

Advertisement - Page continues below

Charlie Turner

As the adrenaline of the last few days begins to work its way out of our systems, and hypercar withdrawal symptoms start to build, it's time for answers. If, in some parallel universe where I was a billionaire, I had to choose between these three brilliant cars, where would my money go? Sounds simple, huh?

What has become most vividly etched in my mind over the last couple of days is how different each of these cars approaches the brief. They're all the pinnacle of their companies' technological prowess, ultimate automotive performance statements, and quite simply the three greatest cars in the world right now. There are no losers here, just different flavours of ultimate. But that's not what you came to hear...

LaFerrari vs McLaren P1 vs Porsche 918 Spyder: live road-test

The P1 demands respect as any 903bhp hyper-hybrid should. On a damp varicose vein of Italian B-road, the P1 requires your full attention, but in return for focus and commitment it will deliver an adrenaline shot on every short straight as the turbos spool over your right shoulder, and then the scenery wraps about you.

Dig deeper into its capabilities and, as the speeds rise and the aero goes to work, the P1 shines ever brighter. Of all the cars here it's the one that challenges you the most, but mastering that challenge is what makes the P1 so appealing.

It's a car whose potential you would never grow tired of exploring, and which would offer ever-greater rewards as you did.

LaFerrari vs McLaren P1 vs Porsche 918 Spyder: live road-test

Advertisement - Page continues below

The 918 feels like it answers a wider brief: an all-wheel drive hybrid Spyder that you could genuinely use everyday, in pretty much any conditions.

I love the quality of the interior and the peerless connectivity. OK, those might not be hypercar staples, but they certainly widen the 918's remit. Of the three it's the most overtly hybrid, and, as you push the Porsche harder, you're conscious there are a myriad of clever algorithms being processed as it manages the mass of the batteries and packaged tech.

But if you need to get from your Alpine retreat to your Monaco superyacht in the depths of winter, I doubt there's anything that would deliver you faster.

LaFerrari vs McLaren P1 vs Porsche 918 Spyder: live road-test

For an immensely complex car, it's the LaFerrari's simplicity and focus I admire. Both the P1 and the 918 allow you to personalise a myriad of settings to optimise their monumentally complex drivetrains and aerodynamics to suit your needs.

The LaFerrari doesn't bother with such twiddling, preferring to leave you to focus on the driving itself and how much slip angle you require by dialling up or down the steering wheel's 'manettino' toggle, safe in the knowledge that very clever stuff is going on in the background to make you feel like a driving god.

Throw in the most sublimely responsive normally aspirated V12 in history, looks to stop traffic, and a soundtrack only Maranello could create, and you have an intoxicatingly infectious cocktail, a fitting swansong for high-performance turbo-free engines and, when push comes to shove, the one I'd have in my garage in that parallel universe. It really is that good.

Road test delivered, only one thing remains: a track test. Yep, all we need to do now is hand these three incredible creations over to The Stig and stand well back. It'll happen some time in the near future. After all, the world is waiting...

LaFerrari vs McLaren P1 vs Porsche 918 Spyder: live road-test

Click on for Ollie Marriage's verdict

Ollie Marriage

For me, it's LaFerrari that's the best to drive of these three, and by some margin. That engine, it's just so beguiling and punchy. I thought the integration of the hybrid systems, the way it just took care of those aspects for you - like Rolls' Wraith does by sorting out the gearchanges - was just brilliant. It allowed you to concentrate 100 per cent on driving, and when you did, you realised this is perhaps the best-sorted, most intoxicating hypercar there has ever been.

I struggled to come up with anything it didn't do exceptionally well. The steering is sharp and does take some getting used to, and the sheer amount of power means you can't take liberties with it, but boy oh boy, it's a genuine 950bhp driver's car that you can actually use and exploit. So supple, but because it's not spiky, I'm not sure it's as luridly memorable as the McLaren, doesn't put hairs on your chest in the same way.

The Porsche felt heavier on the tightest roads, but still manages that weight so well. It feels as if all the weight is concentrated directly under your buttocks. But you can't take liberties with it. The massive E-hit and zero lag means that in first and second gear, it'll spike the back tyres instantly.

The more I drove the Porsche, the more I thought I'd be very careful with how I specced it. I'd have it comfy, with carpets and less aggressive seats, wouldn't bother with harnesses, and would use it every day.

Advertisement - Page continues below

Oddly, as a driving experience, I think because it's so mad, it's the McLaren that stays with me the most. It understeered for the cornering unless you got very tricksy with it, riding the brakes and building up boost against them. The steering is too light and it did feel a little sketchy, but it's still a communicative car.

It feels narrower than the Ferrari, but bobs about a bit more on its suspension. And there are all those noises going on too, the turbo whoosh and chatter, the electric flickerings, the exhaust and suspension chatter.

But if it's the McLaren that stays with me, it's the Ferrari that feels so much richer as an experience when you're behind the wheel. If I could take just one away? The Ferrari, but because it feels like the end of an era, rather than the beginning.

Click on for Tom Ford's verdict

Advertisement - Page continues below

Tom Ford

Oh dear. It seems like the time has come to make a decision. I've not been allowed to read what Charlie and Ollie really think - and our conversations have been horribly ambiguous as to not spoil the surprise of our winners. It's been interesting reading some of the responses on TG.com, the utter split of opinion, the fact that many people seem to focus entirely on raw data (an entirely understandable metric, seeing as they're not easy to get a go in), the divisive nature of the cars themselves. Basically, whatever I say here, at least a third of the internet is going to either cry that it was a fix, or decide that a Corvette Z-06 would be better.

Some people have thought that these are owner's cars (they're not - all three manufacturers have provided factory cars, and they all knew exactly what was going on), that somehow the fact that I'd pulled out of the carpark first in the Ferrari meant that somehow it meant it had won. But the truth is that we had decided nothing until we got there. And drove them all in the same conditions, on the same roads, on the same days.

This isn't a numbers-based test. We didn't have access to anywhere to figure them (and we were told 'no track testing' as part of the agreement), so based our verdicts around road driving - real driving, with a mix of conditions - dry on the first day, wet on the second. The roads were mixed: a bit of town, lots of long-flowing A-roads and tighter Italian B-roads, often with a lot of bumps, bad surfaces and hairpins. No Autobahn or dragstrip - we simply didn't have the time, though we had both the 918 and P1 at our track test earlier in the year (and hence have experienced them safely at full-throttle), so we did a few laps of Ferrari's Fiorano racetrack in the LaFerrari to maintain some sort of parity. Ferrari - despite being wonderfully helpful in setting up the whole thing - unsurprisingly weren't keen to lend us their facility for running around in the other two...

First up, the McLaren P1, probably the car I'm most familiar with. And a car I'm still learning. I still love the fact that it looks like an alien warship, its compactness, the fact that it looks as if the bodywork has been shrink-wrapped tight against the structure. I still climb into it and find it comfortable, and love the MonoCage's 'skylights' in the roof. I love the way it starts like a racecar, a rough-edged V8 chainsaw with nothing but murder in mind. I love the fact that it's as easy as the 650S to drive, that it can punt out of an early-morning garage silently on pure EV, that it works. I love it.

And when you get a short straight, I adore the fact that this car simply snatches the ground away, the fizzes and cracks, the whooshes and snaps, the hisses and chunterings. It's like a wild animal. The noise of those turbos building, and the force of the acceleration on offer, is astounding. When you lift, and you see the back of the car light briefly as it spits flame from the spade-shaped exhaust, you know it's serious. It handles, too. There's delicacy to it, to the ride, and the way it arcs around a corner.

And yet... it's the car that makes the least sense, here.

Practically, it's a bit of a handful. Though the hybrid system helps infill the torque curve, this is a car that totally celebrates its turbocharging, and yes, it still gives you a slap of boost when everything gets spinning. This is thrilling - and sounds like a technological apocalypse in the cabin, but out here, on the real roads and with real bumps and cambers and grease and oil, the McLaren makes you concentrate a bit too much. To the point where you don't get out of it exhilarated, you get out of it with hunched shoulders and a slight headache. Especially with fourth gear wheelspin. When it's dry, you get more chance to use more of the power, and going faster you do get more use out of the aero - but I didn't really get to those kind of speeds on the road. And you can't use the 'RACE' full-attack aero mode on the public carriageway anyway. What I'm saying is, although I love the fact that the P1 is a roadcar, it's got too much of a track bent for me - it'll shine on track, but I don't really do that. And if I did, I suspect I'd just buy the track only P1 GT-R and driver training programme. People will say that this car is a pussycat, and that you just need to be a better driver, and yes, if you're good, you'll get more out of a P1. I think Ollie will place it first, for instance, because he's a racer, and therefore lacking the fear gene. But you'll get more out of it on a track than the road. So it's not, ultimately, for me.

The 918 almost - almost - rules itself out of the process. It feels so utterly different to the LaFerrari and P1. Those two cars are about ultimates, and the 918 just feels like it wants to have a rounder personality, a showcase, a broader set of themes. It's definitively a hybrid, rather than what feels like a hybridised takes on hypercars, prouder of its electrical strength - it's the only one with a 'Hybrid' badge, for instance. I kept tooling about in EV mode and marvelling at the silence. At the ease of use, at the connection, control and thought. But then I thought it felt heavy, and a bit dependent on its electronics to feel 'normal'. Switch them off, and it's quick to bite. Like some sort of fighter jet. And yet, just as I thought the 918 was sidestepping the 'hypercar' tag, I re-found the 'Race' setting, sought a decent road, and reminded myself that this is still a 800-odd bhp car. With AWD and a race-derived V8, you could hear that flat-plane crank from four miles away. It's terrific and sickeningly quick. But also less stressful than the P1, with a more solid front axle in the wet - less understeer, less angst. Which, for me, makes it faster. In fact, the 918 feels... strangely seminal in a way that the other two don't. More like the BMW i8. Just listen to the noises it makes at idle - gurgles and whirrs and strange clicks. It's the future.

And yes, you can even take the roof off. Everyone who drove it, marvelled at the Porsche's everyday usability - and that's true. But I'm not the kind of guy who buys a two-seat hypercar for 'everyday usability'. That's what I'd have a 911 Turbo for. Or a Range Rover.

The Ferrari, on the other hand, felt resolutely old-school next to the P1 and the 918. A big N/A V12, with the hybrid element only there to help boost the ICE engine, it feels the least hybrid of the three here, the most 'pure'. But it's not. There's absolutely no way a car could have that kind of throttle response without electric help, no way it could actually be able to handle nearly 1000bhp with so much ease. The Ferrari feels like it's entirely natural to have this kind of power on the road, and to use it. It feels like a 458 Speciale on steroids. It rides, it has simply jaw-dropping - though polarizing - looks, and a noise to make knees weak. I love the seating position (much better than the too-upright seats in the P1 or especially the Porsche), I'm keen on the ultra-fast steering, the gearbox, the throttle response and again the noise. I love the fact that it's such a linear response to every situation. It has all that tech, and yet it doesn't feel like it. What's more incredible is that I'm not a fan of the Ferrari brand - it just doesn't chime with me. I much prefer the idea of saying that I drive a McLaren. But what you can't deny, is that beyond all the Ferrari-branded tat and faint air of arrogance, Ferrari makes some pretty astonishing cars. And if I had to choose a car to drive, the hypercar to keep right now, then I would have the Ferrari LaFerrari. Stupid name and all.

Which means, if the verdicts go the way I expect, Ollie may have picked the McLaren, I've nominated the Ferrari, and CT has either picked the Ferrari or the Porsche. Who's won?