List
Bugatti Veyron: This Is Your Life
As the Chiron makes its TG TV debut, here's its predecessor in all its glory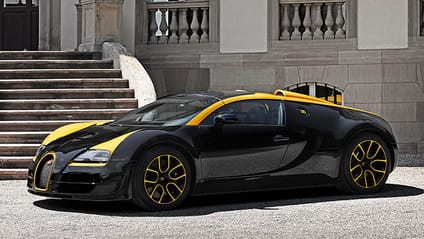 We're not at all suggesting Volkswagen's brightest minds took to Shakespeare before embarking on the perilously fraught journey that is the Bugatti Veyron, but you can't help but detect more than a note of Twelfth Night about its conception.

"Be not afraid of greatness: some are born great, some achieve greatness and some have greatness thrust upon them." It's fair to say all three scenarios apply to the Big Bad Bug'.

To be fair, we don't need to pillage the Bard to attribute majesty to this thing. Born to a cynical world, packing physics-defying power and becoming the defining car for a generation of petrolheads, the Veyron is the ultimate in excess. It's got 16 cylinders, for goodness sake, and is capable of accelerating from 0-62mph in 2.5 seconds. Every day of the week.

We thought it time to remind you of all the Veyron editions. And there's more than you might remember...

Words: Vijay Pattni & Rowan Horncastle
Photos: Bugatti

Advertisement - Page continues below

Bugatti Veyron

This is your standard-variety, battery-farmed Bugatti Veyron. And it's all about the numbers. We're talking an 8.0-litre, W16 engine packing 1,001hp and 921lb ft of torque.

0-62mph takes 2.5 seconds, 0-124mph takes 7.3 seconds, 0-186mph takes 16.7 seconds and the top speed is, of course, 253mph. All in a package weighing 1,888kg.

Bugatti Veyron Pur Sang

You'd better have cast-iron stones to steal Lamborghini's thunder at a motor show. Luckily, Bugatti rocked up with one very precious stone: the limited-to-five-models Pur Sang edition.

Unveiled at the 2007 Frankfurt motor show and translated as 'pure blood', nothing changes mechanically barring a 100kg weight reduction. No, this Veyron is finished in raw aluminium and carbon fibre: basically, sans paint. Quite stunning, really.

Advertisement - Page continues below

Bugatti Veyron Fbg by Hermes

Apparently, Ettore Bugatti and Emile Hermes met in the 1920s; Ettore wanted a bespoke suitcase for his Royale. Eighty years later at the 2008 Geneva motor show, the two names meet in the Hermes edition.

What you're looking at is a two-tone paint job - with the hood colour extending to the interior cockpit - eight-spoke alloys in polished aluminium, wheel locks branded with the Hermes 'H', interior air vents with Hermes' saddle-stitching, a radiator grille with interlocking H motifs, and an interior finished in bull calfskin. You even get a Hermes wallet and leather case thrown in. A bargain at €1.55m a pop.

Bugatti Veyron Sang Noir

Again, no mechanical changes (would you complain with a thousand brake?), just a cosmetics job. It's dedicated to the original Bugatti Atlantique of the 30s, features an all-black exterior with unpainted carbon fibre panels, aluminium side mirrors and a tan coloured interior. Just 15 were built, apparently. Think of it as the Batman-spec Bugatti.

Bugatti Veyron Bleu Centenaire

Built as a 100th year birthday present to the company, the Centenaire is, surprisingly, blue. It sports the "most known light shaded Bugatti blue", covering the outside (two-tone) and parts of the engine, while the roof-trim stripes and mirrors are polished aluminium.

Inside there's 'snow beige' leather with quilting on the seats, new LED lights and park distance control. Because you're worth it.

Bugatti Veyron Grand Sport

Presumably fed up of being the purveyor of the world's most famous fast car, Bugatti turned its considerable nous to the roadster market. So when the production run of 300 Veyron coupes was spoken for, the company turned up to Pebble Beach in 2008 with a new model: the Grand Sport.

At the time it was the fastest roadster in this and many other galaxies, and features a higher windscreen, stylised daytime running lights, and a lightweight, transparent polycarbonate roof.

Because the roof was chopped, Bugatti reinforced the monocoque structure round the side skirts and transmission tunnel, stiffened the B-pillars with carbon fibre supports and positioned a central carbon plate underneath the gearbox. The doors are of carbon fibre variety, and the leather is moisture-resistant. We'll let your imagination laugh its way out of that one.

Roof up, the GS can hit 253mph, and with it down, will top 224mph. In fact, should a troublesome spot of rain attack your scalp, you can open up an "innovative folding roof" like an umbrella at any time. With this in place, you'll be able to hit 80mph.

Advertisement - Page continues below

Bugatti Veyron Grand Sport Sang Bleu

Apparently Mr Bugatti used to love experimenting with materials, somewhat explaining the sheer number of special edition models available. This is mechanically identical to the standard Grand Sport, and features blue carbon fibre and polished aluminium. It's also a one-off.

Bugatti Veyron L'Or Blanc

White Gold is the theme here. That's what 'L'Or Blanc' means, a suffix attached to the one-off porcelain Veyron. Bugatti reckons it's the first car in the world to wear porcelain inside and out. The wheel centres, fuel and oil filler caps, EB badge on the rear, centre console surround and rear interior centre trim are all finished in china.

And there's only one in the world. And it cost £1.48m.

Advertisement - Page continues below

Bugatti Veyron Super Sport

Ah yes, now we can turn our attention to the black and orange instrument of thunder and destruction known as the Super Sport. For once, it is actually a faster version of the garden-variety Veyron.

It gets larger turbochargers and bigger intercoolers to boost power from that venomous 8.0-litre engine to 1,184bhp; the chassis has been tweaked with a raised main spring travel, stronger stabilisers, new shock absorbers and a skin made entirely of carbon fibre composites.

Two NACA ducts on the roof feed new air into the engine, while the front intakes have been enlarged and reshaped.

Bugatti Veyron Grand Sport Vitesse

Correctly, Bugatti identified that its Grand Sport clientele wanted the power of the Super Sport with the glamour and magic of a roadster. Enter the Grand Sport Vitesse.

1,184bhp and 1,105lb ft of torque, and you get the world's fastest and most powerful convertible in the history of our species. It's safe to say humanity can give Bugatti engineers a hearty slap on the back.

To which they'll simply and politely nod, "danke".

Red Edition

The Veyron has had many, many special editions. To the point where it seems that if a car has a slightly different colour option to the one before, it's a special edition.

This is the Veyron Red Edition. Can you guess what they might've done? Well if you can't, we'll help you out. They painted it red. And then they made the interior red. And then they painted the wheels red. Then they showed it off at the Frankfurt Motor Show where everyone said, "Woah! That's red!"... apart from colour blind people, who said, "Woah! That's blue!"

Edition Merveilleux

A man in China called Simon turned 40, so Bugatti thought a special edition Super Sport was the way to celebrate this landmark. No, really. We don't know much about Simon apart from the fact he's already an owner of a Veyron,  and Bugatti liked him enough to build a one-off a bare carbon fibre, bright blue interior, blacked alloy wheeled Super Sport 'Edition Merveilleux'. After all, what Simon says, goes.

Black Carbon

The 'Black Carbon' was also built for a person in China (we're not sure if their name is also Simon). Predictably, the car is black carbon fibre wrapped around the faster Super Sport. There's also very cool anodized aluminium details around the car and inside there's 'Snow Beige' leather to contrast the black.

Matte White Blue Carbon

If shiny black isn't your thing, don't worry - Bugatti has that covered. At the 2011 Shanghai Motor Show they showed off the Matte White Blue Carbon. Which you've probably guessed, has matte white paint and blue carbon bits. That theme followed through to the inside, it was decked out with blue leather along with white stitching on seats, steering wheel and gear lever and an aluminum console. It complements a banana's pyjamas perfectly.

Bugatti Veyron Grand Sport Middle East Editions

Three different 'Middle East Edition' cars were unveiled at the 2011 Dubai motor show. The best one was this, what us here at Top Gear call: the YELLOW ONE. It's so yellow it burns your eyes, and the interior is upholstered from the recently-plucked hide of Big Bird from Sesame Street. Read more about it here and here.

Bugatti Veyron Grand Sport by Bijan Pakzad

Bijan Pakzad was a man who liked to dress well... and go fast. Before he passed away the Iranian born fashion designer designed his own Veyron. Known for owning cars with extravagant colour pallets, he did the same for his Veyron. Yellow and chrome were the colours of choice and he even signed his name under the rear wing and put a bearded man on the front. It's fashion, darhhhling.

Bugatti Veyron Grand Sport Venet

And here it is, the artiest Veyron yet: the Grand Sport Venet. It's the first Bugatti Veyron art car and the work of French sculptor Bernar Venet. What he's created is the fastest, most powerful and exceedingly expensive way to remember your science and maths homework. Venet's gone for a two-tone design that celebrates the Veyron's mind-bending physics, by wrapping the car with mathematical and scientific formulas for poweeeerrrrrr and speed. Definitely beats those revision flash cards.

Bugatti Veyron 'Les Legendes de Bugatti': Jean-Pierre Wimille edition

Six special editions to commemorate six special people who played an integral and fundamental role in shaping the company; a company whose path led to a segment on TG telly that briefly made James May a world record holder. Briefly.

For Bugatti likes its history, and thus, has dedicated a special run of Veyron Grand Sport Vitesse models - that's the 1200bhp version with the 254.04mph top speed - to some important figures from its past.

The first in the 'Les Legendes de Bugatti' series is the Jean-Pierre Wimille edition. He was one of the longest serving test drivers at Bugatti, and brought home a number of race wins including the company's last ever one: the 1947 Bois de Boulogne, where he drove a 4.7-litre Monoposto (single seater) Type 59/50B. He also notched up two victories in Le Mans: one in 1937 and one in 1939.

So what have they done to this Veyron GSV? Painted it light blue and layered it with clear-coated carbon fibre in honour of Wimille's blue 57G. Just three will be built, each costing over £2m.

Bugatti Veyron 'Legendes de Bugatti': Jean Bugatti edition

Second in the special run of six Grand Sport Vitesses honours Ettore Bugatti's eldest son Jean, creater of the rather stunning 57SC Atlantic, which this car loosely references.

Again, no mechanical changes underneath - you won't mind with 1200bhp, a 0-62mph time of 2.6 seconds and top speed of 254mph - but you get platinium Bugatti horseshoe logos, clear-coated carbon fibre bodywork, black wheels with diamond cut edging, and Jean's signature lasered onto the petrol and oil caps.

Inside, the 57SC Atlantic's profile is embroidered on the door cards, and the colour scheme is a fetching beige and brown in keeping with that original car's history. There's also a rosewood gearstick. Nice.

Bugatti Veyron 'Les Legendes de Bugatti': Meo Costantini edition

Meo was a good friend of Ettore Bugatti, who headed up the factory race team for many years and even drove the Bugatti Type 35 to two Targa Florio victories in 1925 and 1926.

And so we come to the third special edition - yes, another one - of the car Top Gear magazine recently declared the greatest of the last 20 years.

Meo's Bugatti Grand Sport Vitesse is like the first two Legends: no mechanical changes underneath, but a trim and paintjob special. There's a carbon fibre body, with aluminium wings, doors and corners of the front bumpers. It's blue - because blue is the classic French motorsport colour - with the silhouette of the Targa Florio race course painted on the underside of the rear air brake in homage to Meo's double victory there. A little classier than super-gluing a Nürburgring sticker on the back of your ratty MX-5.

Inside, there's a blue-and-cognac colour scheme, blue stitching and Meo's signature embroided into the headrests. Just three will be made, each costing around £2.1m.

Bugatti Veyron 'Les Legendes de Bugatti': 'Rembrandt' edition

This is the fourth model in the company's six-part paint-and-trim Legends series, and this time it's a tribute to the company founder's brother, Rembrandt Bugatti.

While Ettore was messing around in the garage, his brother was hanging around Antwerp Zoo, where he sculpted exotic animals like elephants, panthers and lions. Seen the dancing bronze elephant on the radiator cap of a Type 41 Royale? That's his work.

Said dancing elephant is the reason why the car has bronze-coloured clear-coated carbon bodywork. There's also Rembrandt's signature lasered on the petrol and oil cap, and the elephant's also stamped into the centre box between the rear seats.

Otherwise, it's a cooking-variety Veyron 16.4 Grand Sport Vitesse. That means an 8.0-litre W16 engine making 1200bhp, which gets it from 0-62mph in 2.6 seconds.

Yours for €2.18m...

Bugatti Veyron 'Les Legendes de Bugatti': Black Bess edition

The Black Bess is inspired by the rickety 1912 Type 18 - nicknamed Black Bess because it was, um, black - which means the GSV's wearing the same monochromatic paint. But with a few details picked out in gold. Not gold paint, but 24 carats of the proper stuff, plating the front grille, wheel caps and filler flap.

Inside is more of the same. The door cards and rear cabin feature several doodles of the Type 18, and some scribbles of a bloke called Roland Garros' aeroplane - a Morane-Saulnier Type H, if you're interested. Unfortunately, they won't buff out - Bugatti's developed a special application process so the they won't be damaged by wear and tear.

As well as new leather finishes, you'll also find more gold accents in the cabin - there's a gilded EB badge and elephant logo, though mercifully, the dial bezels haven't been dipped. The steering wheel's also been fiddled with to tribute the T18 - it's got a red rim inspired by the 1912 model.

And the plane? This is where it gets a bit tenuous. Bugatti's founder, the eponymous Ettore, hillclimbed a Type 18, winning the 1912 Mont Ventoux event. On the back of his victory, seven examples were sold, and one went to French aviator, Roland Garros, who owned the Morane-Saulnier Type H pictured.

Bugatti Veyron 'Les Legendes de Bugatti': 'Ettore Bugatti' edition

It's the last in the 'Legends' line of Veyrons, and fittingly, it honours Bugatti's founder himself, Mr Ettore Bugatti.

As with all other Veyron Legends, the Ettore Veyron is based on the Grand Sport Vitesse, complete with that monster 8.0-litre W16 engine knocking out a very reasonable 1200bhp, a 0-62mph time of 2.6 seconds and a top speed of 254mph. It is of course, the world's fastest production roadster.

That's the inside, but what about the outside? The design, we're told, is inspired by Bugatti's Type 41 of 1932, with a 'yin-yang' colour split. You'll notice that Bugatti has applied a clear-coated aluminium finish to the bonnet, the entire face, the wings, the doors and indeed, the wing mirrors.

The rear is finished in dark-blue exposed carbon, there are polished, diamond-cut wheels, platinum EB/Bugatti badging at the rear, natural brown calf's leather throughout the interior, alongside natural cordovan leather too. The tanning process for this, we're told, takes six months. Ooh.

Then there are the usual flourishes we've come to expect from these Veyron Legends: a platinum coated dancing elephant (not a real one, thankfully) inset in the cover of the rear centre box, and Ettore's own signature engraved into the tank and oil cap. Just in case you forget, y'know, which name adorns your €2.35 million hypercar.

Bugatti will build just three of these Ettore Veyrons, each costing £1.9 million.

Bugatti Veyron "1 of 1"

The Veyron is nearly done, but not quite yet.

Before the fastest road car in history is laid to rest, at least one more special edition: built for a discerning customer from Singapore, this one-off, bespoke Veyron was presented to the world at last week's Pebble Beach festivities over in California.

It's a Grand Sport Vitesse treated to a black and yellow colour scheme said to revive the 'historical Bugatti colours'; the Type 41 Royale, Type 55 and Type 44 were all finished in the combo. Heck, even the beams over the old oak gates of the Bugatti HQ in Molsheim were black and yellow.

The radiator grille has been redesigned to incorporate the Singaporean customer's initials, laser cut and then black anodised. Those initials? PL. We're assuming 'Professor Lasers'. Or 'Pity Lamborghinis'.

There's full black leather inside with yellow stitching dotted around the cabin, and a Bugatti Type 35 sketching rendered in the carbon lid of the rear centre box between the seats. Nice.

"A Bugatti is purchased as a collector's item," explains boss Wolfgang Dürheimer. "This means that we also support our customers in the personalization of their Bugatti in the way they would like it."

In fact, Bugatti assures us that the average net price of Bugatti Veyrons sold - including options - is more than €2 million (£1.6 million). A fair whack.

It also chimes with what design chief Walter di Silva told TG.com last month. "For me, Bugatti is not a car, it is a piece of art."

Di Silva also told us that the next model - not a Veyron replacement nor the much-vaunted Galibier four-door - would arrive in 2016.

We can't wait. And because we can't wait, we recently took a GSV on an epic road-trip across Route 66 to get our Bugatti fix. Read the full road-trip diary here.