Supercars
Driving a Porsche 918 Spyder for the first time
Jack Rix experiences Porsche's hypercar for the first time. Life's all downhill now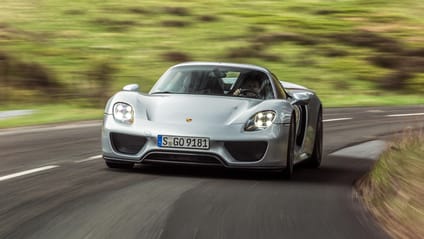 Bit late to the Porsche 918, I know. Three years late in fact. But when you get your first chance to drive one of the fastest and most outrageous cars on the planet, on a warm Saturday afternoon through the Scottish Highlands, it's an experience worth committing to digital paper.

A few caveats: we've all had plenty of time to digest the Porsche 918 Spyder's numbers (875bhp, four-wheel drive, 0-62mph in 2.8 seconds and a 211mph top speed) so I'm going to focus on the sensations; the data from my eyes, ears, backside and clammy fingertips, rather than the spec sheet.

Photography: Richard Pardon

Advertisement - Page continues below

Criticism that Porsche had bitten off more than its multi-millionaire customer base could chew, by building 918 of these, are now distant whispers. All are long since sold and currently swapping hands for around £1.1m. That's £450,000 more than list.

It's a number I'm finding hard to ignore as Matthias Hoffsümmer, head instructor for 918 (he teaches customers with lots of cash, but slightly less knowledge on how to actually drive their investments) hands me the keys. I ask for the two roof panels to be removed, to make the most of those top-mounted twin exhausts - a decision my ears will later thank me for, but my glowing forehead will regret.

 

I adjust my seat (manually), pull the wheel a little closer to my chest and run my eye over the looping centre console. The screen is at a ridiculous angle for the driver to actually see what it's displaying, but the execution is pure art. Twist the key and the car defaults to E-Power mode, so we slip silently out of the car park – a useful tool for all those shy and retiring hypercar owners out there who don't want to announce their departure to everyone in the postcode.

For the first few minutes I keep it in E-Power while my peripheral vision recalibrates to the 918's prodigious width. It's a left-hooker so I'm sat snug to the hedges and need Matthias to relay when the coast is clear for overtaking, a distinct possibility even in stealth mode. Despite the V8 acting as unused ballast, the 918 is hot-hatch quick – offering a meaty slug of EV acceleration that takes you all the way to 93mph, but runs out after 18 miles.

Advertisement - Page continues below

As I attempt to absorb what's going on, Matthias is gainfully explaining the various modes – E-power, Hybrid, Sport and Race. It's a lot to take in, but start twiddling that wheel-mounted mode dial and it all slots into place. The 918 is a fiercely complicated car in the places you can't see, but operating one is bizarrely straightforward.

Hybrid mode does the thinking for you, balancing the various power sources to extract acceleration when you want it and efficiency when you don't. There are two damper settings, operated by an independent switch (the softer of the two settings offers more than enough control on Scottish B-roads) and you can let the PDK gearbox do its own thing or use the paddles to ping through the seven gears yourself.

I quickly realise that on roads like these, Sport and manual equals the sweet spot, keeping the engine permanently fired up and the car poised for maximum, time-warp shove whenever you need your next hit. Within minutes I'm growing in confidence – yes, it feels wide, but that also means unbreakable lateral grip in the corners, and then there's the aero doing its thing, and the four-wheel drive juggling the power to wherever it's required.

Basically, it's making me feel like a better driver than I am, allowing me to brake later, stay flat in corners where I'd be lifting in a 911 and cover distance at an unruly pace without feeling I'm one twitch away from a mouthful of undergrowth. It's not intimidating at all, it's unimaginably good fun.

You play the gearbox like an instrument, flicking the paddles to experience the engine's full sonic range more than anything else because, honestly, it doesn't matter what gear you're in. You'll be swimming in torque. The electric motors mean you can snap your head back from as little as 1,000rpm… in seventh.

And that's before the engine really hits its stride, emitting a proper, jagged race car howl as it closes in on the 9,150rpm limiter and the world goes very blurry. It's the seamless interplay between the sci-fi electric power delivery and the organic-feeling, naturally aspirated V8 that brings the whole thing to life. Each enhances the other, so it feels novel and futuristic, but raw and old-fashioned at the same time.

There's a fair bit of weight, 1685kg in total (1640kg with the carbon-rich Weissach pack), but it doesn't blunt proceedings, it ties the car down, helping it to feel low, secure and utterly planted. Truth is, and I didn't think I'd be writing this, I really could use it every day.

With a quick plug-in overnight, I could even enjoy an emissions-free commute to and from the TG offices. And here's another thing, while its proportions look utterly magnificent driving towards you, painted in silver and without any silly stickers, it's not actually that flash. Not compared to the swoopy McLaren P1 and F1-inspired LaFerrari, anyway.

Advertisement - Page continues below

Back in the bar that evening over a calming pint of Innis & Gunn, Matthias tells me about an internal economy test. Both the Carrera GT and 918 were driven for 1,000km, together, at identical speeds on an identical route. Apparently the 918 used 30 per cent less fuel, and that's despite being better in every measurable way than the GT. Now that's the pace of progress.