Supercars
Is this the greatest supercar collection in the world?
Take a virtual walk through the biggest private supercar stash in Bahrain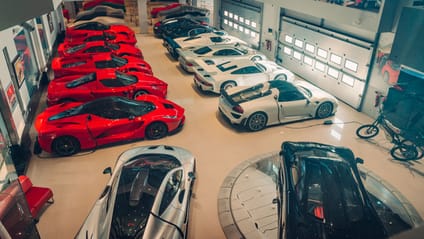 I feel like a secret agent. After weeks of chasing and being passed from one contact to another, we've been given the all clear to visit the biggest private supercar collection in Bahrain. First, we're given a general area to head to, a short drive from the capital Manama, then told to wait for a dropped pin detailing the exact location. We're eating a burger when the message comes through… I half expect it to self-destruct after reading.

I can understand the owner's caution. If you had £100 million worth of supercars stashed in your garage you would be, too. We're not even allowed to mention his name, which is curious given you can follow him on Instagram @the_collection1. Still, his cars, his rules, I'm just happy to be here, and can't stop grinning like a child with the keys to Cadbury's World.

There's construction work going on (a garage extension, naturally, to house the ever-swelling ranks) hence dustsheets on half the cars. To be honest, it only heightens the anticipation: a wing silhouette here, a flash of alloy there, I find myself pointing and guessing, frantically. Then I turn right into the main atrium, the prize paddock with double-height ceilings and his 14 favourites parked cheek to cheek, and my stomach does a back flip.

I walk the line, emotions a mess - something between extreme jealousy and pure joy. At the end perched on a turntable his baby, a McLaren F1, chassis number six, bought from a Japanese collector who had three. Next to it a P1, also number six, then a chronological history of Ferrari hypercars: LaFerrari, Enzo, F50, F40, 288 GTO and a 599 GTO for good measure.

Opposite is the really special stuff. A Porsche 918 Spyder then a 911 GT1 Straßenversion (one of only two in existence, he was recently offered $21m) and next to that another homologation special from the same FIA GT Championship -  the Mercedes AMG CLK GTR. The Maserati MC12 is definitely better than the Enzo on which its based, I decide, before drinking in his brand-new Chiron and the Hermes Veyron next to that. Not bad, and that's barely half of it.

I'll let you click through to experience the rest, but in case you were wondering how or when he gets to drive this obscene group of cars, let's just say having an F1 track ten minutes down the road and enough money to use it as your own private playground, helps.

So, any glaring omissions from the collection? Let us know what you would add, money-no-object, in the comments below.

Photography: Mark Riccioni

Advertisement - Page continues below

McLaren F1

Chassis number 006, originally silver, only one in the world with its engine painted flouro orange.

Porsche 918 Spyder

Well you couldn't have a LaFerrari and a McLaren P1 without one of these…

Advertisement - Page continues below

McLaren P1

Like the F1 this is number 6 in the production run.

McLaren Senna

The newest arrival, finished in matt purple exposed carbon fibre… works better than it should. And yes, he has a Speedtail on order.

911 GT1 Straßenversion

The jewel in the crown, one of only two with 993-style headlights, others are 996-style: 536bhp, 0-62mph in 3.9 seconds, 191mph.

Mercedes AMG CLK GTR

6.9-litre V12, 604bhp, maddest looking thing here. Watch out, has a penchant for back flips.

Advertisement - Page continues below

Bugatti Chiron

Is this the perfect-spec Chiron? I think so. Delivered a few months ago, still smells box fresh.

Bugatti Veyron

A 'standard' 987bhp coupe, but the Hermes edition for added bling.

Advertisement - Page continues below

LaFerrari

6.3-litre V12, hybrid assistance, 950bhp… five years on it still has the power to make a grown man dribble.

Ferrari Enzo

A harsher aesthetic than the other red cars here, because F1, but you can't argue with a 6.0-litre V12 and 651bhp.

Ferrari F50 (middle)

Something of a forgotten gem for 20 years, now recognised for its dynamic brilliance… if not its so-so looks.

Ferrari F40

Perhaps the greatest Ferrari ever? Certainly one of the hairiest, courtesy of a very boosty 2.9-litre twin turbo V8, and not a lot else.

Ferrari 288 GTO

In 1984 there was no ABS, traction control, or four-wheel drive. Now, this purity has a grail-like quality to it, especially when it looks this good.

Ferrari 599 GTO

One of only three models to ever bear the GTO badge… this one's signed by Alonso and Massa.

Toyota 2000GT

Originally built in collaboration with Yamaha, now incredibly rare and incredibly expensive. Photographer Riccioni had to lie down after seeing this one… he has a thing for Japanese.

Lamborghini Countach LP400

No wings or arches to corrupt the Countach's wedgy shape. The purest and still the best.

Porsche 911 2.7 RS

You just knew he'd have one of these. Box ticked, move on.

Porsche 959

The F40's nemesis was a homologation special for a Group B rally car that eventually won the Paris-Dakar. A 2.9-litre turbo flat-six, 444bhp, magnesium wheels… a bit nerdy, but who cares. This one purchased from the king of Jordan.

Saleen S7

The one the started it all, the first to arrive… should probably be the first to go.

Tesla Roadster

EV infrastructure in Bahrain isn't world-class… wonder why. Battery 'broken', which is why it's been relegated to the naughty corner.

Hennessey Venom

With any luck you won't be able to see those hideous purple wheels at 270mph.

Koenigsegg Agera RS

Currently the fastest production car in the world with a two-run average of 277mph.

McLaren 675LT

One of the few places on earth where a 675LT blends into the background. Don't worry LT, we all know you're a star.

Lamborghini Murcielago SV

Remember when Lamborghinis were pigs to drive and wanted to kill you? Two of the many reasons we love the Murci' SV.

Porsche 911 GT3 RS 4.0 (997)

A masterpiece of an engine. Hats off for bagging one of these.

Porsche 911 GT2 RS (997)

Because every now and again it's good to scare yourself.

Porsche 911 GT3 RS (996)

I'm starting to think this collector has impeccable taste after all…

Mercedes-McLaren SLR Mansory

Lamborghini Reventon

Number 1 of 20, with commando green seats.

Noble M600

Some well-deserved recognition for a boutique British supercar… with a unexpectedly brutal Volvo V8.