Supercars
Here are some of the fastest road-legal production cars of all time
Miura, F40, Veyron and Agera - it's TG's ultimate feast of fast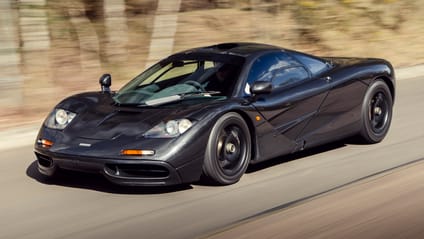 1894 Benz Velo - 12mph

Bit of a hollow victory, this one. The Velo was the first true production car, which made it the fastest by default. But following that logic, it was also the slowest. And, simultaneously, the most and least likely to, say, become self-aware and enslave humankind or train as an architect.

That's not to rob its inventor, the eponymous Karl Benz, of his achievement. In 1894, 67 Velos were built, and 134 in 1895, all packing a 1.0-litre 3.5bhp engine. The speed race was on.

Advertisement - Page continues below

1949 Jaguar XK120 - 124.6mph

The XK120 began life as a concept at the 1948 London motor show. This petite convertible was used to show off Jag's double overhead cam straight six cylinder engine, a powerplant that wasn't phased out till 1992.

After letting Prince Bira of Siam (now Thailand) have a drive in the 1949 Silverstone Production Car Race, Jaguar loaned its mildly spiced version to The Motor magazine. It reported a top speed of 124.6mph, 0-60 mph in 10.0 seconds, and fuel consumption of 19.8mpg. In an age when your dishwasher had a name. And ears.

1955 Mercedes-Benz 300SL - 140mph

Back once again for the renegade Benz. The stunning SL was loosely based on MB's circa-1952 racer, the 300SL. It got a tubular spaceframe and aluminum bonnet, doors and boot lid. And if you had the readies, an all-aluminium panel option was available, which shaved off 80kg.

But it was the aerodynamics that really helped the SL achieve such an impressive terminal velocity. In its day, it was slipperier than a hot-buttered mackerel. See those horizontal eyebrow things over the wheel arches? They actually reduce drag.

Advertisement - Page continues below

1958 Aston Martin DB4 - 141mph

Remember the Disco Volante? Its outline was conceived by the same company that gave us the stunning DB4, Carrozzeria Touring. But despite the fact that the design and superleggera (tube chassis) construction was Italian, the DB4 was the first Aston to be built at Newport Pagnell.

When a test car was given to a British motoring rag in 1960, the DB4 beat the 300SL by just 1mph.

1963 Iso Rivolta Grifo A3/L 327 - 161mph

You know that funny little bubble car called the Isetta, one you'd always imagined was conceived by BMW? Yeah, no, it was these guys. Before building face-rearranging supercars, Iso Rivolto designed the quintessential bubble car, licensed it to BMW (amongst others), and used the money to build salubrious Bertone-styled GTs.

Which happened to be quite nippy. This one - named 327 on account of the GM-sourced 327ci (5.4-litre) V8 in front - hit 161mph during tests by a Sixties motoring magazine.

Picture credit: Erasoft24

1967 Lamborghini Miura P400 - 171mph

The Miura was a lot more than a pretty face. The transversely mounted 3.9-litre V12 made a not-inconsiderable 350bhp, and got it to 60mph in 7.0secs.

Only 275 original P400s were built. Considerably fewer remain today, but one of them, tested by Motor magazine, cracked 171mph.

1968 Ferrari 365 GTB/4 Daytona - 174mph

It looked like a Rover SD1, but went a lot faster. Unlike the Miura though - its competition at the time - Ferrari went for a traditional front-engined, rear-drive layout.

And said engine wasn't half bad. 4.4-litres. 12 cylinders. Double overhead camshafts. Six Weber carburettors. The reckoning? 352bhp. That got the 365 GTB/4 Daytona to a staggering 174mph, beating Lambo in the v-max arms race.

Advertisement - Page continues below

1984 Ferrari 288 GTO - 188mph

Rather more carefully built than its 250 GTO-shaped predecessor, this mid-engined turbocharged flamethrower was built for a road racing series that folded before it began.

But Ferrari still went through with its homologation obligations, creating a car that stole the top-speed crown from, er, itself.

1986 Porsche 959 - 197mph

Jostling with the Ferrari F40 for bedroom-wall real estate, the 959 boasted many features the car world hadn't seen before.

Magnesium wheels. Air pressure sensors. Automatic ride height adjustment. Nomex floorboards. Which could explain why Bill Gates bought one. Though he was one of few people that could actually pay the £150,000 asking price. Which was actually quite reasonable: the 959 cost Porsche £300,000 to make.

As you'd expect, it was also rear-engined, using a 440bhp flat six turbocharged powerplant, which got the 959 to 62mph in 3.7 seconds, with that 197mph top end. Tennis lothario Boris Becker claims he actually hit said v-max on the Italian Autostrada when he bought his. Which must have been... bracing.

Advertisement - Page continues below

1987 Ferrari F40 - 202.687mph

Maranaello wasn't going to laze around drinking espresso while the Germans stole its record, so made sure the F40 - which had 38bhp more and weighed 250kg less than the 959 - would nail the double-ton. Plus two and a bit. Making it officially the first production car to go faster than EVOLUTION.

OK, so the F40's paint is so thin you can see the carbonfibre weave through it, and you don't even get proper doorhandles. But it was a supercar par excellence, an intoxicating blend of power, wings and Conga ability.

1991 Bugatti EB110 GT - 209mph

Bit of a forgotten legend, this one - the EB110 had a carbon chassis built by aircraft company Aéropsatiale, double wishbone suspension all-round, and the endorsement of F1 hero Michael Schumacher, who bought a banana-yellow one.

But the EB110's party piece was a 3.5-litre 60-valve QUAD-turbo V12, powering all four wheels through a six-speed gearbox. It'd hit 62 mph in 4.2 seconds, and began Bugatti's reign of the v-max kingdom with its top whack of 209 mph.

1992 Jaguar XJ220 - 213mph

The XJ220 couldn't half get a shift on. Even though it packed a 3.5-litre twin-turbo V6 derived from the Metro 6R4 Group B car when customers were promised a V12.

But however you cut it, however poorly it sold (though, in its defence, it was brought to market as a recession hit), and however it fell short on its promises, the XJ220 could hit 60mph in 3.6 seconds and go on to a staggering 213mph.

1993 McLaren F1 - 240.1mph

This thing's a festival of baffling numbers. It cost £500,000 in 1993. It was the first carbonfibre-bodied production car in the world. The engine bay was lined with gold for heat reflection. It needed a completely redesigned gearbox because nothing could handle the torque from its 6.1-litre BMW engine. It was Genesis.

And the performance was staggering. It'd do 0-60mph in 3.2 seconds. 0-100mph in 6.3 seconds. And go on to a top speed that'd take a few years to beat. And not by that big a margin...

2005 Bugatti Veyron - 253mph

The Veyron came along and occupied its own slightly unhinged, very rarified niche. When it launched, it was the fastest, most powerful, and most expensive car in the world. An 8.0-litre, W16 engine packing 1,001hp and 921lb ft of torque. 0-62mph in 2.5 seconds, 0-124mph in 7.3 seconds, 0-186mph in 16.7 seconds and that top speed. All in a package weighing 1,888kg.

2007 Shelby Supercars Ultimate Aero - 256.18mph

The 90s-tastic SSC is made almost entirely out of carbonfibre, and it has its own party piece - twin pop-up air brakes that emerge from the top of the rear wings. Something we enjoyed very much when we drove one in the USA alongside an older Hennessey Venom.

Something we enjoyed rather a lot less was the oh-god-make-it-stop speed. 0-60mph in 2.78 seconds. And a top speed of 256.18mph, as verified by the Guinness Book of Records. Though subsequently beaten, it still remains stupendously quick.

2010 Bugatti Veyron Super Sport - 267.857mph

Built with the solitary purpose of being the undisputed fastest production car ever made. Achieved it. For a bit, anyway. The standard Veyron has 1000hp, while this one has 1200hp - the power of a Golf GTI on top of the cooking variety Veyron.

2014 Hennessey Venom GT - 270.49mph

The now dethroned champ. Dethroned that is, because Koenigsegg - in Hennessey's own words - 'crushed' it with a breathless run in Nevada with its Agera RS. More on that next. Nevertheless, this Venom has 1244bhp from a 7.0-litre twin-turbo GM-sourced V8, will accelerate from 20mph to 120mph in 7.71 seconds, and pull a maximum 1.2g of longitudinal acceleration in the process. It is quite frankly, insane.

OK, you can argue that, unlike the Veyron, the Venom didn't make a run in both directions, didn't record its speed over the flying kilometre and hasn't been built in sufficient volumes to constitute a 'production car'. But, hey, it's gone past 270mph. Show some respect.

Now, considering top speed has evolved from 12mph to 270.49 in 120 years, we can safely assume that by the year 2134, the fastest production car will hit around 530mph...

2017 Koenigsegg Agera RS - 277.87mph

Mark the day in history: on Saturday 4 November 2017, a Koenigsegg Agera RS driven by factory test driver Niklas Lilja recorded a two-way average speed of 277.9 mph (444.6 km/h) on an 11-mile section of closed public highway between Las Vegas and Pahrump to claim the highest speed ever recorded by a production car.

Yep, that run eclipses the Venom's 270mph one-way attempt, and chalks up the Agera RS as the fastest production car ever built. It also did a fair bit more than that, just to lay down the hammer in style.

Not content with taking the top speed crown, it also picked up the fastest 0-249mph-0 time (33.29s, hugely quicker than a Bugatti Chiron), got the highest average speed over the flying kilometre (268mph), ditto for the flying mile (268.74), and recorded the fastest speed recorded on a (closed) public road. That was 284.55mph, achieved during the Agera's first crack at a top speed run.

"Of course, we want to prove it's quicker than anything else in the corners too," Koenigsegg driver Niklas Lilja explained after the run, hinting that the Agera RS has yet more speed to achieve. Yikes.

2019 Bugatti Chiron - 304.77mph

There we are then. Bugatti does it: first to The Big Three Hundred, thanks to a longer, lo-drag, even more powerful (and evil-looking) Chiron. 

That's the headline, but behind the scenes, the run on 2 August 2019 took a lot more than 'just' a modded Bug. It took months of R&D not just on the car but by Michelin to prepare tyres capable of withstanding 300mph, and then the right driver. Cometh the hour, cometh the man: Le Mans winner and high-speed specialist Andy Wallace. 

Now, the naysayers will moan that Bugatti only did runs in one direction rather than an average. And they'll complain that the super Chiron isn't on sale (yet). We'd politely suggest they watch the video of this monster romping to 304mph again, and take a moment to wonder if they'd have had the gumption to keep their foot pinned to the floor...