Supercars
Here's your quick one-stop guide to Pagani's hypercar history
Every Zonda and Huayra worth noting is in here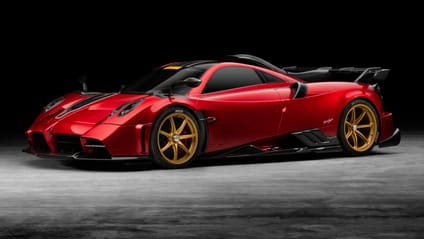 Countless special editions, two model lines and a whole dollop of noise: the history of Pagani can quite easily be summed up in one sentence.

Naturally, scratch the surface and the detail provides some welcome depth. Horacio Pagani founded his company right under the noses of Ferrari and Lamborghini near Modena in 1992; forget Silicon Valley, this is Supercar Valley.

From there, he began work on his supercar-shaped ode to Fangio – the great Argentinian Formula One racer – in the shape of the very first Zonda C12, a car inspired by the championship-winning Sauber Mercedes C9 from the late '80s.

Not soon after, he turned his mind towards the gullwinged Huayra, because he thought the Zonda would date, nor be able to keep up with the competition.

Of course, nothing is ever that simple. The Zonda, like some supercharged, indefatigable zombie warrior, went through countless iterations, many of which proved particularly bombastic (we're looking at you, Zonda R and LM). Huayra then, has some mighty shoes to fill. And fill them it does, in the shape of the new Huayra R.

Allow us to bring you up to speed with Pagani's output. They are fine. They are fast, and you will probably want them all.

Advertisement - Page continues below

The C12 was Pagani's entrance into the Supercar club. Not so much a wax-sealed invitation and polite knock on the door, but landing on the roof in a chopper, rappelling down the sides and crashing in through the windows. No racing heritage, no superstar glam, just carbon-fibred excellence. Horacio was enamoured by the splendiferous Sauber-Mercedes C9 sportscars that raced from '87 to '89, and based the Zonda's design on this (the C9, despite a poor showing in '87, finished 2nd in the championship in '88 and dominated in '89, taking the title).

The original Zonda packed a 6.0-litre 394bhp AMG V12, mounted in the middle, surrounded by a carbon fibre monocoque, an exquisite blend of interior craftsmanship and materials, and incredible technical detail. Splendid.

It also had exactly half the power of the new Revolucione model. Times have moved on, haven't they?

Pagani Zonda C12 S/S Roadster

All it took was a few years, and Horacio was at it again. The Zonda wasn't nearly loud, fast or bonkers enough. No, he demanded more from his little baby, and thus, we find ourselves looking at the Zonda S and Zonda S Roadster: both packing lots of More. Out went the 6.0-litre V12, in came another Mercedes-AMG engine, this time packing 7.3-litres, 555bhp and 553lb ft of torque. That's quite a lot more. It was mounted in the same place, naturally, and coupled to the Zonda S's weight of 1250kg (carbon fibre chassis and body panels, aluminium suspension), could accelerate from 0-62mph in just 3.7 seconds and a top speed way more than you could possibly care to explore.

There was a Roadster version too, which weighed but a fraction more (1280kg), but still managed to post the same acceleration time.

Advertisement - Page continues below

Sir Stirling Moss called him the Greatest Of All Time; many others would tend to agree. Whatever your persuasion, there's no denying Juan Manuel Fangio was one of Formula One's greats. And Horacio could count him as a personal friend.

No surprise then, that the 2005 Zonda F was Mr Pagani's dedication to his Argentine compatriot (the 'F' is for Fangio, unsurprisingly). Underneath, you'll find the same 7.3-litre V12 as in the Zonda S, but here it gets new intake manifolds shaped using hydroforming technology, a new airbox, and a new exhaust manifold setup. As such, it boasts a whopping 600bhp and 560lb ft of torque, which is good for laying down a 0-62mph time of 3.6 seconds, a 0-124mph time of 9.8 seconds and a top speed in excess of 214mph.

Horacio even deemed it prudent to build a 'Clubsport' version of the Zonda F, which, as you guessed, was faster. That car came with 650bhp (same as an Enzo), 575lb ft of torque and a 0-62mph time of around 3.5 seconds. It even managed to lap the Nürburgring in 7m 27.82s. Which was two-tenths of a second faster than a Porsche Carrera GT. Hmmm...

An F, only with much less roof. Same output as the F, but here featuring extra reinforcing elements in the door sill and tank area, and specially designed roll bars.

The Zonda R was about the most bonkers Zonda we thought we'd ever see, a supposed last hurrah for the carbon-fibred tub of Noise. Obviously, it wasn't, but it stands today as a benchmark of excess and, erm, noise.

The 7.3-litre AMG V12 was ditched in favour of a 6.0-litre AMG V12 (from the same M120 engine family as the original C12), but fear not: this new version boasted more power, to the tune of 750bhp and 523lb ft of torque. This "precious gem" of a V12 was bolted directly to the central monocoque, together with a six-speed sequential gearbox that took just 20 milliseconds between shifts.

And because it weighed just 1070kg, it could catapult itself, its noise and its mostly sweating driver from 0-62mph in 2.7 seconds (just two-tenths shy of a Veyron's time), and a top speed somewhere north of 218mph.

Obviously, it's a track special, though we know of no track capable of containing it's rather noisy output. The wheelbase was slightly longer than Zondas of old, fitting in forged suspension arms, a ceramic coated exhaust system, Brembo brakes (380mm discs), 19in and 20in wheels front and rear, a roll cage, carbon fibre seats and a five-point harness. Make no mistake about this car's intent. Just 15 were built, and if you should ever come across one, be warned...

Pagani Zonda Cinque/Cinque Roadster

The R was supposed to be it. It wasn't. A Hong Kong dealer submitted a request to the workshop along the lines of "MAKE ME THE SHOUTIEST AND FASTEST ZONDA EVER". Or something. This dealer wanted a road-going version of the R, and thus, we have the Cinque, which translates as 'five' in Italian. Can you guess how many were built? Yep, five coupes, five roadsters. Each came with a wider front splitter, an adjustable rear spoiler and modified underbody, new air inlets on the roof and bonnet, titanium Ohlins spring/shock absorber setup, and that six-speed sequential gearbox.

Power sits at 678bhp, and it'll hit 0-62mph in 3.4 seconds, 0-124mph in 9.6 seconds and decelerate back from 124-0mph in 4.3 seconds.

Advertisement - Page continues below

The R and the Cinque and the Cinque Roadster were really really it for the Zonda. Well, except for the Tricolore, which appeared in 2010 and was built as a tribute to Italy's National Aerobatic Team. Same as the Cinque underneath, but now painted differently on the top.

And that's your lot. Except of course, for a raft of one-offs, including the HH, the 750, a special 760 made for Lewis Hamilton, the Absolute and the Passione, to name but a few. Oh, and then the final, final, like, really final Zonda you'll see next: the 789bhp Revolucione...

This is what happens when you take a Zonda R and plug in the Pagani amplifier: more power, more carbon fibre and, most probably, more noise.

There's the same 6.0-litre AMG V12 bolted directly onto the monocoque as with the R, but in this iteration it makes an astonishing 789bhp and 538lb ft of torque. The carbotanium-tubbed lightweight weighs just 1070kg - less than a ruddy Mini Cooper - and there's the same six-speed sequential gearbox sending those horses to the rear wheels.

There's a new aero package, a new rear diffuser, a DRS system (this gets a hearty thumbs up from TG) and more powerful carbon brake discs all round, 15 per cent lighter than before.

No word on acceleration, but we wouldn't expect a huge leap up on the R's 2.7 second dash to 62mph. But, Pagani's chief test driver Davide Testi reckons the Revolucion could be up to 15 seconds quicker around the Nürburgring than the R. Yowser.

Advertisement - Page continues below

How on earth do you follow up something like the Zonda? Something like this. A mid-engined hypercar with a better power-to-weight ratio than a Bugatti Veyron SS, the 1,350kg Huayra uses a 6.0-litre AMG-sourced 60-degree V12 with two turbos to produce 700-ish bhp and 728lb ft of torque.

Translation? Zero to 62mph in less than 3.5 seconds and 'over' 230mph.

And as befits a modern Pagani, the interior is good enough to be displayed inside an art museum. Just magnificent.

"And do you know what, this really is a scary car. It has that wonderful fighter jet cockpit feel, and the LM's nose features tumescent new front wings that give it a son-of-LMP1/Group C racer throwback look, enabling you to place it on the road accurately. It has electrifying turn-in, which helps too. But it gets Kim Kardashian-wide at the hips and beyond, over-your-shoulder visibility is negligible, and it's oh-so-very fast. It doesn't like to trundle or tootle, and the non-airbagged wheel wriggles constantly in your hands. It makes a Bugatti Veyron feel like a Polo BlueMotion…"

Ah, turns out the Zonda's not dead. Click here for our first drive in the hardcore LM edition.

A lighter, hardcore Huayra, with over 740bhp and even more bonkers aero. It's named after Benny Caiola, one of Pagani's first and most loyal customers. This is some tribute to a long-time supporter, that's for sure. But weirdly, it's not the most extreme Huayra...

No, the roofless version is even more mad. For a start it's some 70kg lighter than the hard-top Huayra, because there's no longer anywhere to hang the cumbersome gullwing doors, and it uses a new, stronger yet less dense form of carbo-titanium. Meanwhile, the engine is boosted to some 753bhp. One of the world's most extreme cabrios, without question. Now, what about a BC version of the Roadster...

Oh, bless you. You thought the Zonda was done, did you? Hah, you should have known! This is the the final one. Probably.

It's called the Barchetta, which is Italian for 'little boat'. Alas, it cannot swim, and it can't even keep you dry on land, beause there's no roof of any sort. but, it has a 789bhp naturally aspirated V12, so you ought to outrun the clouds, and there's a manual gearbox. Only three will be made, each costing £13.4 million. And this blue one belongs to Horacio Pagani himself. A man of fine, fine taste, you'll agree.

Pagani Huayra BC Roadster

Not just a BC with the roof removed, this is a convertible Pagani-style: new engine, a new body, better aero, upgraded suspension and a shinier exhaust. Plus, the same forensic attention to detail. 

Another tribute to the Italian Air Force's acrobatic team is a roofless 829bhp V12 with a delectable design. It pays tribute to the Frecce Tricolori's Aermacchi MB-339A P.A.N aircraft, and features new aero and a new wing with supports styled after that 339A's tail-fin, among other things. Just three were built, each featuring the same livery.

You know when a Pagani is reaching retirement when the track-focused mega-specials start to arrive. It happened with the Zonda, and now it's the Huayra's turn. Except for this ultra-Pagani, it's not even called the Huayra. Welcome to the world of the Pagani Imola. And if you're going to name your new model after a circuit that formidable, the vehicle itself has better be extreme. How does 827bhp and 811lb ft grab you?

A £2.5m swansong for the Huayra, and the follow-up to the Zonda R. A brand new engine built in collaboration with AMG's motorsport partner HWA means a new nat-asp V12 punching out 850bhp and revving to 9,000rpm. Remember, this isn't road-legal...