Supercars
How fast is the new Aston Martin Vantage?
We pull out the timing gear and pit the baby Aston against its rivals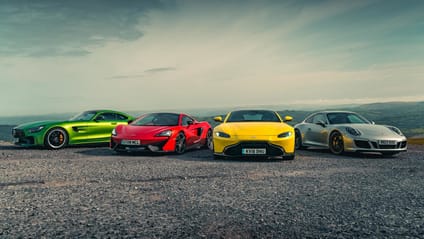 Earlier this week we published our group test of the new Aston Martin Vantage taking on the Porsche 911 C4 GTS, McLaren 570GT and AMG GT R. They are all deeply fast cars. According to their claimed acceleration figures, the joint slowest are the GT R and the 911, and they still hit 62mph in 3.6secs. The fastest, the McLaren, is only 0.2secs ahead, with the Aston splitting the difference. In other words, there's not a lot between them. Or is there?

Only one, the Porsche, has the off-the-line advantage of 4wd. But, at 293bhp/tonne, it also has the worst power to weight ratio. All bar the Aston have quick-shifting double clutch gearboxes, and all bar none have effective launch control systems. So which will be the fastest over the ¼ mile? Here they are, slowest first.

Advertisement - Page continues below

0-30mph: 1.73secs

0-60mph: 3.99secs

0-100 mph: 8.31secs

st 1/4 mile: 12.08secs @ 122.0mph

Surprised that the Aston is the slowest? In a way, so were we. The 3.5sec claimed 0-62mph time had us expecting slightly more, but in reality the Aston never felt likely to achieve that. The launch control is effective, but it doesn't punch the heavier Aston off the line nearly as effectively as the other rear-drivers, both of which have astonishingly well-managed launch control systems.

The Aston holds the revs comparatively low for launch and although it felt like the gearshifts went through in the blink of an eye, well, that's longer than no blink at all, which is what the twin clutchers managed. 8.3secs to a ton is swift – up there with a Tesla P90D and Jaguar F-Type SVR, but even if we leave the initial launch out of it and consider the 30-70mph time (3.18secs), the Vantage is no faster than an Alfa Giulia QV or Audi RS5. Or for that matter the SUV pairing of a Merc GLC63S or Stelvio QV.

Beyond that, the Aston does pull away quite easily than the bluff-fronted SUVs, but in the company it's keeping here, it's at best holding station with the next slowest above 100mph, but not clawing any time back. Was it fully healthy? I think so, but without putting them on a rolling road – something we just didn't have time for – we can't know if any of them were down on power. Or the opposite…

0-30mph: 1.31secs

0-60mph: 3.09secs

0-100mph: 7.35secs

st ¼ mile: 11.37secs @ 124.3mph

Welcome to the healthiest 444bhp you're ever likely to see. Who needs a 911 Turbo when a plain C4 GTS is almost capable of lunging to 60mph in under three seconds? Launch control is actively uncomfortable here. Once you've experienced it once, you know to brace for it with your backside wedged into the seat, and your head pressed back. To 30mph nothing could touch it of course – we expected that, but what surprised us was the Porsche's ability to keep piling speed on.

We thought the Aston would be level pegging from 30-70mph, might even have pulled ahead by 100mph, but in fact the 911 was over half a second ahead from 30-70mph (2.64secs) and even if we leave out off-the-line ability and look higher up, say the 100mph wide increment from 30-130mph, the Porsche is still faster than the Aston, with 11.26secs playing 12.00secs.

More than that, the C4 GTS is fast enough to keep the AMG GT R in sight, only 0.07secs slower from 30-70mph – although above that the Merc does begin to make its 133bhp power advantage count.

Advertisement - Page continues below

0-30mph: 1.53secs

0-60mph: 3.35secs

0-100mph: 6.80secs

st ¼ mile: 11.17secs @ 132.1mph

The AMG GT R is fast and feels it. As we reported in the group test, this is the most dramatic car here, rowdy, muscular and aggressive, but shot through with real expertise and determination.

With fatter back tyres than the McLaren (325-section against 285), the front-engined Merc managed to blast to 30mph even faster than the theoretically better weight-distributed McLaren (more weight on the rear wheels being good for traction). And from there on managed to put in a major league set of acceleration times, knocking through the quarter mile as quickly as an Audi R8 V10 Plus, Tesla Model S P100D Ludicrous or Nissan GT-R. Or a new BMW M5 – more on that another time…

Difference against the Porsche? Well, here's a stat for you. The AMG could wait for the Porsche to pass 40mph and, from a standing start, match it in reaching 130mph. Up to legal speeds there might be little to choose between them, but once the AMG GT R gets into its stride, well only one thing can beat it.

0-30mph: 1.58secs

0-60mph: 3.05secs

0-100mph: 6.08secs

st ¼ mile: 10.78secs @ 137.3mph

McLarens are fast. Almost always as fast if not faster than they claim. The reason here is simple. The 570 GT is less of an outright sports car than the 570S, so on paper it can't be as fast. In reality the GT is every bit as fast. Every 570 we've ever figured has returned times within hundredths of a second of every other. And then there's the 540C – that was only 0.22secs behind to 100mph.

But I digress. I might have had a go at the McLaren's lag and plain engine note in the group test, but when you activate launch, listen to the turbo pressure build and then let it fly, it really, really flies. Only third fastest to 30mph maybe, but the comparatively light McLaren (144kg lighter than the AMG), has the best power to weight ratio (378bhp/tonne) and piles through speed in a way nothing here can match.

You might remember the Vantage went from 30-130mph in 12 seconds exactly. The McLaren did it in eight seconds exactly. Eight. Four whole seconds sooner, almost a second and a half ahead of the AMG GT R, too. It's bonkers, as fast to 130mph from a standing start as a Ferrari 488GTB (in fact almost identically fast across the board).

Easily the fastest of our four, then. But as we said in the group test, these weren't dead-on rivals, the McLaren 570GT costing a chunk more than the Aston. And speed alone is no way to judge the strength of a car. But when they claim near identical times and the actual results are so different, it makes for interesting reading though, no?